Abstract art has been in this world for almost a century now. It takes inspiration from real-life objects but represents them in a non-traditional and different manner from reality.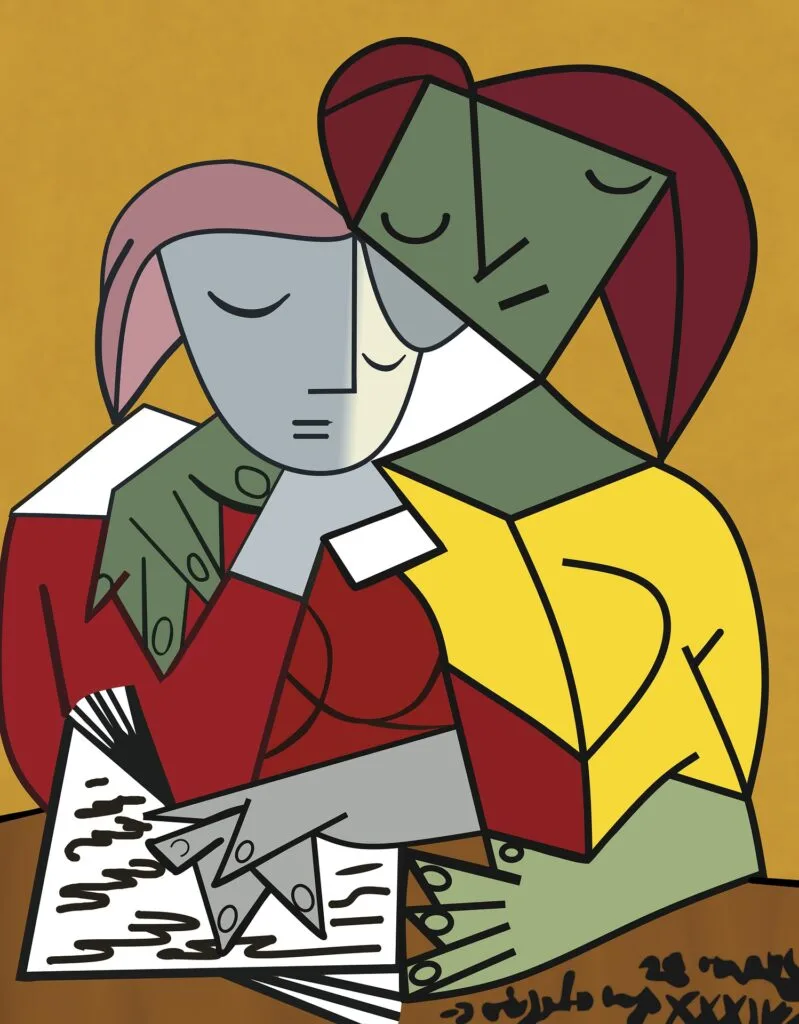 Abstract style can capture the essence of a person without focusing on their physical appearance. As a result, this art form is becoming more popular with modern families looking for unique ways to express their love for each other.
Nowadays, people are incorporating abstract art in their custom portrait paintings, specifically family portraits. This article will tell you how to do so brilliantly. Keep reading!
What is Abstract Art?
Abstraction is a non-representational art that separates concepts from reality. This art contains shapes, lines, and colors to portray emotions. However, none of the shapes or lines resemble physical objects or living things.
For example, you can easily paint your baby sitting in the coat and smiling. But in abstract art, you must paint what you feel while looking at the baby.
People usually need help understanding the real meaning behind abstract art. For some, it's just shapes and lines randomly lying on a canvas, making no sense. But, there is so much more to it.
How to Create Abstract Family Portraits?
Nothing can be more artistic than the traditional method involving acrylics and a custom portrait canvas. However, now you can use several software programs to make abstract custom portraits from photos.
In fact, you can even take the help of professional artists to make custom portraits from your beautiful family photo into classic pieces of abstract art. But if you want to do it yourself, the method is super easy, and the results will be incredible!
You will need an existing picture, basic editing skills, and know-how to nail the process! Moreover, you will need to exclude every hint of realism from your custom portrait drawing. After all, abstraction is something completely opposite from reality.
Here are some quick tips and tricks to help you make abstract art.
Select an Editing App
The whole process of turning your family portraits into abstract art won't take too long. Still, it would be better to prepare everything before you start.
You can conveniently edit pictures on your mobile phone with the help of editing applications. However, we will recommend using a laptop or desktop screen to closely see the image's details. Also, ensure that the screen's brightness is at the maximum level.
Choose the Right Photo
The whole process of making a photo into abstract art will require a lot of editing, color grading, sharpening, adding filters, and much more. Therefore, choosing a high-quality, high-resolution picture, preferably 300 dpi would be best. If you can't see the dpi, just keep zooming in on the picture. If it doesn't blur even after zooming, it's good.
On the other hand, a low-resolution image will only result in pixelation after editing.
Alter the Image Colors
The first step to digitally changing your photos to abstract art paintings is editing the colors and structural details. For this purpose, you can use the basic tools in your phone's gallery or a photo editing application. Also, editing software and color-changing applications can give your digital family portraits an unrealistic touch.
You can start by changing the saturation, hue, and contrast settings to convert your camera-clicked family picture into a custom portrait drawing. Moreover, you can experiment with colors and give your picture a crayon or oil paint touch!
In short, you need to keep editing until the picture looks as unrealistic as possible. Also, never settle for one outcome. Instead, keep experimenting with every aspect until you find inner satisfaction from the results! However, it should still be recognizable.
Add 3D Filters
Again, there are plenty of filters in editing applications and software that give a 3D touch to your portraits. Some of the famous and most common filters in almost every editing tool are Van Gogh, Dreaming, Psychedelic, Nouveau, and Candy.
These filters can give a mosaic and dimensional look to your photos. Also, your pictures will get natural shapes and blended colors, just like real abstract art paintings! If you think some filters are too bold, simply reduce the strength, sharpness, and structure to give a smooth texture.
Final Words
Painting custom portraits from photos in an abstract art style might sound difficult. However, this task can become a piece of cake if you are passionate. The more you practice and polish your editing skills, the more you will become closer to nailing your abstract-style portraits.
Incorporating the abstract art style in family portraits is the best way to portray the beautiful relationships between you and your loved ones. But, most importantly, these portraits will become a piece of art for your living room walls! So print your custom portraits, frame them, and let them slay your space!