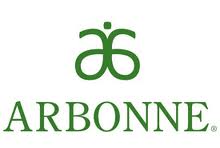 Over the last several weeks I have been trying a line of beauty products sent to me for review that I was familiar with in name only, a brand that I have been wanting to learn more about. Today I am excited to share with you these amazing products by Arbonne. Many of you are probably heard of Arbonne and know that you can only get their products either directly through their website or through an extensive network of Arbonne Independent Consultants in the United States, Canada, Australia, and the United Kingdom, but not much more. So let me tell you a bit about the company, and then share the products I was lucky enough to try!
A Little Background on Arbonne
Arbonne was founded in Switzerland in 1975 and makes health and beauty products that are created using a combination of premium botanical ingredients and innovative scientific discovery. Their products include everything from cosmetics to skin care products, vitamin supplements to baby products; and all of them are botanically based, vegan certified, formulated without gluten, dermatologist-tested, allergy-tested safe and cruelty-free. They contain no mineral oil, no petroleum, no formaldehyde, no dyes, no parabens, no animal products, and no chemical fragrances, and even their packaging is earth-friendly. Arbonne stands by its products and offers a 45-day money back guarantee.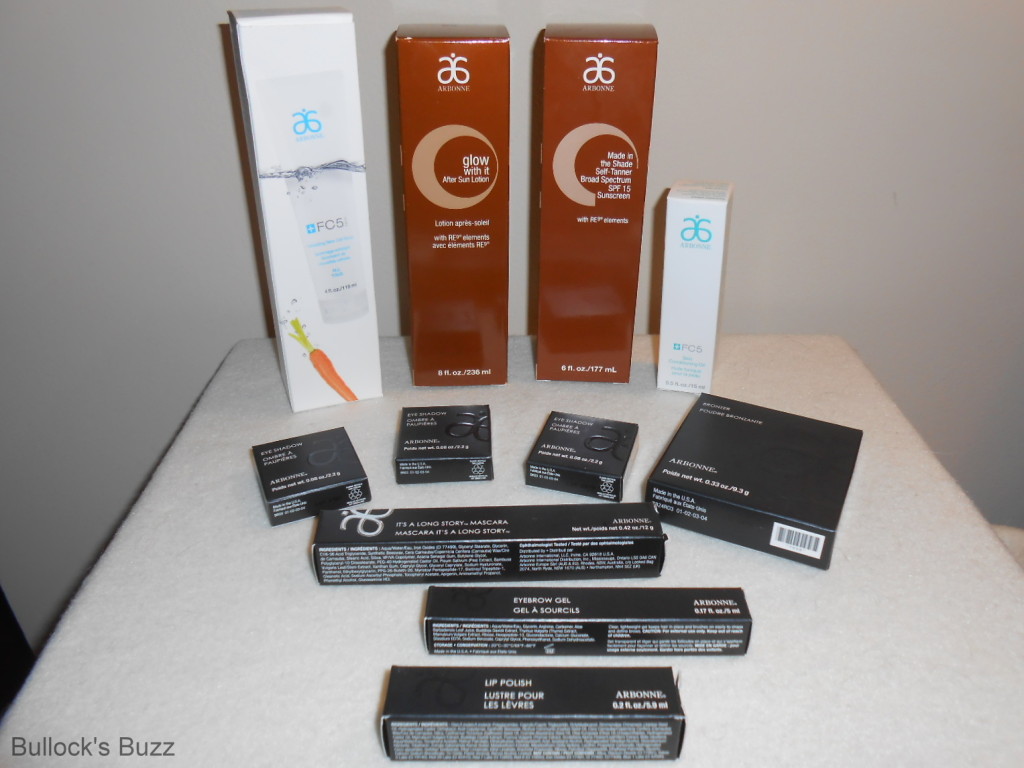 Arbonne Polished for Summer Line
Arbonne recently released their newest set of products for this season called Polished for Summer, and what a fitting name it is for a group of items that will give your skin a healthy, polished glow and have you looking your best from your head to your toes! The items are available as a complete set for a limited time only, but you can also purchase each item individually as well. I received 11 of the 12 products in the set, and it didn't take long for me to fall in love with this line!
Since there are so many fabulous products to tell you about, I am going to split this review into 2 parts (read part two here) one for face and body products and the other for cosmetics. Today I am going to share four fabulous face and body products including a self-tanner/sunscreen, an after sun lotion, a facial scrub and a skin conditioning oil. Once you see these, you will want to try them for yourself!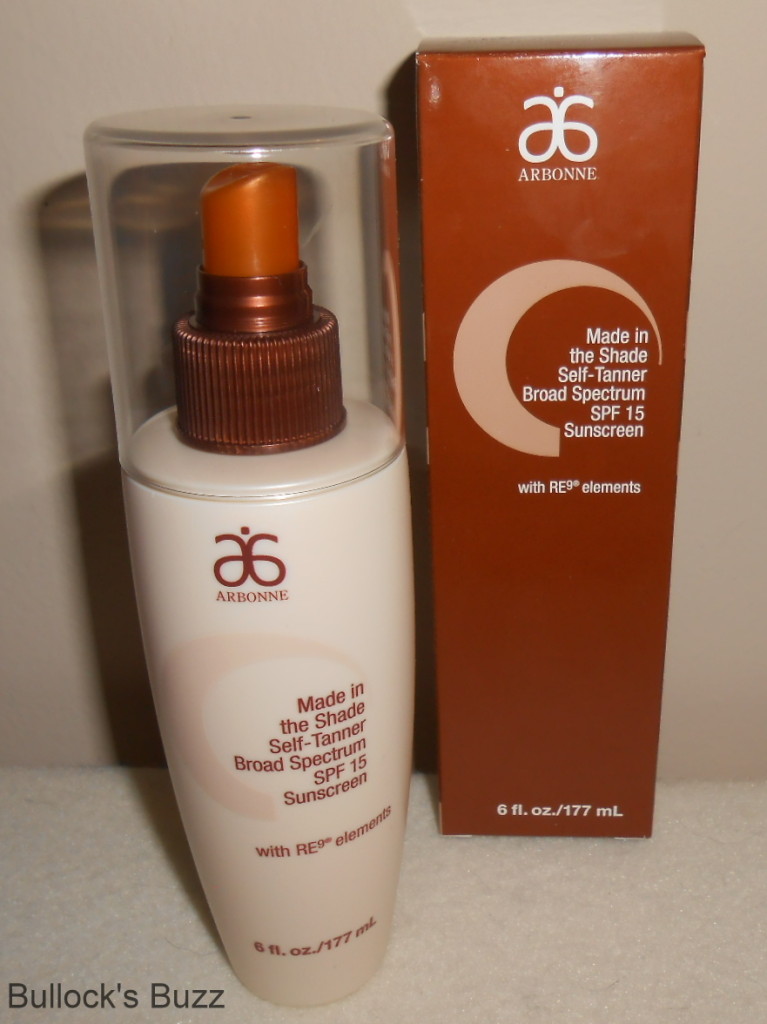 Arbonne Made in the Shade Self-Tanner Broad Spectrum SPF 15 Sunscreen
For those who want a natural-looking tan without soaking up the sun's damaging rays, Arbonne has created this Self-Tanner Broad Spectrum Sunscreen that combines color with protection. Just spray liberally and spread evenly on the skin 15 minutes before exposure to the sun, and a natural-looking tan will develop within just a few hours. If you want a deeper tan, just apply every day until your desired tone is achieved. The color will last for several days.
I will occasionally use a self-tanner, but it is not something I do often as I have not seen many that give you a natural-looking tan. Since I wanted some color this year without risking a burn, I went ahead and tried this formula. The first thing I noticed with this self-tanner is that it has a pleasant, botanical scent compared to the other self-tanners I have tried in the past, but be sure to follow directions and use in a well-ventilated area. I like that this one is in a pump spray bottle, which makes it easy to control the amount you apply. It spreads on easily and evenly, and once the color appears, it looked even and natural, with none of that orange-colored undertone I have seen self-tanners cause. I like that it also acts as a sunscreen with an SPF of 15.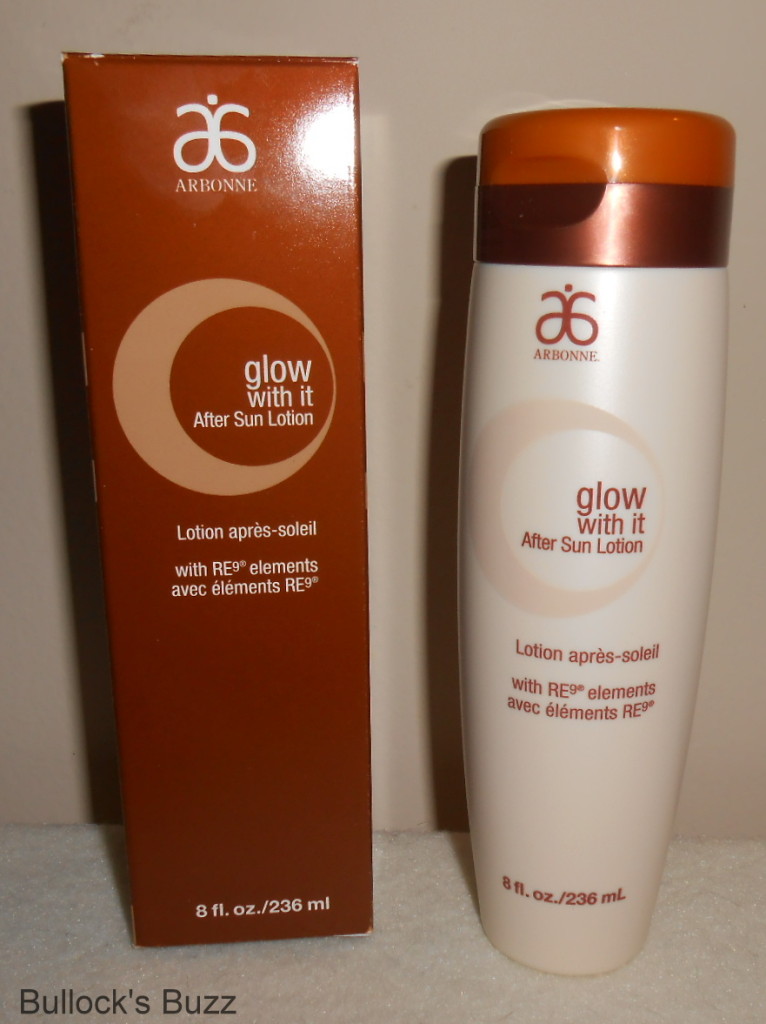 Arbonne Glow with it After Sun Lotion Review
For all of those sun-lovers out there, those who are exposed to the sun on a regular basis, and those with dry skin due to the sun, Arbonne's Glow with it After Sun Lotion is both soothing and moisturizing. Extracts of plantain, arnica, chamomile, linden, and rosemary are just some of the key ingredients that provide anti-inflammatory and anti-irritant properties to help counteract the effects of UV exposure, and avocado oil helps to hydrate and soothe dry skin leaving it soft as silk and moisturized. This formula works great for all skin types.
Although I am rarely out in the sun, last weekend my husband and I spent a few hours at the pool. The water felt so cool and refreshing that neither of us noticed the amount of sun we were getting until after we arrived home and got out of the shower! Not only were we slightly sunburned, but my skin was dried out and itchy from the sun exposure and pool chemicals. I immediately applied some of the Glow with it After Sun lotion, and instantly noticed results! The first thing I noticed about this lotion is how rich and creamy it is so that it only takes a small amount. It has a wonderfully fresh botanical scent and is quickly absorbed without leaving a greasy or oily feeling. As soon as I applied it, my skin quit itching and felt soft and hydrated, it even helped with those annoyingly rough patches of skin on my elbows and heels! I liked the way it left my skin feeling so well, that I will often use it even if I haven't been exposed to the sun!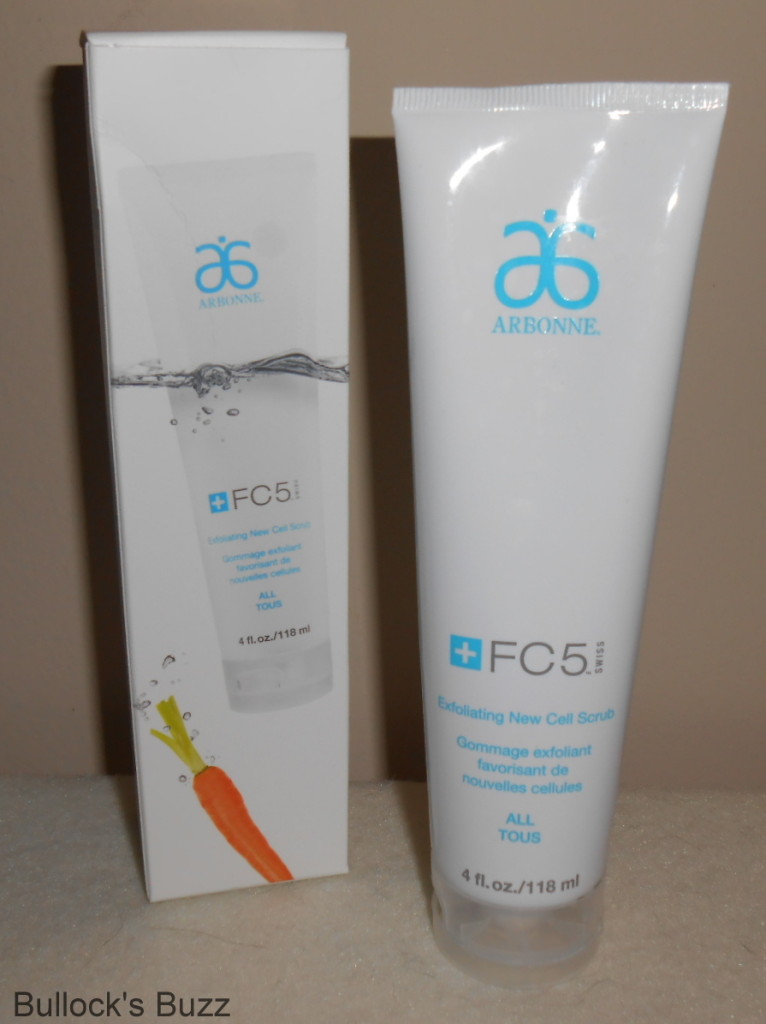 Arbonne FC5 Exfoliating New Cell Scrub Review
Although the Summer Polished Set comes with the FC5 Exfoliating Body Scrub, that is on back order, so instead I received the FC5 Exfoliating New Cell Scrub, a similar product, but meant for the face rather than the entire body. Lucky me, because I have been wanting to try a different scrub than my usual one. The FC5 Exfoliating New Cell Scrub is perfect for all skin types, and gently exfoliates to get rid of deep down dirt and dead skin cells, revealing more youthful, radiant-looking skin.
The first time I used this, I fell in love! The scrub has a nice, thick consistency and is full of tiny exfoliating beads. It only takes a small amount on the tips of your fingers to cover your entire face, and the beads really are gentle as you massage them in a circular motion on your skin. It has a very refreshing, clean scent, and rinses away quickly and easily leaving your skin clean and radiant.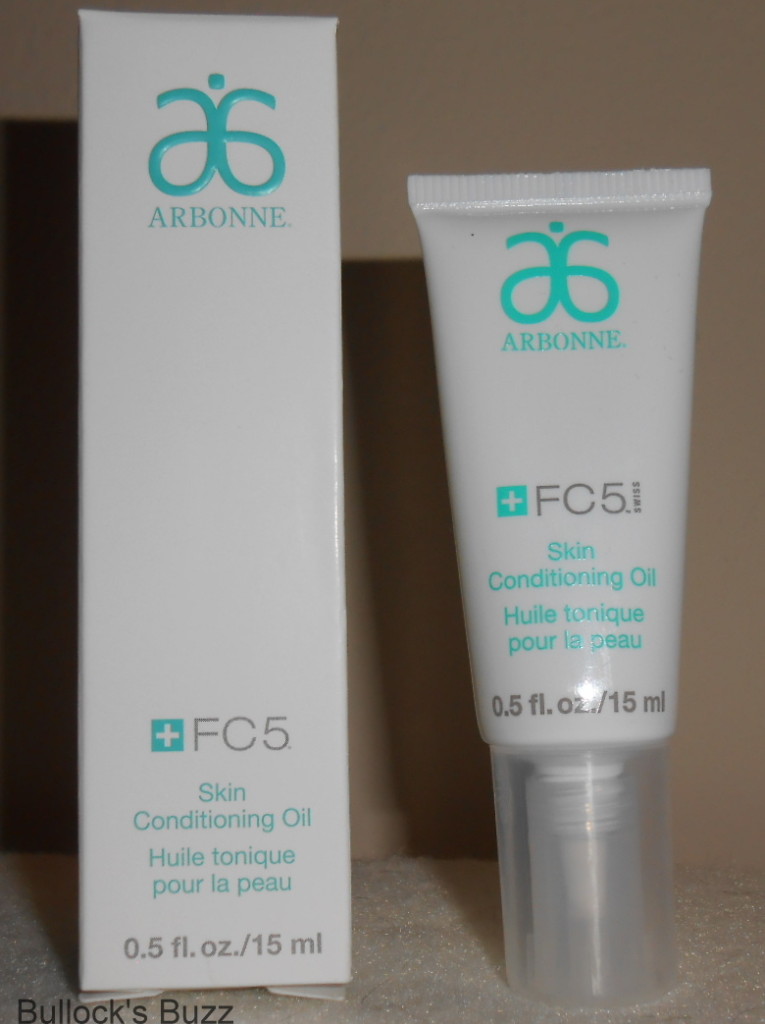 Arbonne FC5 Skin Conditioning Oil Review
Part of the FC5 collection, this moisturizing botanical oil leaves excessively dry skin feeling hydrated, conditioned and soft. It is perfect for use on dry cuticles, elbows, and knees!
For some reason, when I think of oil I also immediately think pore-clogging, acne-causing, and shine-intensifying – so I have tended to stay away from any product that has the word oil in its name except for anti-frizz hair care products. I know that makes no sense, which is why I went ahead and tried the FC5 Skin Conditioning Oil on the driest parts of my skin which included my elbows, knees and small areas on the underside/back of my upper arms. Once I saw how well this incredibly lightweight oil worked on those areas (without breakouts or shine), I then got really brave and put just a tiny dab on this one spot of annoyingly red and itchy dry skin next to my nose that has been there for a long time. After doing this daily, one week later, that red, dry spot was entirely gone! And much to my surprise, and relief, there were no breakouts or shiny skin to be seen! I have also found that Skin Conditioning Oil works wonders on my cuticles, which are no longer dry and cracking! Like I mentioned, a tiny amount is all that is needed of this lightly scented, thin oil to remedy those irritatingly dry spots on your skin.
My Overall Verdict of Arbonne
I would be hard-pressed to pick one of these four products as my favorite! Each works wonderfully, and I love that they are vegan, cruelty-free and full of botanical ingredients! The only drawback I must say is the price which tends to be on the high side, but for products that work as well as these, and the small amount you use each time, I would say they are well worth the cost!
You can purchase each of these products, either together in the Summer Polished Set, or separately, directly through the Arbonne website or through an independent consultant. Since Arbonne is an international company that operates and has warehouses in the US, Canada, the UK, and Australia if you live in one of these countries you can save a lot by not having to pay international shipping! Be sure to check back tomorrow for the second part of my review of Arbonne's Summer Polished Set, where I will show you some amazing cosmetics!