FATHER'S DAY GIFT GUIDE SUGGESTION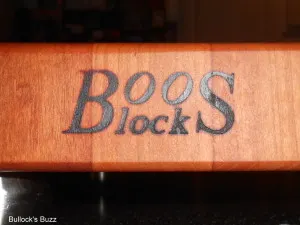 Those of you who know me know that I love to cook. And one of the most important parts of cooking or baking is the preparation of the foods. The majority of the time food prep calls for cutting ingredients, and next to having good knives, the surface you cut upon is quite important. I have several cutting boards, a few plastic, a glass one and one wood, but none of them even compare to the quality of my new Boos Blocks® board made by John Boos & Co. that I was sent to review!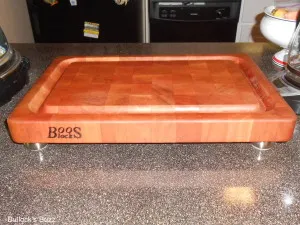 Since 1887, John Boos & Co., based in Illinois, has been the leading manufacturer of premium quality butcher block and stainless steel gourmet kitchen food service products. They are the makers of the Boos Blocks®, which are generally regarded as one of the top, if not the best, cutting boards in the United States. If you ever watch the Food Network, than chances are extremely good you have seen these boards. If you need more endorsement, just take a look at what it says on the John Boos website:
JB&C's commercial food service grade Boos Blocks® butcher blocks and cutting boards are being used by celebrity chefs throughout the nation. Rachael Ray, Bobby Flay, Paula Deen, Alton Brown, the Iron Chefs of Iron Chef America, Tyler Florence, Giada de Laurentiis, Mario Batali, and Emeril Lagasse are just a few chefs that rely on and use Boos Blocks®. "The Food Network" features chefs who prepare meals every day on Boos Blocks® cutting boards. In most cases Boos Blocks® cutting boards are used on the daily and weekly television programs sponsored for the chefs. Martha Stewart, Oprah's chef, Art Smith, and even the White House all have John Boos products in their kitchens as well.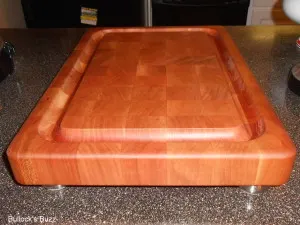 But I don't need to read that to know what great quality these boards are! Ever since the wonderful people at John Boos & Co. generously sent me one of their gorgeous Cherry Signature Boards with Stainless Steel Accents for review, I have used nothing else! The rectangular-shaped board has smooth, rounded corners, and a lovely end grain construction which forms a unique checkerboard pattern across the surface.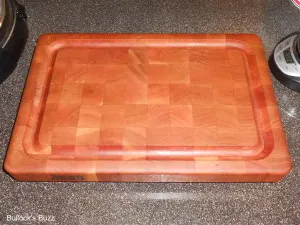 The modern-looking, stainless steel bunfeet together with the gorgeous red hue of the cherry wood gives this board a very unique appearance.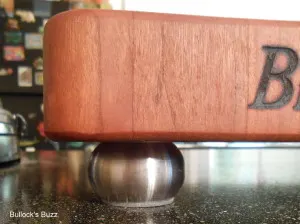 It has a smooth-cut juice groove, which is perfect for catching any run-off juice instead of it going onto your counter tops, and I love that it has a large work surface measuring 18″ x 12″! It is 1 3/4″ thick, and weighs a whopping 10 lbs!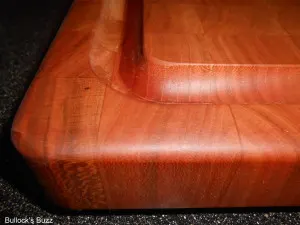 That amount of weight plus the non-slip material on the bottom of the legs, keeps the board securely in place regardless of whether you are cutting, slicing or chopping.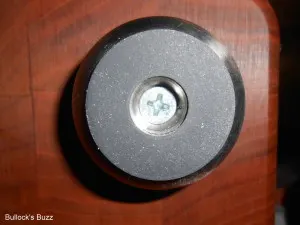 Boos Blocks® are not your everyday, common cutting board, they are a serious cutting board. This one retails for $189.95 which makes perfect sense when you consider the quality. I have chopped and cut everything you can imagine on my board over the last several weeks, and it still looks almost brand new. Cutting on a wood board is a lot more friendly towards your knives, and these boards are so well made that your knives will not do much damage. While I can see some very shallow nicks and grooves, there is nothing that even comes close to what a cheaper wooden board would look like at this point!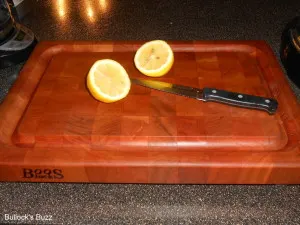 Although Boos Blocks® are built to last (what else would you expect from a company who has been working with wood for over 100 years?), there are several things you can do to ensure its beauty. First of all, each board comes from the factory with a coating of their unique Boos Blocks Cream Finish with Beeswax which protects and prolongs the life of your board. I highly recommend purchasing a tube of this to keep your board looking and performing great!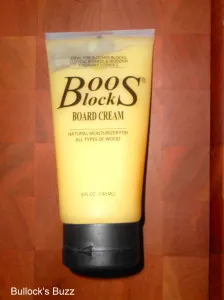 This should be applied once every few weeks. It locks moisture deep in the wood which keeps it from drying out, splitting or cracking. It is amazing to see the difference when you add this cream, it literally makes the beauty of the wood come alive! You can also prolong the life of your board by not putting it in the dishwasher or submerging it in water.
Use mild soap and water to clean, not harsh detergents, and be sure to not let moisture sit in the board for long periods of time. The video below gives more detailed instructions for taking care of your Boos Blocks® board.
Boos Blocks® are available in a wonderful selection of sizes, styles and designs. You can see the entire collection by visiting their site HERE. Does your Dad love to cook? If so, a Boos Blocks board would make the perfect Father's Day gift! Be sure to connect with John Boos & Co. on Facebook to see the latest products and some great culinary inspiration!

CONGRATS TO OUR WINNER!