Are you looking for the best tea towel customization companies for your home? Then you've come to the right place! Keep reading.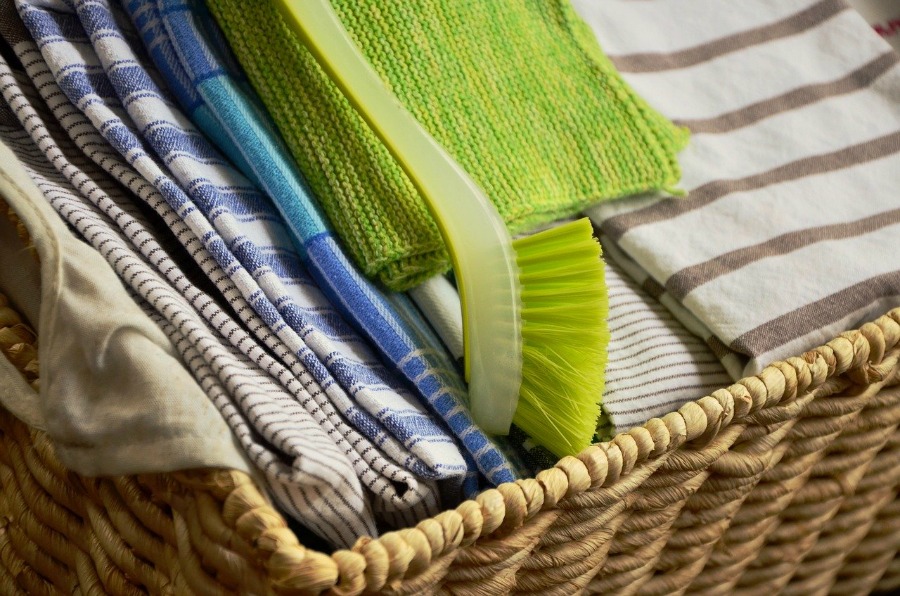 It is interesting how something as immaterial as tea towels or flour sack towels have become so trendy. There was a time when these little towels did not have much importance beyond be used as a wiping cloth for your kitchen. However, thanks to the cyberworld, Pinterest boards and craft blogs, tea towels have become a buzz word in the DIY and crafting circuit.
Even people who buy tea towels purely as cleaning cloths have become particular about the kind of towels they buy. That is because low-quality kitchen towels usually have poor absorbency, lint problems, and even color bleeding, all of which are a pain to deal with.
Now with so many more varieties available, people can choose from a wide range of kitchen towels for better drying power and better weave and stitching – and towels that look great, too.
Interestingly, custom flour tea towels have become all the rage in the DIY and interior design world. A quick search on Pinterest will leave you amazed how creatively can you play around with these small kitchen towels.
That being said, if you are planning to buy a towel that allows customization in the form of print, paint and upcycling, quality is very important. You definitely do not want your print to bleed right after a few washes. If you are looking for a good quality custom flour sack tea towels, here are some of the best tea towel customization companies you can choose from.
Mary's Kitchen Flour Sack Towels
When it comes to the best tea towel customization companies, Mary's Kitchen Flour Sack Towels. These plain soft sheets of cotton are one of the most versatile players in the tea towel market. Generally, kitchen towels are woven and textured, which means there is a greater chance that they will leave behind some degree of lint. However, plain white soft pure cotton sheets are a very rare find. It is a crafter's dream to find a good quality soft fine quality cotton sheet on a budget and these towel blanks by Mary's Kitchen Towels are a blessing in disguise.
These towel blanks are available in various different sizes and colors and are made of 100% pure cotton. The towels are neatly stitched and offer the perfect base for your craft projects whether you want to print, paint or use any other medium. The plain texture and the bright white base will allow your colors to settle in and pop perfectly. If washing directions are followed, these towel blanks have impeccable durability and will last you a long time. You can use them for various home linen projects such as table napkins and runners, or use them as-is for banquets, weddings, animal care, and even simple cleaning.
Crafty Chick Designs Custom Flour Sack Towels
Another of the best tea towel customization companies is Crafty Chick Designs. If you are someone who does not have a very crafty hand but still loves to have cute little handcrafted pieces around in the house, you should buy ready-made custom flour sack towels. Even if you can make your own creations with the help of online tutorials, there are some times where professional crafters will understand the material and technique better and offer pieces that will have a better finish and last you longer.
Crafty Chick Designs has some of the cutest varieties of bespoke flour sack towel linen. There is a fun Alexa range, and a very heart touching Mr. & Mrs. Range that can be used as gifts, wedding favors, used at wedding receptions, and even in a couple's home. These towels are made in 100% pure cotton in 30 x 30 sheets printed in heat vinyl. The towels are super friendly with machines and do not leave any lint.
Embroidery Hut Personalised Dish Towels
Yet another of the best tea towel customization companies is Embroidery Hut Personalized Dish Towels. Many custom towels that you find are created using paint or print techniques. This tends to limit their utility. In addition, many custom flour sack towels that are printed are often used as decorative accessories only in order to avoid staining or damaging them.
Most of these towels can only stand mild detergents and cannot tolerate strong cleaning agents. This is where kitchen towels by Embroidery Hut stand out. As the name hints, these kitchen towels are customized using embroidery, which means that images are woven on the towels so there's no worry about print bleeding after wash.
The flour sack towels have excellent stitch and finishing. And their cute culinary images make them excellent towels for chefs, hostess, wineries, bakeries and even restaurants. They also have amazing absorbency which makes them great for most kitchen uses. These professional quality custom flour sack towels are a great buy for your home at a very reasonable price.
Bailey and Brown Vintage Flour Sack Dish Towel
Bailey and Brown is another of the best tea towel customization companies. Their Vintage Flour Sack Dish Towels is not merely a kitchen towel, but also comes as a really cute gift set with a vintage typewriter printed dish towel, a matching 50-page notepad, and an ink pen. The towel is an excellent decorative accessory for a kitchen and can be used as a gift for your mother, wife, teacher or anyone else. The image is tactfully placed at one side of the towel so that it can show even when the towel is folded.
The towel is made in 100% fine cotton and can be machine washed. It's also stitched well and does not leave behind any lint.
Now Designs Baker's Flour Sack Towels
If you are a fan of funky designs and vibrant colors, you will instantly fall in love with these super cool flour sack towel sets by Now Designs Baker's Towel, yet another of the best tea towel customization companies. These pure cotton towel sets have a vintage grain bag texture with excellent drying power and negligible lint. Each set consists of three towels that are not only excellent for wiping and cleaning kitchen counters but also work amazingly well with glassware. The towels are available in a wide variety of vibrant prints and patterns.