Boxed: Buy in Bulk Online
Have you ever heard of Boxed? If not, I definitely recommend you check this service out! One of my favorite ways to save money is by buying certain items in bulk. For my family this includes laundry products, paper products, some personal care products and even pet products. Usually I'll head out to Sam's or Costco to do this, but now that I've discovered Boxed, there's no need to even leave the house.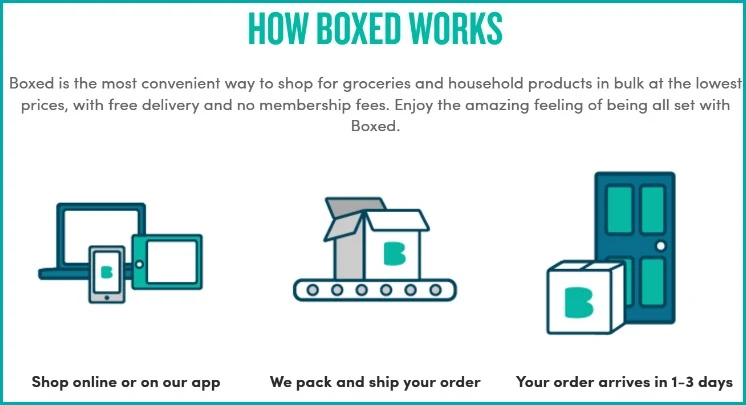 Image courtesy Boxed.com
The idea behind Boxed is to make shopping for bulk easy, convenient and fun, so that people can focus on the things they really love. Pretty much everything I used to buy at my club, I can now order from Boxed, and it will be on my doorstep within 1 to 3 business days! There are hundreds of carefully selected pantry (including dry goods, cereals, snacks, etc.), home, kids', office and school supplies from which to choose, and best of all, there is no membership fee – at all. Anyone can shop with them at any time.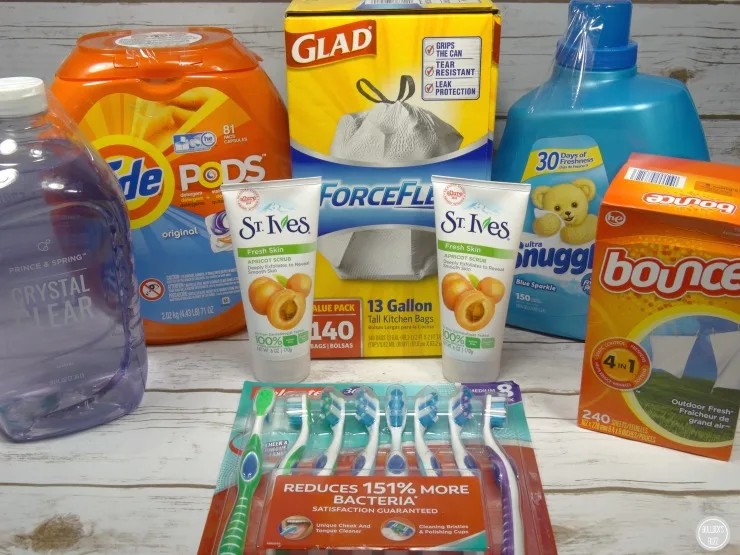 My Experience with Boxed
Honestly, when I first heard about Boxed I figured there had to be a catch. At the very least the selection of items would be limited, and the shipping costs would be outrageous. Or perhaps the items were returns, buy backs, damaged, or discounted merchandise. Well much to my surprise, they have a great selection of products (from brands we all know and love), and shipping is free on your first order and on all orders over $50. And ALL products are first runs with standard expiry duration. And there's more…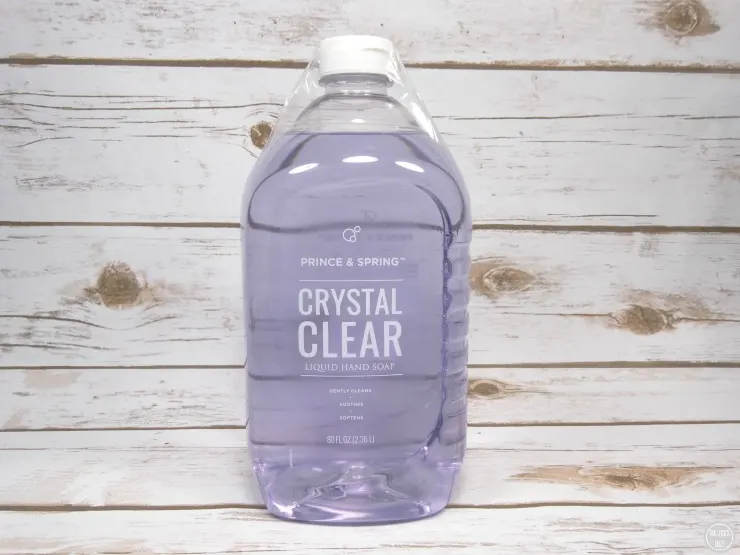 While browsing the site, I came across freebies! Yes! FREEBIES! Who doesn't love freebies!? Occasionally, Boxed will send along freebies that they think we'll like. And the freebie I received wasn't some small sample bottle, instead it was a huge 80 ounce bottle of hand soap. Enough to last my family of 3 at least a year. Since this was my first experience with them, I am not sure if they automatically put the freebies in your box or if you have to add it to your cart. I had added mine when I saw it on the site, but when reading some user reviews, a few sounded as if they automatically include it.
I placed my order on a Thursday, and it was here by Saturday delivered by FedEx! Everything arrived neatly packaged in a large box. Each item that could possibly spill was placed in its own plastic bag, and all of the lids were taped for extra security. Nothing was spilled, squashed or damaged.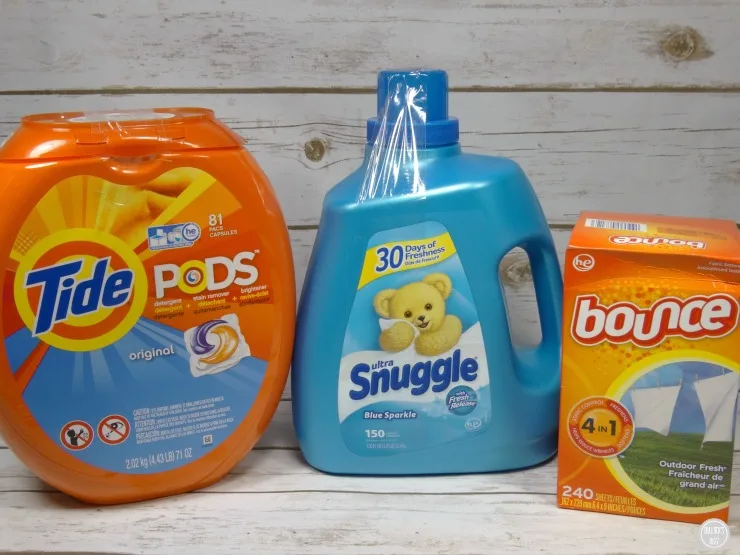 And you know what else really topped off my entire experience? The fact that the people at Boxed took the time to include a hand-written thank you note with my order. It really added a personal touch to the whole experience!
Did I Really Save Money?
For my first order I ordered about $78 worth of stuff, including:
Tide Pods 81 packs (71 oz) $19.79
Bounce Dryer Sheets 240 sheets $8.99
Snuggle Fabric Softener 150 loads (120 oz) $9.39
2 tubes of St. Ives Apricot Scrub (2 – 6 oz) $6.49
Colgate 360 Toothbrushes (8 pack) $15.99 9.98
Glad ForceFlex 13 Gallon Trash Bags (140 count) $17.99
Prince & Spring Liquid Hand Soap (80 oz) usually $4.99 my cost $0.00 FREEBIE
Sub-total $78.64
Shipping $0.00
Tax $0.00
Total: $78.64
I decided to do some comparison shopping to see exactly how much (if any) I really saved. So I went online my to usual shopping club to see how much of a difference there was. Now, three of the items were not exact as far as the amount of product, they were:
Tide Pods 90 count for $24.98
Snuggle Fabric Softener 210 loads (168 oz) for $10.48
Bounce Dryer Sheets 320 count for $9.98
The rest were the exact products. Yet even taking the size difference into consideration, I still came out better shopping at Boxed. At my usual club, my total would have been $71.40 without the St Ives Apricot Scrub (they did not have it). Nor did they include a freebie. Add in shipping and tax, and my total became $95.08! Of course, I could have driven the 20 minute-one-way drive and picked it all up myself, but then I'd have to add in the cost of gas, as well as the time spent driving there, shopping and then driving back. And since I needed the facial scrub, I'd have had to make an additional stop as well. So all in all, I think I got a pretty darn good deal using Boxed!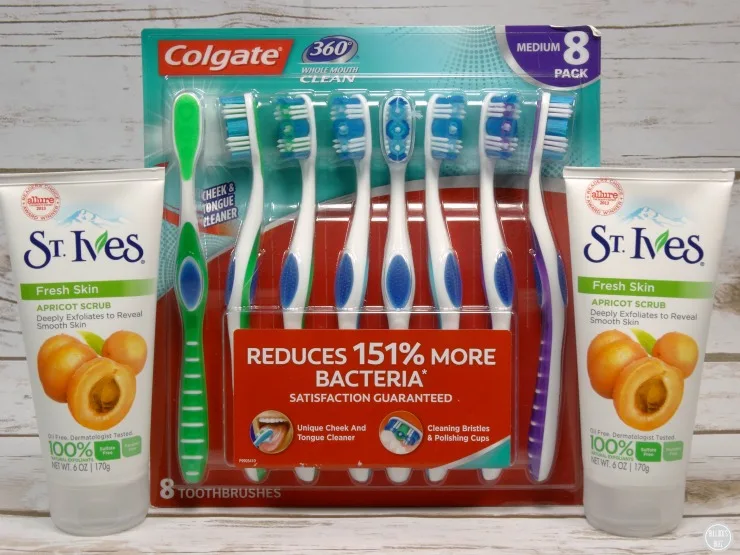 Earn Reward Points
Not only can you save money by ordering in bulk through Boxed, you can save even more by earning Boxed Rewards Points. It's simple, for every $1 you spend, you'll earn 1 Rewards point. So if you save up 200 points, that's a $2 credit, 500 points is a $5 credit, and so on!
Boxed Express
In some areas Boxed also offers Boxed Express. While standard Boxed orders are packed and shipped from their warehouses, Boxed Express delivers fresh groceries on-demand! A Boxed Shopper will go to Costco to shop and then personally deliver your order in handy, reusable bags! You can choose your delivery time and date when you place your order.
Speaking of their reusable bags, here's yet another way to save: if you don't want to keep your bags, or already have enough of them at home or at your office, return them and they'll reuse them – plus give you $1 credit for each bag returned! Simply give the bags back to your shopper on your next delivery and the credit will be applied to your account. Right now Boxed Express is only available in select areas, although they are working to expand their coverage areas. To find out if you live in one of those areas, simply enter your zip code on the Boxed website or app – you'll be able to see the Express product selection if your zip code is eligible.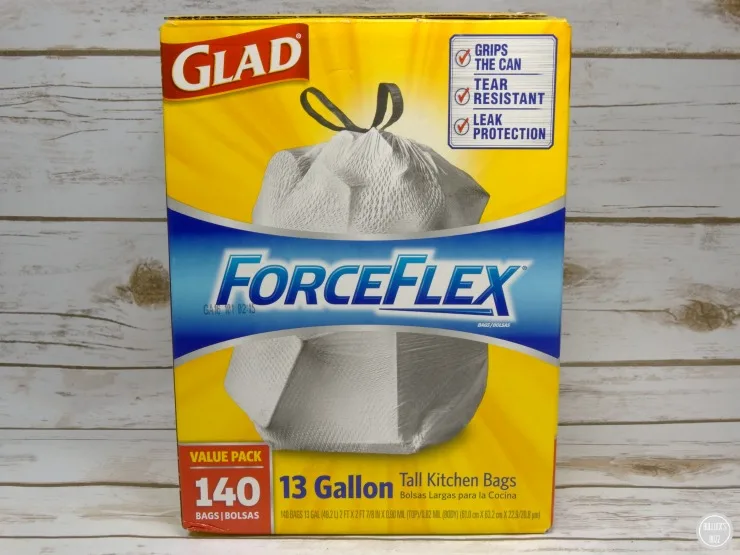 Give Boxed a Try!
Boxed is available throughout the contiguous United States. To order you can either visit their website or download the app either through iTunes or Google Play! Let me know what you think! Happy Shopping!
Get Social With Boxed: Facebook | Twitter
What are your thoughts on Boxed? Have you ever used the service?