Buying a New Car: 8 Tips to Help You Get a Car Without The Stress
Next to a house, buying a car is one of the most expensive purchases people make. So naturally, when it's only natural that when it comes to investing that sum of money, you want to avoid making a mistake. These four simple tips can help you avoid being taken for a ride when it comes to buying a new car.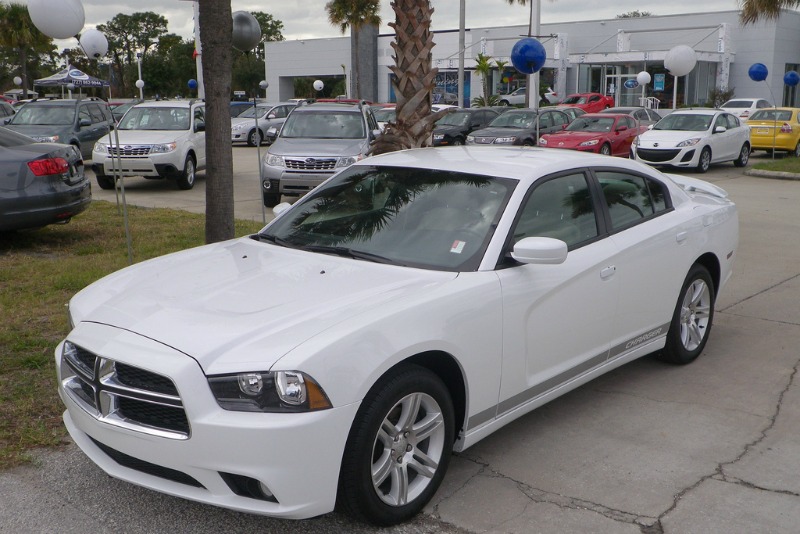 Image via Flickr
Know Yourself and Your Needs
Before you begin shopping for a car, decide what type car will be the right fit for you. While this may seem like an easy question, knowing the answer will save you a lot of running around. Keep in mind not only what you want, but what makes sense. While you may really want that sleek and sexy sports coupe, is that is really what you need? Are you driving the kids to school? Perhaps a small SUV or minivan is for you. Commuting to work? A small or midsize car can help save money on gas.
Asking yourself the following questions will help you narrow down the choices and figure out what car type fits your lifestyle.
Do you drive a lot?

How much space do you need?

How are your needs likely to change over time?
Know Your Budget
The second most important thing to consider before buying a new car is your budget. Can you afford to buy new or used? Will you need to finance? How much can you afford to put down as a down payment? And how much can you afford to pay per month?
Know Your Trade In Value
If you have a trade in, you will want to find out what your current vehicle is worth before beginning the process of buying a car. Check an online valuation site like Kelley Blue Book or NADA Guides. The estimates are based on a car's mileage, condition and how it's equipped. They will also vary by region.
Do Your Homework Before Visiting the Dealership
Now that you have a better idea of what type car would fit your needs and what you can afford, start researching specific makes and models. Find online sites that offer reviews by people that have the make and model car in which you are interested. Read reviews to learn about the advantages and disadvantages of each. In addition, doing a bit of online research at unbiased sites such as Consumer Reports and the Insurance Institute for Highway Safety, can help you find out details such which cars rank best for safety, reliability and more. You can even compare various models' fuel economy ratings at the EPA's website,www.fueleconomy.gov.
Locate and Test Drive the Cars
Once you have decided on one or two specific vehicles, it's time to see them in person and get an idea of how well they drive. Always take a test drive before making your final decision, especially if you've done most of your research online.
Visit a dealership will the sole purpose of a taking the particular model(s) you are considering out for a ride. Pay attention to details such as ease of entry and exit, leg room, headroom, seat comfort, how easy or complex the dashboard controls are operated.
Once driving make sure you take the car on city streets as well as highways. Get an idea of how the car feels in as many day-to-day driving conditions as possible. Pay attention to how well it stops, how it behaves in stop-and-go conditions, how well it accelerates on the ramp to the highway, and how smoothly it rides.
Get a Sales Price Quote
Ready to make your final decision? Great! However, don't just head down to the closest dealership and start buying a new car. Instead, shop around for the best price. One way to do this is to find three dealerships that have the car you want. Next, call, text or email the internet sales department of those three dealerships and ask each for the total selling price. If buying new, do not forget to ask about any manufacturer incentives or special pricing. The best price will be obvious.
Now take that lowest quote ask the other dealerships to beat it. Do some negotiating and haggling to get the very best price you can. And remember, do not focus on negotiating the monthly payment. By concentrating on the payment, you can easily forget to negotiate term, interest rate, selling price, and trade value.
Pro Tip: If you'll be taking out a loan to finance the purchase, shop around beforehand to find the lowest interest rates, which can vary by several percent from one lender to another.
Check Insurance Rates
Once you have decided on the car and dealership, there are a few more things to consider before signing on the dotted line. One Pennsylvania Chrysler, Dodge, Jeep dealer recommends you check your insurance rates on the car you're looking to buy before you buy it. Not doing so can really come back and bite you. And there is no clause in a sales contract that allows you to return a car because the insurance rates are too high.
Closing the Deal
Never close the deal until you are absolutely satisfied with the price, financing and fees. Review the contract carefully and make sure the numbers match what was discussed. Also be sure there are no additional charges or fees. Remember, once you sign the contract, that car is yours. So take your time, read over everything thoroughly and do not sign unless you are absolutely satisfied.
Next time you need a car, remember that if you take your time, do some research and look for the best deal, buying a new car will be a much more pleasant – and less stressful – experience!