Filled with shrimp, crawfish, sausage, corn, and potatoes, then seasoned with Cajun seasoning, these easy Cajun Seafood Boil Foil Packets are packed full of flavor and have just the right amount of heat. Best of all, they're an easy-to-make and easy-to-clean meal!
Seafood boils are one of the hallmarks of a Southern summer. They're lots of fun, often messy, and always packed full of flavor!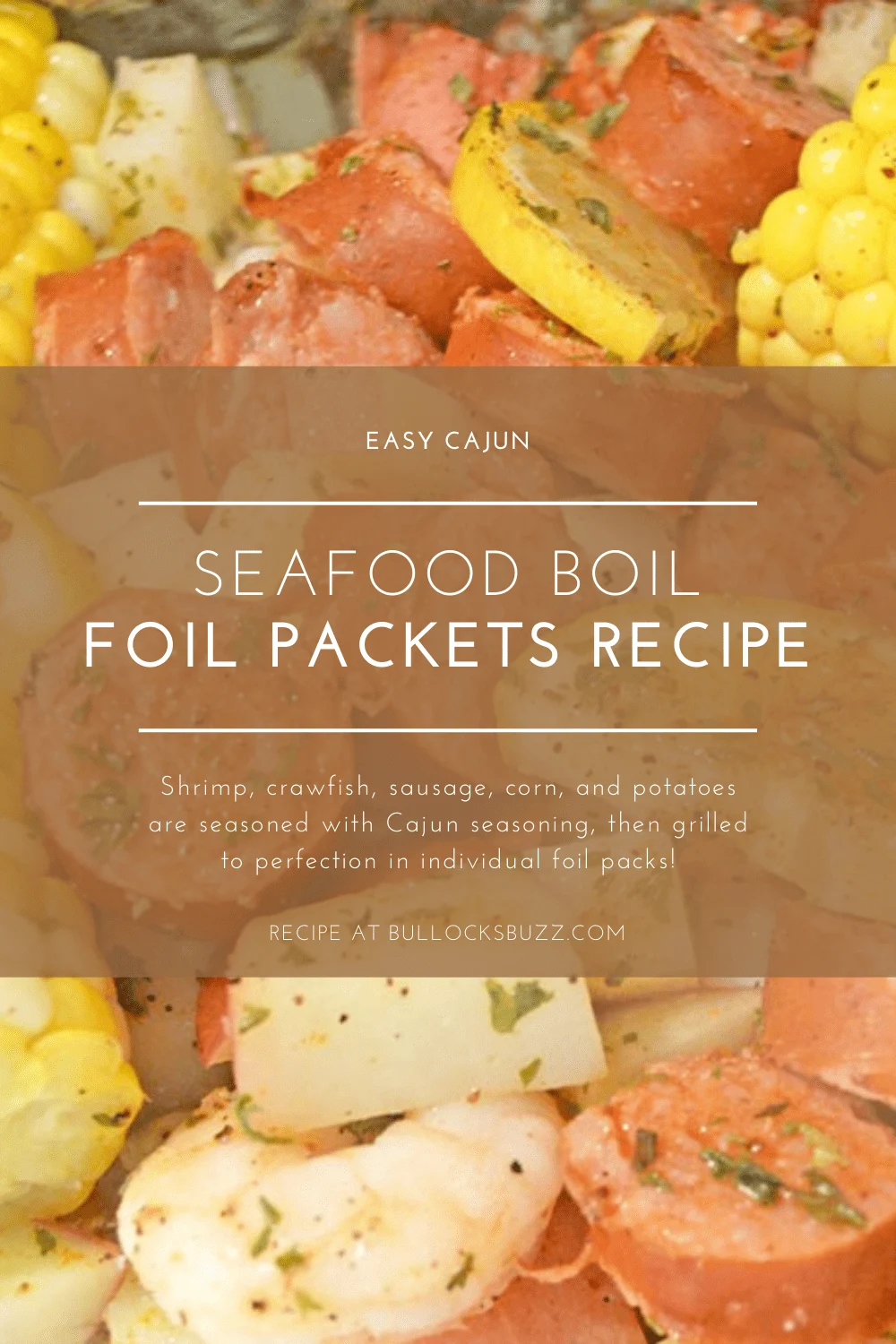 However, a traditional seafood boil calls for cooking the ingredients in a gigantic pot outdoors, then dumping the cooked food out onto a newspaper-covered table for everyone to dig in. It also calls for a lot of ingredients and clean-up.
Wanting to enjoy that same seafood boil flavor on a smaller (and less messy) scale, I found another way to get that amazing taste — foil packets!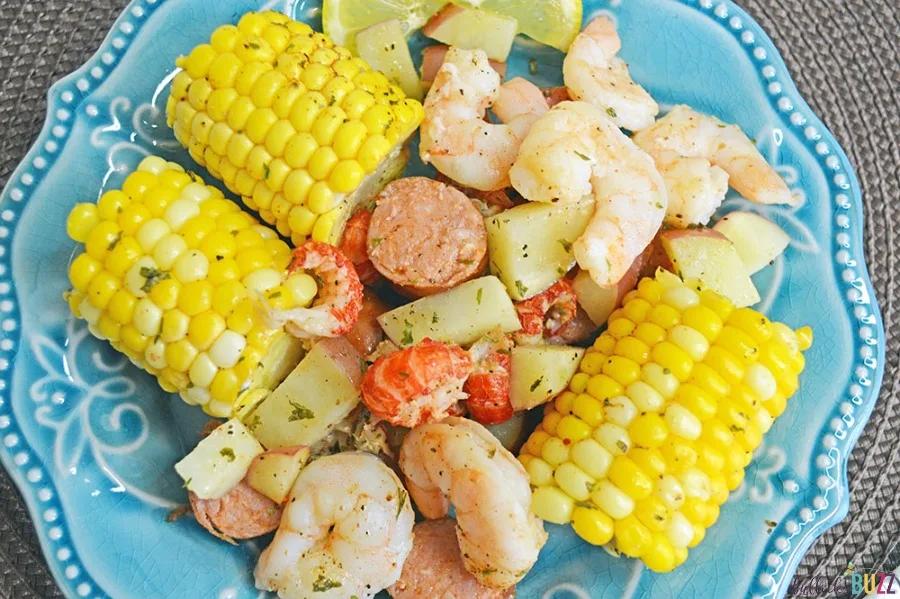 Y'all, this grilled Cajun Seafood Boil Foil Packets recipe keeps all the fun and tasty parts of a seafood boil without the need for large amounts of ingredients and a ginormous pot.
It's incredibly easy-to-make and calls for very little prep and even less clean-up.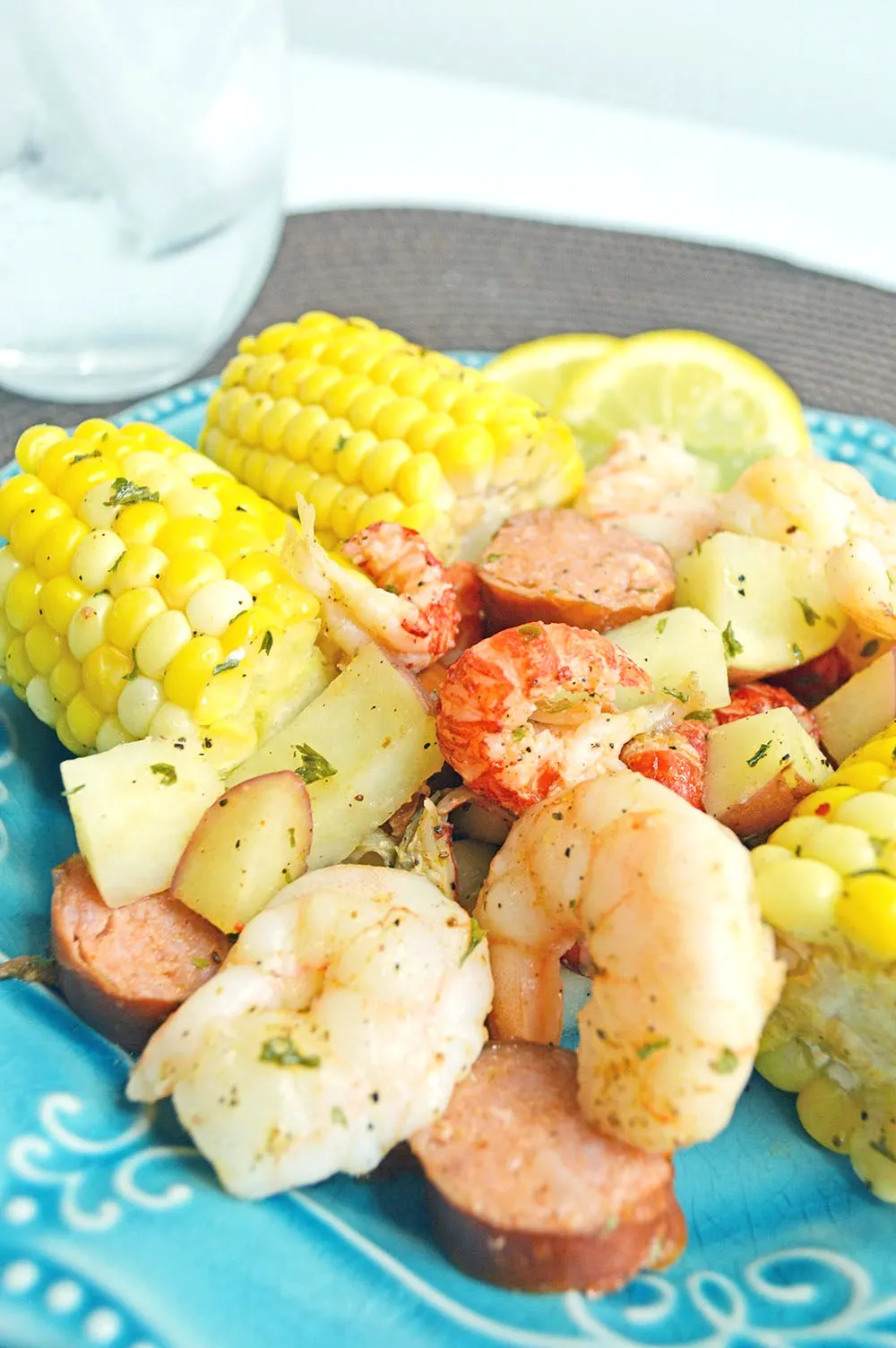 Another great thing about these foil packets is that you can make them ahead of time, put them in an airtight container, and refrigerate until you're ready to grill!
This Cajun Seafood Boil Foil Packets recipe is sure to become a summertime fav!
How to Make Cajun Seafood Boil Foil Packets
Making Cajun Seafood Boil Foil Packets is easy summer cooking at its best! You get all the big flavor of a seafood boil without all the mess!
With very little prep work, it pretty much boils down to combining the ingredients in a large bowl, seasoning them, dividing them into foil packets, and then tossing them on the grill.
You'll find the printable copy of this recipe with full ingredient amounts and instructions at the bottom of this post.
Kitchen Tools Needed
Disclosure: This blog post contains affiliate links for products I think you'll like. If you make a purchase from one of these links, Bullock's Buzz will make a small commission at no additional cost to you. All products that I recommend are ones that I have (or have had), use, and love.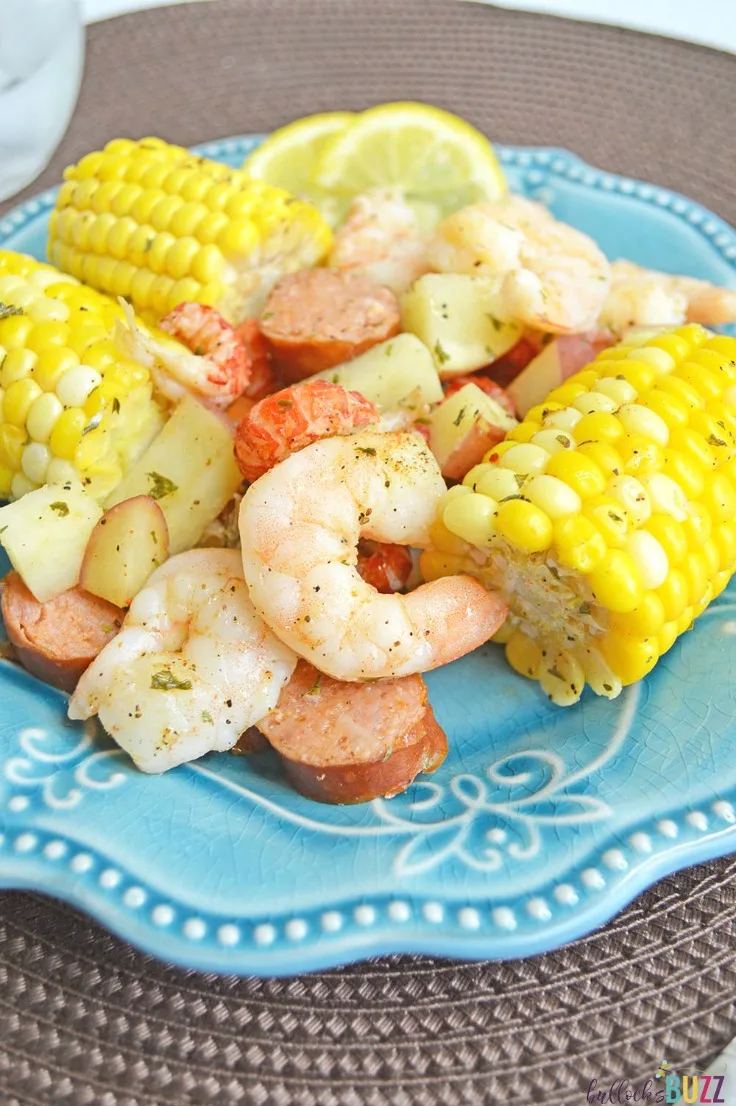 Seafood Boil Foil Packet Ingredients
Packed with tons of flavor and just the right amount of heat, Cajun Seafood Boil Packets are a full meal in themselves. Each packet contains shrimp, Andouille sausage, crawfish tails, corn on the cob, and baby red potatoes.
What Type of Sausage Should I Use for a Cajun Seafood Boil?
This particular seafood boil recipe calls for using Andouille sausage. However, if you're looking for an extra spicy Cajun shrimp boil recipe, then using Cajun-spiced sausage works perfectly!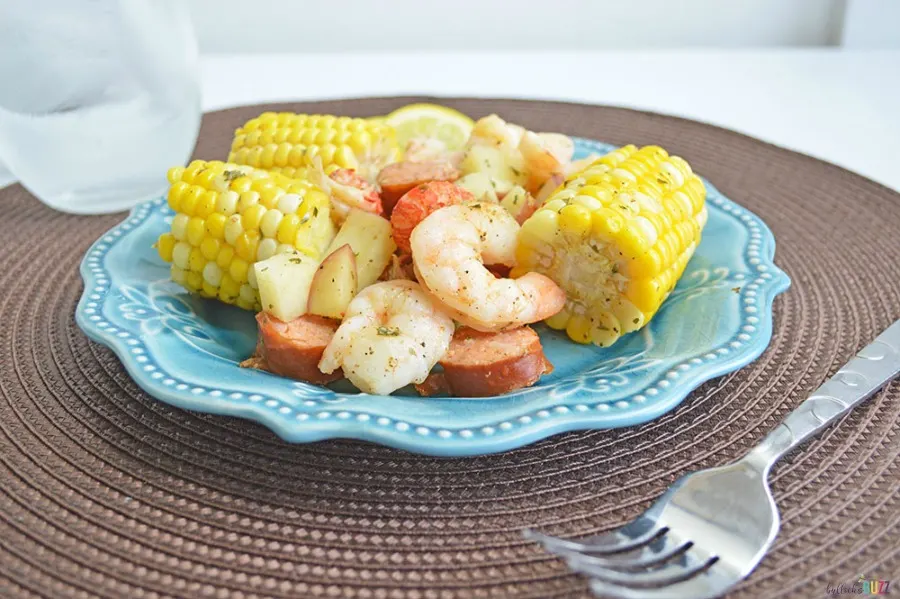 How To Cook Cajun Seafood Boil Packets
Cajun Seafood Boil Foil Packets are typically cooked on a grill, but if it rains or you don't feel like grilling or you don't own a grill, you can make this same Cajun Seafood Boil in the oven, too. Either way, you can't go wrong!
How to Make Cajun Seafood Foil Packets in the Oven
Preheat oven to 425°F
Prepare the packets just as you would if grilling them.
Place packets on a cookie sheet and bake on the center rack 10 – 20 minutes, depending on how done you like your seafood and veggies.
Serve and enjoy!
How to Cook Seafood Boil Foil Packets on the Grill
Preheat the grill (if using a gas grill, you'll want medium-high heat or about 425°F).
Once the grill is hot, place the seafood foil packets (sealed side up) in the middle of grill.
Cook 10 – 15 minutes until shrimp are cooked through and potatoes are tender.
Allow the packets to rest for 2 minutes, then drain the excess juice from the pack.
Serve and enjoy!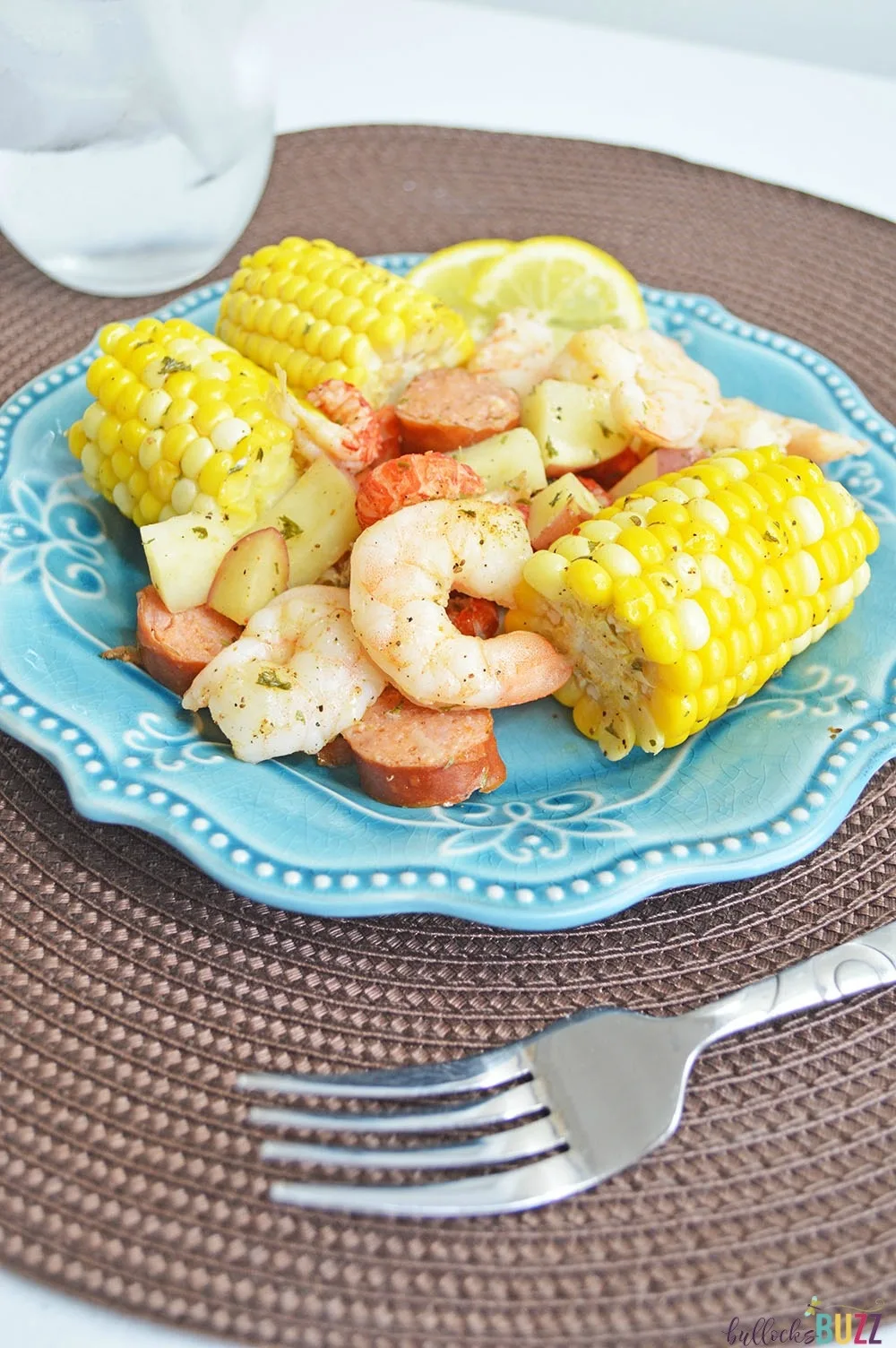 How Do I Avoid Overcooking the Shrimp?
Whichever way you decide to cook these seafood packets, remember that shrimp will cook quickly. To avoid overcooking, place the shrimp on top of the rest of the ingredients before you close the packets. Then, once they're on the grill, keep an eye on them to ensure they don't overcook.
How to Store and Reheat Seafood Boil Packets
While these seafood foil packets are best enjoyed the day they're made, any leftovers can easily be saved for a day or two.
To Store: place any leftovers in an airtight storage container in the refrigerator for up to 2 days.
To Reheat: gently reheat the leftovers in the microwave (not in foil). I personally prefer to keep the shrimp separate as they tend to dry out easily when reheated. So I'll serve them chilled or at room temperature instead.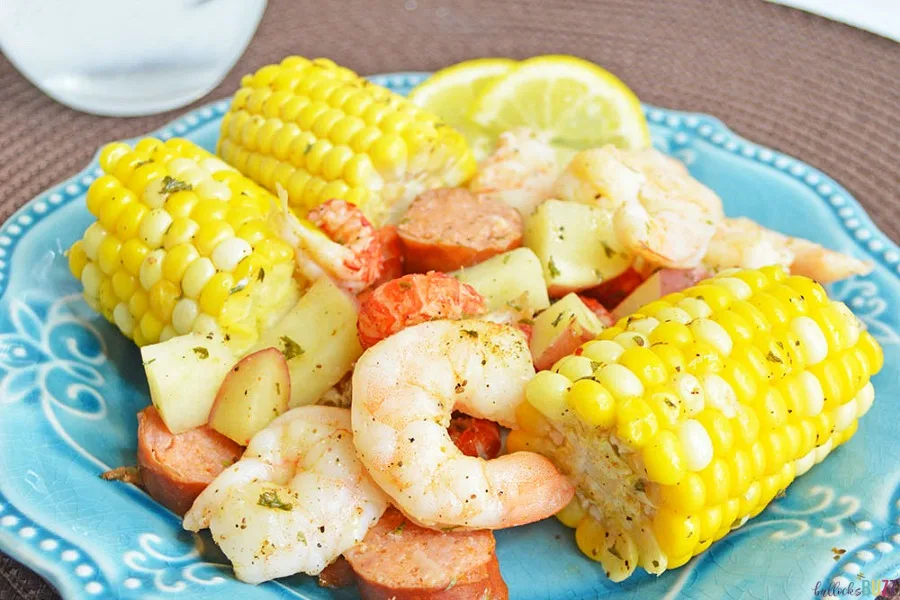 Campfire Seafood Boil
This recipe can also be used for campfire cooking! You'll follow the same instructions as you would if cooking on the grill. Just remember, the potatoes will take longer than the other ingredients, so either pre-boil them a tad or cut them into smaller pieces!
A few more campfire seafood boil foil packets cooking tips include:
You'll want to put the packets on the heat for about 15 minutes.
Remove one of the packets early at about 12-13 minutes to check inside.
When the potatoes pierce easily with a knife and the shrimp have just turned white, your Cajun Seafood Boil Foil Packets are ready to eat!
Serve the packets in newspapers and allow each person to carefully open their own.
More Grilling Recipes
Looking for more easy and delicious grilled recipes? Check out these:
Printable Seafood Boil Foil Packets Recipe
Yield: 4 packets
Easy and Flavorful Cajun Seafood Boil Foil Packets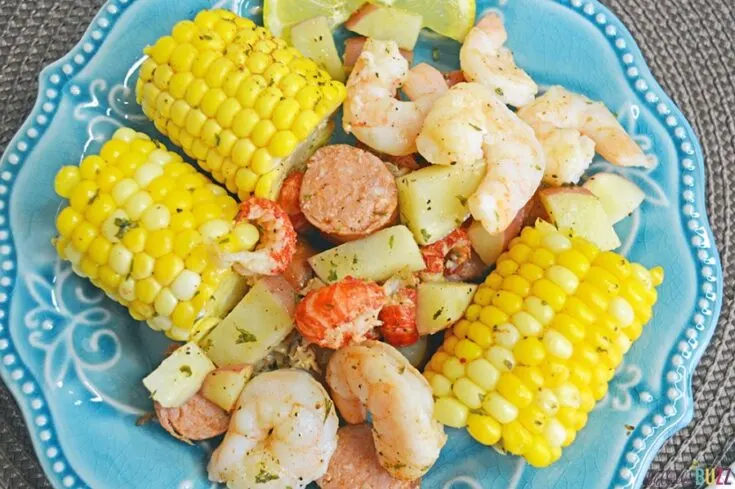 Filled with shrimp, crawfish, sausage, corn, and potatoes, these easy Cajun Seafood Boil Foil Packets are full of flavor with just the right amount of heat.
Ingredients
1½ lbs shrimp, raw, peeled and deveined
2 lbs crawfish, shelled, tail meat only
1 pack Andouille sausage, sliced into ¼-inch thick pieces
6 medium red potatoes, chopped into 1-inch cubes
5 ears corn, shucked and halved
8 tbsp butter, divided
8 tbsp olive oil
2 large lemons, sliced
4 tsp sea salt
4 tsp ground black pepper
6 tsp garlic powder
8 tsp Old Bay Seasoning
6 tsp parsley
Instructions
Preheat the grill to medium heat or about 425° F. - 450° F.
Lay out 8 squares of heavy-duty foil on the counter. Each packet will use 2 squares of foil
In a large bowl, combine the shrimp, crawfish tails, sausage, potatoes, and corn.
Drizzle with 2 tbsp olive oil, then season with salt, pepper, and garlic powder.
Toss all of the ingredients by hand making sure everything is thoroughly coated with oil and seasoning.
Divide the ingredients equally among 4 sheets of foil, making sure to place the food in the middle of each sheet. Also, be sure to place the shrimp on top of the other ingredients.
Sprinkle each with Old Bay and 1 1/2 tsp parsley. Then top each one with 2 tablespoons of butter and 3-4 lemon slices.
Create the foil packets by placing a second square of foil over the top of each foil packet, then roll the four sides in towards the middle, sealing the packets. Make sure each side is nice and tight.
Place packets in the middle of the preheated grill (sealed side up), and cook for 10-15 minutes until shrimp are cooked through and potatoes are tender.
Or you can cook these in the oven by placing the foil packets on a cookie sheet and cooking for 10 - 15 minutes at 425°.
Once finished, let the packets rest for 2 minutes, then drain any unwanted, excess juice from each packet.
Serve and enjoy!
Nutrition Information:
Yield:
4
Serving Size:
1 packet
Amount Per Serving:
Calories:

1331
Total Fat:

66g
Saturated Fat:

23g
Trans Fat:

1g
Unsaturated Fat:

38g
Cholesterol:

715mg
Sodium:

6002mg
Carbohydrates:

90g
Fiber:

10g
Sugar:

11g
Protein:

97g
Nutritional information is automatically calculated with ingredients and serving size and may not be accurate. Please always double check with your own nutritional apps as well.