When it comes time to buy your teen's first car, there are a number of important factors to consider before making a purchase; safety being number one. And while your teen will most likely want a really nice car, or one just like their friends, it may not be the best choice. Whether buying a new or used car for your teenager, here are some important factors to consider.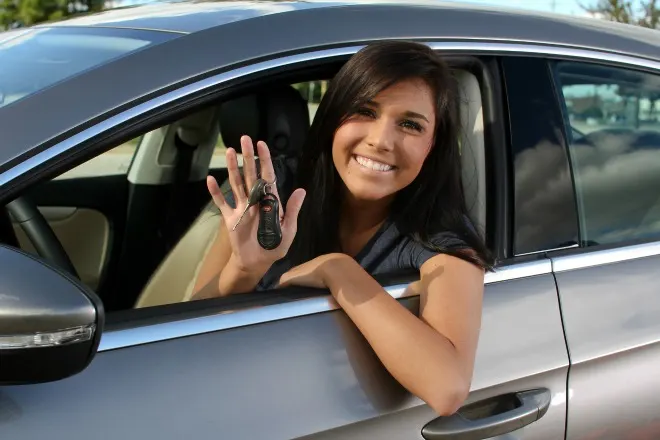 Safety
While no car can completely protect your teen from harm, there are plenty of safe and affordable options. Look for a newer model car that has all the latest safety features including multiple airbags including the standard driver and passenger airbags as well as side and curtain airbags.
Other safety features to consider include lane-departure warning, back-up camera, forward collision warning, Electronic Stability Control (ESC), Anti-lock Braking System (ABS), and Adaptive cruise control.
Once you find a car that seems like a good choice, check the safety ratings through the National Highway Traffic Safety Administration website.
Reliability
Another important factor to consider when buying your teen's first car is the reliability of the vehicle. While all cars will need routine maintenance, if a car requires frequent repairs it could be a safety concern as well as a major inconvenience. Several online sites such as Consumer Reports offer vehicle reliability ratings for cars based on trends and data from surveys of car owners.
Also, if your teen will be responsible for their car's maintenance, consider finding a car that will be affordable for them to maintain.
If buying used for your teen's first car, certified pre-owned cars purchased from a dealership are a great option. While typically more expensive than a non-certified pre-owned or buying from an individual, these late-model, low-mileage vehicles have already been inspected and meet specific criteria. Plus, repair costs are covered under the included factory warranty, or longer if you buy an extended warranty.
Type of Car
When it comes to the type of car, a later-model mid-size passenger car is going to be your best bet. This is because newer cars have updated safety features, and mid-size models offer sufficient weight and size to make controlling them a lot easier. While SUVs, pickup trucks and larger model cars may seem like a safe choice because of their size and weight, they are actually harder to control and maneuver in tight situations. They are also more likely to roll over in a crash. Small cars, on the other hand, offer a lot less crash protection because of their weight and size. Finally, sports cars or performance cars tend to tempt young drivers into speeding and testing their performance.
In Summary
While it's crucial that you buy a safe and reliable car for your teen's first car, what's even more important is that you teach your teen how to drive safely. No matter how safe and secure a car is, it's up to the driver to stay out of danger. As a parent, you should teach your child how to drive safely both through the safe driving tips you share and the driving behavior you model.
Looking to buy a car for your teen? Head on down to Kindle Dodge and their sales specialist will help you pick a car that you both will love!