Cat Furniture Providing A Place to Exercise, Play, Scratch, Sleep & More
Cats and kittens alike love to run, play, hide and climb. They also like to have a high up place to perch and somewhere they can sleep where they feel snug and safe. With outdoor cats it's easy to meet these needs, with indoor cats it can be a bit more difficult. That's where Cozy Cat Furniture comes in.

Cozy Cat Furniture has been providing cat lovers with high quality cat furniture, houses and beds at affordable prices since 2003. They understand that cats will be happier and healthier if their innate needs are met. Every item they carry has been hand-selected for its quality, its ability to satisfy your cat's needs, and its appearance so it will be a nice addition to your decor.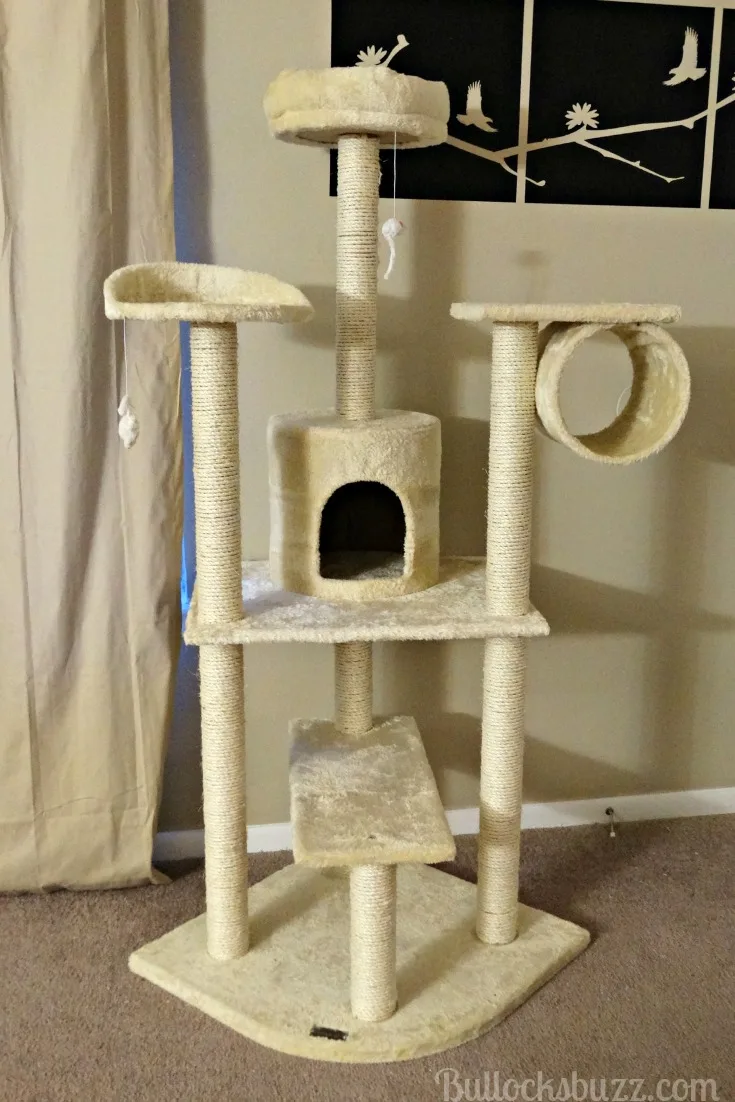 For years I had been wanting to get our cat Sookie a cat condo, but every one I looked at was either ridiculously expensive or extremely tacky. When I saw the Kitty Cat Condo Tree with Round Beds from Cozy Cat Furniture, I knew I had found exactly what I had been wanting. Not only was it large enough for an adult cat, it would also provide Sookie with a place to play, exercise, lounge, sleep and scratch – which my dining room chairs really appreciate! In addition, it was neutral-colored and nicely designed so it would not look out of place in our home.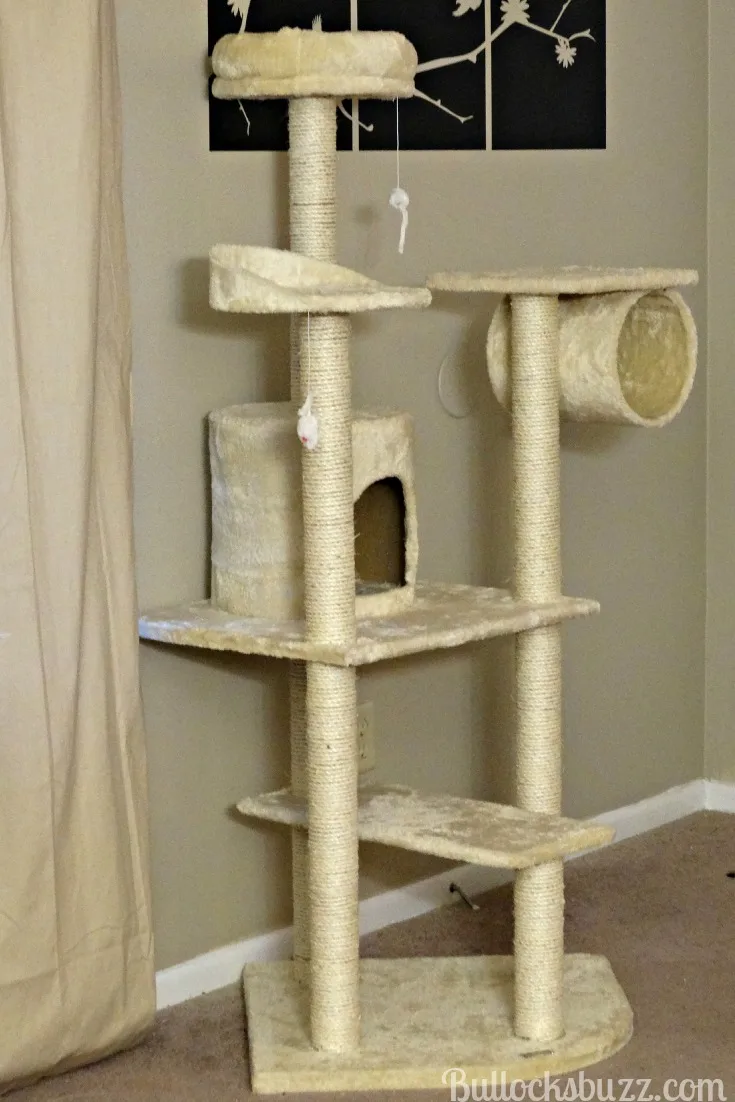 When it first arrived, despite the fact that I already knew it would require assembly, I had a moment of panic when I saw all of the pieces. It turns out I need not have worried as it literally took my husband and I about 20 minutes total to put it together. It came with everything we needed including all tools and a simple instruction sheet.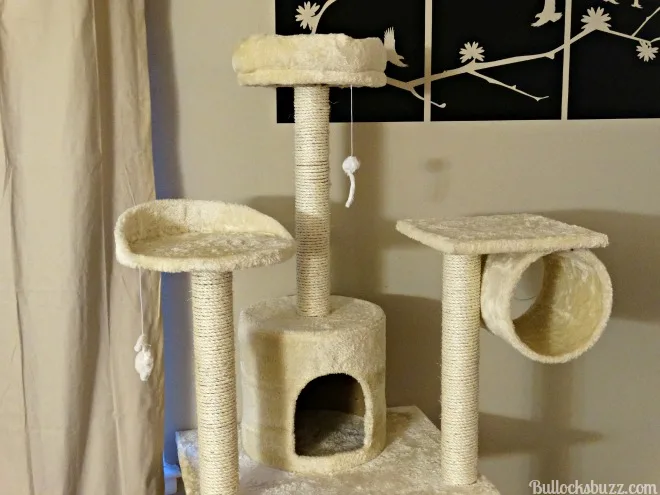 Once fully assembled, the cat condo stands 59″ tall, and measures 22" from front to back and 22" from side to side. The base is 23″ by 23″, and the whole thing fits perfectly next to the large window in our apartment's den. Made of a strong particle board, it is quite sturdy and well-balanced. There are multiple places of varying height for a cat to sit including two round perches, a square one and two rectangular-shaped ones. Each perch is covered in a beige colored, soft Faux Fur material which is perfect for napping upon, and the legs are covered in sisal which provides several places to climb and scratch. There is also a 8″ diameter cat tunnel and a 12″ diameter Bolster cat bed, both of which are covered on the inside with same soft material, providing two comfy and secure places to nap.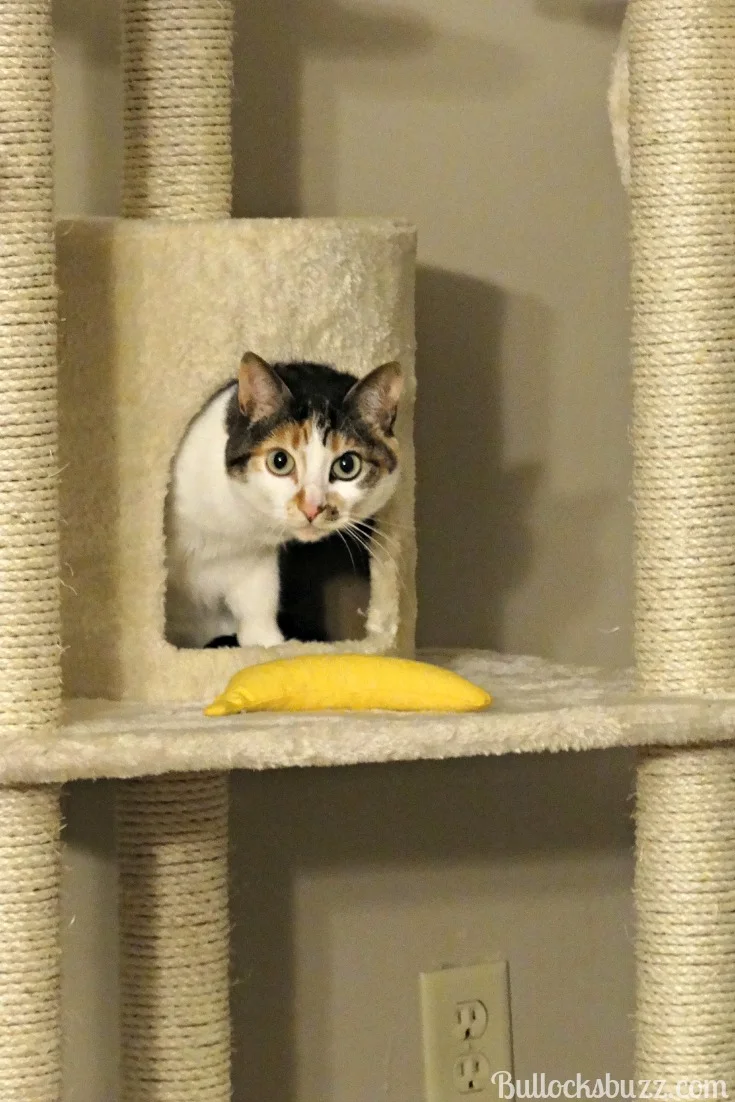 Sookie's favorite spots are the three higher perches, two of which have furry toy mice attached by elastic strings that she loves to play with! Although we are still working on learning to scratch on the sisal posts instead of the furniture, Sookie has completely claimed this cat condo as her own territory. When she is not outside on the back porch, she is on her cat condo – either sitting on one of the perches looking out the window and soaking up sun, crazily attacking one of the toy mice, or snuggled up inside the hidey-hole fast asleep!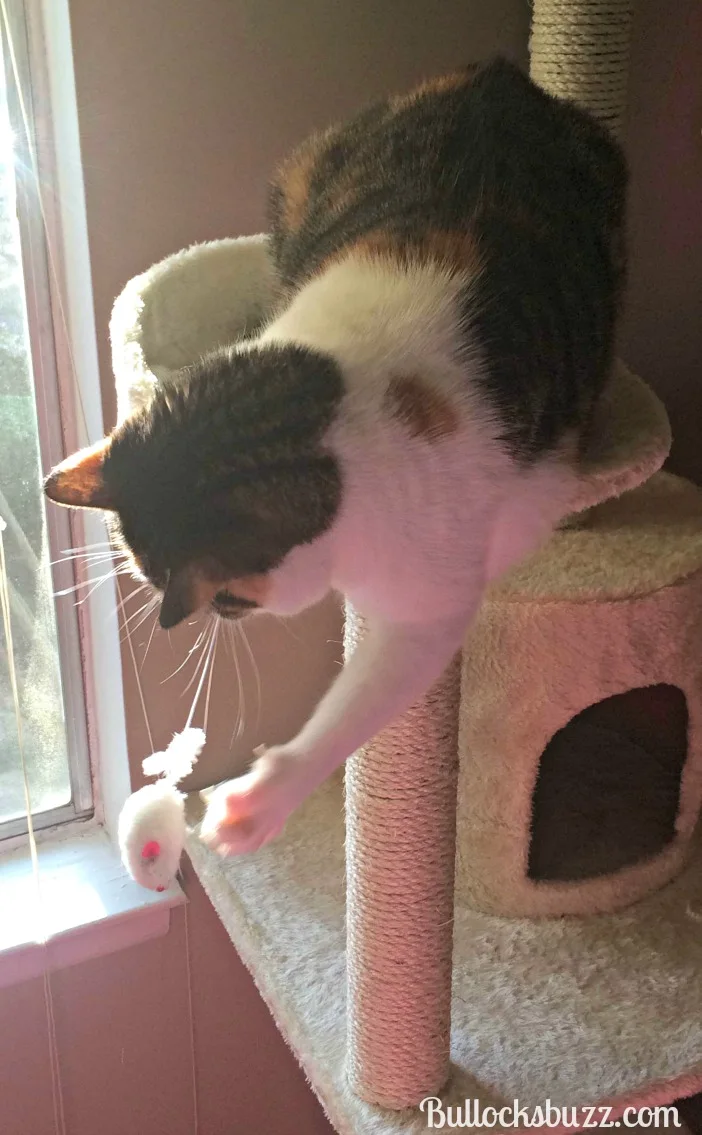 There is so much I love about this cat condo! First of all, the neutral, light tan color helps it blend in perfectly with any decor. It's size is ideal for both kittens and adult cats, yet at the same time it doesn't take up too much space – even in an apartment! Cleaning it is easy as you can either vacuum it or wipe it down with a damp rag and mild detergent. Most importantly it gives our indoor cat a place play, therefore helping her get the exercise she needs.
In addition to this particular cat condo tree, Cozy Cat Furniture carries many more of all sizes and colors. They also have a great selection of cat beds, scratching posts, cat towers, cat gyms, cat steps, pet houses and more.