Disclosure of Material Connection: I received one or more of the products or services mentioned above for free in the hope that I would mention it on my blog. Regardless, I only recommend products or services I use personally and believe will be good for my readers. I am disclosing this in accordance with the Federal Trade Commission's 16 CFR, Part 255: "Guides Concerning the Use of Endorsements and Testimonials in Advertising."
2015 Valentine's Day Gift Guide
A Review of At the Crossroad by Olfet Agrama
"The decisions we take at every crossroad in our lives shape our destiny." This is the theme that runs through author Olfet Agrama's first book, At the Crossroad, the story of four young people growing up in the midst of war-torn Egypt. Read along through the adventure, romance, joy and tragedy of their lives, and get a glimpse into how life in the middle East was during the 1950's and 1960's.
Please note, this post may contain Amazon affiliate links to make shopping easy. If you make a purchase through these links, I'll make a small bonus at no extra charge to you.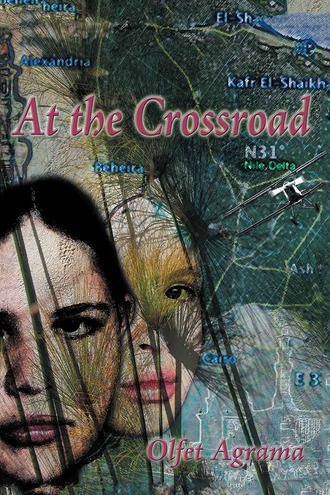 Synopsis of At the Crossroad
Egypt, after the Second World War was torn between the East and West. Occupied by the British and ruled by a corrupt King, it was inevitable that by 1952 the country would be convulsed by a military revolution. We follow four young people born during the occupation and learn how their lives and loves intertwine with the political events of their country.
Nadia lives a Western lifestyle, but suffers the intellectual and physical repressions imposed upon her by a conservative Muslim father.

Melanie, whose mother is British, enjoys the semblance of a free and emancipated life in a world that never completely accepts her.

Sammy was brought up in England, but is still a product of the Middle East. He succeeds in escaping from the political restrictions of the military regime, but can't escape his macho culture

Hassan is the victim of his ideals. His belief in the revolution is shattered when he perceives the corruption of the new government and when the Egyptian Army is defeated in the Suez Canal War.
About the Author of At the Crossroad
Olfet Agrama was born in Egypt and earned her bachelor's degree at the University of Ein Shams in Cairo. She immigrated to the U.S. at the young age of 24, where she received a master's degree in English Literature from the University of California. She was CEO of Intersound, a dubbing and post production studio in Los Angeles and presently sits on the board of directors at Harmony Gold, a television production and distribution company. Olfet Agrama has been married 60 years and has two children and six grandchildren. She is a renowned sculptor and painter with numerous exhibits showcased in Paris, Madrid, Nagasaki, Japan and Los Angeles, California, among others. Agrama travels extensively and currently divides her time between Los Angeles and Paris. She is currently working on her second book.
Review of At the Crossroad
Like all good books, Agrama's At the Crossroad had me enthralled from the beginning. Reading along, I was quickly drawn in to each character's life, able to relate to some of their thoughts, feelings and actions despite the fact that they "came of age" in a different time and culture. I found myself intrigued by the way their lives intertwined, and how everything from their culture to their religion to the beliefs of their parents influenced the path they chose to take. By the end, it is clear how those decisions not only led them to the place they were in their lives as the story ended, but also how they evolved into the people they became. Throughout it all, I was given a glimpse into life as it was in the Middle East in the 1950's and 1960's.
I definitely recommend this well-written, fast-paced book to anyone looking for a good read!
Why not read it for yourself? Available in hardcover ($29.99), Paperback ($19.99) and E-book ($3.99) formats, you can purchase At the Crossroad through Amazon.com
, as well as through your favorite book seller, both online and off. You can also enter to win a paperback copy below!
Win a Paperback Copy of At the Crossroad!
One lucky winner will receive a paperback copy of Olfet Agrama's At the Crossroad. To enter, use the Giveaway Tool form below. This giveaway is open to residents of the US, age 18 and up. It will end on Feb. 23rd at 11:59pm CST.
GOOD LUCK!
GIVEAWAY HAS ENDED!!!