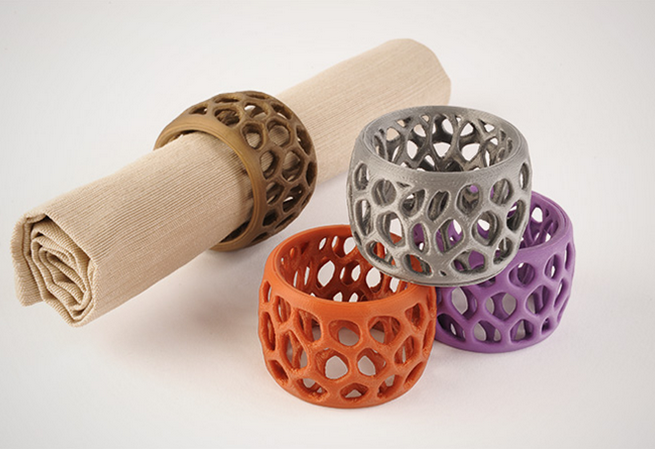 A good bar, even one that spans one tiny section of your kitchen, wouldn't be the same without some essential items. Alcohol, for starters. Also, enough glasses to serve your family and a few guests. After that, the options for personalizing your bar depend entirely on your style. Why settle for some generic, low-quality barware though, when you could have an adventure and make the items yourself with a desktop 3D printer? Today, the technology has gotten advanced enough where these printers can print even more 3D printers, but they're also really great at making napkin rings and drink coasters. Here are just a few bar-related items that can be downloaded for free online, which will surely liven up your next party:
Coasters: Your drink needs to rest on something, right? Give it a stylish place to stand with Freshfiber's geometric coaster set. This download comes complete with three different coaster designs: a hexagonal shape, a minimalist swirl, and a pinwheel swirl. You can pick out your favorite and print a few of the same style, or just make one of each. Either way, you'll be protecting the table from any unwanted condensation. That deserves a serious pat on the back.
Wine Charms: You've never heard of a wine charm? They're like jewelry for your wine glass, so if you're having an occasion at home where everyone will be dressed up, then you might want to dress your drinks up too. Depending on the party theme, you can choose from a range of different charms — holiday, cities, and San Francisco landmarks are the current selections that Freshfiber has made available for free download. Plus, even when your guests all have a similar-looking glass of wine, their charm will be unique, so they'll be able to tell which drink is theirs.
Sword Bottle Opener: You probably already have a bottle opener at home, but do you have one in the shape of a sword? That's what I thought. Delight your visitors with this miniature sword that is useful for opening beers and then playfully poking your relatives in the arm. Plus, when Game of Thrones finally returns, you'll have the drink theme covered. It goes without saying that you should be careful when wielding a tiny plastic sword, though, so just keep safety in mind.
Custom Napkin Rings: This one technically doesn't count as barware, but we'll make an exception for some gorgeous napkin holders. If you're having a soiree that involves wine, a cheese plate, and a few other hors d'oeuvres, then the Macedonia napkin rings will come in handy. Designed by Janne Kyttanen, these rings look like a coral reef molded into a cylinder, which is to say, beautiful. They aren't ostentatious, though, so you can use them for any holiday gathering or a normal dinner with the family.
Image courtesy cubify.com