Fruit and veggie-lovers – prepare to rejoice! There's now a better and easier way to wash your fruits and veggies of those yucky pesticides and other contaminants: Arm & Hammer Fruit & Vegetable Wash.
Made with the power of Arm & Hammer baking soda, their Fruit and Vegetable Wash safely and effectively gets rid of more than 90 percent of pesticide* residue while also washing away wax and dirt with just a simple spray and rinse.
As a brand ambassador for Arm & Hammer Fruit & Vegetable Wash, I received products and compensation in exchange for my review. Regardless, all opinions are 100% mine. This post also contains affiliate links that help support this site at no cost to you.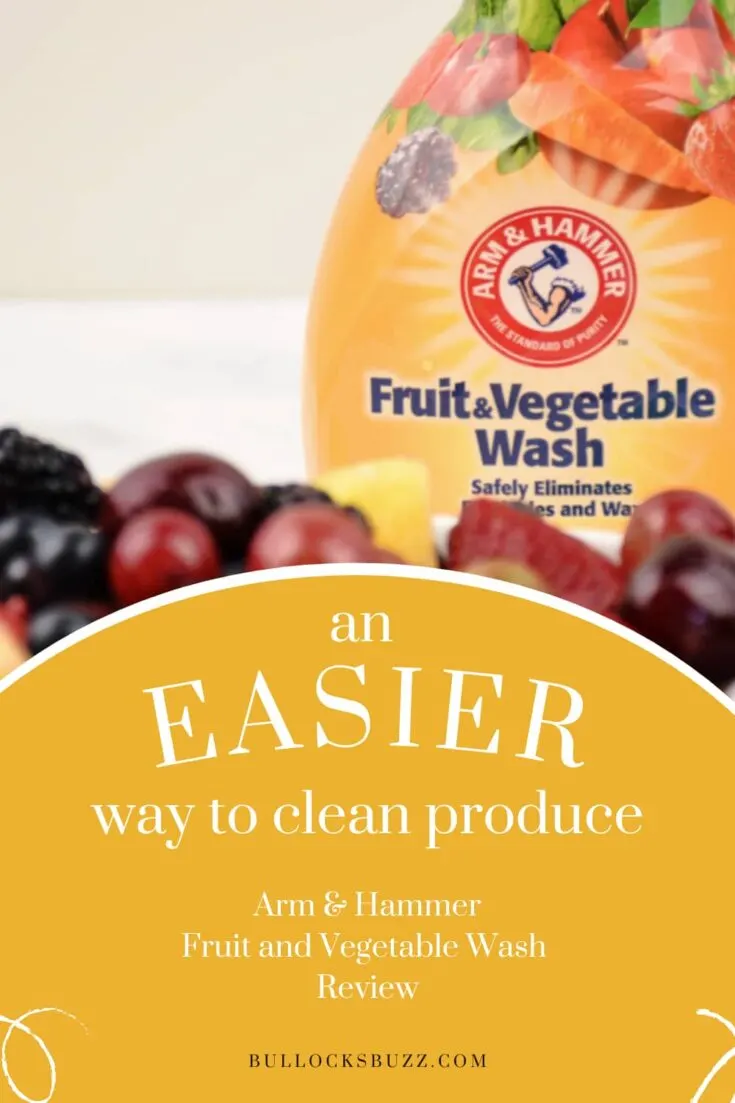 For the longest time, I would wash my fruits and vegetables with cold water and believe they were clean. However, according to several independent studies, simply washing produce with water and/or bleach still leaves behind large traces of pesticides.
But pesticides aren't the only contaminants to be concerned with. There's also the soil the produce grew in, and the wax it's sprayed with to extend its shelf life. Then there's all of the unknown hands that handle it while getting the food from the farm to the store. Plus, all the people that touch it in the store before we finally get it home. Yikes!
Enter ARM & HAMMER™ Fruit and Vegetable Wash.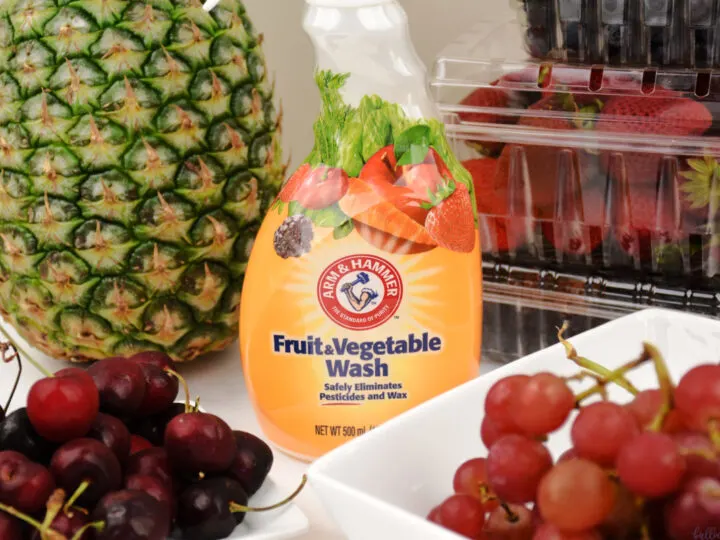 What Is Arm & Hammer Fruit and Vegetable Wash?
ARM & HAMMER™ Fruit and Vegetable Wash is a simple yet effective way to clean produce. It is scientifically proven to clean 4-times better than water alone. In fact, when compared to either tap water or a bleach solution, surface pesticide residues were removed most effectively by ARM & HAMMER™ Fruit and Vegetable Wash.
This Fruit and Vegetable Wash is also safe to use. It is 100% free from harsh chemicals, and uses only pure and simple ingredients – including baking soda, lemon oil and salt.
In fact, ARM & HAMMER™ Fruit and Vegetable Wash is so safe, that it is the first food-contact product to get the Safer Choice certification! Products with this certification must demonstrate being effective, while only using ingredients that are safe for families.
Even better, it leaves absolutely zero odor or taste behind. The only thing you'll taste is the delicious, natural flavor of the fruits and veggies. And did I mention that it is also vegan-friendly and gluten-free?!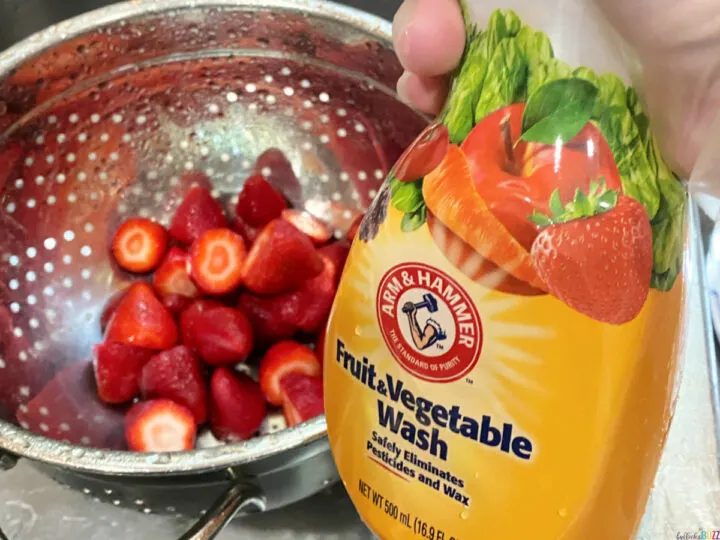 How Does It Work?
In addition to being effective and safe, ARM & HAMMER™ Fruit and Vegetable Wash is also incredibly simple to use. In three quick steps, the fruits and veggies you feed your family will be clean and ready to eat.
Step 1: Spray whatever produce you are wanting to clean.
Step 2: Gently rub the wash into your food.
Step 3: Rinse the food thoroughly.
Now all that's left is to enjoy cleaner and healthier produce.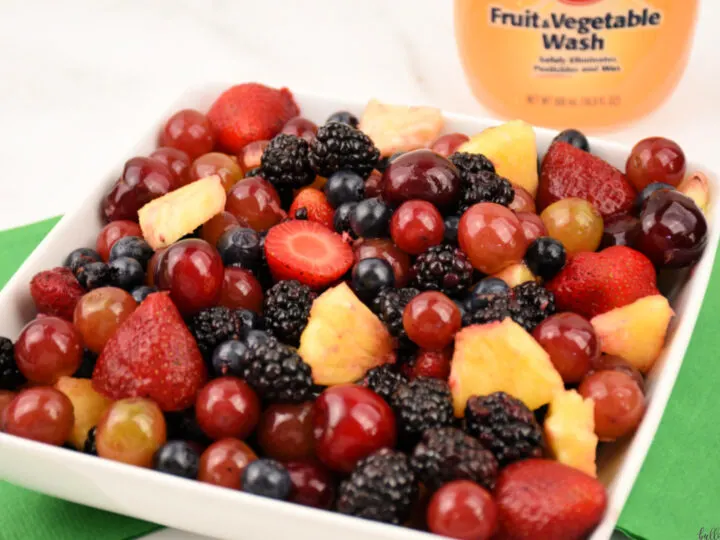 Serve Your Family Clean and Healthy Produce
Having the option to be able to thoroughly clean my fruit and veggies with the Arm & Hammer Fruit and Vegetable Wash is a huge plus. Not only does it keep my family and me safe, but it also helps me maintain my peace of mind. 😉
At this point you're probably wondering, "Do I really need this fruit and vegetable wash?" Well, if you're okay serving your family or friends product contaminated with pesticide residue, wax, and/or soil, then I'd answer "probably not".
But if you're not okay with that, or if simply rinsing your food before eating it doesn't make you feel 100% comfortable, then I would answer, "yes".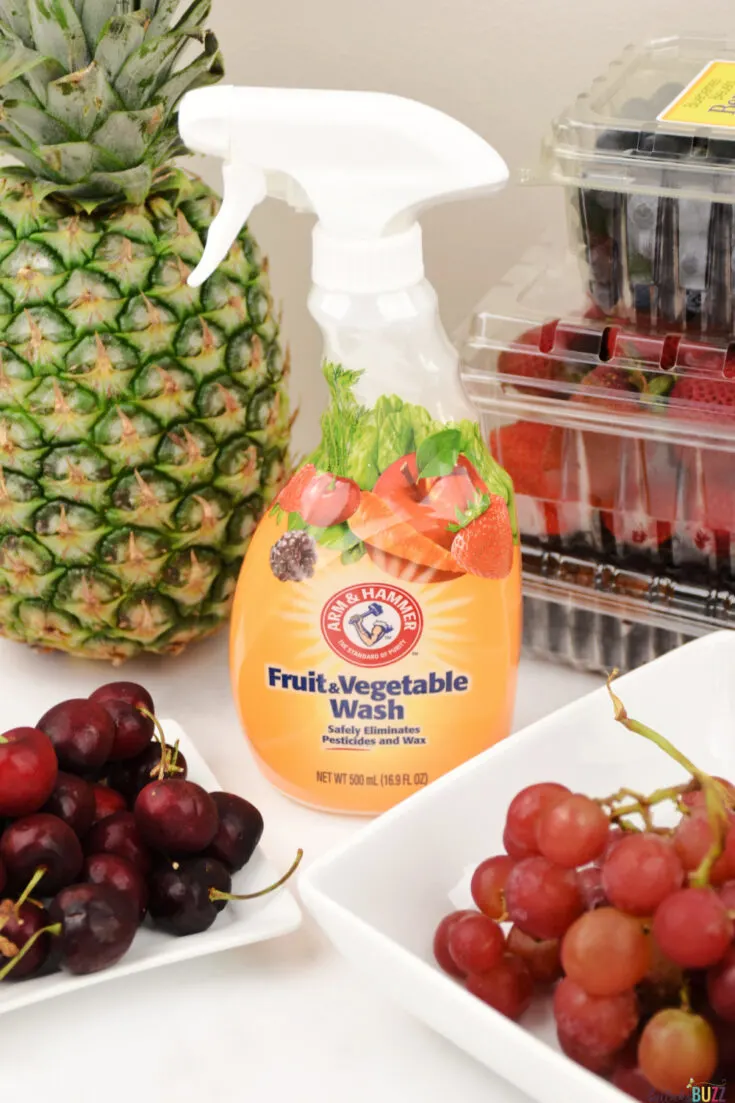 Where Can I Buy Arm & Hammer Fruit and Vegetable Wash?
ARM & HAMMER Fruit and Vegetable Wash can be found at your favorite store or through Amazon or other online stores. It retails for around $5 per 16.9 ounce bottle.
Learn more about Arm & Hammer products visit HERE. To learn more about their fruit and vegetable wash click HERE.