More than an impressive makeup collection, having an organized makeup drawer is a must. It makes getting ready much easier and less stressful because you know where to find each item. However, arranging everything might take some time to figure out, but once you learn how to organize your makeup drawer, you'll be so happy you did!
It takes a few simple steps to organize your products, from cosmetics to beauty tools and everything in between. Not to be dramatic, but having a neat makeup drawer is life-changing. So, if you've been putting off arranging your makeup for a while, this guide on how to organize your makeup drawer is for you.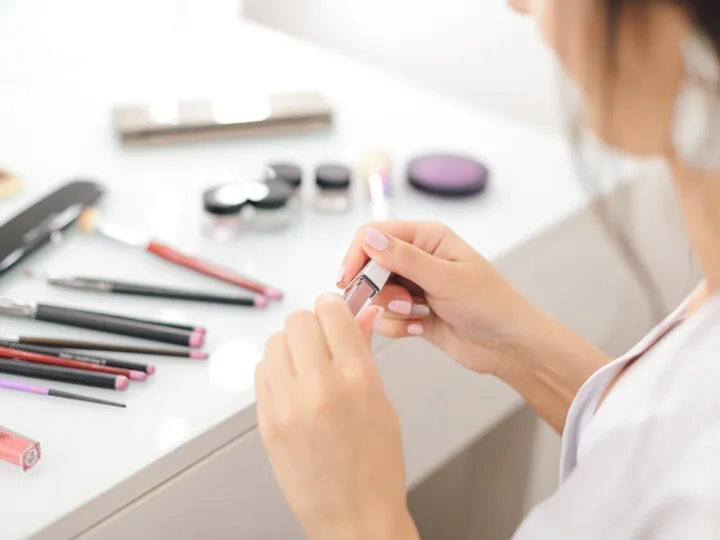 Empty your drawers
The first step in preparing to organize your makeup drawer is to pull everything out of it. Gather all your items in one big pile and make sure you don't leave anything out. Go through your bags and other purses too to check if you have any lip balms, concealers, or brushes that you need to include. Doing this allows you to visualize everything and take note of every product you have.
Keep track of expiration dates
Don't skip this step—knowing when your makeup will expire can help keep your collection in check. It's also the next step to organizing your makeup drawer. You might be holding onto products that are way past their shelf life, but you have to understand that keeping them will only add unnecessary clutter in your drawer (not to mention unhygienic).
Makeup expiration dates you should know:
Liquid or gel eyeliners – 3 months
Mascara – 3 months
Lipstick (liquid or bullet) – 1 year
Oil-free foundation – 1 year
Cream eyeshadows and blushes – 12 to 18 months
Concealers – 12 to 18 months
Lipgloss – 18 months to 2 years
Powder products (blush, eyeshadow, foundation) – 2 years
Categorize
We suggest making a comprehensive list for this step when learning how to organize your makeup drawer. From liquid and powder foundations to eye shadow pens and palettes, categorize every makeup you own for easier sorting and organizing. It lets you group similar products so that you wouldn't have a hard time looking for specific makeup when you need to. For example, all your eyeliners can be arranged in one tier then have mascaras in the next.
Utilize dividers
The next step when learning how to organize your makeup drawer, is to make use of dividers. Whether you make your own or buy from an online store, dividers are an excellent way to maximize any drawer or storage space. You can also customize it to whatever size you want to make sure all your beauty products fit properly. Also, you can try other storage hacks like empty glass containers, trays, and baskets to put your products in. if they fit in your drawer, the more you can add to it.
Invest in acrylic makeup organizers
If you really want to step up your makeup organization game, we recommend getting high-quality storage. Acrylic containers are one of the best investments you can make for your cosmetics. Not only can you put them in drawers but you can also stack them on top of your vanity or bathroom counter.
Their transparent material allows you to see the products clearly, making it easier for you to get what you need with ease. Also, they're easy to clean!
The truth is, there are hundreds of acrylic organizers on the market, but I've narrowed the best ones for you. Here are my recommendations:
Lumina Pro's makeup brush organizer is a sophisticated and stylish home for your makeup collection. It features a 5 tier-drawer organizer with faux-crystal handles. It's sturdy and has a large capacity, meaning you can store brushes, compacts, and palettes with ease.
The Luxe Acrylic Modular Makeup System stacks securely for vertical storage. They look gorgeous and hold everything from makeup to jewelry. The UV-resistant material in each piece extends the life of the system as well as preventing yellowing to the acrylic even when exposed to outdoor environments.
Stylish and functional, the O&O by Olivia & Oliver 6-Compartment Vanity Organizer is the perfect storage solution for accessories. Spacious compartments will help you organize your makeup drawer and keep it that way. Perfect for brushes, lipsticks, and more.
The iDesign Signature Series by Sarah Tanno Cosmetic Organizer is designed with multiple storage compartments and removable dividers to hold all of your favorite makeup brushes, palettes, eyeshadows, liners, and more. It comes in a sleek black color to match any aesthetic.
The Ikee Design Premium Acrylic Rotating Cosmetic 40 Lipsticks Tower Organizer is constructed from quality acrylic and comes with dividers that you can expand up to 16 compartments.
Never lose your makeup again
With these tips on how to organize your makeup drawer in mind, you can start organizing your beauty products without getting stressed. You'll thank us (and yourself) later once you're done and see the now-perfect vanity you have.