Scrubs are a wonderful way to pamper your skin, especially since they both exfoliate and moisturize at the same time, leaving your skin soft and smooth. Unfortunately, they can also be quite expensive! But why spend your hard earned money on store bought scrubs, when you can make your own quickly, easily and for less than a quarter of the price!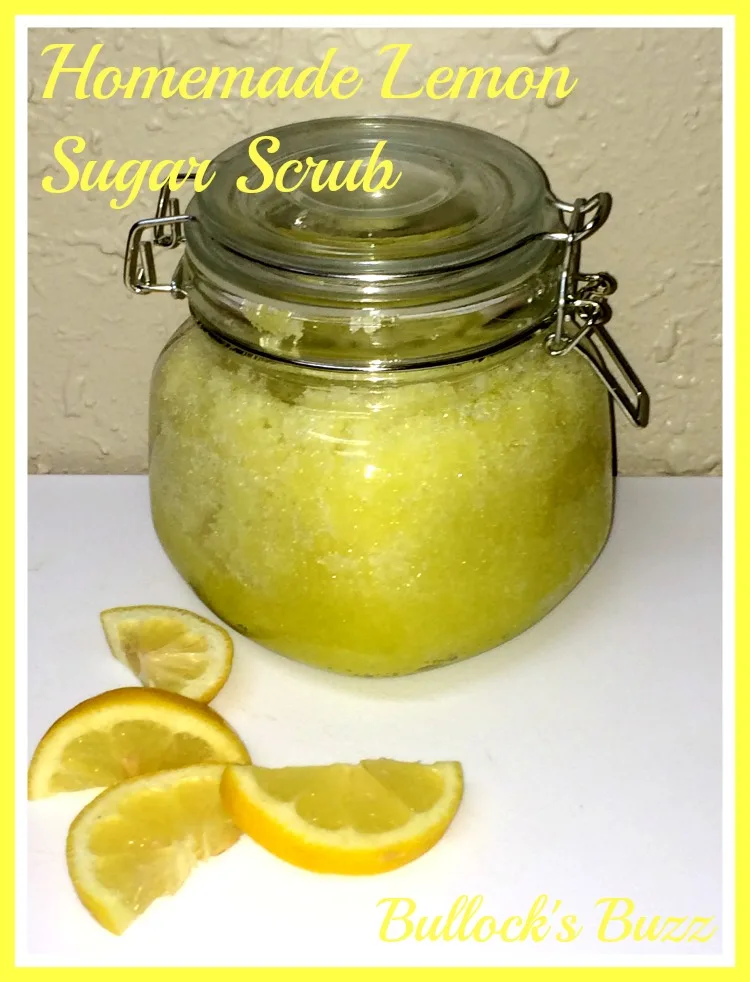 While there are all kinds of homemade scrubs, my favorite is a basic sugar scrub. Sugar may not be so great for your teeth, but it can work miracles on your skin! You see sugar is actually a natural glycolic acid which is what is found in many store bought scrubs to help remove dead skins cells and stimulate the growth of new ones. Sugar cane is also known to have anti-aging properties. In a homemade sugar scrub, the sugar and oil work together to exfoliate and moisturize, while the essential oils work to calm and relax, or refresh and invigorate – all depending on the scent. Best of all, homemade sugar scrubs (especially if made with organic sugar) are free of unnatural and harmful ingredients and come without the name brand price tags.
Below is a recipe for a basic sugar scrub that calls for three common ingredients, all of which you probably have in your kitchen right now! After that are a few of my personal favorites. Note that with any of these recipes, you can use either essential oils or natural juices; however, before you begin, make sure to read the helpful tips below, especially since you will be working with essential oils and/or citric acid.
Helpful Tips
You can never be too careful when it comes to your skin, therefore, always do a patch test on a small piece of skin (e.g your wrist or behind the ear) to see how your skin reacts to the separate ingredients.
Do not use a sugar scrub on your face, on any sensitive areas, or areas of damaged or irritated skin from cuts, scratches, sunburn or allergies.
Essential oils can be really powerful stuff as can the citric acid found in fruits such as lemons, limes and oranges. When using any of these in skin treatments, always be careful as to what kind and how much you use. Too much can cause acid burns and/or irritation, especially if you have sensitive skin.
Since these recipes call for the use of essential oils, it is best to keep them in a cool cabinet, out of bright light.
If using fresh juice in place of essential oils, it is best to store them in the refrigerator.
Mix and store ingredients in glass bowls and jars to prevent reactions with other materials.
Most of these scrubs will have a life of around 1 to 2 months.
The contents of any sugar scrub will settle so always mix before using.
Before applying a sugar scrub, clean your skin with lukewarm to warm water or a warm, damp washcloth. Even better, take a hot shower or a steam bath to clean and open up your pores, then use the scrub.
If you use your scrub in the tub or shower, remember the oils can cause your tub to get slippery so be careful!
These scrubs work great on your arms, back, legs and especially feet! Always make sure you have a block of time set aside for yourself so you can relax and enjoy the full benefits of pampering!
Basic Sugar Scrub Recipe
This is a basic recipe you can use, adding whatever scents you prefer. It will make a fair amount, but you can always adjust the ingredients to make the amount you need. A basic rule to follow is a ratio of 2:1. It takes no loner than 10 minutes to make and will last for several weeks when stored in an airtight jar in a cool, dark place (or refrigerator if using fresh juice).
Ingredients:
mixing bowl and spoon (or spatula)
2 cups of white sugar (I prefer organic so I know there are no extra additives)
1 cup good quality oil (I like using extra virgin olive oil, almond oil, sunflower oil or any other non-smelly oil. You can also use grapeseed or coconut oils).
6 to 8 drops of your favorite essential oil (add drop by drop until you get the strength scent you prefer)
glass jars with airtight lids
Instructions:
Combine all of your ingredients together in a large bowl, being sure to mix well. Then transfer to an airtight jar and you are done!
More Homemade Sugar Scrub Recipes
Below are a few of my favorite sugar scrub recipes. Pick the ones you like the best, and give them a try!
Lemon Sugar Scrub
This lemon sugar scrub has a scent that is so refreshing and invigorating – it smells good enough to eat! I love keeping a jar by the sink and using this when I wash my hands – especially after cooking with foods that have a strong scent as it gets rid of the odor fast!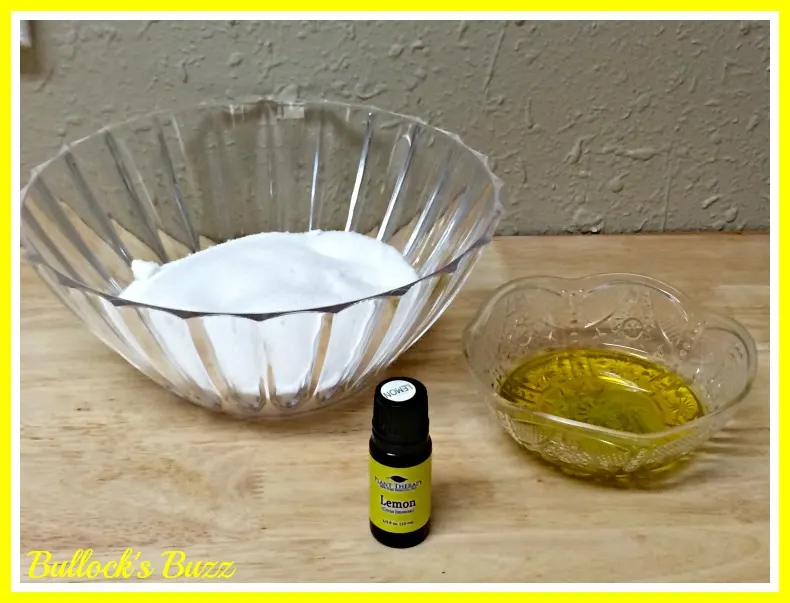 Ingredients
2 Cups of Sugar
1 Cup of Extra Virgin Olive Oil or oil of your choice
8 to 10 drops lemon essential oil OR 3 tablespoons of fresh-squeezed or bottled lemon juice
Instructions:
Place the sugar in a bowl and begin adding the oil bit by bit, stirring with a spoon or spatula until you get a thick paste. You can really add as much oil as you prefer until you get your desired consistency. I personally do not like my scrubs oily, so I usually wind up using a bit less.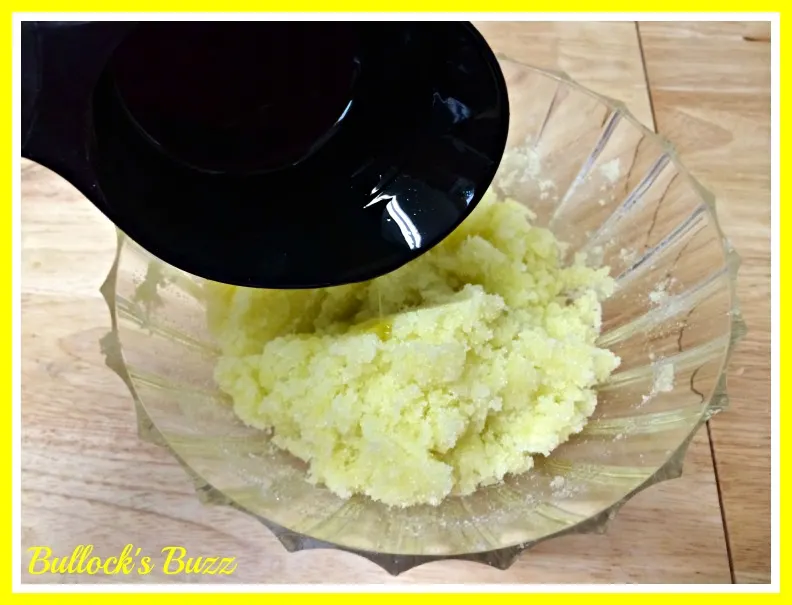 Next, add a few drops of lemon essential oil, mixing well. I usually wind up using about 10 to 12 drops. You can also use fresh lemon juice, adding it the same way until you get your desired scent.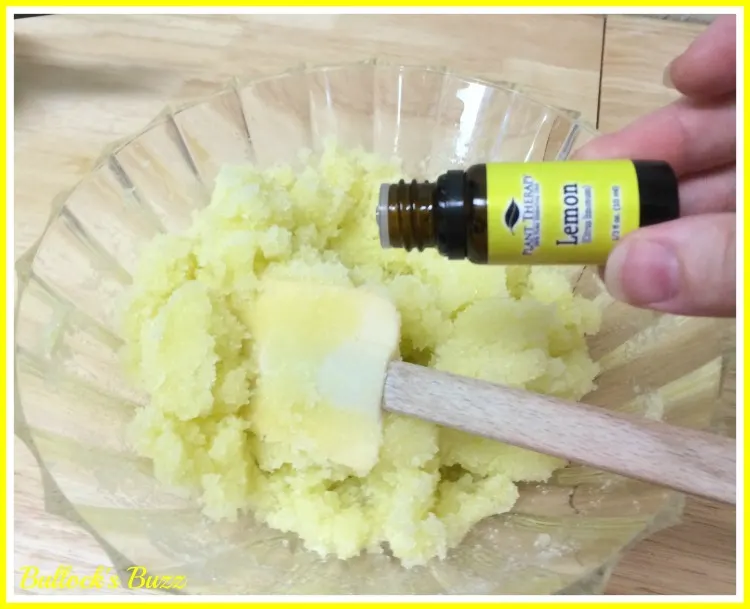 Transfer into a pretty decorative jar with a lid. Remember to either store it in a cabinet or the refrigerator.
To use, wet your hands, dip your palms into the scrub and gently run in circular motions to massage and exfoliate your skin.
Peppermint Foot Sugar Scrub
This one is great for getting your feet ready for Summer!
It uses the same basic ingredients as above, with peppermint oil as the essential oil.
You can also add in a few drops of green food coloring to add a pretty hint of color.
2 Cups of Sugar
1 Cup of Extra Virgin Olive Oil or oil of your choice
8 to 10 drops peppermint essential oil
Lavender Meditation Sugar Scrub
This is the one I use the most as I love the relaxing properties of lavender.
You can also add in dried, crushed lavender for a beautiful-looking scrub.
2 Cups of Sugar
1 Cup of Extra Virgin Olive Oil or oil of your choice
8 to 10 drops lavender essential oil
Sweet Orange Sugar Scrub
Another personal favorite, this one is great to use for a morning shower as the scent of Sweet Orange Oil is refreshing and invigorating.
2 Cups of Sugar
1 Cup of Extra Virgin Olive Oil or oil of your choice
8 to 10 drops Sweet Orange essential oil OR 3 tablespoons of fresh-squeezed orange juice
Brown Sugar and Vanilla Scrub
1 cup brown sugar
1 cup white sugar
1 cup olive oil
1 tablespoon pure vanilla extract
What are some of your favorite sugar scrub recipes and scents?