Guest Post
For many families, home safety is a top priority. Many traditional methods of home security, although efficient, are in fact energy draining. From excess lighting to electricity-draining security cameras to non-energy efficient thermostats and water heaters, keeping your home safe can cost a pretty penny.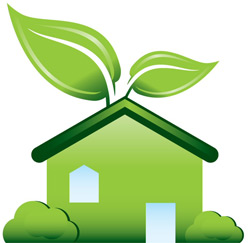 As times have progressed, so have security systems, allowing homeowners the ability to boost security while reducing their carbon footprint. Here are a few green tips to keep your home safe and secure without breaking the bank:
Home Security Systems
With the current trend toward eco-friendly products, security companies have released their own line of energy-efficient products. When looking for a security system, most security companies will provide you with eco-friendly, energy-efficient options. These systems are more cost-effective, for they are built out of either recycled materials or environmentally friendly materials. And, because of their efficiency, they cost far less to use than traditional systems.
Solar Lighting and Energy Efficient Light Bulbs
Solar lighting receives its energy from radiant light and heat from the sun rather than through electricity. Making the switch from electric-powered lights to light up the exterior of your home to solar-powered lights can save you up to 15 percent on your next electric bill. Solar powered lights
automatically turn on and off based on the amount of sunlight present, and cost next to nothing to stay on overnight.
For interior lights, switch your old incandescent light bulbs for energy-efficient light bulbs. In many areas incandescent light bulbs are no longer being sold, for they are harmful to the environment as well as extremely energy draining. Compact fluorescent lights are more cost-efficient, eco-friendly, and just as attractive as incandescent.
Thermostats and Water Heater
Older homes generally have older, if not original, thermostats and water heaters. Even if they are still in working order, they are not nearly as energy-efficient as new ones are, which not only costs you more money, it is also damaging to the environment. Replacing both the thermostat and water heater will be worth the investment, for in a matter of a few months, you will have earned back the money you spent through how much you saved running energy-efficient appliances.
Additionally, new thermostats are programmable, which allows you to set the temperature to automatically set while you are home and away. A great feature, this programmable thermostat
option allows you to automatically save money and energy by keeping the house warmer while you are gone, and cooler while you are there to enjoy it.
Energy Efficient Windows
New windows help to keep your home more comfortable without using your air conditioner or heater as often. When windows wear out, they tend to allow outside air in, making the home drafty and uncomfortable. Additionally, older windows are single-paned versus new double-paned windows. Double-paned windows are more resistant to weather temperature, as well as safer, for it more difficult to break into a double-paned window.
Image Source: www.environmentalhomecenter.com