It's February and it's time to celebrate love. These days when love is in the air, gift ideas for a perfect Valentine's Day can be seen everywhere, including flowers, teddy bears, books, perfumes, jewelry and more. Edible Valentine's Day gifts are also a very popular choice. In fact, with so many adorable options out there, choosing the right gift can easily turn into an overwhelming task.
If it's your first Valentine, you may be stressing a lot about finding something that will make a great impression on your partner. Or perhaps you've already spent many Valentines together, and you've run out of ideas by now. Whatever the case is, edible Valentine's Day gifts can save the day!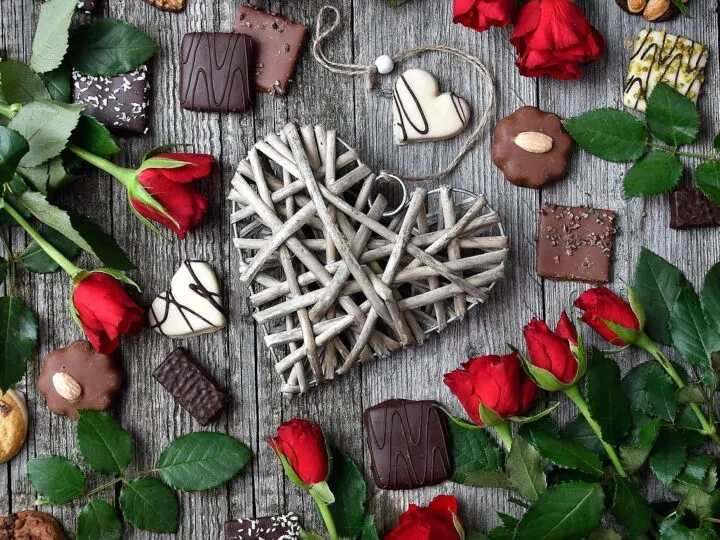 What's even better, a Valentine's Day gift you can eat can also be a great solution if you want to surprise your best friend, a relative, or a colleague maybe. So, take the time to go through this selection of carefully made edible Valentines day gifts and pick one for each person you want to make feel loved and appreciated this February 14th.
There Are Many Edible Valentine's Day Gifts to Choose From
There's an old German expression that says, "love goes through the stomach", implying that love and food go hand in hand, and you could easily win someone's heart through food.
One of the best things about choosing an edible Valentine's Day gift to celebrate the day of love is that it combines love and thoughtfulness. Plus, it will certainly put a smile on the receiver's face.
Luckily there are all sorts of edible gifts for Valentine's Day out there. You can pick something up at the store, or order a Valentine's Day delivery gift. After all, who doesn't love answering the doorbell to find a surprise on the other side!
There are gifts filled with chocolates, cheese and great wine parings, carefully selected gin or craft beer, chocolate bouquets instead of flowers, boxes full of doughnuts, and so many more!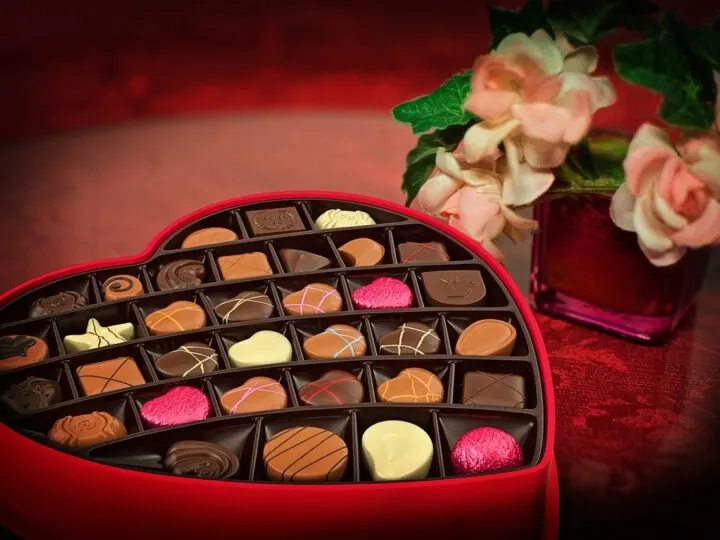 Choosing the Perfect Edible Valentine's Day Gift
A well-chosen gift shows that you care about the person, so make sure to consider their lifestyle, personality and a thing or two they are enthusiastic about. Edible Valentine's Day gifts are meant to be used and enjoyed, so it's important to put some thought into it before sending it to your recipient.
Here are some of the most-loved edible Valentine's Day gift ideas your special one is sure to love and enjoy!
Chocolate: The Most Loved Valentine's Day Treat
Chocolates are one of the most popular edible Valentine's Day gifts around. And for good reason. The bond between chocolate and love goes all the way back to ancient times. The Aztecs considered chocolate as an aphrodisiac and the old Greeks believed it was "food for the Gods".
In today's time, there are many beautifully decorated and decadently filled chocolates around. So, when the time comes to show someone how much they mean to you, say it with chocolate. Whether it's a box of chocolates or a chocolate bouquet, or a combination of chocolate and their favorite drink, it will make an amazingly delicious Valentine's Day gift.
Cheese: The Fanciest Treat
When it comes to cheese, we all have that (at least) one person in our lives who loves cheese more than any other food. A hamper full of fancy cheeses and crackers and a bottle of wine can make them happy and thrilled. So much so that they may even be willing to share a few bites with you. From Brie cheese to Camembert, cheddar or an exotic blue cheese – there are many decadent snacks to choose from.
Wine: The Most Famous Valentine's Day Drink
Anyone who enjoys a glass of wine after a long, stressful day will appreciate a gift box filled with a bottle of good wine, their favorite snacks, and a few luxury items, such as quality chocolates, bars or biscuits.
Champagne is another great choice if you want to make someone feel special, as are red or white wines. Another idea is to make a DIY Edible Valentine's Day gift by filling a bottle with a unique Valentine's Day cocktail and pairing it with some cheese or chocolates.
And worry not if they're vegan or health-conscious and wary of the preservatives most wine comes with. There are many organic, vegan and biodynamic wines to choose from. Considered a box of heaven, a wine hamper is the kind of gift that can make anyone feel loved and appreciated.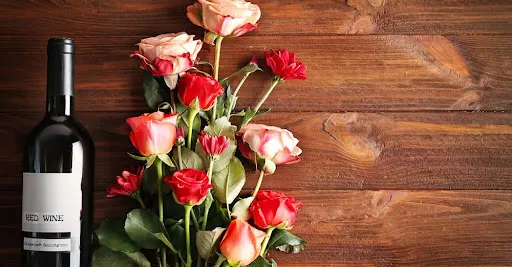 Beer: The Most Popular Gift for Him
Not sure what to get him this year? Don't stress. There are many unique last-minute edible Valentine's Day gifts you can find for him, and beer is definitely one of the ever-popular choices. Locally crafted beer is a real hit this year. Consider giving him a basket filled with craft beers you know he has never tried along with almonds, peanuts and other beer-friendly snacks.
Gin: A Spicy Gift for Her
For the special woman in your life, choose a finely crafted gin out of local botanicals and step up your romance this Valentine's Day. Or, instead of just a bottle, you can get her a tasting pack full of many mini-gins all with their unique flavor. Let her discover new tastes which can take her gin experience to the next level.
Why Choose Edible Valentine's Day Gifts to Celebrate?
There are lots of great reasons to give an edible gift this February the 14th. Here are some of the most popular reasons:
The Containers Are Reusable: Perfect for the Eco-Conscious Person in Your Heart
There is a variety of Valentine's Day hampers, baskets, ice buckets and other reusable containers you can choose from, so when your loved one is finished eating all the delicious treats, they can reuse the packaging. If you want to help them with some ideas, use the basket and surprise them with a little picnic just for the two of you.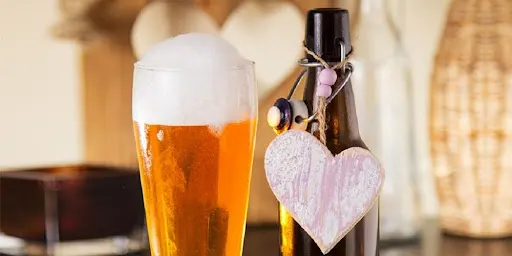 They're Priceless: You'll Put Great Thought and Care into Choosing the Right Container
It may sound like a cliché (and you are probably here because you are trying to stay away from cliches this Valentine's Day), but when gift shopping for the one you love, it really is the thought, love and care you put in it that matters more than the money you pay for it.
It's Unexpected: Make Their Day Just When They Think You Totally Forgot About V-Day
Most of the time, the greatest advantage of sending a gift basket to your loved one is the "wow" factor when they open it. It's a surprising, yet beautifully presented gift that will have them memorizing the moment.
Edible Valentine's Day Gifts Make for a Great Last-Minute Gift
If you've been too busy and couldn't manage to buy Valentine's gifts for your loved ones, don't worry. Search for companies that offer same-day delivery in your specific area and send an edible Valentine's Day gift filled with delicious goods they will enjoy.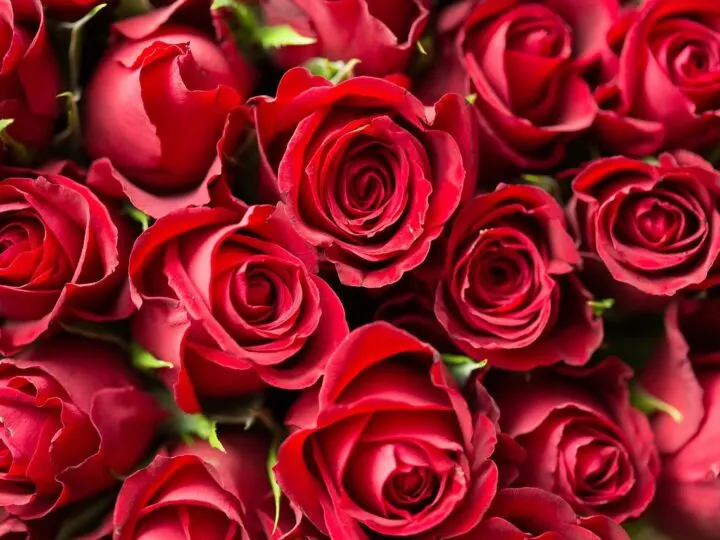 Impress the One You Love, Make Your Edible Valentine's Day Gift a Memorable One
While a container stuffed with all the delicious items your person loves is a beautiful and thoughtful gift, it's always a good idea to go a step further and make it even more special.
Adding a personal touch to it can make the whole difference and bring the edible Valentine's Day gift closer to the recipient's heart. Consider making your own edible Valentine's Day gift like this super cute Valentine's Day Coffee Mug filled with chocolate kisses.
Sometimes all it takes is to add a card wishing them Happy Valentine's Day and telling them how much you love and care about them in your own words.