Whether you're looking for a Valentine's Day cocktail to share with your love, a Galentine's cocktail to share with your BFF, or even an anti-Valentines day cocktail to share with friends, this fruity Cupid's Heart Valentine's Day cocktail will have you falling in love!
Love is in the air and sweet treats to delight in like these Valentine's Day Cupcakes are popping up all over the internet. And you know what that means: Valentine's Day is near!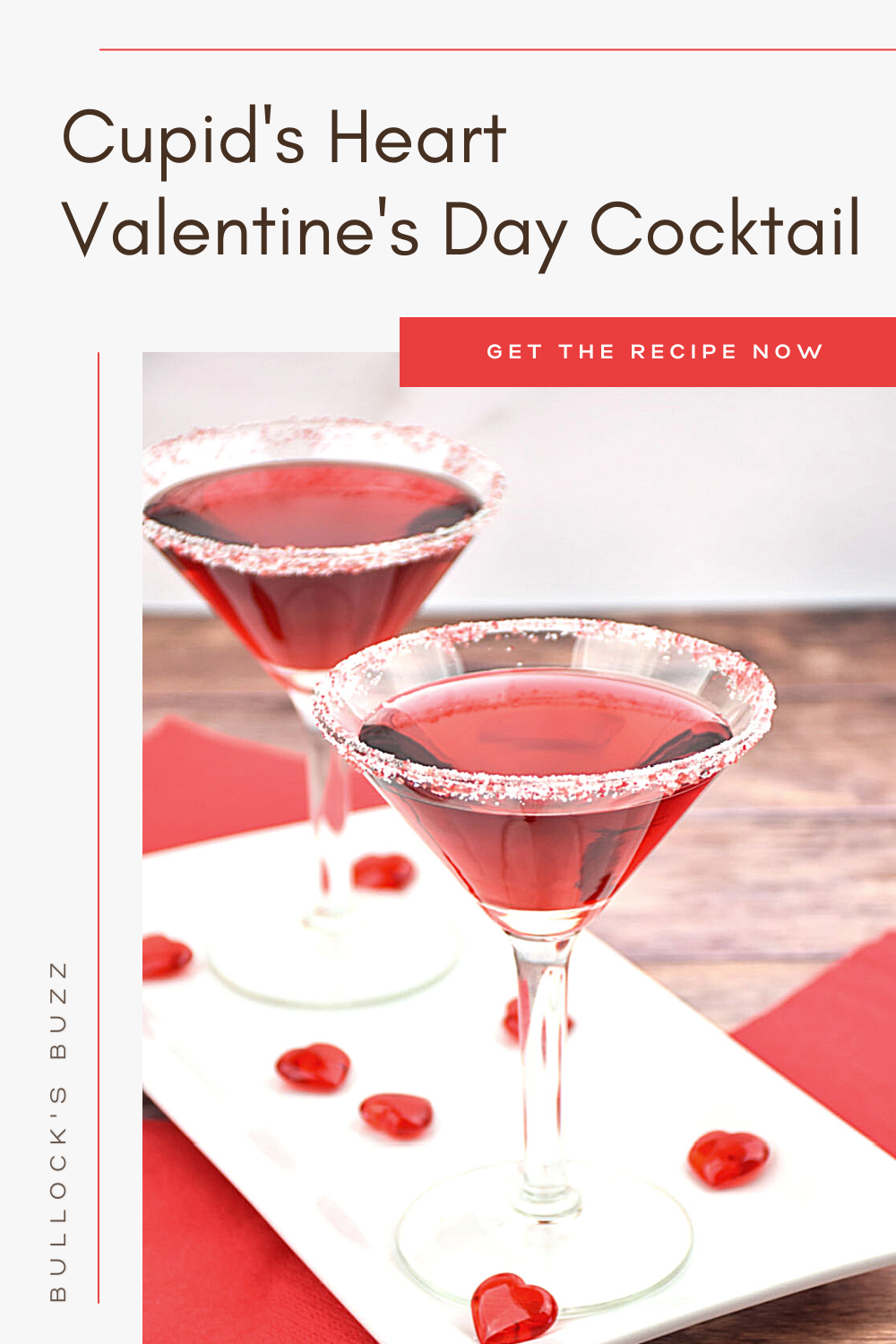 This year, thanks to the pandemic, most of us will be looking for ways to spend Valentine's Day at home. So after a few hours of brainstorming, I came up with several fun ideas – all of which I'll be sharing over the next few days so be sure to keep checking back!
One of my first ideas, however, was this delicious Valentine's Day cocktail that I call Cupid's Arrow.
Okay, okay, so I may not be the best at coming up with cute cocktail names. But, according to my husband, when it comes to the taste of this adult-themed love potion, I hit the nail right on the head…or perhaps I should say I hit the heart right in the middle (with an arrow…get it)? 😉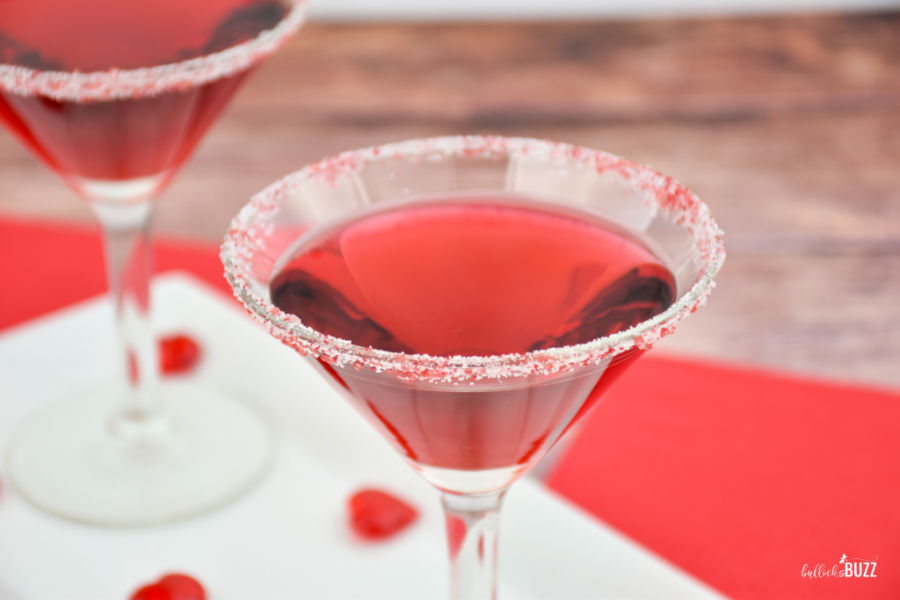 RED COCKTAIL FOR VALENTINE'S DAY
This fruity Cupid's Heart Valentine's Day Cocktail recipe is a perfectly sweet way to add a splash of romance or fun to your celebration.
With its gorgeous red color and pleasantly sweet raspberry flavor, this adult drink is sure to win the heart of anyone who tries it!
ABOUT CUPID'S HEART VALENTINE'S DAY COCKTAIL
I made this Valentine's Day cocktail recipe with one of my favorite flavors – raspberry. It blends so well with the lime juice and vodka, you'll want to mix it up all year long!
And the brilliant red color works perfectly for Valentine's Day as well as Christmas and the 4th of July.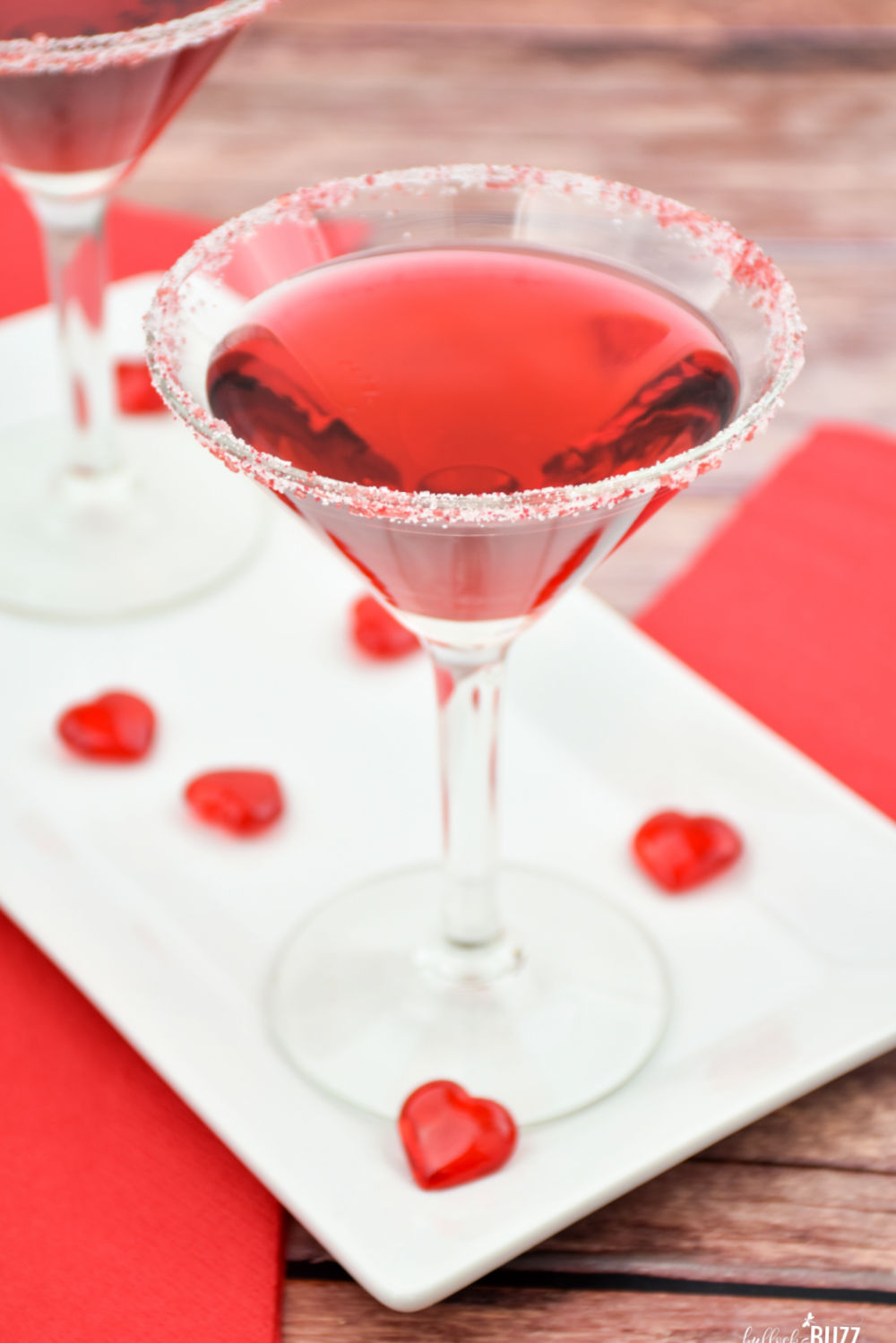 HOW TO MAKE THIS RED VALENTINE'S DAY COCKTAIL RECIPE
Disclosure: This blog post contains affiliate links for products or services I think you'll like. This means if you make a purchase from one of these links, Bullock's Buzz will make a small commission at no additional cost to you. As always, I only recommend products that I use and love.
The Cupid's Heart cocktail combines freshly muddled raspberries with fresh-squeezed lime juice and raspberry vodka to make a lovely Valentine's Day cocktail.
Best of all, it takes mere minutes to make. I bet you'll be smitten after the first taste!
You'll find the complete ingredient list and instructions in the printable recipe card near the end of this Valentine's Day cocktail recipe post.
BARTENDER'S TOOLS YOU MAY FIND HELPFUL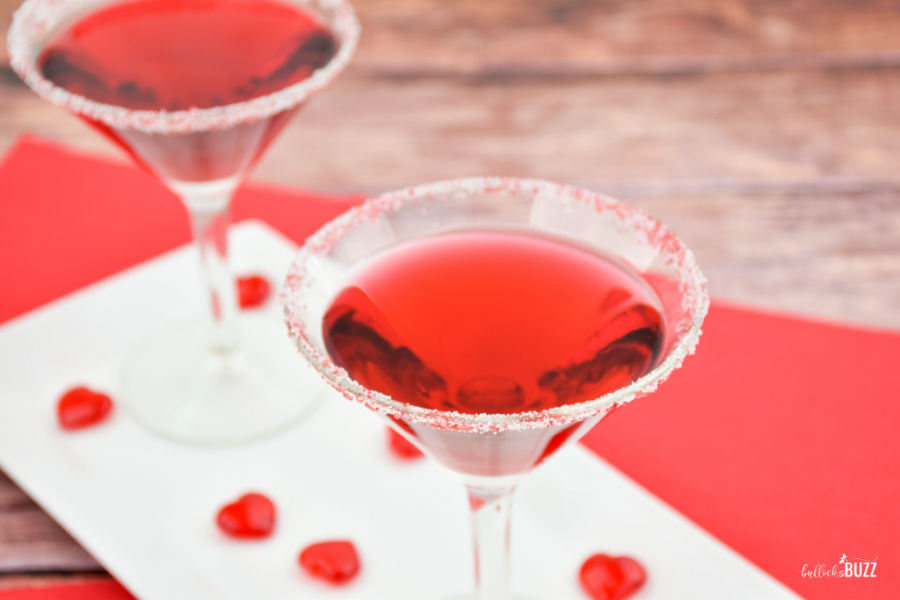 INGREDIENTS IN THE CUPID'S HEART COCKTAIL
In addition to being easy-to-make, this Cupid's Heart Valentine's Day cocktail recipe calls for only three ingredients! Those include:
Raspberry Vodka
When it comes to Raspberry Vodka, my favorite is Smirnoff. However, feel free to use your favorite brand.
Lime Juice
Freshly-squeezed lime juice works best, but the bottled kind will work, too.
Fresh Raspberries
Again, fresh tastes best, but you can use frozen if that's all you have. Just be sure to thaw the berries completely before muddling.
This is to rim the glass, but it's optional. I used a mix of white and red, but hot pink would look great, too!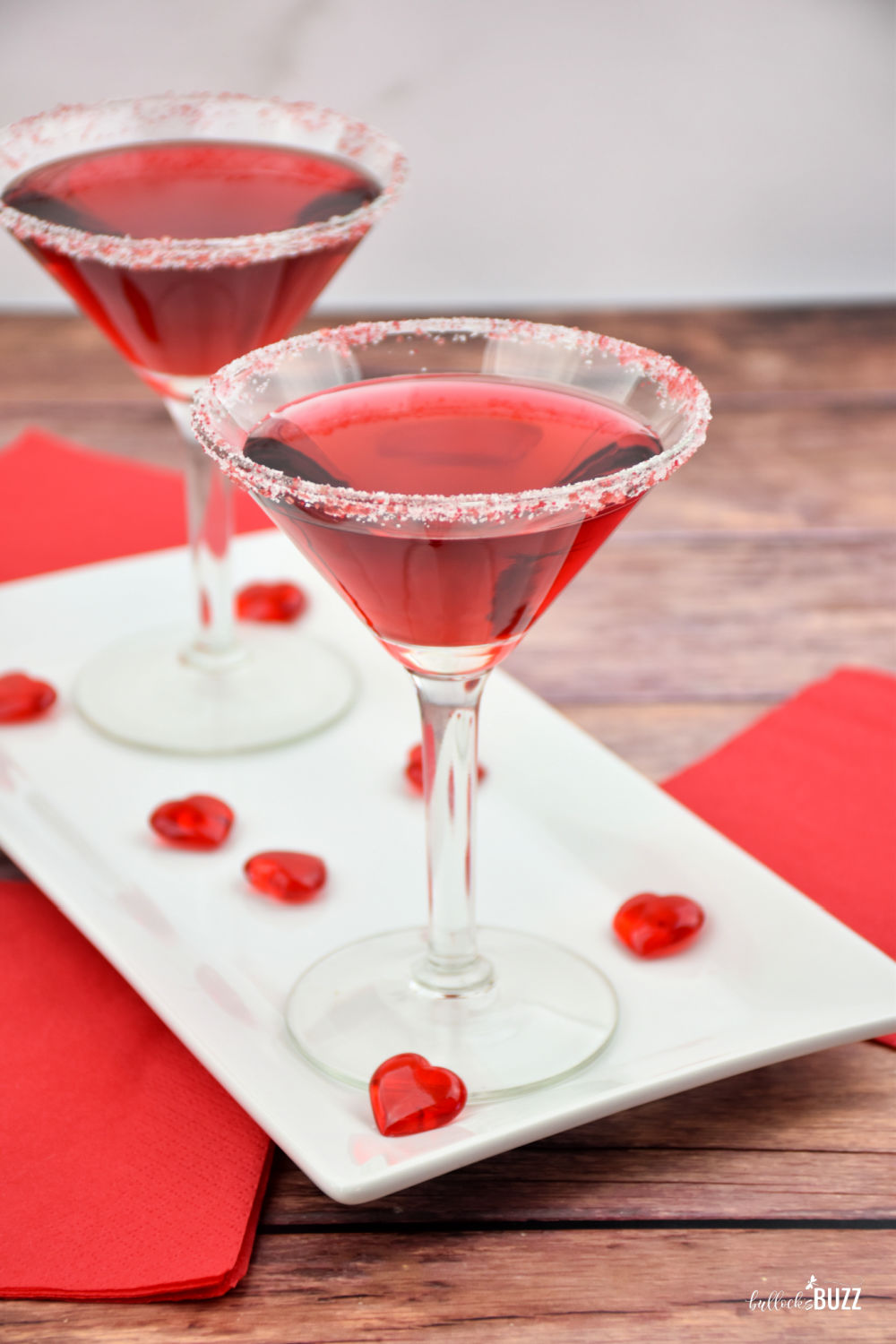 VALENTINE'S DAY COCKTAIL RECIPE INSTRUCTIONS
As I mentioned, making this pretty red Valentine's Day cocktail recipe is easy peasy!
You'll first want to rim the martini glass with red and white sanding sugar. Do this by dipping or dabbing the rim with some simple syrup (or another sticky liquid), and then gently rolling the rim in the sanding sugar.
Pro Tip: Having the sanding sugar on a plate or saucer makes it easy to completely and evenly coat the rim.
Don't forget to lightly shake the glass while it's still upside down to remove any excess sugar.
Once that's done, you are ready to mix the drink.
First, you'll muddle the raspberries with the lime juice in a cocktail shaker. You'll then add in the raspberry vodka along with some ice.
Next, you'll shake it all together for about 20 seconds, then strain it into a well-chilled martini glass. And that's it! Your sweet elixir is done!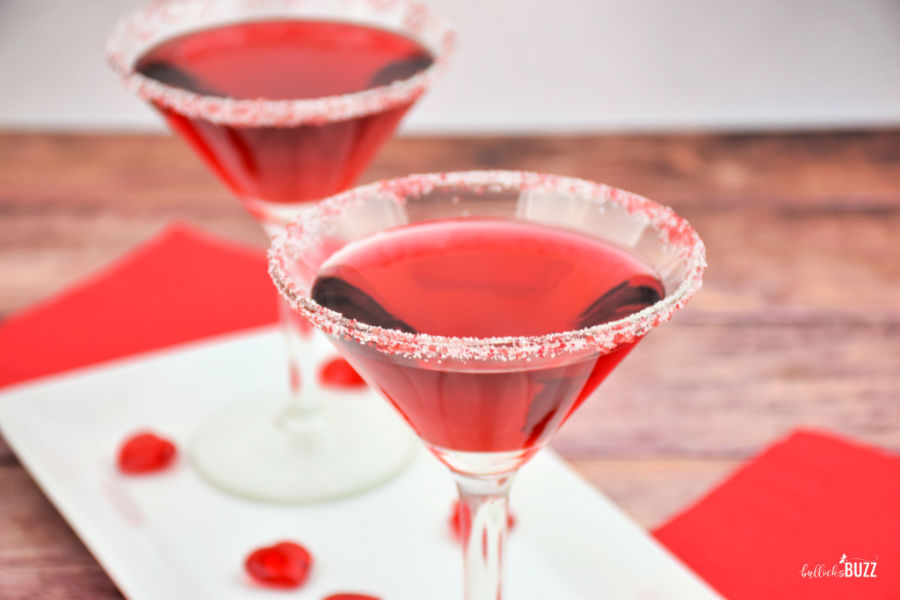 HOW DO YOU MUDDLE RASPBERRIES?
Muddled fruit can take a cocktail from tasty to terrific. But if you've never muddled fruit, or you don't know what it is, don't let the technical bartending term throw you off.
'Muddle' is pretty much just a fancy way of saying 'mash'.
When you muddle fresh ingredients such as raspberries, it helps to release the flavors of the fresh ingredients so they bind with the alcohol better.
To muddle fresh fruit or herbs, you'll simply press or smush the ingredients against the side of the shaker with a muddler.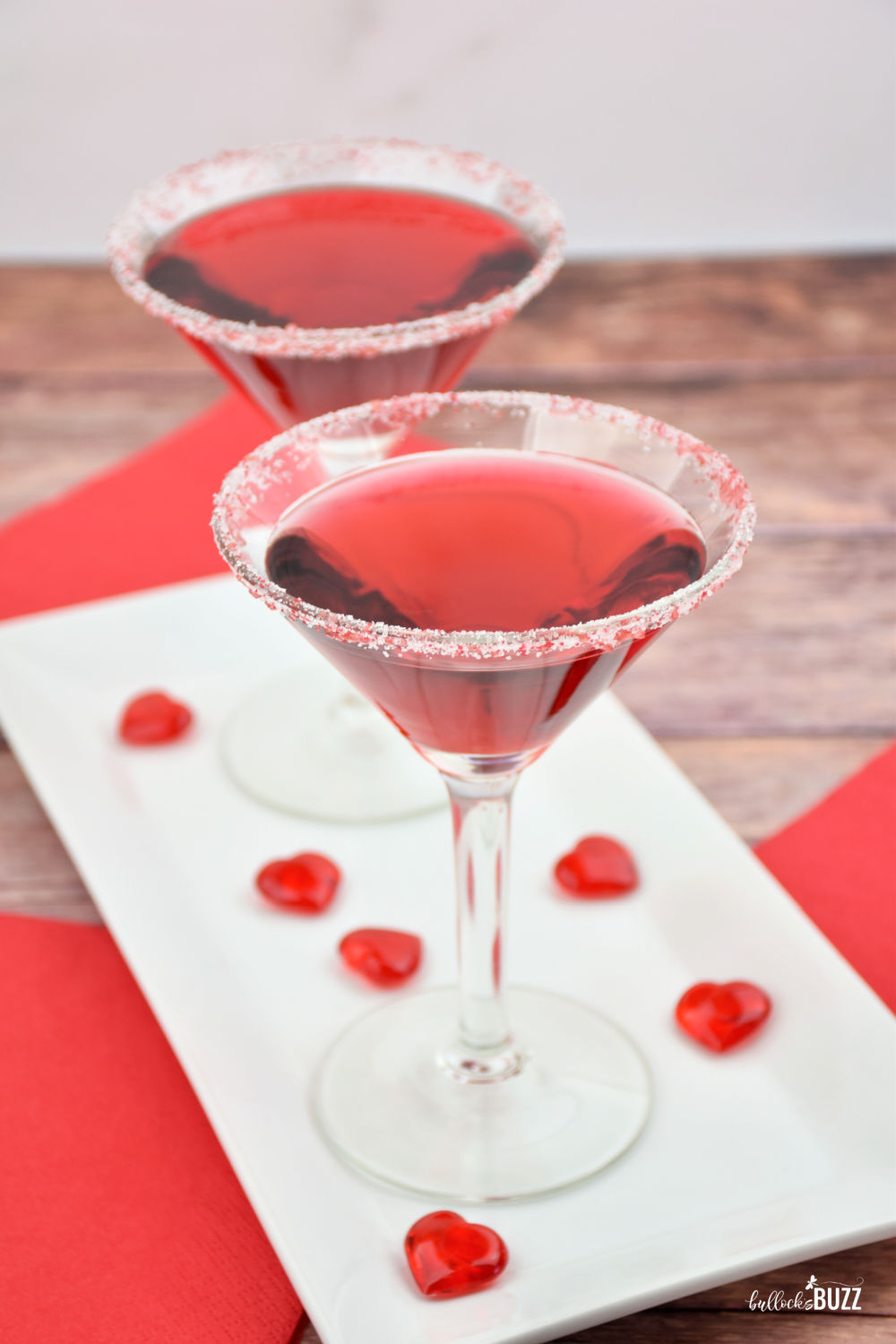 WHAT CAN I USE IF I DON'T HAVE A MUDDLER?
If you don't have a muddler, there are plenty of other kitchen tools that will work just as well. For example:
a wooden spoon
a mortar and pestle
a wooden meat pounder
a wooden tamper
a dowel
even a plastic spoon
If you want to get one for your bar collection, this cocktail muddler is my absolute favorite! It does a great job muddling as the working end is hard and sharply defined. The handle is smooth and comfortable to hold even when applying pressure and twisting. And it won't slip out of your grasp. Lastly, the length is ideal for working in both shallow and deep vessels.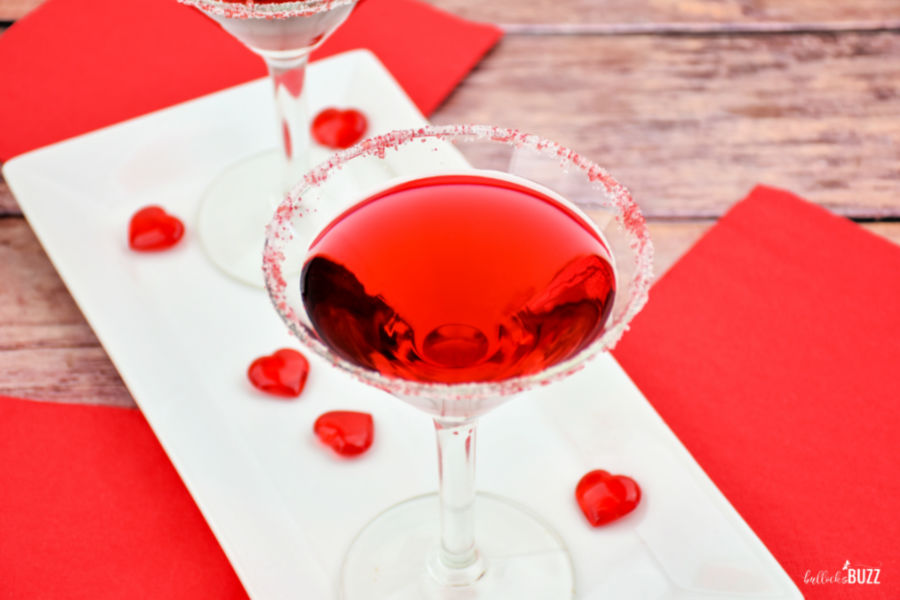 CAN I USE FROZEN BERRIES?
I believe that using fresh berries will always give you the best taste, but if you only have access to frozen berries, they'll definitely still work.
And, since the raspberries are muddled in this Valentine's Day Cocktail Recipe, you shouldn't be able to tell the difference between fresh and frozen.
WHAT FRUIT CAN YOU GARNISH WITH?
Since this Cupid's Heart Valentine's Day Cocktail recipe is on the sweet side, some may find the sugared rim a bit too much. Instead, you could use any of the below ideas or add your own unique garnish.
Raspberries – continue the raspberry flavor theme
Strawberries – continue Valentine's theme by cutting into heart shapes
Lime slice or spiral
Lemon slice or spiral
Chocolate heart – I think these heart-shaped chocolate candies would also be terrific on the rim of the glass!
Pro Tip: If using fruit, you could either skewer it or let it float freely in the drink.
Or, you could even skip using a garnish as the color of this cocktail works beautifully on its own!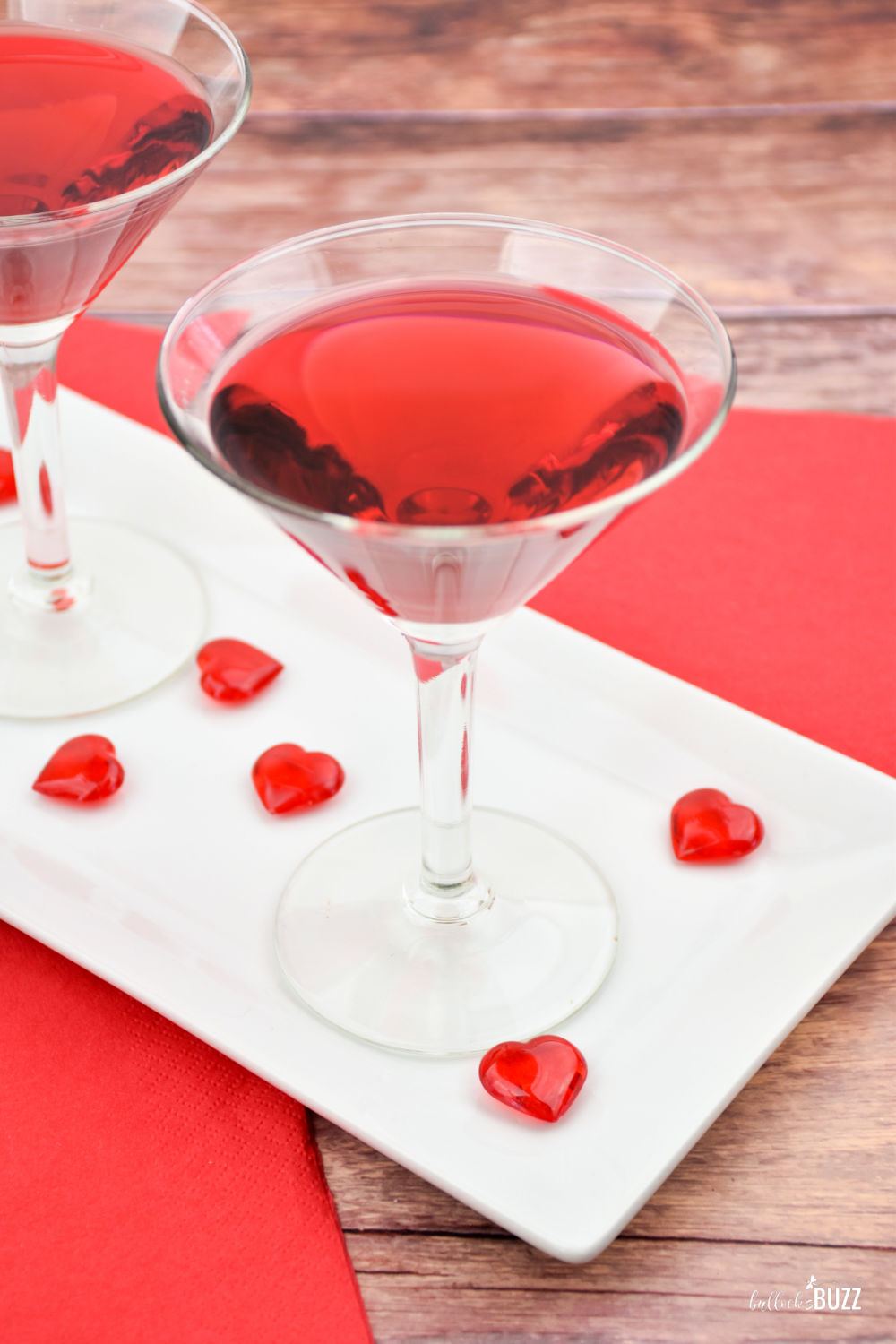 MORE VALENTINE'S DAY RECIPES
Don't forget to check out our other Valentine's Day recipes like these Red Velvet Doughnuts with Chocolate Ganache, these PEEPS Lady Lovebug Treats, and these easy Valentine's Day Cupcakes!
Now you can make a sweet treat to go alongside this raspberry cocktail!
And be sure to try one of our other cocktail recipes: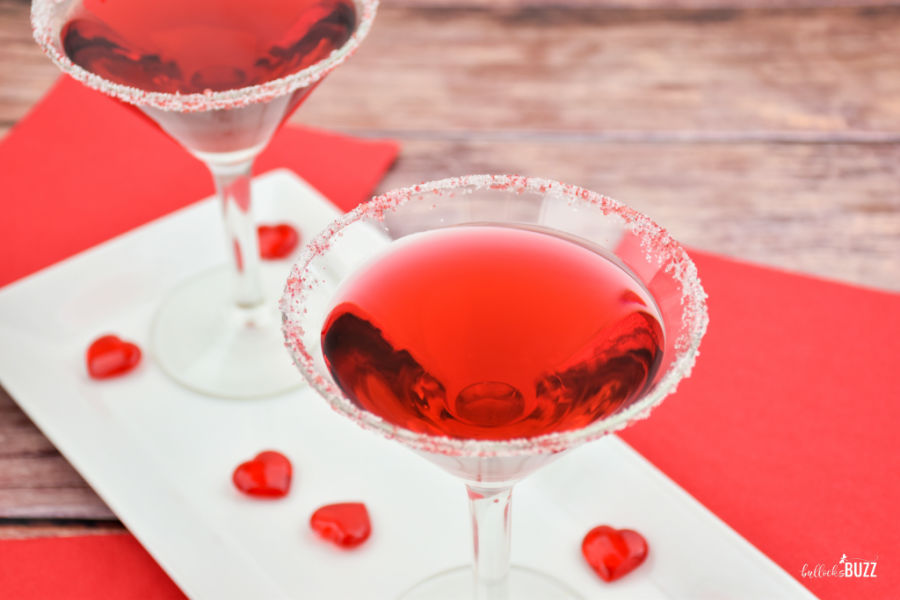 TRY IT, LOVE IT, AND SHARE IT!
Be sure to let me know how you like this Cupid's Heart Red Valentine's Day cocktail recipe! And if you ever make any of my tasty drinks or treats, take a picture and tag me. I'd love to see it!
Let me know on Pinterest or Instagram and tag me with #BullocksBuzz on your Instagram photo! Or leave a comment below.
And if you want to try this Valentine's Day cocktail recipe later, be sure to save it on Pinterest so you'll remember where to find it.
Speaking of Pinterest, you may also enjoy my Cocktails board, Mocktails board, and my Valentine's Day board!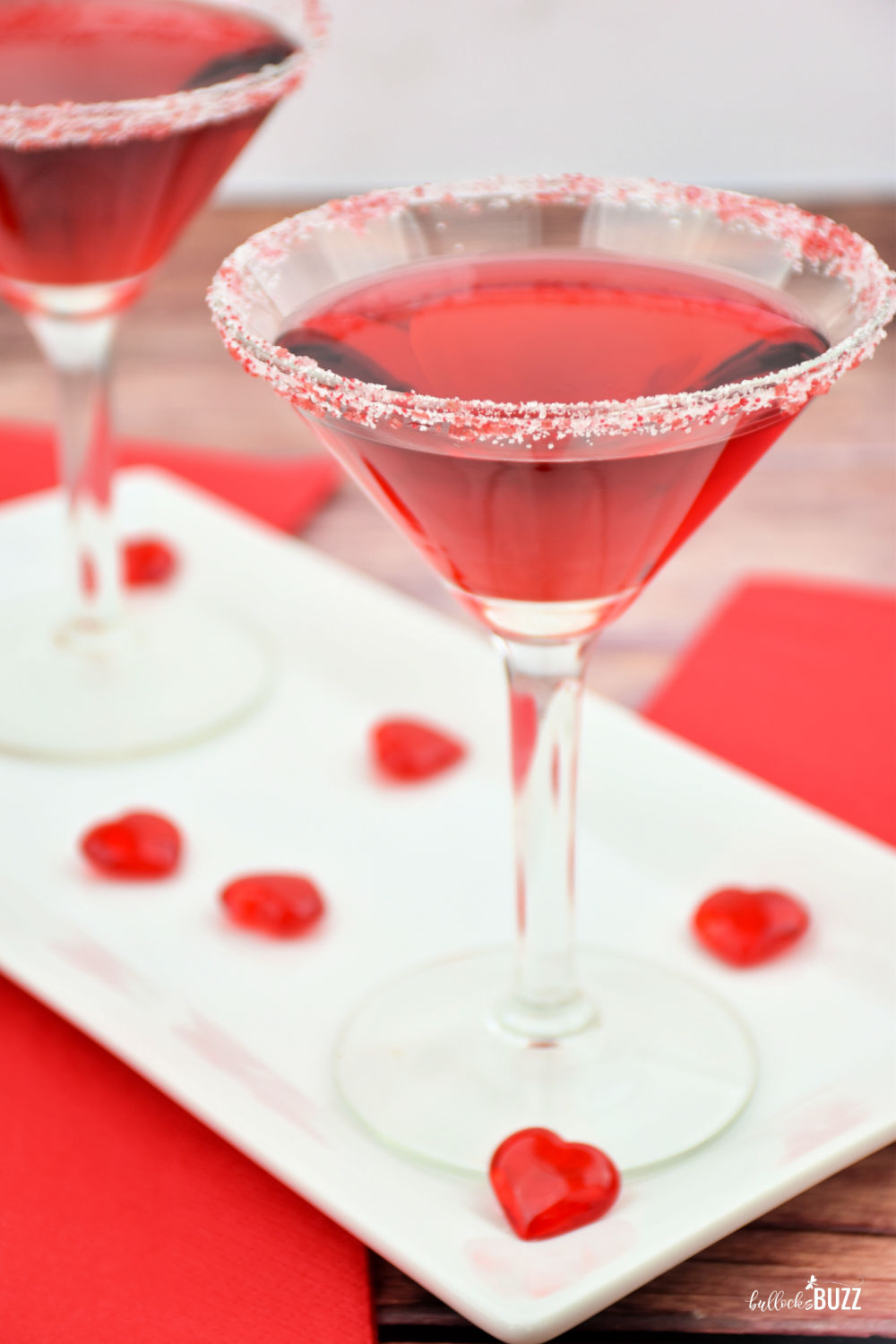 PRINTABLE VALENTINE'S DAY COCKTAIL RECIPE
Yield: 1 cocktail
Cupid's Heart Valentine's Day Cocktail Recipe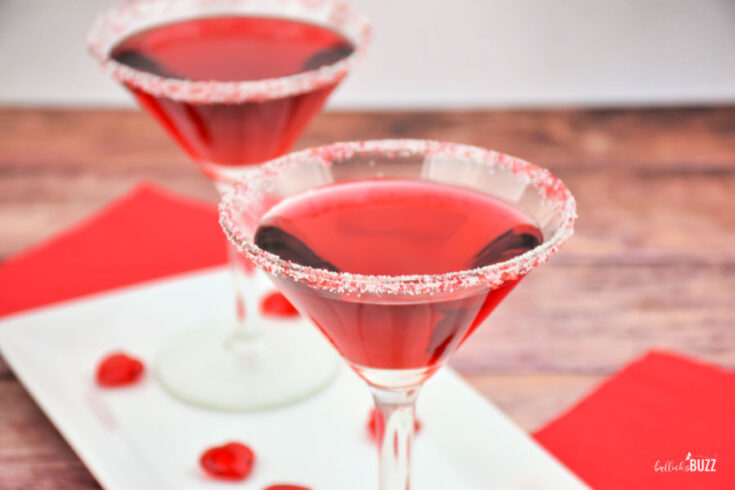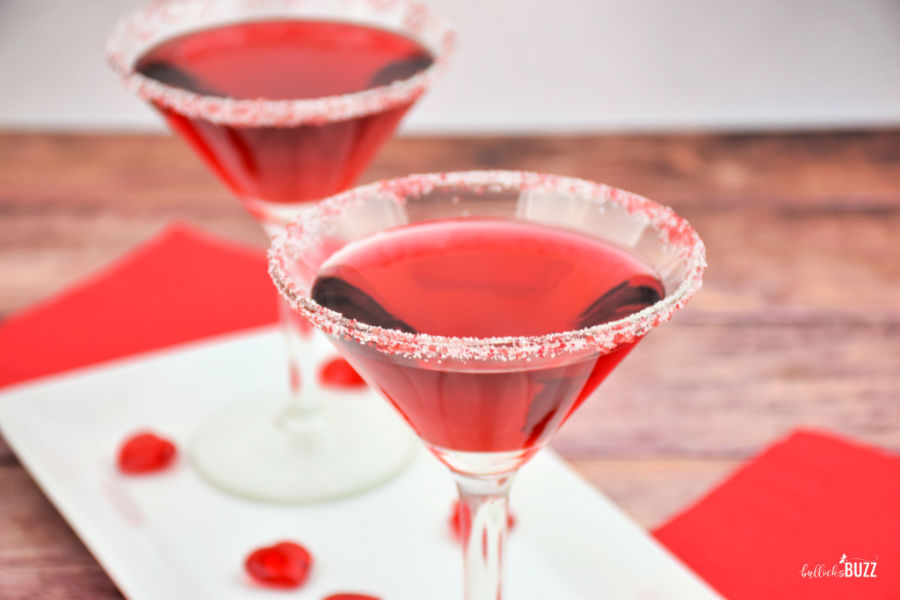 With its gorgeous red color and pleasantly sweet raspberry flavor, this Valentine's Day cocktail is sure to win the heart of anyone who tries it!
Ingredients
3 fresh raspberries
1½ ounces Raspberrry Vodka
½ lime, fresh-squeezed juice
Instructions
In a cocktail shaker, muddle the raspberries with the lime juice.
Add the raspberry vodka with ice.
Shake it all together for about 20 seconds or until the outside of the cocktail shaker gets frosty-looking.
Strain it into a well-chilled martini glass and enjoy!
Notes
Calories are based on an estimate from verywellfit.com
Nutrition Information:
Yield:
1
Serving Size:
1 cocktail
Amount Per Serving:
Calories:

232
Total Fat:

0g
Saturated Fat:

0g
Trans Fat:

0g
Unsaturated Fat:

0g
Cholesterol:

0mg
Sodium:

6mg
Carbohydrates:

33g
Fiber:

2g
Sugar:

22g
Protein:

2g
Nutritional information is automatically calculated with ingredients and serving size and may not be accurate. Please always double check with your own nutritional apps as well.