When kids return to school, they're exposed to more than just the Three R's; they're also exposed to a whole lot of germs, viruses and colds. With Flu Season right around the corner, there's no better time than now to share this immune-boosting Elderberry Popsicles recipe!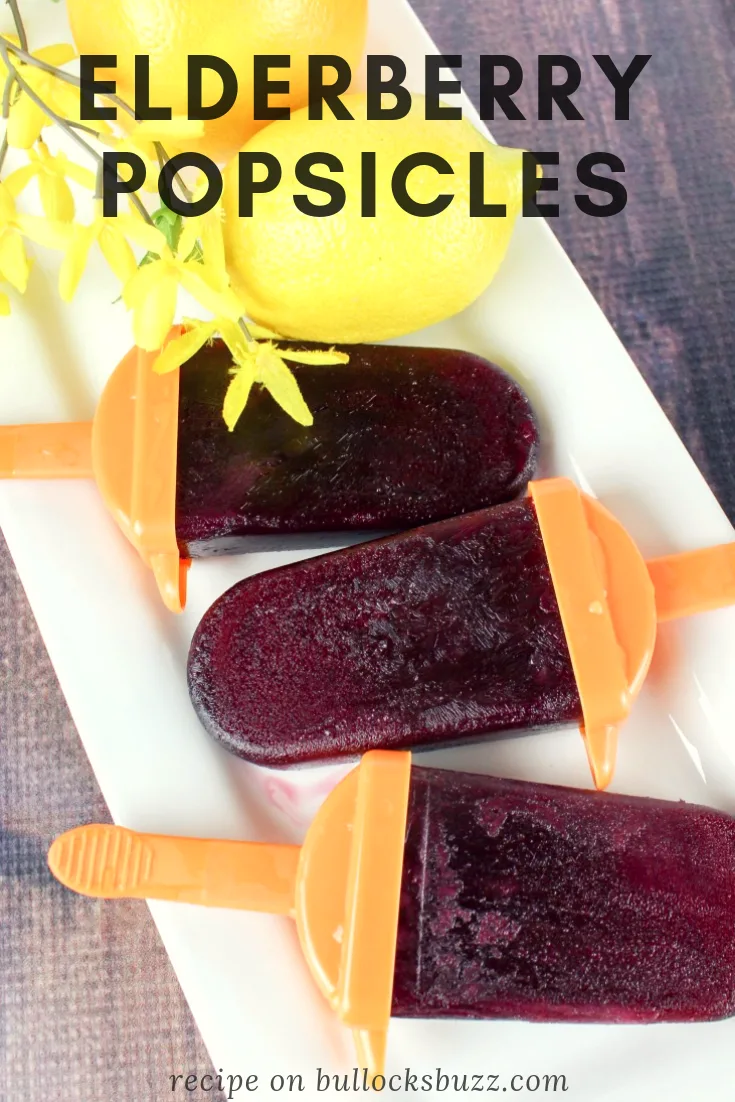 What Are Elderberries?
Elderberries are the fruit of the Sambucus tree. Native Americans and European herbalists have long used elderberries for their range of health benefits. The small black-colored berries have the perfect sweet-tart balance with just a hint of earthiness.
Elderberries are well known for their immune-boosting properties and their ability to help counter the symptoms associated with cold, flu, and other respiratory infections. They are also packed full of antioxidants.
You can enjoy the benefits of elderberry in many ways including eating cooked elderberries as a flavoring in foods and wine and also in jams, pies, and other treats. Additionally, one of the most common ways to get elderberry is through wholesale elderberry gummies, extracts, and supplements.
Add them to popsicles, and you have a tasty treat that not only packs a powerful healthy punch but also helps soothe an achy throat and offers much-needed hydration.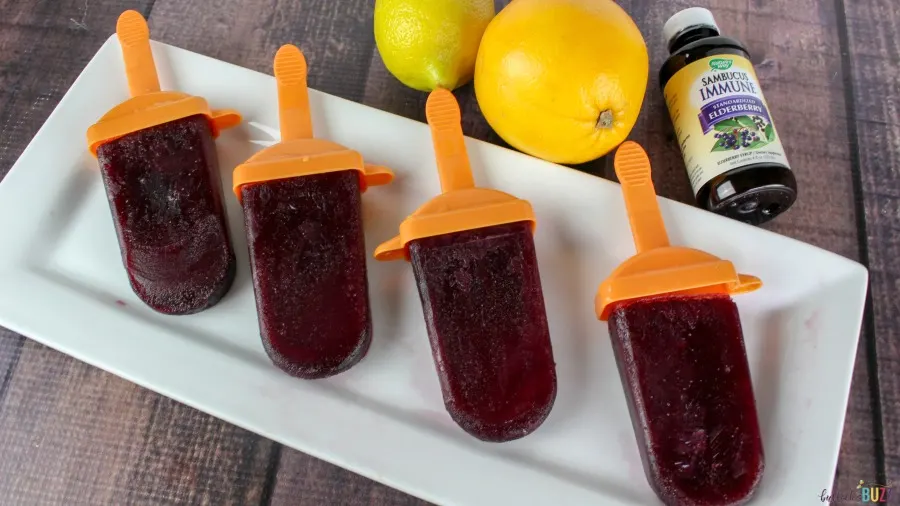 How to Make Elderberry Popsicles
With a sweet-tart, fruity taste, these elderberry popsicles are a great treat for kids or adults that are either sick, coming down with something, or have been around illness at school.
Disclosure: This blog post contains affiliate links for products or services I think you'll like. This means if you make a purchase from one of these links, I may make a small commission at no additional cost to you. P.S. I only recommend products that I use and love.
Kitchen Tools You May Need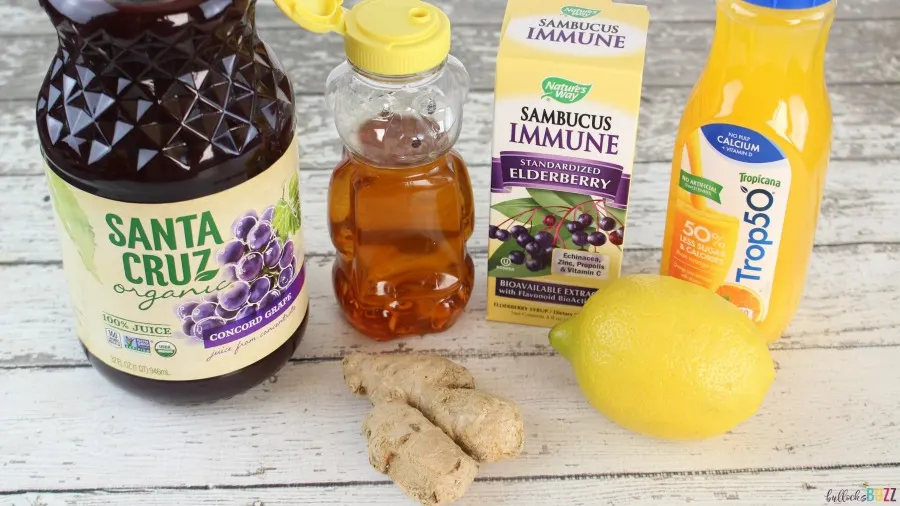 This elderberry popsicle recipe yields 8 popsicles.
Ingredients to Make Elderberry Popsicles
This elderberry immunity popsicle recipe is incredibly easy to make, and it tastes incredibly great, too! All you need are a few simple ingredients and your favorite popsicle mold.
The elderberry extract used in this recipe can be found on Amazon (linked), as well as in your local health food stores. And if you don't have a mold, you could use small paper cups and popsicle sticks instead.
You will also need:
grape juice
orange juice (I used low sugar, no pulp)
raw honey
elderberry extract
ginger root – grated
Juice of 1 lemon
Instructions to Make Elderberry Popsicles
These elderberry popsicles are so easy to make! You simply mix up the ingredients, pour it into popsicle molds, then stick them in the freezer until they are frozen.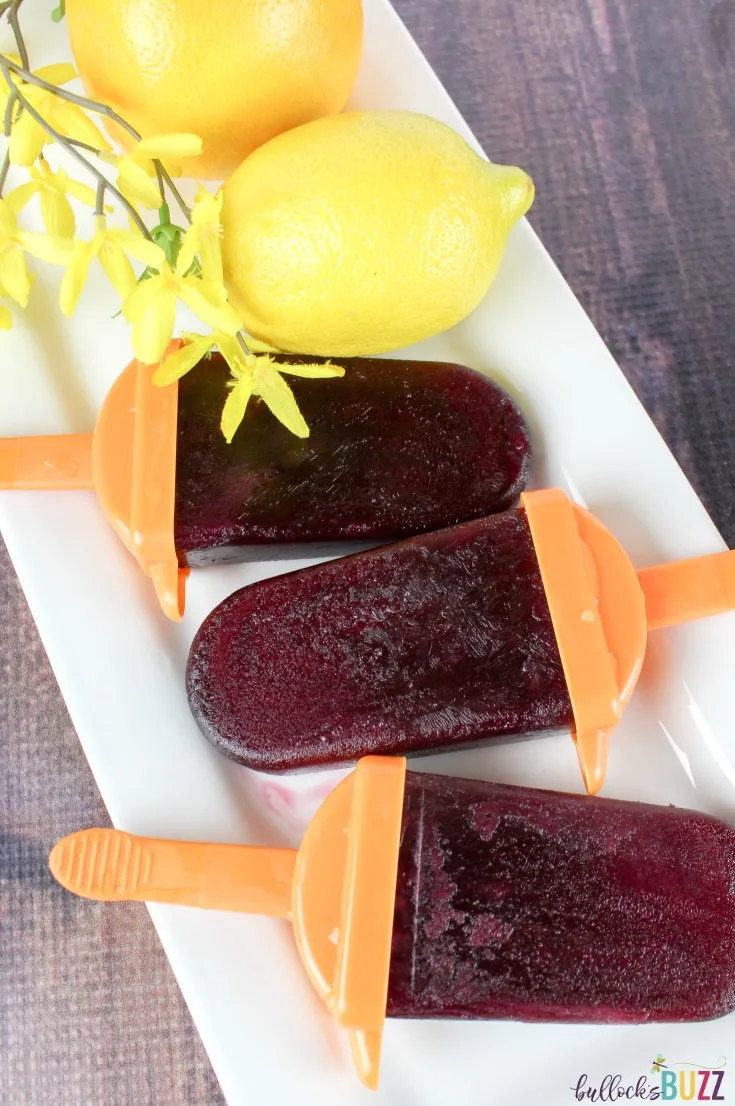 I like to keep homemade popsicles on hand throughout the spring and summer to help fight the miserable Alabama heat and humidity, and these Elderberry Popsicles are now on our favorites list! I bet your family will love them, too!
Printable Elderberry Popsicles Recipe
Yield: 8 popsicles
Elderberry Popsicles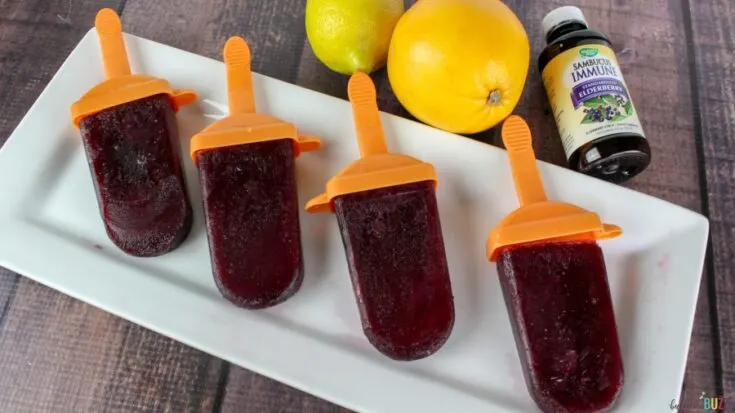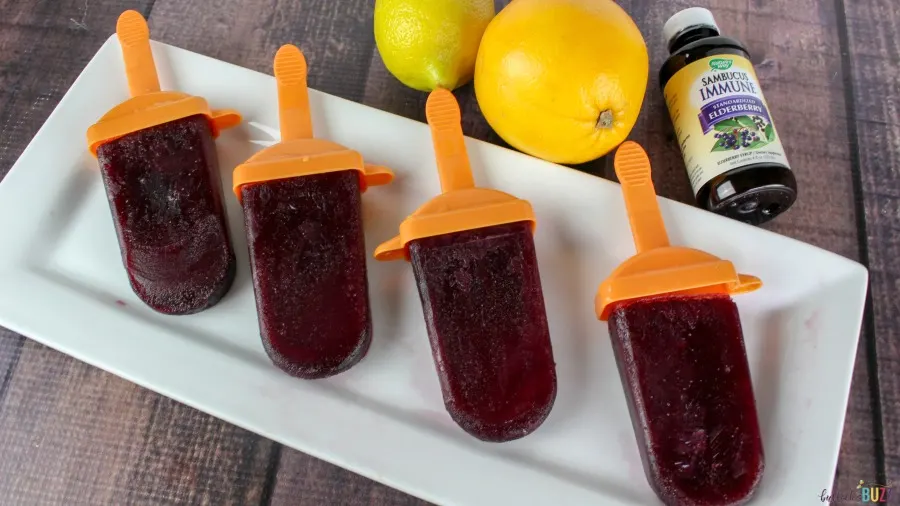 These tasty Elderberry Popsicles not only pack a powerful immune-boosting punch, but they also help soothe achy throats and offer much-needed hydration.
Total Time
6 hours
3 minutes
Ingredients
2 cups organic grape juice
½ cup orange juice, no pulp, low sugar
2 tbsp raw honey
3 tbsp elderberry extract
1 tsp ginger root, grated
1 juice of lemon, squeezed
Instructions
Add all of the ingredients into a large pitcher and stir well until completely combined.
Pour the mix into the popsicle molds and freeze for at least 6 hours. If your molds do not have lids with sticks attached, freeze the molds for 30 minutes and then insert wooden sticks in the middle. Return to the freezer for the remaining amount of time.
Once the elderberry popsicles are frozen, run warm water over the mold for about 15-20 seconds and gently release the popsicles.
Nutrition Information:
Yield:
8
Serving Size:
1 popsicle
Amount Per Serving:
Calories:

88
Total Fat:

0g
Saturated Fat:

0g
Trans Fat:

0g
Unsaturated Fat:

0g
Cholesterol:

0mg
Sodium:

22mg
Carbohydrates:

22g
Fiber:

1g
Sugar:

19g
Protein:

1g
Nutritional information is automatically calculated with ingredients and serving size and may not be accurate. Please always double check with your own nutritional apps as well.