A wedding band refers to a ring given to symbolize matrimony during a wedding ceremony. It differs from an engagement ring in a number of different ways.
When it comes to engagement ring vs wedding band, the main difference between the two is that engagement is worn by a person who has been proposed to, whereas the wedding band is worn by a spouse.
Other notable differences include wearability and style features.
While a wedding band comes in a simple design, engagement rings are more impressive with diamonds, treated diamonds, and other gemstones. Giving a ruby ring or a ring made from alternative metals are quite popular these days.
Men's wedding rings, in particular, are designed plainly with little or no design features.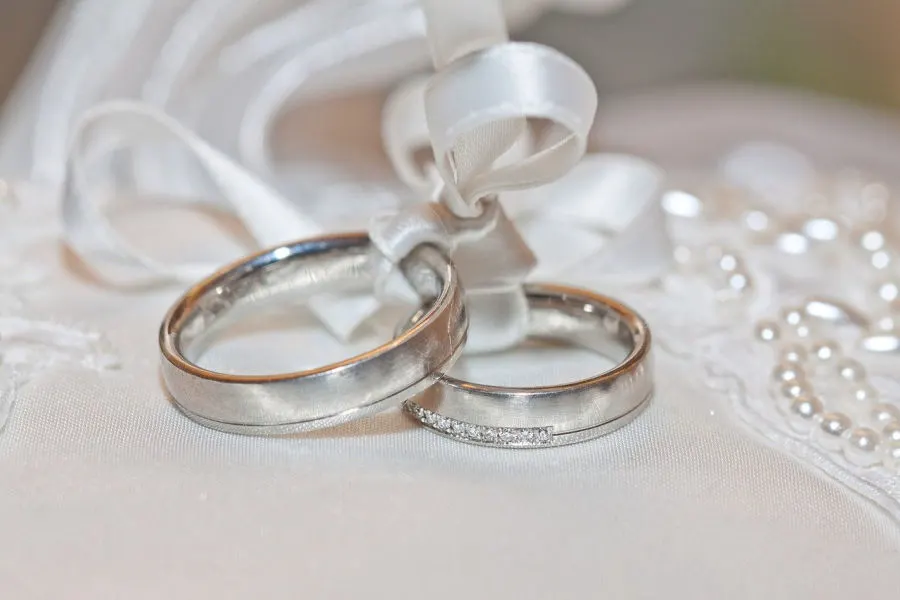 What Order Do I Wear My Wedding Set?
While most people know that a wedding band is designed for marriage, many are not aware of the order in which they should wear a wedding set.
On the wedding day, the bride needs to move her engagement ring to her right hand. This way, a wedding ring can be worn on the appropriate ring finger during the wedding ceremony.
After the wedding ceremony, you can move the engagement ring back to the right finger, but still ensuring the wedding band stays close to your heart.
The order of wearing engagement rings dates back to many years back when people started wearing wedding rings.
Engagement Ring Vs Wedding Band
While looking for an excellent engagement ring, you should also be concerned about an excellent wedding band. You will wear the two together, and although little attention is given to the wedding band compared to an engagement ring, it is still important.
When it comes to engagement rings vs wedding bands there are actually several key differences. They differ, not just in how they look physically, but in symbolic meaning as well. An engagement ring is a sign of commitment during the proposal, while a wedding band is given on the wedding day.
Usually, engagement rings feature a center stone, and at most times, they are accompanied by accent stones or side stones. It is this eye-catching design that is attractive in a wedding set.
A wedding set involves both the engagement ring and the wedding band. Although engagement rings seem to be the flashiest ring in a wedding set, this doesn't imply that they are more important.
When it comes to creating a complete wedding set, both rings are important, and you should select them carefully based on your budget and style.
Types of Wedding Bands
Just like there are various types of engagement rings, there are also various styles of wedding bands. Each style serves a unique purpose, whether it is to create a special ring stack to put on the right hand or match the engagement ring to have an excellent wedding set.
Each bride will choose something different, for instance, the yellow diamond wedding band, depending on the fashion trends they admire and follow.
Different wedding ring styles have emerged over the years. Compared to traditional designs, current trends are more attractive. Today you can see a wedding set with different types of metals and styles. And since there are many options for designing a wedding set, sometimes it can be difficult to narrow your search.
Below you'll learn more about some popular wedding band styles:
Matching Bands
Matching bands refer to wedding bands that are designed the same way as a given engagement ring. Unless on special occasions, they are usually made with the same type of metal.
The band can also match the features of the engagement ring accents. This explains why you can see a dazzling pattern when the two rings are worn together. Although this is a classic option, most couples would still opt for a matching wedding band due to its unending elegance.
Eternity Bands
Eternity bands are among the flashiest styles you can see on the market. What's more, it's among the most symbolic.
Eternity bands come with accent stones around the shank. This does not just create an abundance of sparkle but also captures the importance of commitment, and never-ending love.
If you prefer this style, you can opt to match the design with the features of your engagement ring such as identical accent stones. You can also select details different from those of your engagement ring to create a unique contrast when you pair them together.
Stand Alone Bands
This refers to any band that can be worn alone, whether on the right or left hand. You'll find many wedding bands in this category.
Selecting a band that looks great when worn on its own is good, especially when you don't feel like wearing your entire wedding set.