It's every embroider's dream to create their personal designs. Although there are tons of ready-made embroidery designs, once in a while, you will have a phenomenal idea that requires you to create your own embroidery designs and make them a reality.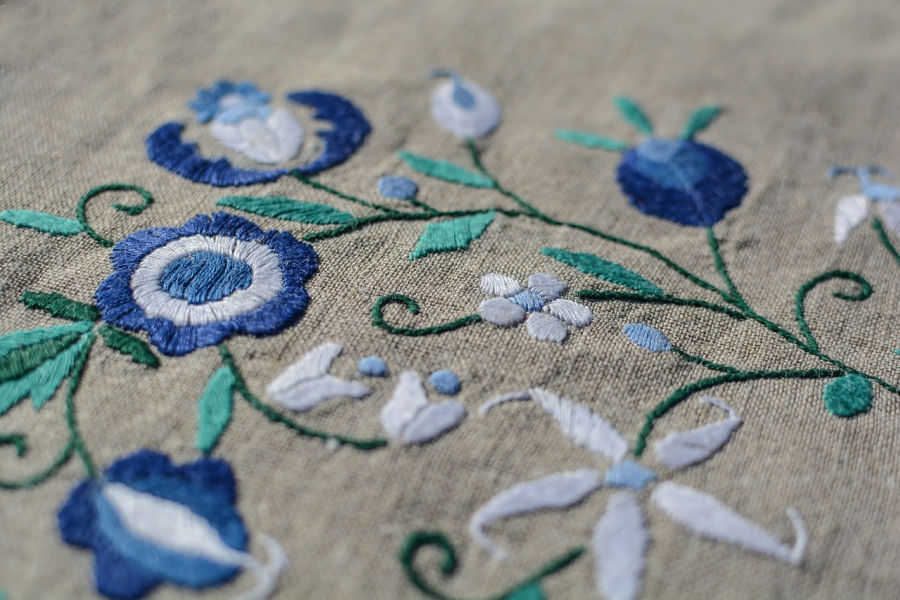 Thanks to technology and software like Hatch Embroidery, it's not only possible to create customized embroidery designs, but it is also simple and straightforward. You can complete the process of creating your own embroidery designs in just a few simple steps, as detailed below.
Draw Inspiration
Before you start to create the design, you need to find some inspiration first. Sometimes this process is easy, especially if you intend to create your own embroidery design from an existing picture like that of your kids or pet.
If not, you have to try to visualize what you want the pattern to look like. If you have any problems, try using the internet. It is a great resource where you can find millions of potential patterns that you can customize and bring one of your own to life.
Sketching/ Doodling
Next up in the process of creating your own embroidery design, is bringing it to life. The first step of this exciting process is to start with a simple drawing. Grab a pencil, some drawing paper, and some coloring materials.
If you're not good at drawing, there's always the option of doodling. Sometimes, you're overwhelmed with ideas, and you can't choose the right one. Drawing them helps you create an artistic picture of how the end product will look, making it easier for you to settle on a specific design or multiple designs. So, don't shy away from drawing several designs.
After you complete the sketch, start adding the colors to your pattern. This is necessary because it will give you a clear idea when you get to the software part.
Cutting Your Designs
The next step to create your own embroidery designs is to cut the design. You don't have to follow this step. But if you choose to, it will make your work easier and faster later on.
To get started, take a pair of scissors and cut out your paper design. When making the cutout, try to leave the least amount of bleed around the edges.
By doing this, you will save time separating the actual pattern from the background on the software, especially if you drew on an uneven or colored background. Once you complete cutting the embroidery pattern, set it aside.
If you have more than one design, make the cutouts to each one so when it's time for uploading, you can upload them at the same time.
Scan the Design
The next thing you'll need to do when you create your own embroidery design is to scan your design. You will need a scanner for this next part. Take the cutout patterns and put them into the scanner. Be sure to use the highest image quality settings on the scanner when capturing the design. This will ensure you capture every detail, color, and line on the cutout correctly.
If you don't have a scanner, you can use the scanning app on your smartphone. However, it's best to have access to an actual scanner for better results.
After scanning, save the scanned files in a folder that you can easily trace when uploading the designs into your embroidery software.
How to Prepare Your Embroidery Design for Sewing
If the embroidery design you have is simple and you can sew without an embroidery machine, you can skip this step and the previous one. However, if the design is more intricate, follow the methods listed below.
Transferring A Simple Sketch Using Tracing Paper
All you should need to do is transfer your sketch to tracing paper. Use safety pins to attach the tracing paper to the fabric you want to embroider, then follow the outlines on the tracing paper as a guide. Once you complete sewing the pattern, gently tear off the tracing paper leaving your embroidered design on your fabric.
Transferring Intricates Design by Vector Image for Use in an Embroidery Machine
If the pattern you want to use to create your own embroidery design is intricate or if you prefer to attain perfection using an embroidery machine, you will need to digitize the designs and turn them into vector images.
Turning your design into a vector image means you can print them out on any size when you transfer them from the embroidery machine to your preferred material.
How to Transfer Your Design to Your Material
To transfer your design to your preferred material, use the following steps:
Start by opening your vector or embroidery design software.
Locate the file where you saved the scanned images and upload them for conversion.
Next, locate the option that allows you to convert the uploaded file into a vector image. The location of this setting might vary depending on the type of embroidery software you're using.
The wizard menu will move you through the remaining steps until the conversion of the image is complete.
After completing the conversion, you can now save it depending on the format accepted by your embroidery sewing machine. The embroidery software should have an option for all the accepted formats for different machines in the market.
Vector Image File Formats Sewing Machines Accept
If you're not certain about the type of format to save the file in, here is a quick guide on the different formats accepted by various sewing machines.
Brother, Deco, Babylock – PEC
Singer – XXX.
Tajima – DST
Husqvarna Embroidery Machines – HUS
Husky Gram, Poem Machines – CSD
Kenore, Elna, Janome – SEW
Bernina Grade D and C Machines – ART
Pfaff – PCS
Babylock – DST, and PES
Bernina and Melco – EXP
If your embroidering machine is not listed above, refer to your machine's user manual to find out the accepted vector image file formats before saving your digital patterns.
Sewing Your Patterns
When learning how to create your own embroidery designs, all that is left now is transferring your pattern from the computer to the embroidery machine. You can use a USB stick for this. Once you have transferred the design into the machine, follow the embroidery instructions to turn your creation into a real-life design on your selected fabric and apparel.
Alternatively, you could convert the designs into PDFs or Vector images to sell them online or use them to spark creativity and inspire other designers.
Conclusion
As you can see, taking your embroidery design from an idea to making them a reality is not difficult. You just need some creativity, the right set of tools, and some drawing. With this guide, you can easily create your own embroidery designs and bring them to life using an embroidery machine or with your hands and an embroidery needle.