In just a few more days, I will be 40 years old, and while I don't feel it, I have noticed that my skin is beginning to show it. Laugh lines no longer fade away as the laughter ends, frowning is becoming something to avoid; but more than anything, I can tell a difference in the texture of my skin. Since I refuse to grow old gracefully, I am stepping up on my skin care routine, looking for products that use more natural ingredients rather than those that depend purely on chemicals. So when I was offered the opportunity to try EverDeep Skin Care products, I was excited to see how well they'd work.
The EverDeep anti-aging skin care system helps to revitalize the skin by using the power of algae – strong, nutrient-rich, plants that are vital to sustaining life underwater and do not seem to age quickly. Years of studying how different algae species collect nutrients from the environment and the various compounds that they contain, led to the development of the Algasome™ complex – a rich, concentrated source of essential fatty acids, antioxidants, amino acids, and vitamins B, D, and E. EverDeep uses this unique complex to bring the youth back to your skin.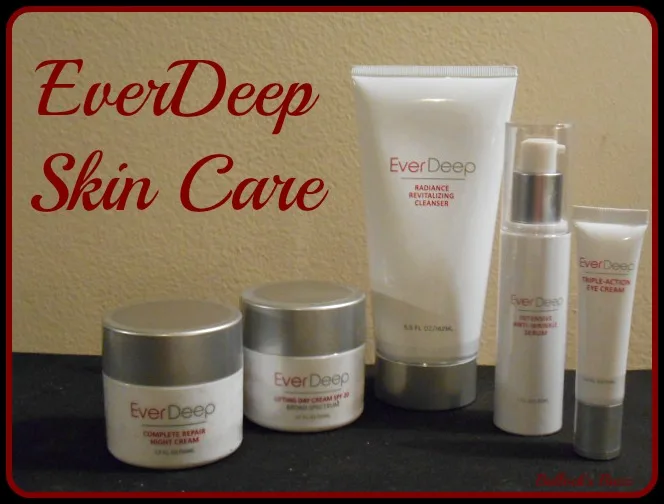 All of EverDeep's products are paraben free, phthalate free, dermatologist tested, hypoallergenic and non-comedogenic. The complete and luxurious skin care system includes the following products:
Radiance Revitalizing Cleanser
Illuminating Toner
Lifting Day Cream SPF 20
Refining Resilience Mask
Complete Repair Night Cream
Intensive Anti-Wrinkle Serum
Triple-Action Eye Cream
Instant Wrinkle Corrector
I was sent five of these amazing products including the Cleanser, the Eye Cream, the Anti-Wrinkle Serum, the Day Cream and the Night Cream. Ever since I began using these products, I have noticed a marked difference in both the appearance and the texture of my skin.
The Radiance Revitalizing Cleanser is the first step of my routine and is one of my favorite products. This fragrance-free, cream cleanser foams up nicely to gently remove make up and impurities from the skin. I love that it gets my skin so clean, then rinses off easily leaving my skin soft, radiant and moisturized.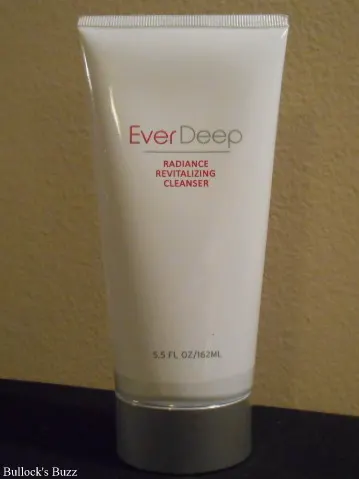 The Intensive Anti-Wrinkle Serum goes on next. I apply it all over my face, neck and chest. I love the texture of this serum, it almost feels like a feels like a powder, and is silky smooth. It absorbs quickly, and makes my skin feel and look luxuriously young, soft and beautiful.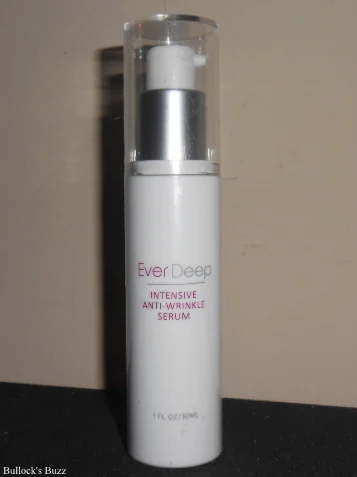 The Lifting Day Cream is the perfect cream for the daytime. It has a nice, light feeling, and completely moisturizes my face without leaving it greasy or oily. It absorbs quickly, and helps to prevent signs of aging, while also defending the skin against UVA & UVB damage.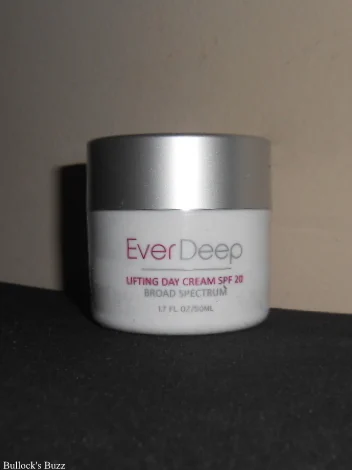 The Complete Repair Night Cream is another one of my favorites. Although it is a bit more creamier then the day cream, it still does not leave my skin greasy or overly moisturized. It absorbs into my skin quickly, and leaves it soft and hydrated.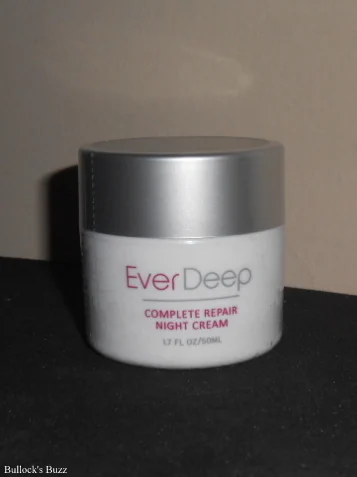 The Triple-Action Eye Cream is perfect for my under eye area. It is non-irritating and absorbs quickly, leaving my under eye area super soft and hydrated while diminishing the appearance of lines.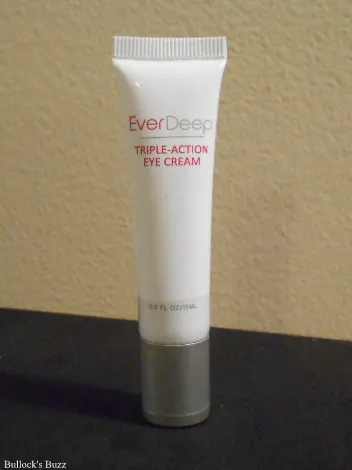 My Verdict
The EverDeep line has quickly become one of my favorite skin care systems. The products I have tried all work well, and help fight the signs of aging while leaving my skin looking and feeling healthier and more radiant.
To learn more and to purchase the EverDeep Skin Care System, simply visit https://www.everdeep.com. You can order the 30 Day System for only $39.95 with free shipping and handling, and it comes with a 60 day money back guarantee. Give it a try! You have nothing to lose but the look of tired, aging skin!