This is a sponsored post written by me on behalf of Daytona Beach Area Convention & Visitors Bureau for IZEA. All opinions are 100% mine.
I admit it, I am a beach bum. I love the feeling of the sand between my toes, the smell of the ocean air, the warmth of the sun and the beautiful scenery. Every since I was a child we would head to the beach for a vacation. Living in Alabama, we usually visited the panhandle of Florida. However, as I got older and began going on trips with friends, we visited several other cities in Florida. One of my favorite places was Daytona Beach.
Located on the east coast, Daytona Beach has long been a favorite vacation spot for families, couples and friends. With its sugar white sands and emerald waters, its vast selection of daytime and nighttime activities, no wonder Daytona Beach is such a popular vacation destination for people of all ages!
All along Daytona's beaches are tons of great options for your family's stay including hotels, motels, condos, bed and breakfast's, vacation rentals and camping grounds. Take a couple of steps outside your door, and you are standing on a gorgeous beach where you can soak up the sun's rays and swim in the warm water.
If you are looking to do more than lounging on the beach, Daytona is full of outdoor fun and entertainment for both children and adults! Take a stroll along the beach or the riverfront, go deep sea fishing, rent equipment for water sports, or visit one of Daytona's historical sites. For more kid friendly options, you can play a round of miniature golf, cool off at the waterpark, ride go-Karts, rock climb or watch the Air Force's Wings and Waves Air Show over the Atlantic Ocean. During the evening you can dine at some of the city's delicious restaurants, ride the rides along the boardwalk, go dance at the clubs, or catch a live concert at one of the bars.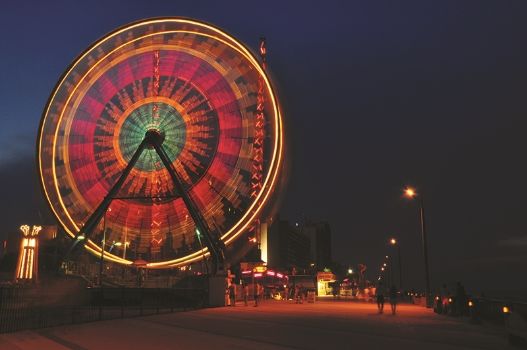 And if you are vacationing on a budget, there are also plenty of free things to do in Daytona Beach. Catch an outdoor concert, tour a museum or experience the beauty of one of the local recreation areas.
Most people only think about heading to the beach during the warm spring and summer months, but Daytona Beach has hot happenings all year round, especially during the Fall! Did you know that Daytona Beach has so many festivals, it could be considered the Festival Capital of Florida! From the Daytona Beach Blues Festival to the Halifax Art festival, there are tons of festivals to attend during the Fall months alone!
My husband and I love listening to the Blues, and we are hoping that we will have the chance to go to the Daytona Beach Blues Festival one Fall. Now in its fifth year, the Blues Festival is quickly becoming one of the most popular family-friendly festivals in Central Florida. Every year they feature dozens of up-and-coming musicians, as well as some of the biggest names in blues music. Past festivals have featured artists such as Victor Wainwright And The WildRoots, Mike Zito, Otis Taylor, Tommy Castro, and JP Soars and The Red Hots. The three day festival usually takes place over a weekend in October, and is held at the historic Jackie Robinson Ballpark. It's three days of great blues music, eclectic food, after-parties at some of the area's best restaurants and bars, and tons of other great activities and offerings. Plus, the festival helps raise funds for important causes such as women and children's healthcare. This festival is definitely on our bucket list of Things to Do and Places to Go!
Next time you are looking for a getaway for the family, or perhaps a romantic weekend for two, visit beautiful Daytona Beach and see all they have to offer – The beach awaits!
Have you ever been to Daytona Beach? What is your favorite thing to do while there?