A Review of Two Amazing OfficeMate Products from Shoplet.com that Helped Get Me Organized
When I first decided to start blogging, I seriously imagined myself sitting at a desk, being all organized and having everything right where I needed it. Funny enough, that is not how it turned out. Instead, I find myself much more comfortable sitting on our couch, writing posts, while my husband watches television, and the office area I set up sits vacant. While it is much more comfortable, it is not 100% conducive to working. First of all, I have no hard surface within immediate reach on which to write. Secondly, it lends itself to a massive mess on the end table next to the couch – an unruly pile of pens, markers, papers and more. So anytime I need to make a note, I first have to dig around for the exact paper I need, and then find a pen or pencil. Then I have to move all of that stuff out of the way so I can have a place to write. I never figured blogging would be so messy.
If this sounds even the least bit familiar, even if you are not a blogger, but a person who works from home, then keep on reading to see how two inexpensive items have made all the difference!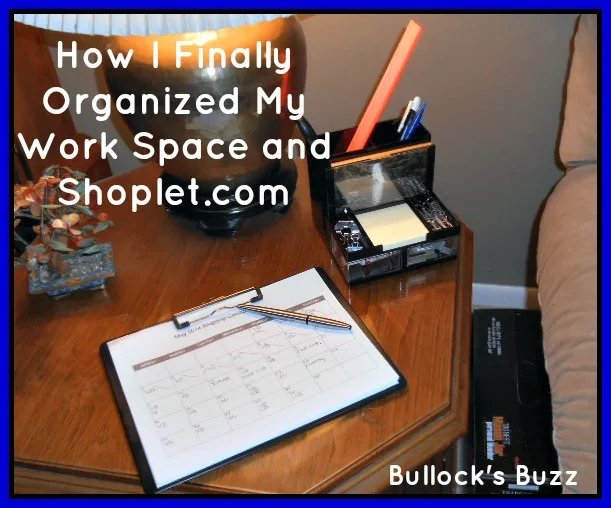 The first thing I decided to tackle was the issue of the side table. I had to have some way to keep all of the pens, pencils and markers, scissors, rulers and sticky note pads neatly organized in one easy-to-reach spot. The solution? An OfficeMate VersaPlus Desk Organizer. This modern-looking organizer fits perfectly on the side table and holds everything I need! At only 5.5″ tall, 6.2″ wide and 6.3″ deep, it is small and compact; yet with 7 individual compartments it holds a lot more than you think.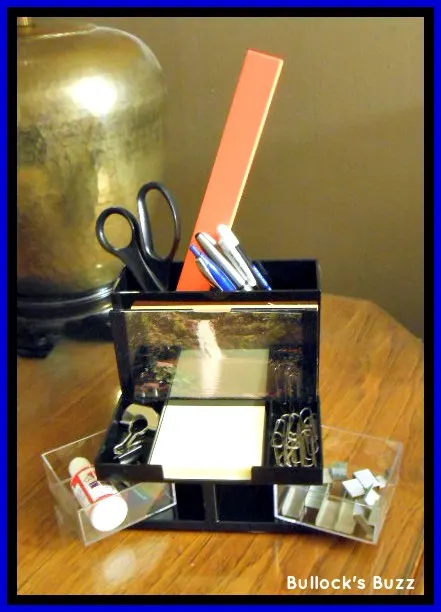 Two of the compartments are on the top and are ideal for holding my pens, pencils, markers, ruler and scissors. In front those compartments is a slot that is the perfect size for holding my small notepad and some envelopes. Below that is an area for my sticky notepad that also has two slender slots on either side – this is where I keep my paper clips and binder clips. On the very bottom are two more compartments which swing outwards to open which are great for holding staples, rubber bands, my bottle of liquid paper and whatever other small items I need to keep near by. But what I really like about it the most, is that there is a slot where I can place one of my favorite 3″ by 5″ photographs, making the organizer look much less out-of-place sitting on an end table in our den! Now I have everything I need in one convenient holder within easy reach.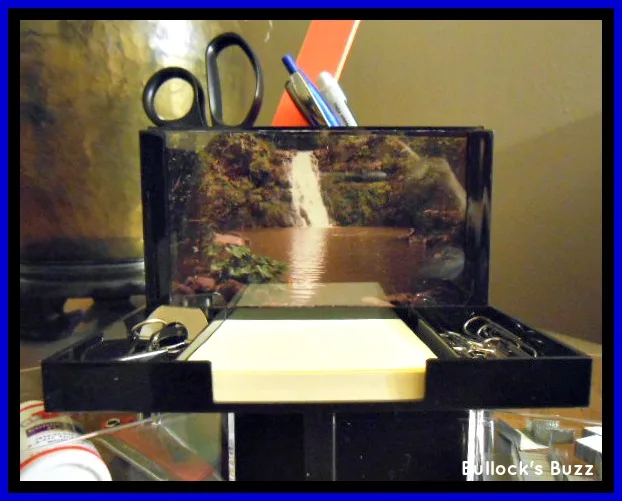 The second item that made such a difference is an OfficeMate Recycled Plastic Landscaple Clipboard. This landscape clipboard works great for me since I am sitting on the couch and do not have a hard surface on which to write. It is also much different from any clipboard I have ever used because it is designed to hold horizontal documents as opposed to vertical.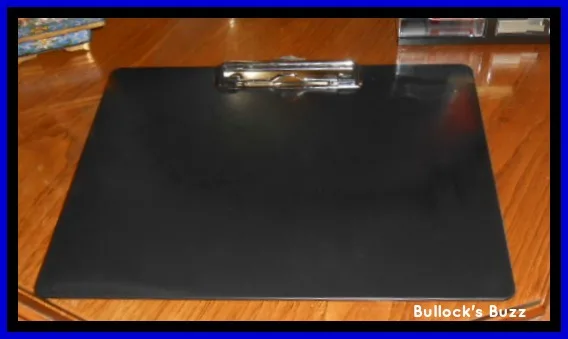 Now my Excel spreadsheet I use to keep up with different posts, and my blogging calendars I use to keep up with due dates, are in the exact position I need to read and write on. In addition to my spreadsheet and calendar, I also use several other sheets to keep everything organized. The strong, metal clip at the top of the board keeps them all securely together in one place.
Isn't it amazing how two items can make such a difference! You can find both of these items at my favorite online site for discounted office supplies, Shoplet.com. There you can find pretty much everything you need for your home office or your office at work. They even carry a great selection of promotional products and office stationery, both of which are a great way to advertise for bloggers and other business owners. I have even been considering ordering some promotional shirts as a way to advertise my site!
What are some of the ways you keep your work area organized?