Easy DIY Teacher Gift Ideas and a Lavender Bath Salts Recipe
Can you believe the school year is almost over? Here in Birmingham, school gets out for summer in about 10 days. While you are busy getting everything from school finalized and preparing summer plans, have you taken a moment to consider what to do as a thank you gift for your child's teacher? As a former teacher myself, the teacher gifts that always meant the most were the ones that cost the least amount of money. The ones that I could tell came from the heart. This included everything from simple homemade gifts the child either made themselves or helped with, to a sincere, heartfelt Thank You note written by the child.
If you feel you really want to buy something, consider a gift card to either a store that carries items you know the teacher enjoys – eg: book store, craft store, etc. – or to a store that provides necessities such as a grocery store or even a teacher store. Also, consider giving a gift of teaching supplies or items for the teacher's classroom such as books for the class library. To you, the idea of giving notepads, pens, or books may not seem like a gift you'd enjoy getting, but I can tell you from experience that for the newer teacher who hasn't has the time to build up her collection of supplies, this can be a wonderful gift! Teachers wind up spending a lot of their own money buying supplies and materials, especially with budget cuts in education being so common these days. There are plenty of adorable ways to present these type gifts that will show you and your child actually put a lot of thought into it!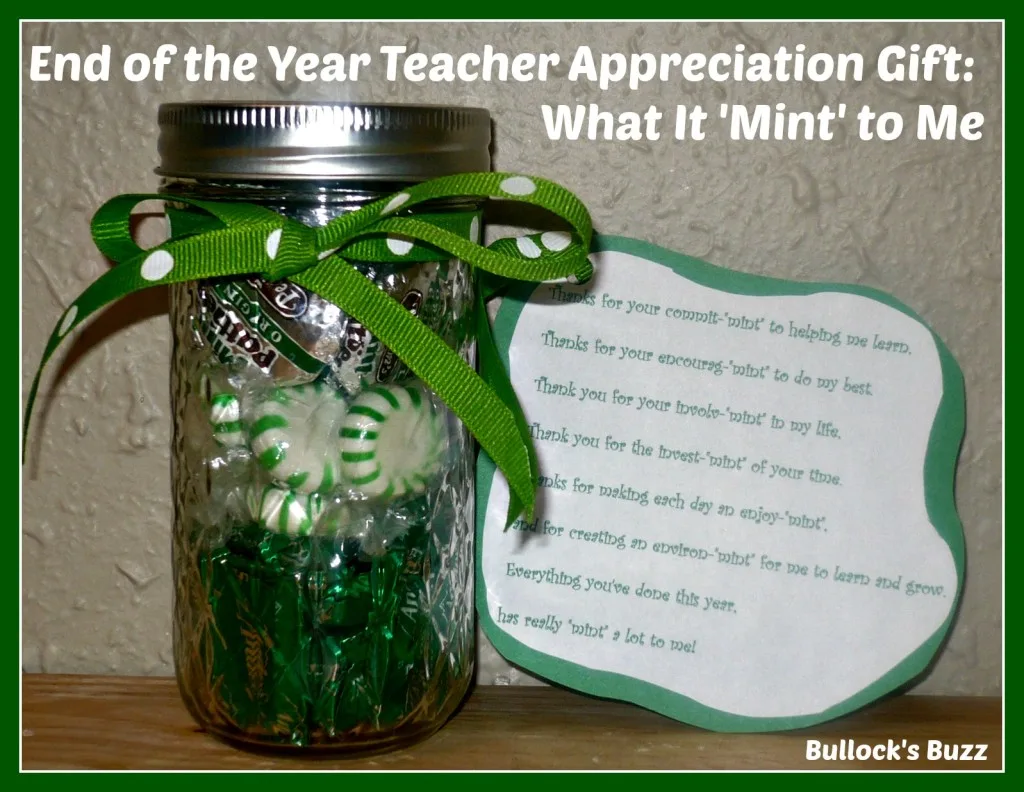 In summary, don't spend a lot of time and money you may not have, give a gift that comes from the heart and really shows how much you appreciate what that teacher has done for your child. And be sure to remember any teacher aides, as well!
Below are ten A+ teacher gift ideas, complete with gift tag quotes, that are all low-cost and easy for your child and you to make; gifts that Teacher is sure to love!
1. How Fortunate Was I !
This gift is a great idea if you know your child's teacher enjoys Chinese food. Grab a gift card from a Chinese restaurant along with several fortune cookies. Put the cookies and the gift card together in some cute packaging, and attach a tag that says: I Was So Very Fortunate to Have You as My Teacher!
2. Such a Gas!
Another cute gift card idea, this one is great for summer time, especially with the rising cost of gas. Purchase a gift card to a gas station and place it in a decorative holder. Maybe even purchase a toy car and tape it to that – be creative! Add a gift tag that reads: Hope Your Summer Is a Gas! OR You Always Go The Extra Mile!
3. A Sharp Idea!
Going along with the teaching supplies as gift idea, find a cute, clear container that a pack of colored Sharpie markers will fit into. Then tie it off with a ribbon, adding a tag that says: You Are A Sharpie!
4. What It 'Mint' To Me
This simple, yet fun gift is the perfect way to tell your teacher how much she meant to your child.
Take a pretty jar and fill it with three different types of mint candy. Arrange in layers, and add a pretty ribbon. Attach a gift tag with the following poem, or even just one of the individual lines. Find more detailed instructions here.
Thanks for your commit-"mint" to helping me learn.
Thank you for your encourag-"mint" to do my best.
Thank you for your involv-"mint" in my life,
Thank you for the invest-"mint" of your time.
Thanks for making each day an enjoy-"mint",
and for creating an environ-"mint" for me to learn and grow.
Everything you've done this year
has really "mint" a lot to me.
5. Down to a Tea
If your child's teacher enjoys tea, this is a great gift for him or her! Find a cute, reusable travel mug (better yet, find one your child can decorate) and fill it with packs of gourmet tea. Or put together a box filled with several different flavors. Attach a tag that says: You've Got Teaching Down to a Tea!
6. Owl Time!
This is a great idea for students that have multiple teachers, or if you want to give a small something to all teachers involved in your child;s education such as the coach, art teacher, music teacher, etc. Take some clear plastic treat bags and fill with candy. At the top of the bag, add an owl's face made from construction paper, then attach a tag that reads: Owl Miss You! OR Thanks for Making Me Wiser! I Hope Your Summer's a Hoot!
7. Candy Jar – Using M&M's
Show your teacher how sweet she is by filling a pretty glass jar with M&M's. Tie with a colorful ribbon and attach a gift tag with the following poem. Skittles could work as well!
Mrs. 'Teacher's name' is a Sweetie!
Green is for the inspiration you gave to me each day,
Blue is for your patience in showing me the way,
Orange is for your warmth and your caring style,
Yellow is for the way you could always make me smile,
Red is for my life that you touched this year,
You're a very special teacher, like this jar-that's clear!
Thank you so much, 'Student Name'
8. A Fresh Idea!
For this cute gift all you need is a cute glass or plastic container, some ribbon and several types of mints. Fill the jar with the mints, add a ribbon for decoration, and add a tag with either: You Were Mint to Teach! OR the following poem: (you can also just use one of the stanza's by itself)
Thanks for your commit-"mint" to helping me learn,
Thanks for your encourag-"mint" to do my best.
Thank you for your involv-"mint" in my life,
Thank you for the invest-"mint" of your time.
Thanks for making each day an enjoy-"mint", and for creating an environ-"mint" for me to learn and grow.
Everything you've done this year,
has really "mint" a lot to me!
9. Grow and Learn
This is a great idea for teacher's with a green thumb. Find a small ceramic pot and have your child decorate it. Include a couple of packs of seeds and add this adorable free printable 'Thank You For Helping Me Grow!' sign from Sippy Cup Mom. OR, stick the sign in a full sized plant!
10. Relaxation in a Jar
Help your child's teacher relax over the summer with a jar filled with homemade bath salts. Include a tag that reads: You Are Scent-sational! OR Thanks for Being Such a Scent-sational Teacher!
Following is a recipe for homemade bath salts that is very easy to make and quite inexpensive. I use lavender in mine, but you can really use whatever scent you think the teacher will prefer. Some examples include Eucalyptus and Vanilla, peppermint and Orange, Rosemary, Lemon and even Honey Almond.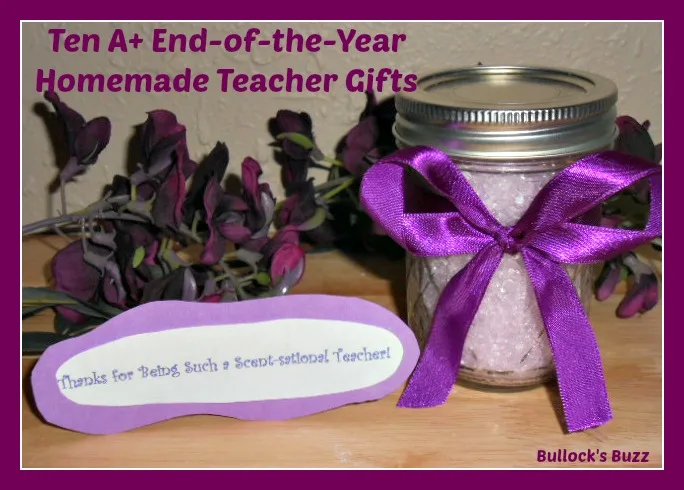 What You Need:
– a glass jar with lid (I used an 8 ounce jar for this recipe, adjust as needed)
– ribbon
– 1 cup Epsom Salt
– 3 to 4 drops Lavender Essential Oil
– 1 tbsp. Baking Soda – this is optional, but I have heard it can help alleviate minor skin irritations
– 1 drop purple food coloring – also optional, it will add a bit of color to the salts
– funnel
What You Do:
1. Add the Epsom salt and baking soda (if using) into a glass bowl.
2. Add your essential oil and food coloring (if using).
3. Mix together for several minutes (at least until the color is evenly distributed).
4. Once thoroughly mixed, transfer to the glass jar using the funnel, seal lid tightly.
5. Add the tag along with instructions to use 1 to 2 spoonfuls per bath and enjoy!