CBD Oil is getting tons of attention these days for all sorts of potential positive health benefits for humans ranging from heart health to skin care. But did you know that CBD Oil also offers a wealth of positive benefits for our furry friends? As research continues to emerge, both pet parents and vets are discovering that CBD Oil can provide all sorts of positive health benefits for dogs and cats.
***I am not a vet. This article is for informative purposes only.****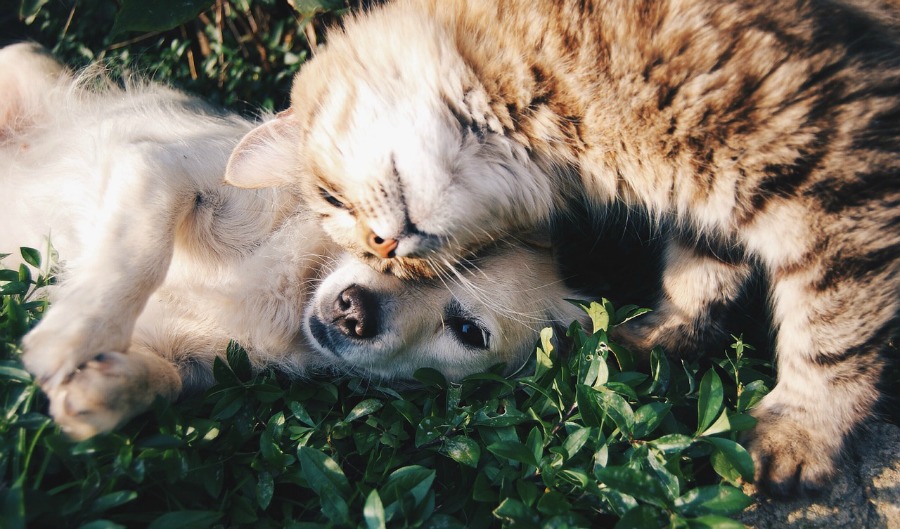 What Is CBD?
Cannabidiol (CBD) is one of 100+ compounds found in plants from the cannabis family, including both marijuana and hemp. However, unlike THC, the compound that creates a feeling of being 'high', CBD is NOT psychoactive. Instead, CBD has been shown to offer humans and pets a wealth of positive health benefits.
CBD Oil for pets and humans is most often derived from the hemp plant which is not psychoactive, and comes in a variety of forms ranging from oils and pills to salves and specialty treats. It is important to note that CBD oil from hemp will not get your pet 'high' in any shape, form or fashion. What it can do is offer a holistic approach to pet care.
However, just like with any other supplement or herb, you should always check with your vet before using CBD with you dog or cat.
How Does It Work?
In the simplest terms, CBD is thought to interact with certain receptors in the body that modulate things like pain, anxiety, and nausea, therefore offering relief to pets who are suffering from various ailments.
While its most common use is treating pain associated with arthritis, cancer, and other chronic ailments, CBD Oil for dogs and cats can also be used for a variety of other conditions ranging from reducing pain and inflammation to helping control anxiety.
Five Benefits of CBD Oil for Pets:
1. CBD Increases Appetite And Helps With Nausea
If your pet suffers from a poor appetite, try giving him or her some CBD oil. Animal studies have shown that CBD works well to increase your pet's appetite. It has also been shown to help with vomiting and nausea, even when they're the result of drugs and toxins.
2. CBD Helps to Relieve Pain
CBD has been shown to have strong anti-inflammatory properties, so it stands to reason that it works well to relieve pain. In fact, studies show CBD to be very effective for:
Arthritis
decreasing chronic inflammation.
decreasing nerve-related and other types of pain
decreasing the impact of inflammation on oxidative stress (which causes degeneration and premature aging)
reducing inflammation
decreasing inflammation in acute pancreatitis
reducing intestinal inflammation (especially inflammation associated with irritable bowel disease)
reducing pain from cancer
reducing pain from arthritis
soothes the chronic inflammation that can prevent your pet from healing properly
3. CBD to Treat Seizures And Epilepsy
Humans are not the only animals to suffer from seizures and Epilepsy. In fact, it's estimated that up to 5% of dogs suffer from seizures. While drugs such as phenobarbital and potassium bromide may help control the seizures, they can be extremely harmful to your pet's liver and other organs. And the drugs don't always work.
Multiple studies have shown that CBD works to control seizures and some types of drug-resistant epilepsy in both humans and pets. Because of this, many pet owners turn to CBD when their pet suffers from seizures and epilepsy. Given over time, it can help reduce the frequency of seizures, and in some cases get rid of them altogether.
4. CBD Oil Helps Reduce Anxiety
Does your cat or dog suffers from separation anxiety of noise phobias? If so, CBD Oil may be the answer. CBD Oil has been extensively studied for its effect on stress and anxiety. In fact, it's been shown to reduce anxiety in both healthy people and people with an anxiety disorder. It has also been shown to be quite effective for panic disorders and PTSD.
5. CBD and Heart Health
CBD has recently been linked to heart health. In fact, studies show it can reduce the damage from damaged blood vessels and irregular heart rates, reduce heart rate and blood pressure associated with stress and anxiety, dilate the arteries, and even help protect blood vessels from damage.
How to Choose CBD Oil For Your Pet
When it comes to CBD oil for pets, not all oils are the same. So here are a few things to look for:
Make sure the product is organic so you can be sure that the oil does not contain any pesticides, fungicides or solvents.
Always buy from a company that uses a third party lab to provide an analysis of the CBD oil. You want to be 100% positive that the CBD Oil is coming from the hemp plant, and that is has little or no THC. The manufacturer should provide a certificate of analysis.
Don't be cheap. Remember, higher quality products are going to cost more.
Ways to Give CBD Oil for Pets
Knowing the benefits and advantages of CBD oil for pets is one thing, but getting them to actually take it is something else altogether! If you've ever tried to give your dog or cat a pill, then you know exactly what I am talking about.
Unfortunately, CBD oil in its natural state won't exactly have your pet whining for more. Thankfully, there are a few different ways to administer CBD Oil to your pets including extracts, tinctures, topical creams, and edibles.
CBD oil allows for more precise dosage and quicker reaction time than that of edibles. It offers pet owners control over how much CBD their canine is ingesting, and acts more like an oil-based health supplement rather than a recreational cannabis product.
CBD Tinctures
One way to give you pet CBD Oil is through the use of tinctures. A tincture is basically a liquid hemp extract made by infusing CBD compounds with mixtures of vegetable glycerine, oil, or alcohol. Tinctures are administered orally, and a typical dose consists of a few drops placed under the tongue. A lot of people prefer this method as you can easily adjust your pet's dose drop by drop.
CBD Edibles
Another popular option are CBD Edibles or treats. CBD Pet Treats are basically CBD oils mixed in to dog or cat treats. Obviously, the biggest benefit of CBD edibles is that your pet will love the way they taste, making it easy to give your pet their daily dose.
However, edibles do take a bit longer to absorb and can have varying levels of potency. Just make sure you follow the proper pet dosage guideline and start off with the smallest amount to see how your pet reacts.
CBD Topicals
A third way to administer CBD Oil to pets is through the use of topicals. These are applied directly on the skin only, and deliver immediate localized relief. CBD salves and creams are great for treating allergic reactions, muscle pain and inflammation, weak joints, skin conditions, and arthritis.
In Summary
The known benefits of using CBD for your pet are incredible, and more is being learned about it every day. With its various and impressive healing and balancing effects on all mammals, CBD is opening up a whole new world for natural pet care.