With Valentine's Day tomorrow night, I am excited to share one of my favorite top restaurant picks for a great date night in Birmingham, Alabama. Located in the beautiful Summit outdoor shopping center off Highway 280, the award-winning Fleming's Prime Steakhouse and Wine Bar stands out among the many restaurants located on the property.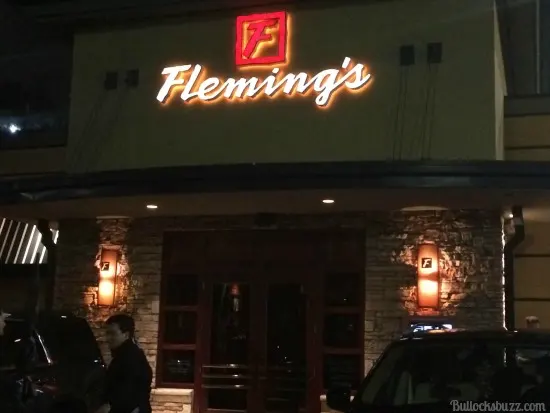 Upon arriving the first thing we noticed were the well-dressed valet's waiting to take your car. Inside you are immediately struck by the restaurant's ambience which manages to combine the elegant decor and dim lighting ideal for romantic dinners with the high spirits and friendliness of a traditional, upscale steakhouse.
Once inside, we were immediately greeted by the smiling hostess. We had reservations, so despite the fact that they were quite busy – even on a Thursday evening – we were promptly seated. Surprisingly, it was louder than I was expecting, but regardless we still managed to have a feeling of privacy in our candle-lit booth.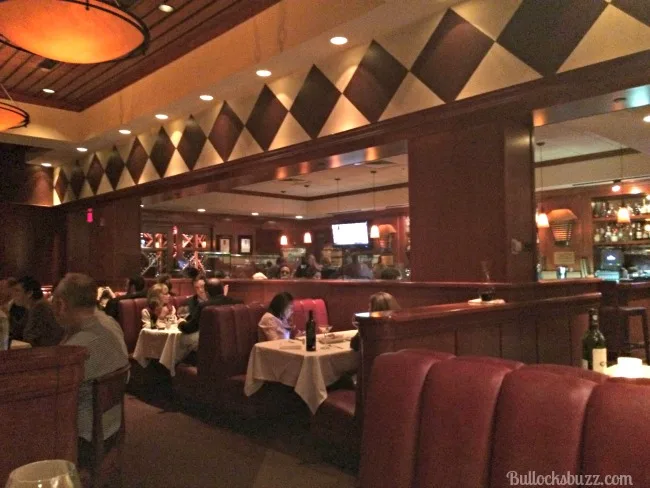 Within moments of being seated our waiter appeared to welcome us and introduce himself. A wine menu was already on the table, though he handed us a digital version on a tablet, too. After taking our drink order, he left us to peruse the menu.
A few minutes later our drinks arrived, and we were treated to a sampling of Fleming's delicious menu items starting with a loaf of Rosemary Parmesan Sourdough Bread with a Roasted Tomato Butter and a Chardonnay-infused Gorgonzola spread.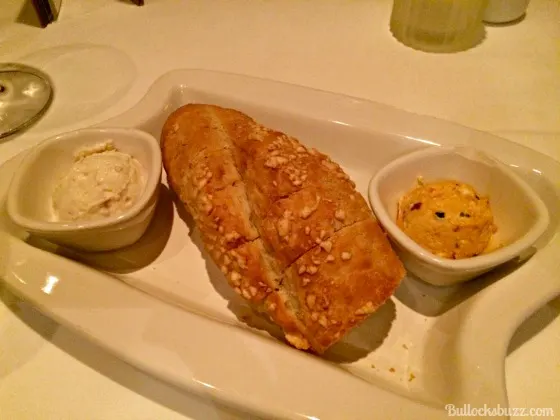 Next up came beautifully plated Short Rib Empañadas. These tender short ribs are served in a traditional light and flaky Latin pastry along with sautéed peppers, onions and potato. Drizzled across the top is a creamy fire-roasted poblano sauce.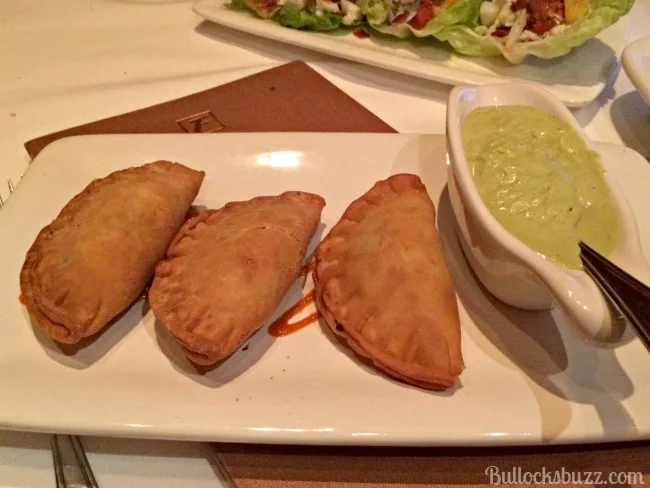 Following the empañadas were some delicious Lobster Lettuce Wraps made with Atlantic lobster, crumbled bacon, crisp onion strings, orange-fennel slaw and a tangy tarragon dressing. Both items were part of Fleming's 8 for $9 'til 10 PM Bar la Carte menu.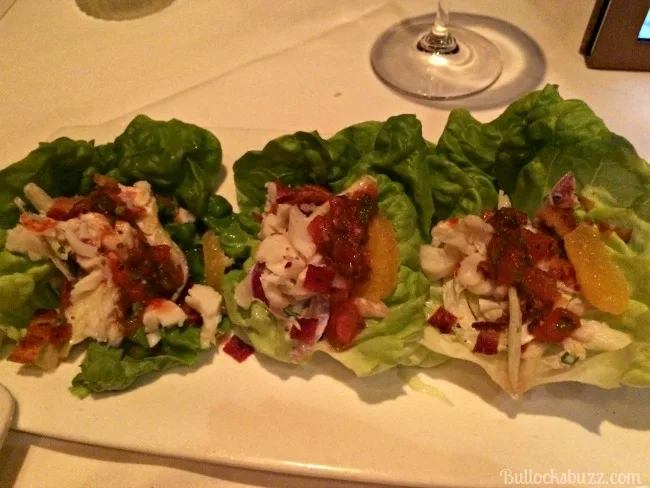 Then it was time for us to order our main meal. By this time we were getting full and luckily found the perfect sized meals on the Small Plates section of the menu. My husband ordered the New Zealand Petite Lamb Chops, while I went with the Sliced Filet Mignon – wanting to try one of the steaks for which Fleming's is known.
Like the rest of our order, the food arrived in just the right amount of time. The three New Zealand Petite Lamb Chops were artfully plated along with polenta fries and a pistachio-mint pesto. On the side was a small ramekin of Fleming's own F17 sauce; a proprietary blend of 17 different ingredients including molasses, honey, orange juice and chipotle peppers. Each chop was tender and juicy, with a pleasant "lamby" taste and cooked to perfection. As my husband said they "practically melted off the bone".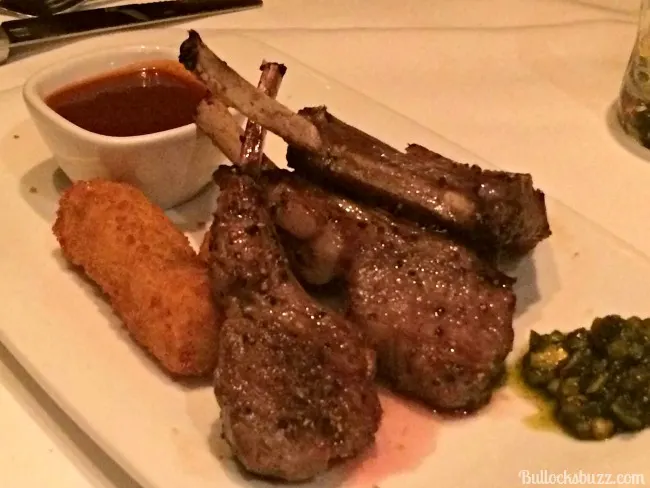 Within the first bite of the Sliced Filet Mignon, I understood why Fleming's is so well-known for their steaks. Juicy slices of perfectly cooked and seasoned filet mignon are served over a shiitake risotto, and topped with chili oil and a porcini butter drizzle. Each tender bite tasted like a little bite of heaven on earth. Flemings really managed to cook the meat to perfection, hitting that rare-medium-rare sweet-spot right on.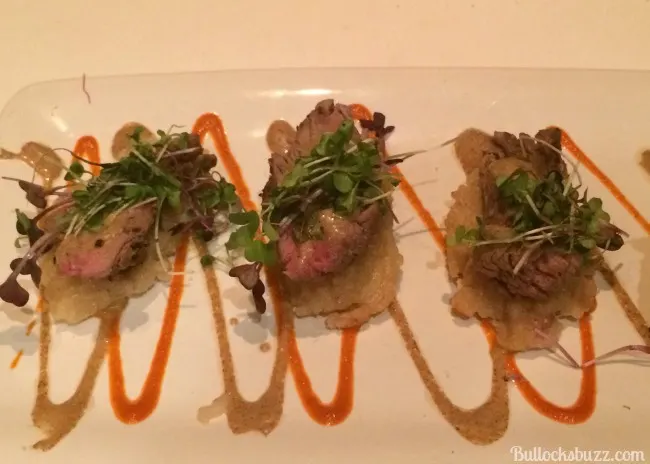 By the time we were done, although tempted, we were much too full to finish off the evening with any dessert. Though I have to admit the Tahitian vanilla bean Crème Brûlée topped with fresh, seasonal berries, and the Chocolate Lava Cake served with vanilla ice cream and chopped pistachios (a long-standing Fleming's favorite) sounded incredibly delectable. Definitely next time!
In summary, the food was impeccable and the service is second to none! Our server was knowledgeable and friendly, and the food simply delicious! Whether headed out for date night or celebrating a special occasion, I definitely recommend Flemings Steakhouse and Wine Bar for anyone looking for a delicious, upscale yet traditional dinner.
Crème Brûlée image courtesy Critsy on Foodspotting via opentable.com