Adult coloring pages are all the rage today, and why not? Nothing is quite as relaxing as focusing all of your attention and energy in a creative way, and that is exactly what you are doing as you concentrate on coloring intricately detailed designs! In fact, studies have shown that coloring helps to de-stress adults by calming them down!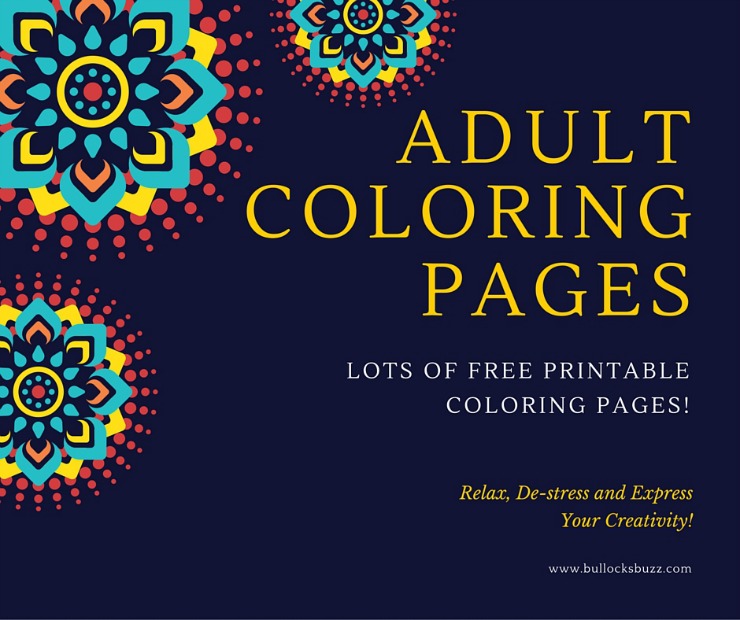 Funny enough, as a very young child I enjoyed coloring, but as soon as I learned to read and write, I spent most of my creative energies on that. Now, as an adult, I am enjoying coloring more than ever. Sure, as a parent it can be next to impossible to find any time to yourself, but if you can carve out even just 15 minutes a day to color, I think you'll be surprised at just how relaxing it can be! To help you get started, I've listed some of my own personal favorite places to find adult coloring pages, as well as an adult coloring page I made myself!
Yes, you read that right! If you want to take coloring a step further and design you own adult coloring pages, there are all kinds of great sites out there! One of my favorites is colormandala.com, where you use their online tool to create your own geometric designs to print off and color. Simply choose their "Design New" option, and you'll be able to "Add Shapes" and "Clone Shapes" and create all kinds of amazing designs! At first it does take a bit of fiddling around to figure out exactly how to do it, but once you get the hang of it, it's almost as fun as coloring!
Here's one of the designs I came up with and you can click this link or the image below if you would like to print it. It looks wonderful when you use colored pencils (aff. link)! Now keep in mind that this was my first attempt, and it is definitely not as detailed as some, but I think you'll enjoy it! Plus, it happens to be one of the most popular designs to color – a mandala! I do ask that it be used for personal use only and if you wish to share, please direct people to this post so they can download it for themselves.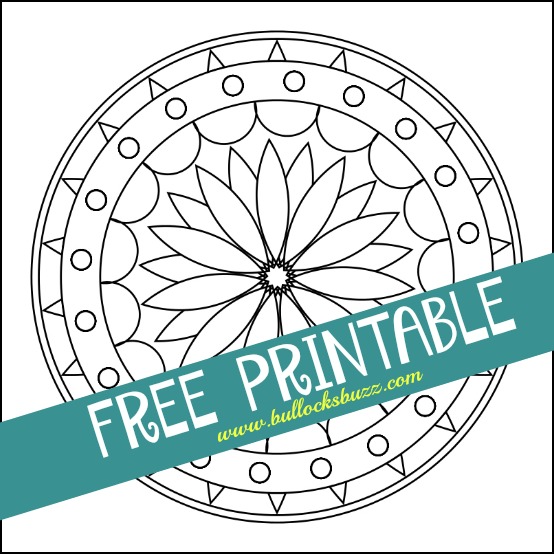 When I first printed my design, it seemed a bit small to me as it didn't fill up the entire page, but, once I started coloring, I realized it was just the right size and amount of detail to let me finish in the amount of time I had available that evening. So relaxing!
Animals Coloring Pages for Adults
One of my favorite subjects when it comes to adult coloring pages are those that focus on nature – especially animals and flowers! When I'm using the adult coloring pages to relax, I need something pretty to focus on! Below are the links to a few of my favorite nature-themed adult coloring pages with designs that are just complicated enough to satisfy our advanced coloring skills, and so very pretty! Some are even pretty enough to frame! Whether you use colored pencils or markers (aff. link) depends on the weight paper you print it on.
Abstract Designs Adult Coloring Pages
In addition to nature designs, I also love abstract patterns. Here are some that are so intricate they look absolutely amazing once finished!
Coloring Books For Adults (aff. links)
Can't get enough of adult coloring pages? Here are several adult coloring books you should check out! I have several of these myself, and not only are they full of great adult coloring pages, they are affordable, too!
Note: these coloring books are from Amazon and many will ship to you free with Amazon Prime. If you are not yet a member, give it a try with this Amazon Prime 30-Day Free Trial
! If you order from Amazon often, it is totally worth it!
Happy Coloring!