Who says you can't enjoy chocolate without the guilt? Gatsby Chocolate is low-cal, low-fat, and low-sugar yet it doesn't sacrifice any of the delectable flavor!
By now there's a pretty good chance that you've seen GATSBY chocolate making its way around social media and have heard people talking about how delicious it is. But does the low-fat, low-cal, and low-sugar chocolate bar truly live up to the hype? Is it really that good?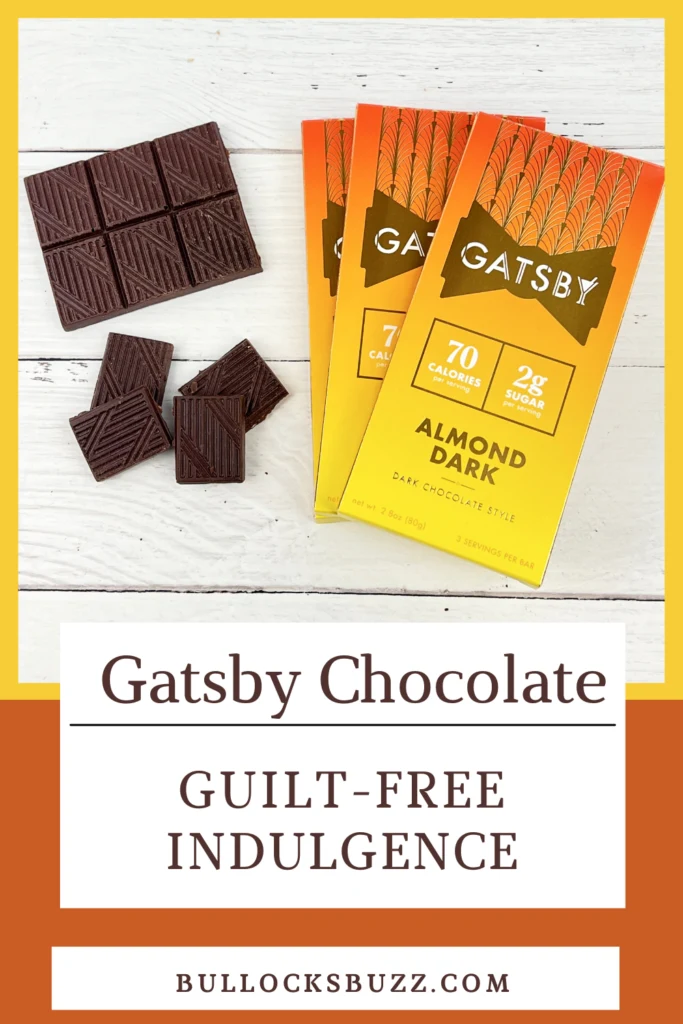 Disclosure: This is a sponsored post on behalf of Moms Meet to share my experience with Gatsby's Almond Dark Chocolate. Regardless, all opinions are my own.
Thanks to MomsMeet, I had the opportunity to try it for myself. So keep reading to learn all about it and to see how you can get your own GATSBY chocolate bar – for free!
THE LOW-CAL, LOW-FAT, LOW-SUGAR CHOCOLATE
I am pretty sure I have the world's largest sweet tooth. Ever since I was a child, I have loved the taste of sweets; any sweets, whether they be in the form of cookies, cupcakes, or candy. That delicious sugary goodness seemed to call my name. And one of my biggest weaknesses is chocolate!
Of course, since stuffing one's face full of sweets is not the healthiest decision, it's a rare treat when I do allow myself something sweet. And even then, I try to go for sweets that are low-fat, low-cal, or sugar-free. But as everyone who has ever opted for sugar-free sweets knows, great tasting and low-cal rarely go hand-in-hand.
Enter GATSBY Chocolate.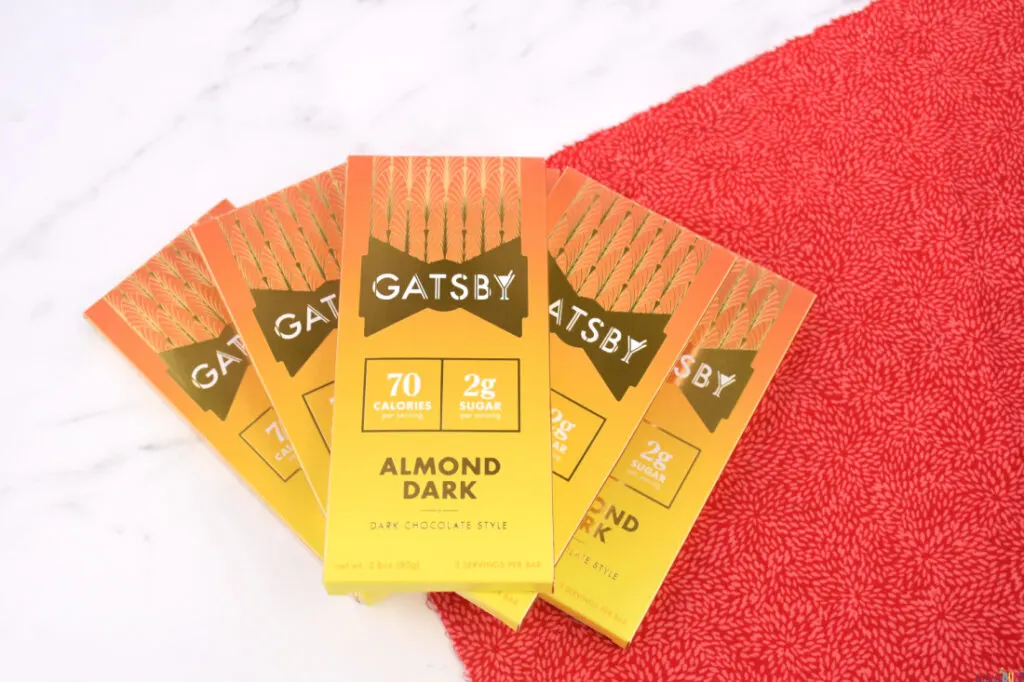 WHAT IS GATSBY CHOCOLATE?
Created by a cofounder of Halo Top Ice Cream along with several other original Halo Top team members, GATSBY Chocolate is the first ever low-calorie chocolate. In fact, Gatsby Chocolate contains 90% less fat than premium chocolate brands and 90% less sugar than premium chocolate brands. It is the lowest-calorie chocolate bar on the market with two to three times fewer calories than comparable products.
Their secret is an all-natural sweetener called Allulose. This rare sugar is naturally found in fruits like raisins and figs and it is about 70% as sweet as sugar. It has a sweet and rich taste, but no weird sugar alcohol, or chemical taste.
Y'all, these people spent over a year working to create a chocolate that chocolate lovers can enjoy without having to worry about fat and sugar. And in my opinion, they succeeded!
Some other perks of Gatsby include:
• It is low calorie: the first and only low-cal chocolate with half the calories of even sugar-free brands
• Gatsby Chocolate is Keto-friendly: only 1–2 grams of net carbs per serving, or 6 grams of net carbs for an entire bar
• Vegan varieties are available including Sea Salt Extra Dark, Almond Dark, and Dark Chocolate Peanut Butter Cups
DOES GATSBY CHOCOLATE REALLY TASTE GOOD?
So far I have only tried their Almond Dark Bar, but I was quite surprised at just how good it truly is. Over the years, I have tried a lot of low-sugar or sugar-free chocolates and candy bars. To me, most of these candy bars either taste weirdly bland or taste like the artificial chemical sweeteners they are made with. None of them truly taste like chocolate.
Gatsby, on the other hand, is surprisingly full of rich, chocolatey deliciousness! The Dark Almond chocolate bar has a velvety smooth texture that melts in your mouth, and a rich, chocolatey flavor combined with salty almonds mixed in.
In addition, dark chocolate has always left a bad aftertaste in my mouth, and rarely would it taste sweet. So I was even happier to discover that GATSBY Dark Almond did not leave a bad taste in my mouth at all. Another bonus!
The bars are also pretty big with 3 servings per bar. Yet each serving has a mere 70 calories and just 2 grams of sugar!
Naturally, to give you a truly honest opinion of the taste, I had to take several bites. The bars are quite large and contain 3 servings each. But get this, I have zero guilt for eating that third of a bar because there are only 70 calories and 2 grams of sugar per serving!
Some more tasty math…so if I eventually ate the whole bar I would be getting 6 grams of protein and 12 grams of fiber with only 210 calories and 6 grams of sugar!
Guilt-free chocolate?! Who'd have ever known?
So chocolate lovers rejoice, because a low-fat, low-cal, and low-sugar chocolate bar that actually lives up to the hype and tastes pretty darn good really does exist, and it's called GATSBY Chocolate.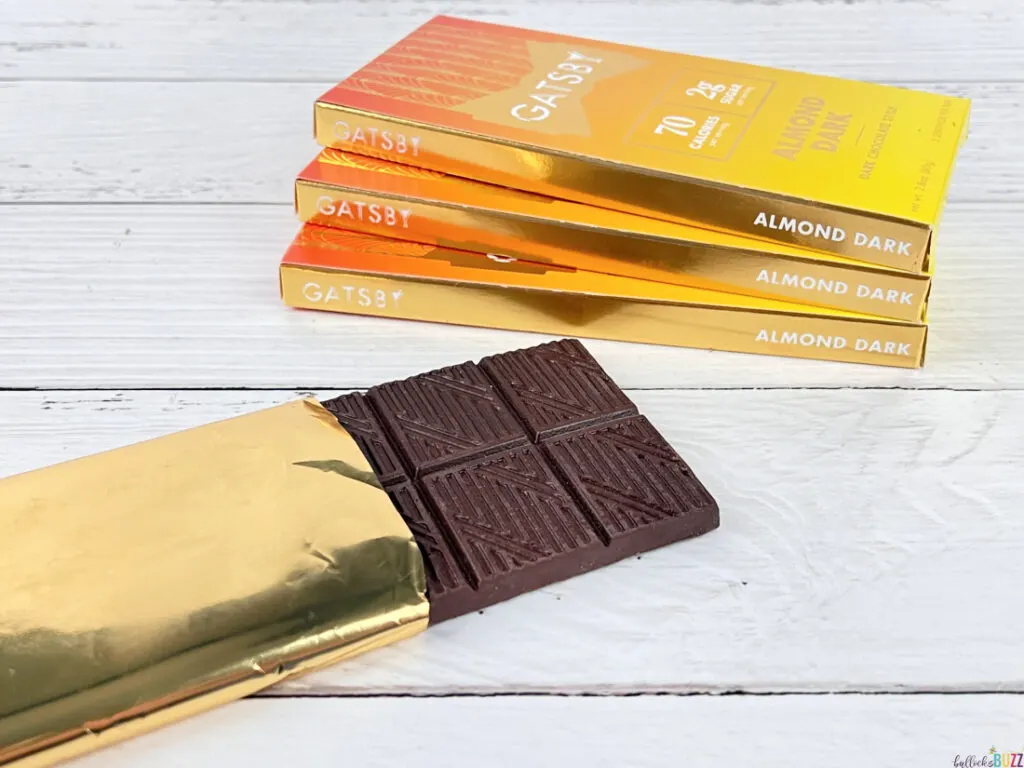 WHAT TYPES OF CANDY DOES THEY MAKE?
In addition to the Almond Dark chocolate bars, GATSBY also makes the following:
Peanut Butter Cups
White Chocolate Peanut Butter Cups
Dark Peanut Butter Cups
Peanut Butter Madness Bar
Cookies and Cream Bar
Sea Salt Extra Dark Bar
Oat Milk Crunch Bar
Oak Milk Salted Almond Bar
Fudge Brownie Bar
Cookie Butter Cups
Seasonal Candy Cane Crunch Bar
I can't wait to try the Sea Salt Extra Dar Bar and some of those Peanut Butter Cups. Fingers crossed they come out with a chocolate and caramel bar!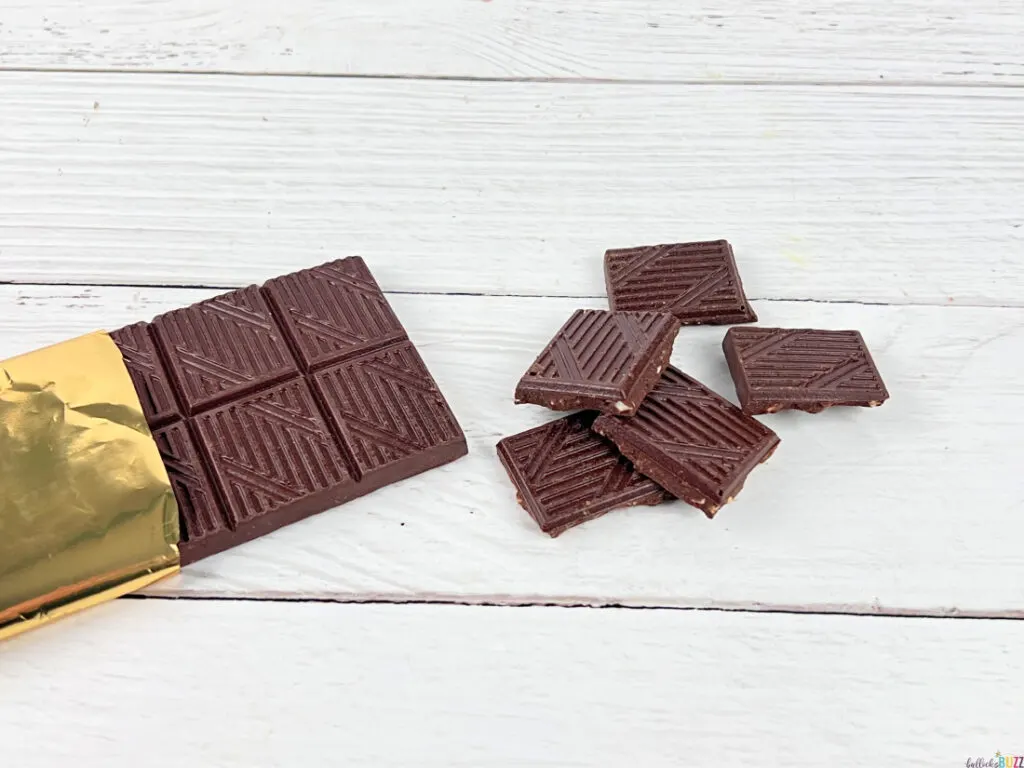 TRY GATSBY FOR YOURSELF – FREE SAMPLE!
Are you, like me, one of those people that want to try it to believe it? Well, here's your chance! You can sign up for a free GATSBY Chocolate Bar at discover.gotoaisle.com/gatsby!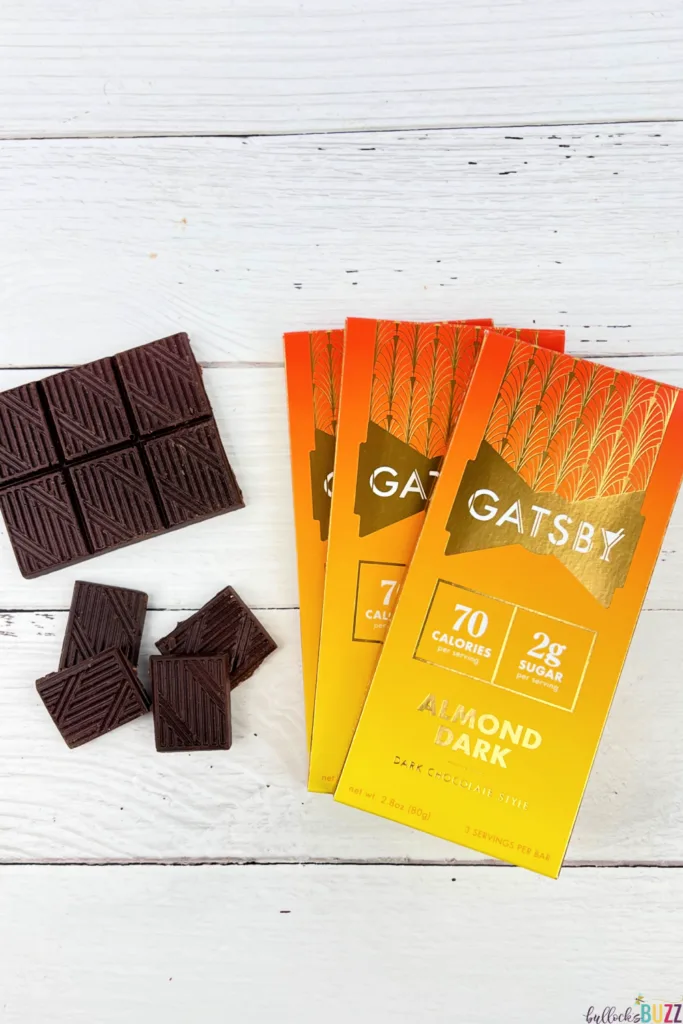 WHERE CAN I BUY GATSBY CHOCOLATE?
GATSBY Chocolate can be found at Safeway, Albertsons, Sprouts Farmers Market, and in stores and online at Walmart. It typically sells for around $2.99–$3.99.
You can also find GATSBY Chocolate in your area by visiting gatsbychocolate.com/pages/store-locator for a full list of locations.
Give it a try, you won't regret it!