Chunks of everyone's favorite cookie are drenched in rich, creamy white chocolate in this melt-in-your-mouth Cookies and Cream Bark candy with an extra crunch! But what really makes this spring or Easter recipe stand out are the cute little springtime designs that are on one side of the finished bark!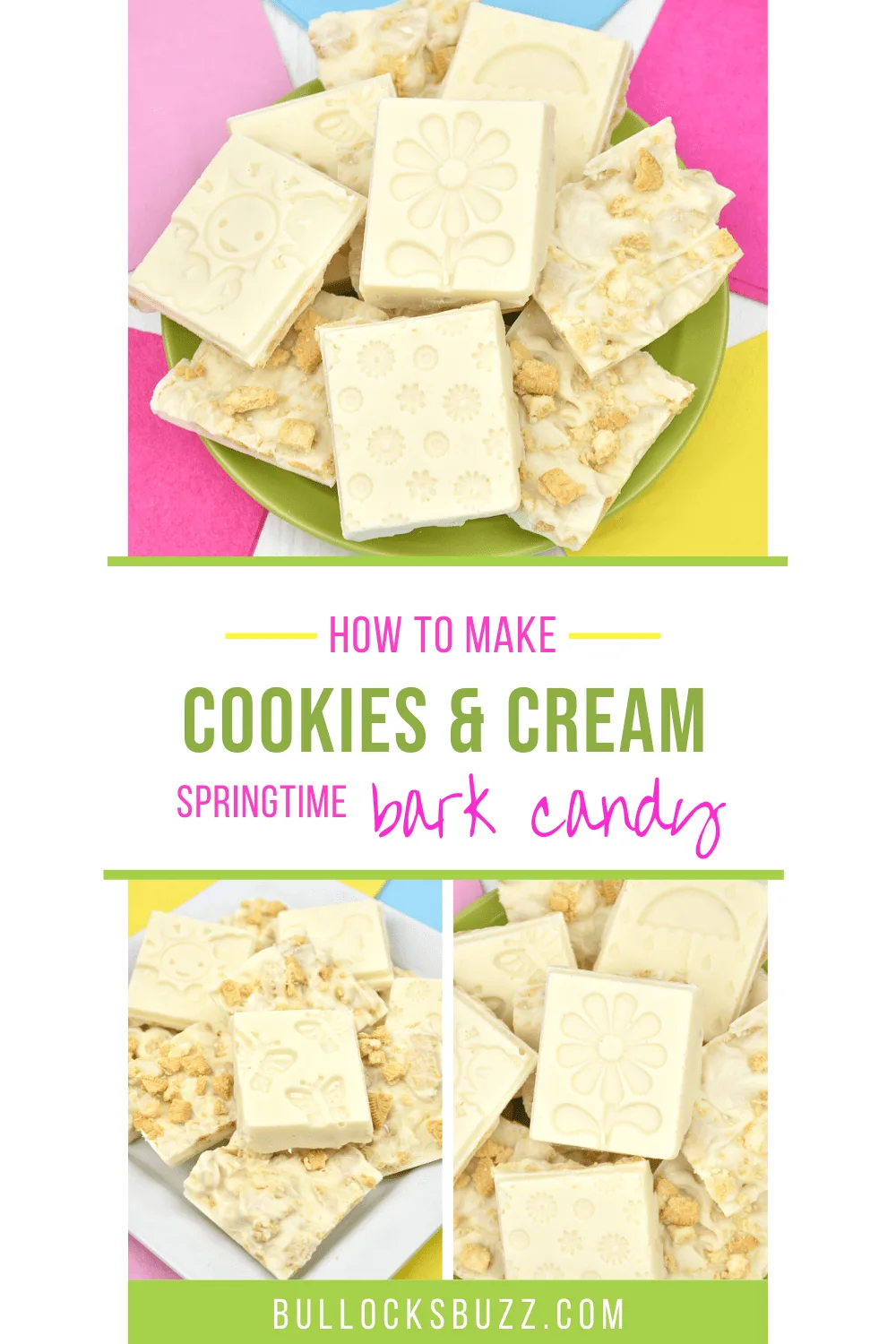 Springtime and Easter are right around the corner, and I've been looking forward to it for months! If you're looking for something quick and easy to make, especially with the kids, this recipe for Cookies and Cream Bark is absolutely perfect!
It's quick. It's easy. And it's delicious!
But what really makes this recipe stand out are the cute little designs that are on one side of the finished bark!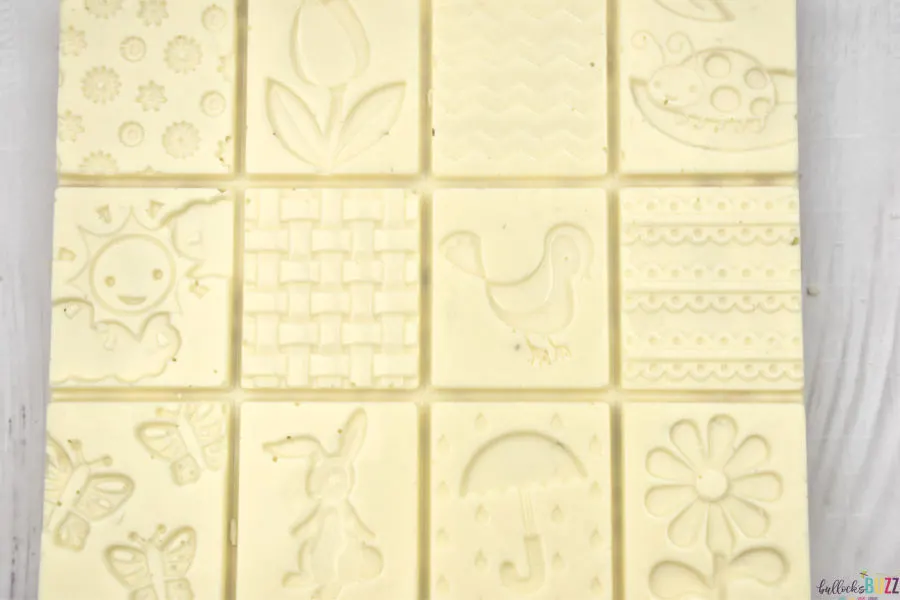 From butterflies to a smiling sun to a baby chick the designs found in this cookies and cream bark are absolutely perfect for Spring and the Easter holidays.
A tin filled with this bark would make a fabulous Easter basket filler. Or homemade birthday gift. Or even a great "just because" gift on any day of the week.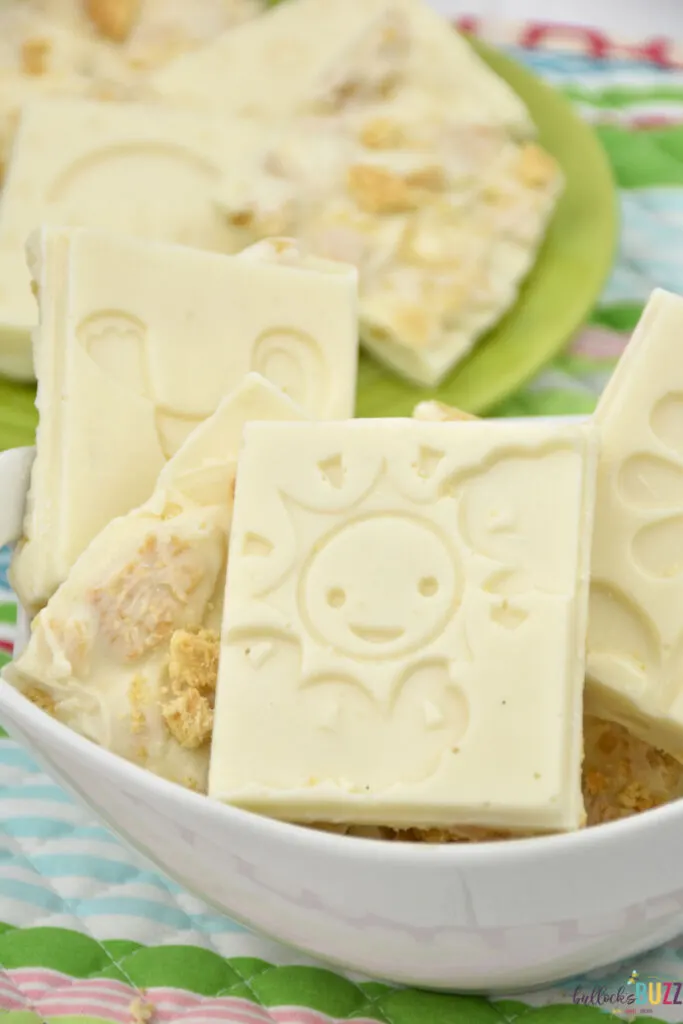 How to Make Designs in Candy Bark
This Cookies and Cream Bark may look as though you spent hours creating it yet it doesn't take any longer than any other bark candy recipe.
The secret? A silicone mold made by Good Cook Sweet Creations.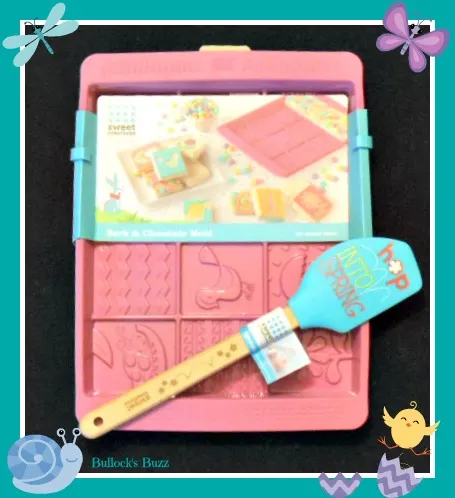 Y'all know that I like to recommend a lot of the tools that I use in cooking and crafting. Well every now and then I'll come across something that really stands out. This Easter Brittle Bark and Chocolate Mold from Sweet Creations is one of those things.
This super cute silicone chocolate mold makes creating tasty treats with fun and festive Spring and Easter designs a breeze. Each "well" on the mold features a different spring or Easter-themed image. So once your bark or other treat is finished, one side comes out with a fun and festive design.
The images transfer over easily and turn out crystal clear on everything I've made. And since the mold is made of silicone, it's very flexible which makes popping the candy out a breeze.
Made of high-quality, food-safe silicone, this cute mold is actually very versatile. It can be used in the freezer, refrigerator, or microwave. And it's oven safe up to 450F. So you can make everything from candy bark to brownies, cookies to jello, and more Plus, it's a cinch to clean.
If you want to buy one, you'll find it on Amazon. I link to it, and that super cute spatula you see in the picture above, in the kitchen tools section below.
And now, what you've all been waiting for, the Cookies and Cream candy for Easter recipe!
How to Make Springtime Cookies and Cream Bark Candy
Cookies and cream bark is officially the easiest homemade candy in the universe. You only need a few common ingredients and just a little bit of time. In fact, you can have this scrumptious treat ready to eat in less than an hour. And the taste is out of this world delicious!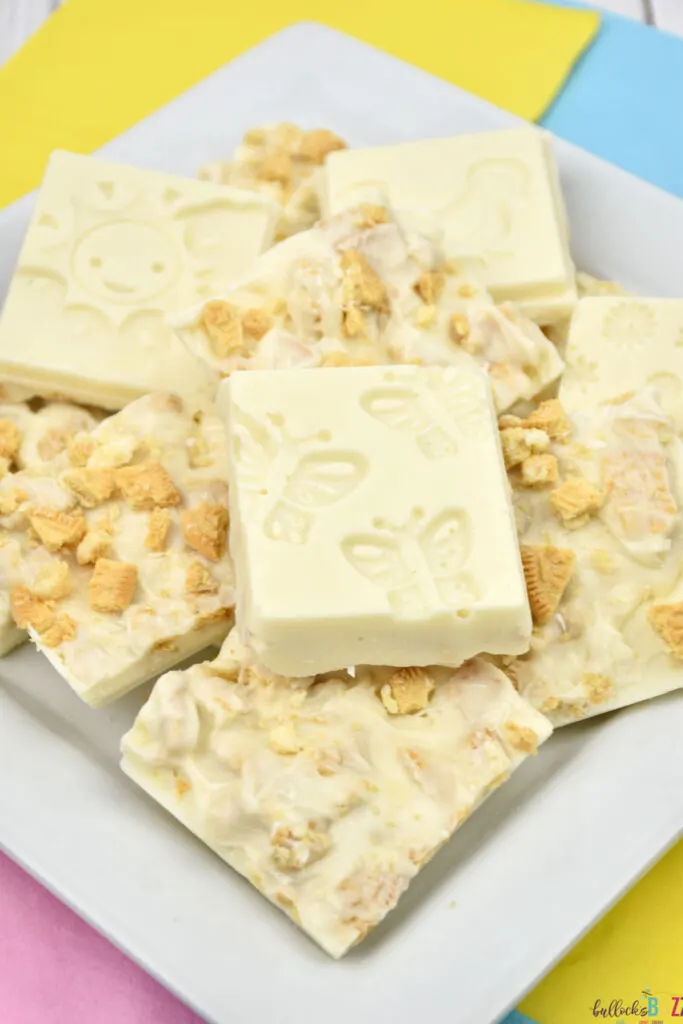 You will find the exact ingredient amounts and detailed instructions in the printable recipe at the bottom of this post.
Disclosure: This blog post contains affiliate links for products or services I think you'll like. This means if you make a purchase from one of these links, I may make a small commission at no additional cost to you. I only recommend items I use and love.
Kitchen Tools I Used for This Candy Bark Recipe
Chocolate candy bark really is perfect for all occasions — it's as welcome as a Halloween treat as it is a part of your Shark Bark Week television binge.
Cookies and Cream Bark Ingredients
Premium white chocolate chips and vanilla Oreos give this sweet spring surprise a creamy, crunchy texture that will satisfy even the strongest sweet tooth!
While I used Golden Oreos, you can always use the chocolate ones. In fact, the very first time I made this recipe, I used original Oreos. However, I think the golden color of the vanilla cookies gives it a more spring-like look.
white chocolate chips – I prefer Ghirelldehi as it melts smoother
Golden Oreo cookies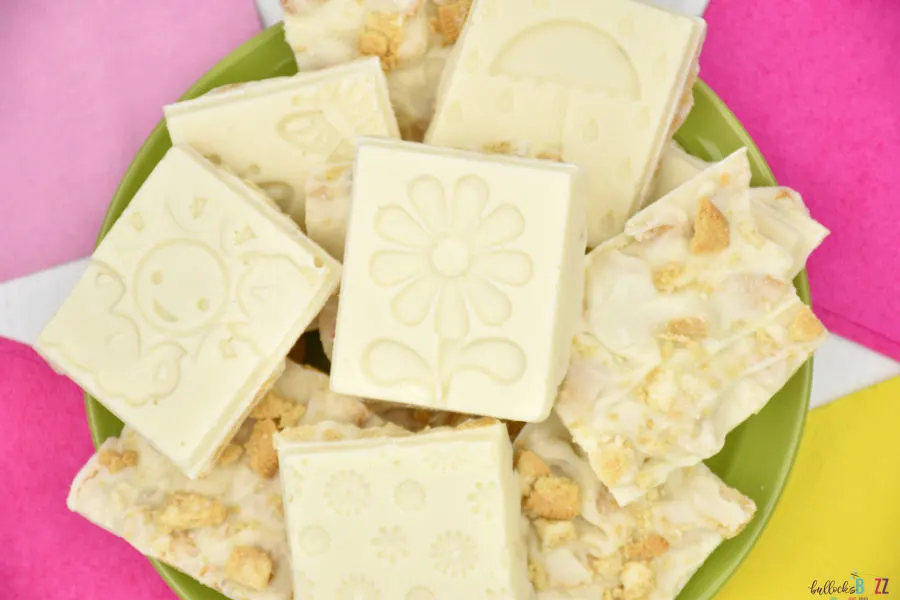 Cookies and Cream Bark Recipe Instructions
Making this Easter bark candy is incredibly simple and takes just mere minutes. The hardest part of this entire recipe is waiting until you can eat it!
Note: This Cookies and Cream Bark candy has 3 layers: chocolate, a chocolate and cookie mixture, and then a final sprinkling of chopped cookies. The first chocolate layer has to have time to set before the chocolate and cookie mixture layer can go on top. And all of it has to set completely before you can remove the bark from the mold.
Chop Cookies – Coarsely chop cookies into small pieces. Don't overdo it to where they turn into crumbs, you want them to have some texture and crunch in the final product.
Melt 1st Layer of Chocolate – Following the instructions on the bag, melt the first bag of chips in the microwave, double boiler, or candy melting pot until smooth and creamy.
Add First Layer to Mold – Pour a small amount of melted chocolate into the mold. Just enough to reach the top of the lines going around the individual wells. Spread it around evenly with a spatula.
Refrigerate – Place mold in the fridge for about 15 to 20 minutes to allow the first layer to set.
Melt Chocolate for Second Layer – Melt the next bag of chocolate until it's smooth and creamy.
Fold in Cookies – Using a large spatula, gently fold about ¾ of the cookie pieces into the melted white chocolate.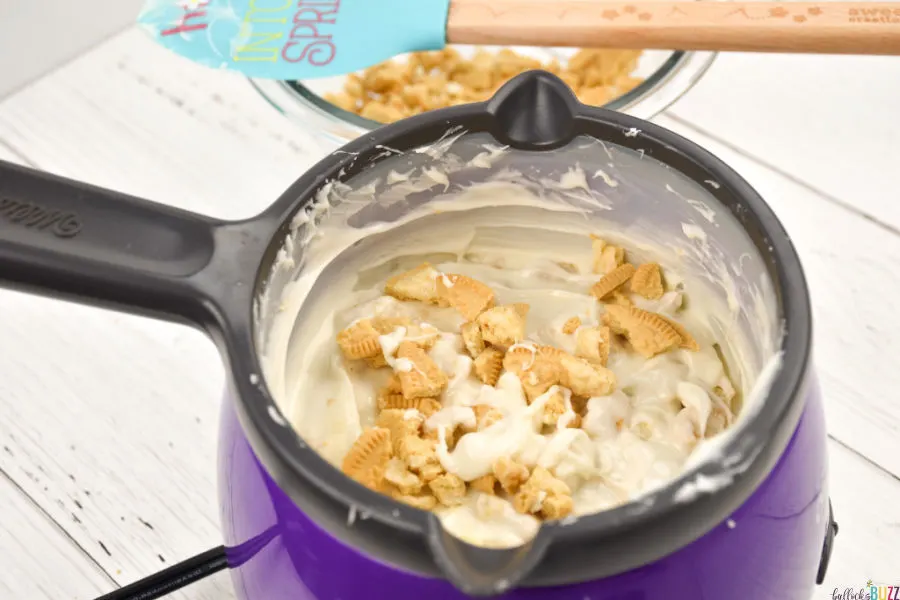 Add Second Layer – Scrape the mixture out into the mold on top of the first layer. Spread evenly using a spatula.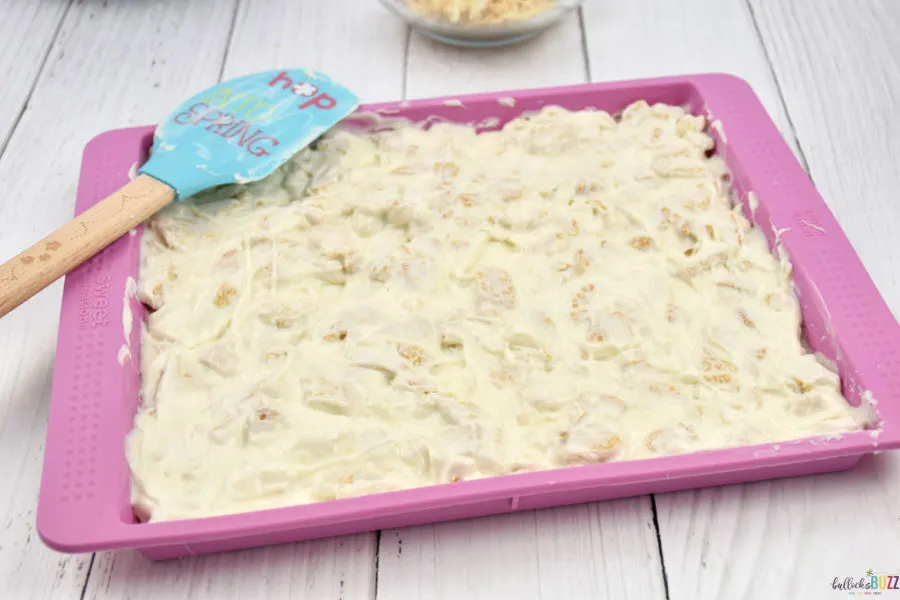 Add Topping – Sprinkle the remaining cookies on top, gently pressing them to adhere to the chocolate.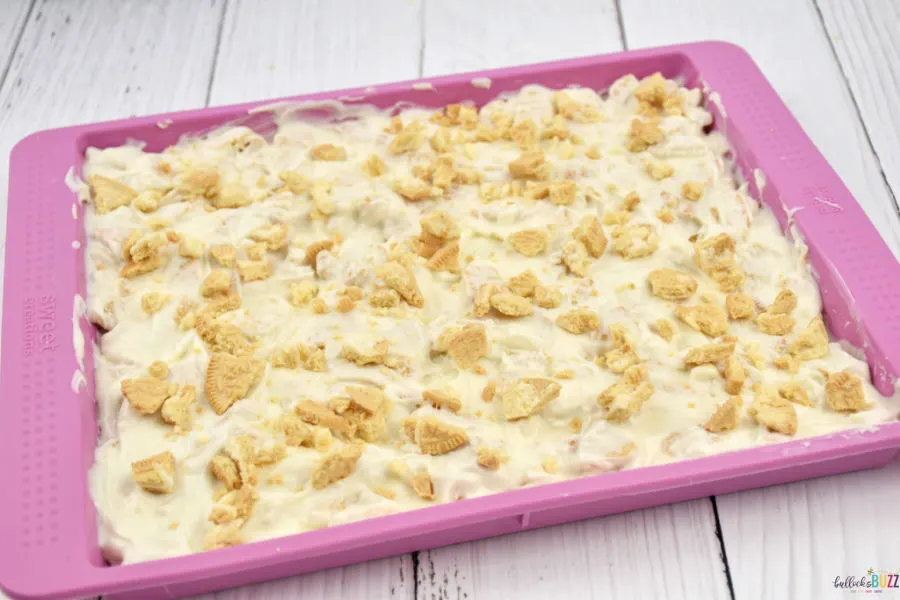 Refrigerate – Refrigerate the cookies and cream bark candy for at least an hour or until it's completely solid.
Note: Before attempting to remove the candy bark, make sure it has completely solidified. If you try to pull it out too early, the patterns may not turn out.
Remove From Mold – Carefully remove the bark from the mold. I simply carefully flipped mine over, and then peeled the mold from the bark.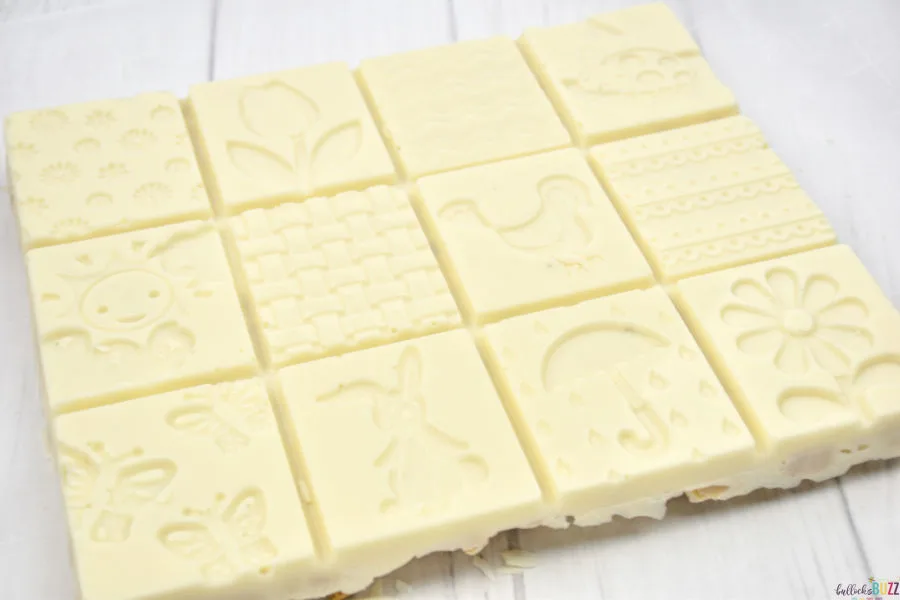 Cut – Break or cut bark candy apart. The mold will leave lines to make cutting a cinch.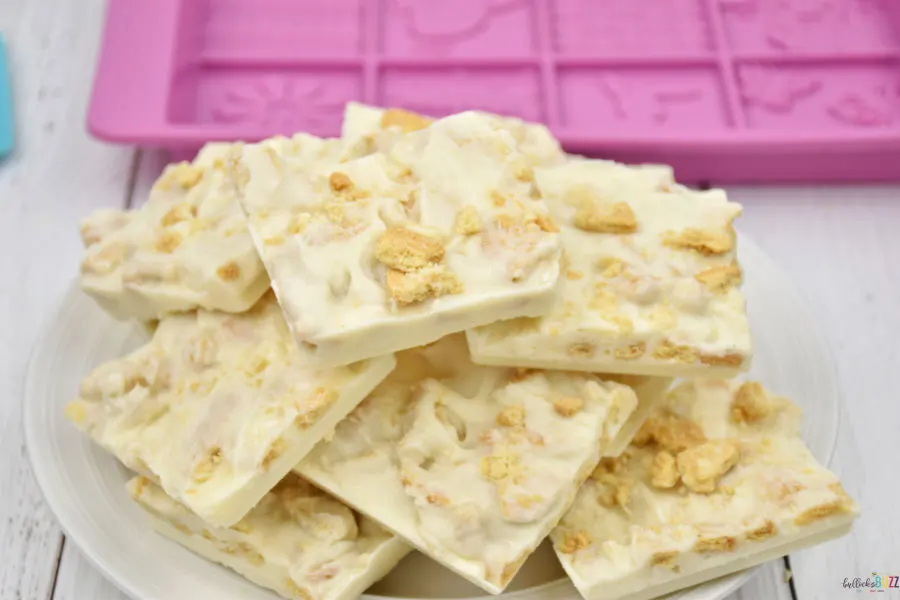 And that's it. You're Cookies and Cream Bark candy is ready to enjoy!
Tips for Making Cookies and Cream Bark A Success
Cookies and cream bark is made pretty much like all other candy bark recipes, except you will be chopping up cookies to combine with the melted white chocolate. Below are a few tips that will help make this recipe a success.
Take your time melting your white chocolate, don't apply too much heat, let it melt slowly.
Instead of crumbling or crushing the cookies, use a knife to cut them. This helps maintain their integrity and crunch in the finished bark. I cut each cookie into 4-6 pieces.
If using original Oreo's (chocolate), fold the cookie pieces into the melted chocolate very gently to preserve the black and white look. If you mix it up too thoroughly you'll wind up with a greyish tint to the finished bark.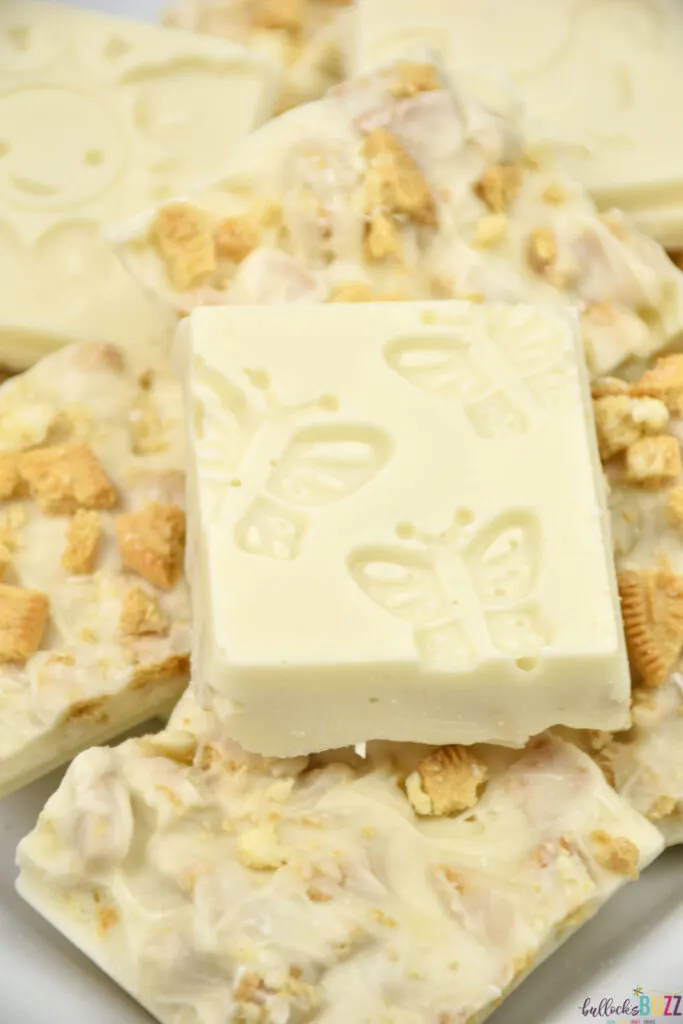 What Kind of Cookies Can I Use?
When it comes to making homemade bark with cookies, the sky's the limit as far as what kind of cookies you use. The very first time I made this recipe, I used original chocolate Oreos. Yum! I've also tried chocolate chip cookies, peanut butter cookies, and even pumpkin snickerdoodle cookies.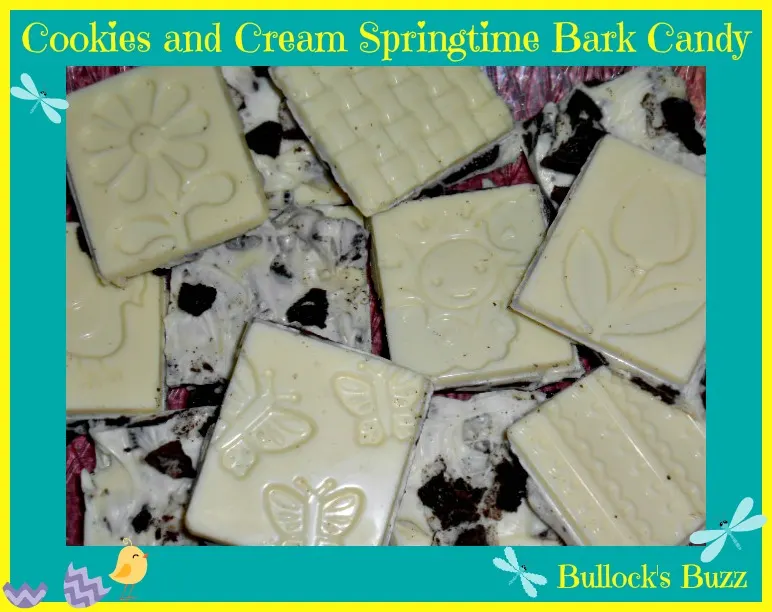 More Bark Candy Recipes
Looking for more easy, yet simply delicious candy bark recipes? Then take a look at these fantastic no-bake bark recipes! And be sure to check back soon as I have lots more on the way! Happy Spring!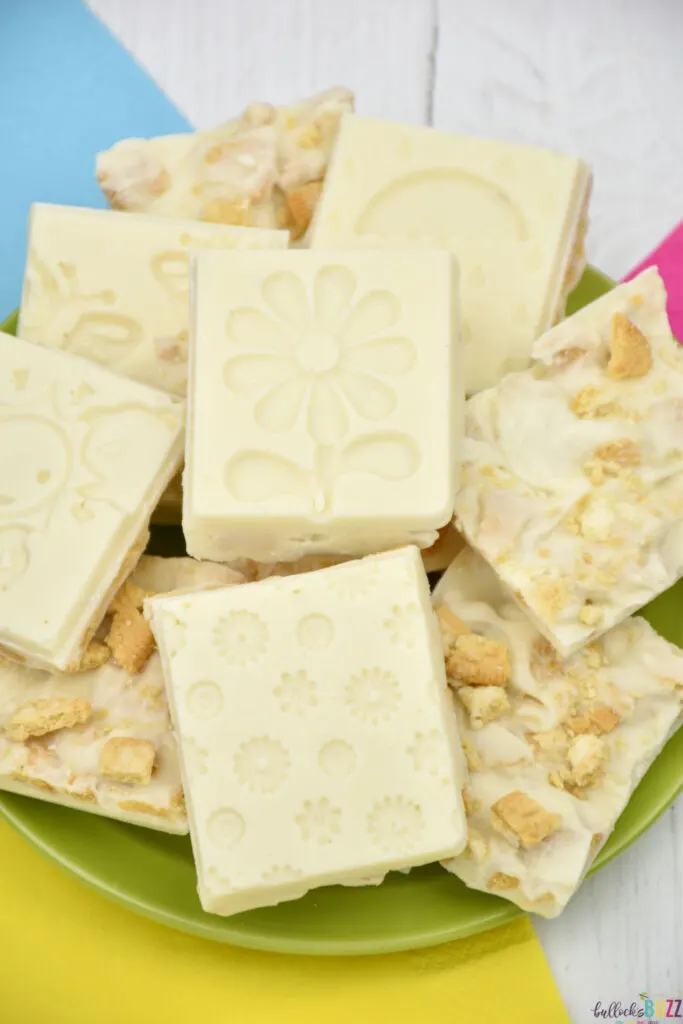 Cookies and Cream Bark Printable Recipe
This printable recipe will make one tray of cookies and cream bark. To make more, simply double the recipe.
Yield: 12 pieces
Cookies and Cream Springtime Bark Candy Recipe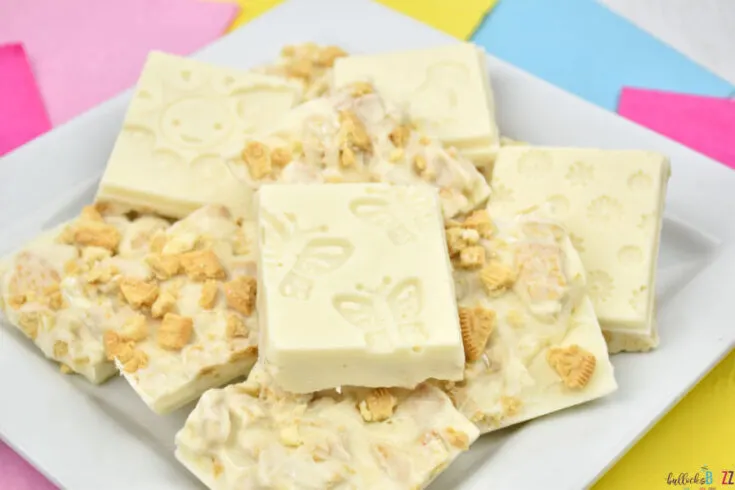 Here is a simple, yet delicious Cookies and Cream Springtime Bark Candy recipe using the incredibly cute Spring Bark Mold from Good Cook. Enjoy!
Chocolate Setting Time
1 hour
Total Time
1 hour
15 minutes
Ingredients
2 bags White Chocolate Chips
15 to 18 Chocolate Sandwich Cookies, vanilla
Instructions
Using a knife, coarsely chop up 15 to 18 chocolate sandwich cookies into small pieces. Don't chop them so much that they turn into fine crumbs - you want them to have some texture and crunch in the final product!
Pour 1 bag of the white chocolate chips into a microwave-safe bowl. Microwave in 25 second intervals, stirring after every 25 seconds so the chocolate doesn't overheat. You want to melt it until it is completely smooth and free of lumps.
Pour a small amount into your Spring Bark Mold, just until it reaches the top of the mold shapes. You'll need to use a silicone spatula to spread it around evenly.
Allow it to set. I put mine in the refrigerator until it was completely set, about 20 minutes.
Melt the second bag of white chocolate chips and stir in most of the chopped cookies into the melted chocolate.
Scrape the candy out into the mold on top of the first layer, using the spatula to spread it out evenly.
Sprinkle the remaining cookies on top of the candy, and gently press them to adhere to the chocolate.
Refrigerate the mold for half an hour or until it's completely solid, then pop out of the pan and cut. Don't be tempted to pull it out of the pan until it's ready or the cute patterns won't turn out!
Nutrition Information:
Yield:
12
Serving Size:
1 piece
Amount Per Serving:
Calories:

120
Total Fat:

6g
Saturated Fat:

4g
Trans Fat:

0g
Unsaturated Fat:

2g
Cholesterol:

4mg
Sodium:

47mg
Carbohydrates:

14g
Fiber:

1g
Sugar:

11g
Protein:

2g
Nutritional information is automatically calculated with ingredients and serving size and may not be accurate. Please always double check with your own nutritional apps as well.

Show Me What You've Got!
I hope you love this Cookies and Cream Candy Bark Recipe as much as I do! If you decide to give it a try, I'd love to know! Nothing makes me happier than seeing your own take on my recipes!
If you make some, please tag me at @bullocksbuzz (Instagram and Facebook) or @alainabullock (on Twitter) and use #BullocksBuzz so I can see your creation and share it!
And, if you liked this Cookies and Cream Bark recipe, please rate and review it on the recipe card.
Editors note: this post was originally published in April of 2014. It has been completely revamped and updated for comprehensiveness and updated, prettier pictures.