With a husband working in construction, an 11-year-old stepson who is always getting into something, and a cat, it seems I am always cleaning something. But making something clean shouldn't have to mean replacing germs or dirt with dangerous chemicals, residues, and fumes – especially with kids and pets in the home! That's where Genesis 950 Concentrate comes in.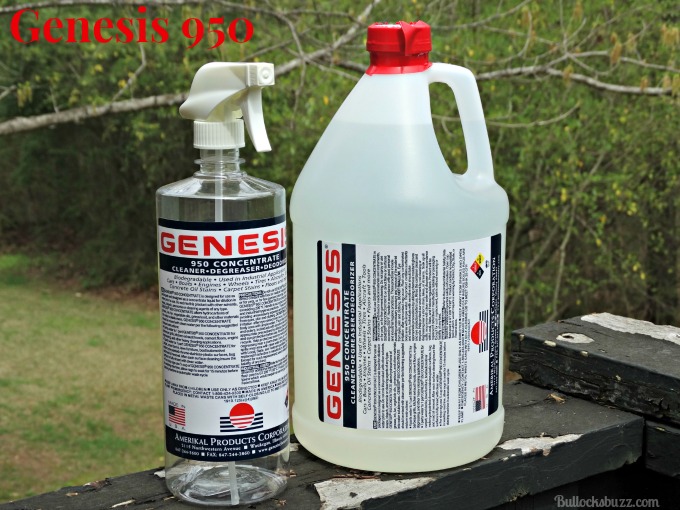 Genesis 950
Created by Amerikal, Genesis 950 is an eco-friendly, green cleaning product. It effectively removes stains and cleans without the use of any harsh chemicals including alcohol, bleach, or ammonia. In addition, it is 100% biodegradable making it a great green alternative to traditional household cleaners.
Originally created to clean ink from equipment, flooring, clothing and rags in industrial workrooms, it was soon discovered that Genesis 950 removed all sorts of stains and safely cleaned a variety of surfaces. Since then, Genesis 950 has been offered to the public as a safe, effective cleaner that can be used for everything from removing pet stains to cleaning bathrooms and so much more.
How Genesis 950 Concentrate Works
Genesis 950 is a surfactant based cleaner. To avoid a detailed science lesson, this basically means that when added to a liquid – in this case, water – it works to break down the bonds of the stain. This in turn cause the stain to break apart and become easier to remove from the surface. In addition to removing stains, Genesis 950 also has antibacterial agents that work to destroy germs and bacteria and remove odors.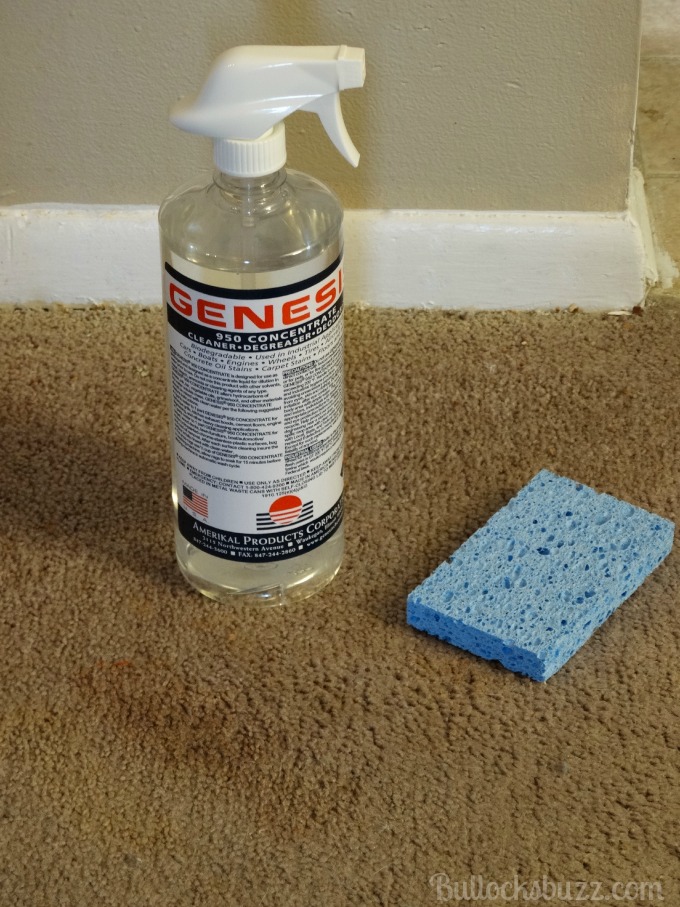 Genesis 950 Uses
This multi-purpose stain remover, cleaner and degreaser can take the place of all sorts of cleaners you already use. Just look at what it can do!
Odor Remover – Takes odors associated with stains out of carpets, rugs, and upholstery

Multi-Stain Remover – Use on pet stains, urine, food, ink, paint, tar, grease and more!

Multi-Use Cleaner – Use in bathrooms, kitchens, carpets, car detailing, and more!
Genesis 950 is safe to use on all sorts of surfaces including carpets, rugs, upholstery, stainless steel, chrome, plastic, fiberglass, tile, linoleum, slate, marble, granite, stone, and even cement. You can find a more detailed listing of both uses and surfaces/materials on which it is safe to use when you visit the Genesis 950 website.
Because it is a concentrate, a little bit will go a long way. This means when you use it, you first need to mix it with different amounts of water depending on what you are cleaning. For example, for general cleaning you only use 1 part of Genesis 950 to 7 parts of water. For tough stains, use a 1:4 ratio, and repeat as needed.
Does Genesis 950 Really Work?
I took some pictures to show you exactly how effective Genesis 950 was on one of the toughest stains I have had to deal with…yucky kitty puke. If you have a cat in your family, then you know that cat vomit can be quite difficult to clean. In addition to the stomach bile, there are often dyes from their food, too. If you happen to not catch your cat in the act, and the vomit sits for a while, it can really be tough to remove!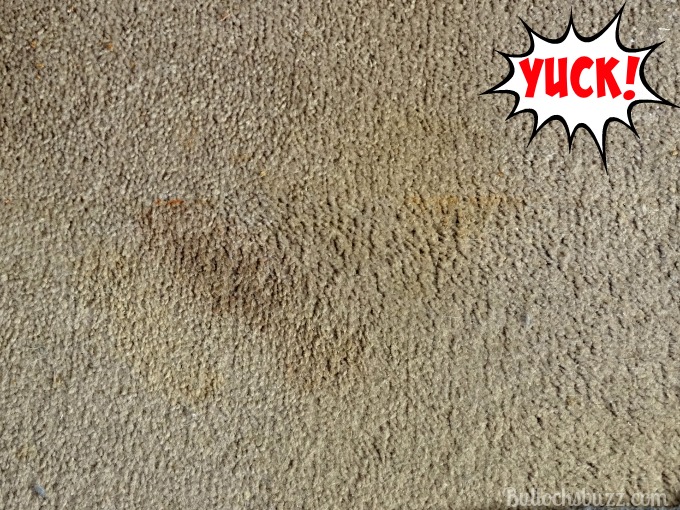 Just the other day, Sookie left me some to clean right by her bowls. When I pulled the plastic protector I keep her bowls on out of the way, I also found an older stain that had not been thoroughly cleaned. This means I had one fresh stain and one old stain on which to test Genesis 950.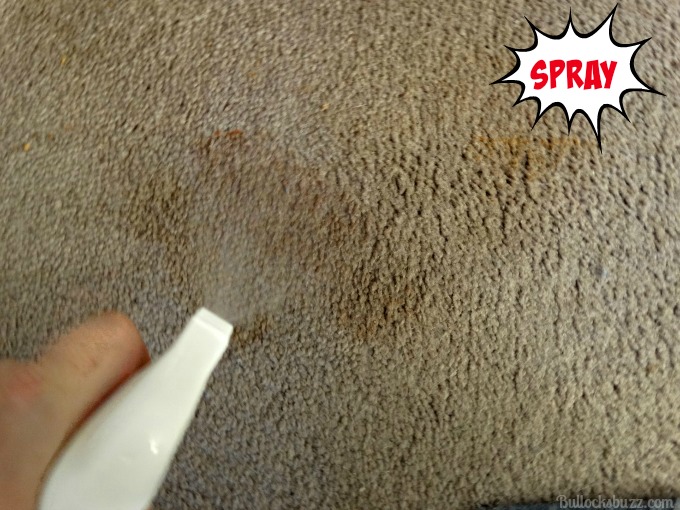 After spraying the stain with a 1:4 mixture, and letting it sit for about two minutes, I was able to completely remove the newer stain in one application. The older stain took a second round, but was completely removed as well.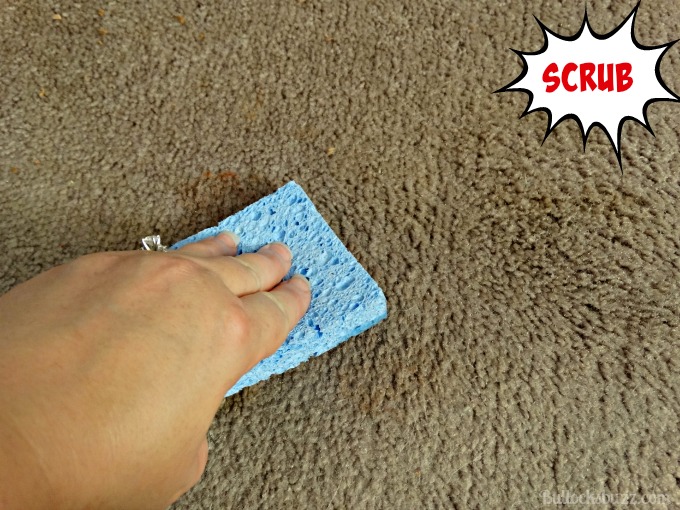 Once removed, I used a damp sponge to rinse the area, then left it to air dry. Now that it is completely dry, you can't even tell where the stains were!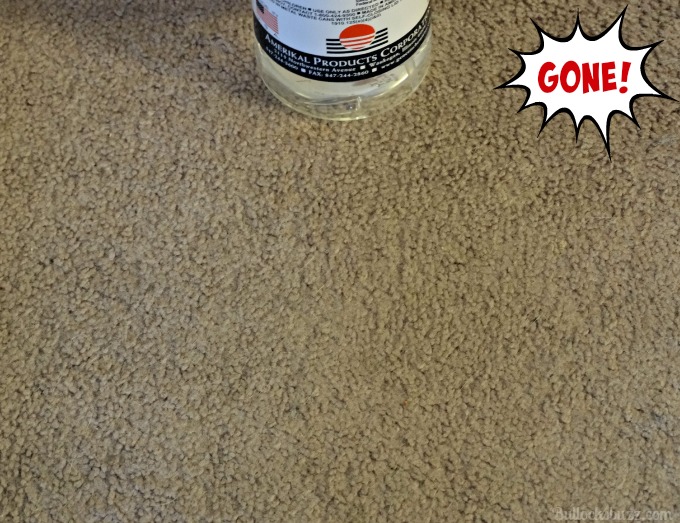 Since then I have also used Genesis 950 to clean the kitchen counters, stove and sink, as well as everything in our bathroom. It removed the grease from my husband's cooking on the stove top, and months worth of soap scum from the shower door that I'd not been able to completely remove using other cleaners. I've even used Genesis 950 in our steam cleaner and gotten professional-looking results!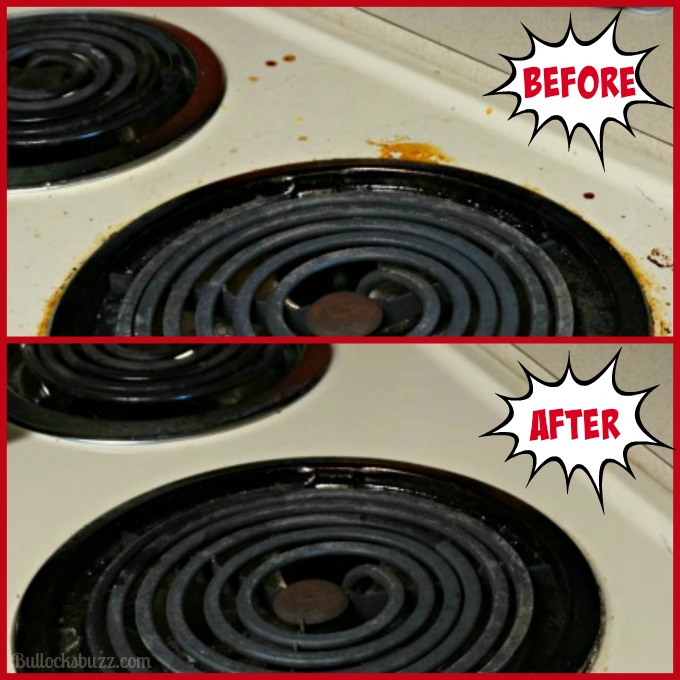 I should also mention that there is no overwhelming, strong chemical scent when you clean. When I first opened the concentrate is when I noticed it the most, but even then it was far from the overpowering. Once mixed with water, I could hardly smell it at all.
More About Genesis 950
In addition to being such an effective cleaner and stain remover, Genesis 950 can be used for so many different cleaning jobs, it replaces several of the cleaners you already use. Plus, since it is a concentrate, it will last you a long time! Therefore you not only save storage space and time, you also save money!
One gallon of Genesis 950 (plus a FREE spray bottle) will cost you around $44 – again, a great price when you consider that one gallon will replace many other cleaners and last you for a very long time! Genesis 950 can also be purchased in pints, quarts, 2.5 Gallon and 5 Gallon sizes, and can be ordered directly through the Genesis 950 site as well as on Amazon.com.
Connect with Genesis 950: Website | Facebook | Amazon <–affiliate link