Growing up, I had one of the most comfortable pillows ever. I used that pillow all through college and even took it to my first apartment. When it finally fell apart, I figured pretty much any pillow would be just as comfortable. Boy was I wrong! I literally bought pillow after pillow, from your basic big box store pillow to $100+ name brand pillows, trying to find another one like it. None worked. Until I found the GhostPillow – Faux Down pillow.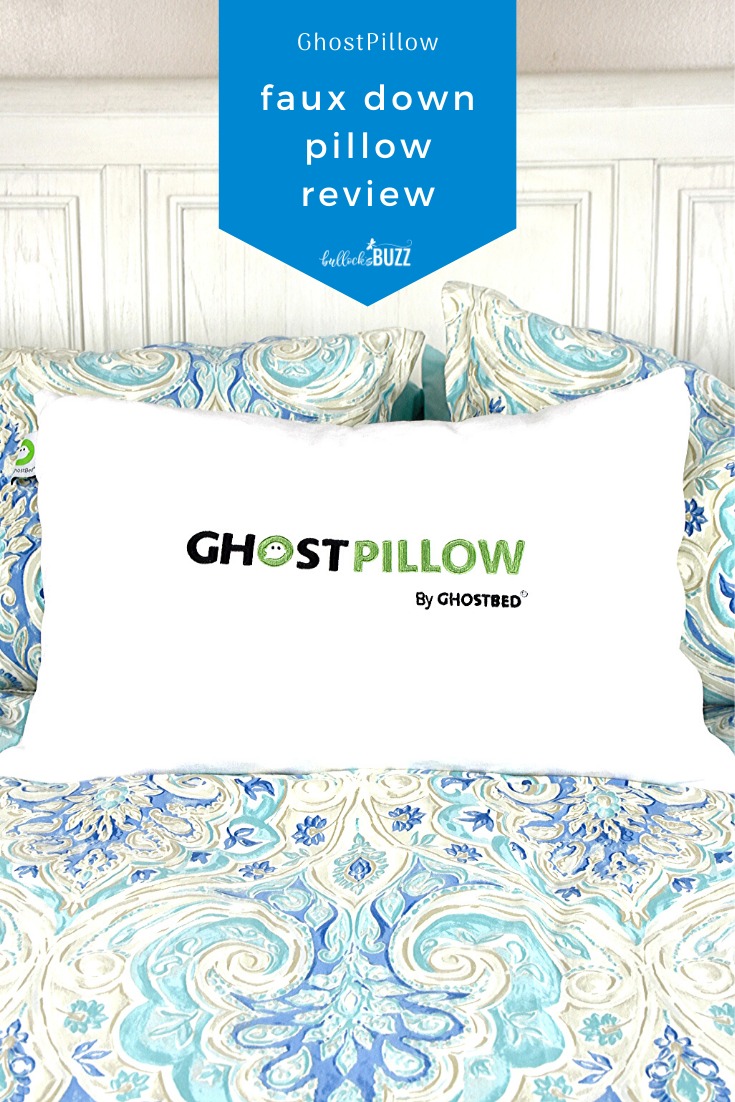 Nature's Sleep GhostPillow
GhostPillow is made by Nature's Sleep; the same people that make the GhostBed mattress that Consumer Reports rated 'very good' or 'excellent' in every single category. The company has been around for over 15 years selling a variety of bedding products, so when it comes to sleep, it's safe to say that they definitely know what they're doing.
One of their latest products is the GhostPillow – Faux Down pillow. Designed with both coolness and comfort in mind, you get the soft, luxurious feel of a down-filled pillow without having to worry about any cruelty factor. Plus, it's completely breathable, allowing air to pass right through it, making for a cool and comfortable night's sleep.
Pillow Construction
The GhostPillow – Faux Down pillow is constructed of three different layers. There's the inner core that is made of microfiber gel clusters for maximum support and that soft, squeezable feel, a 100% natural cotton breathable inner cover, and an ultra-soft, hypoallergenic pillow cover that's designed to wick moisture away and remain noticeably cool-to-the-touch. Oh, and did I mention you can throw the entire pillow into the wash and dryer for easy cleaning?!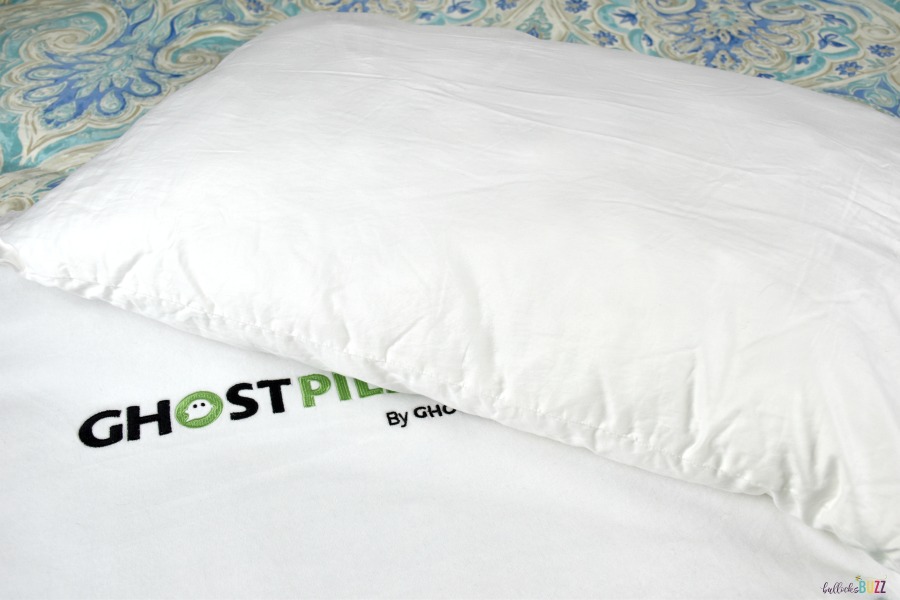 Nature's Sleep GhostPillow – Faux Down Review
When my GhostPillow – Faux Down pillow arrived and I removed it from its box, the very first thing I noticed was that super-soft pillow cover I mentioned above. In fact, the fabric is so soft and cool, there's no need to use a regular pillowcase.
The next thing I noticed was how 'fluffy' and full the pillow is. It measures around 30″ in length and 20 in width, and has about a 7″ loft (height). At just 2.2 pounds, it's also incredibly light and 'airy'.
Once the pillow was on the bed, I couldn't wait for bedtime so I could try my new pillow out. I do have to admit, however, that after all the pillows I've tried, I was a bit skeptical and prepared for disappointment. Thankfully, that disappointment never came.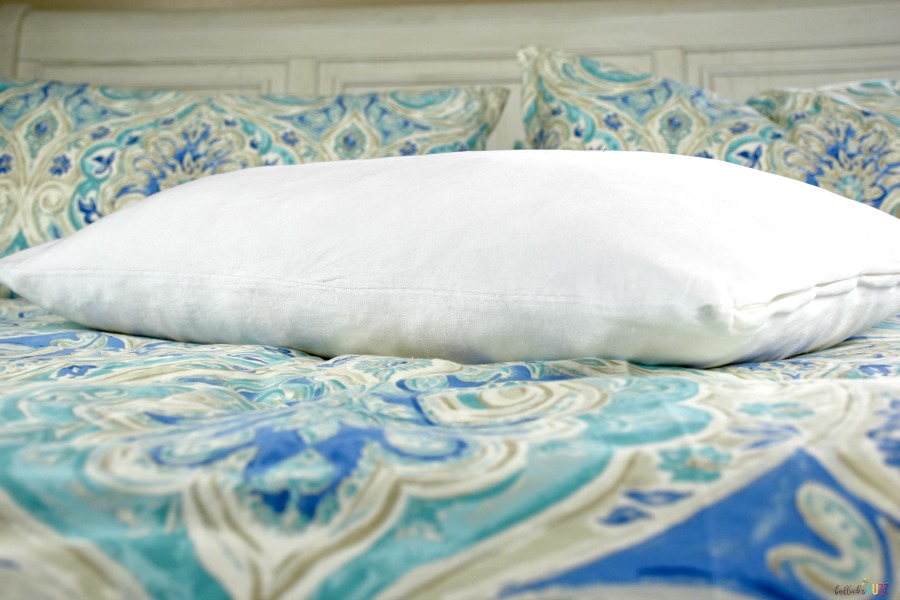 Comfort and Support
The GhostPillow – Faux Down pillow provides a level of support and comfort that I've been missing for years now. It naturally contours to your head, neck, and shoulders, and positions your head and neck at just the right height and angle. It also retains its loft, softly cradling your head while you sleep.
If there's one thing I cannot stand it's a pillow that slowly sinks down until it's as flat as and almost as hard-feeling as a rock. With the GhostPillow, I can sleep on my back, my side, or even my stomach, and still, I get the perfect amount of support. It stays full, lofty, and comfortable all night long.
Temperature Regulation
I am a very warm sleeper, so much so that I sleep with one foot out of the covers. I also flip my pillow over multiple times throughout the night trying to find a cool spot. Many pillows claim to stay cool, but in my experience, they may start out cool, but they certainly don't stay that way. The GhostPillow – Faux Down pillow however really does stay refreshingly cool on both sides ALL night long thanks to its breathable design and the microgel fibers that don't retain heat.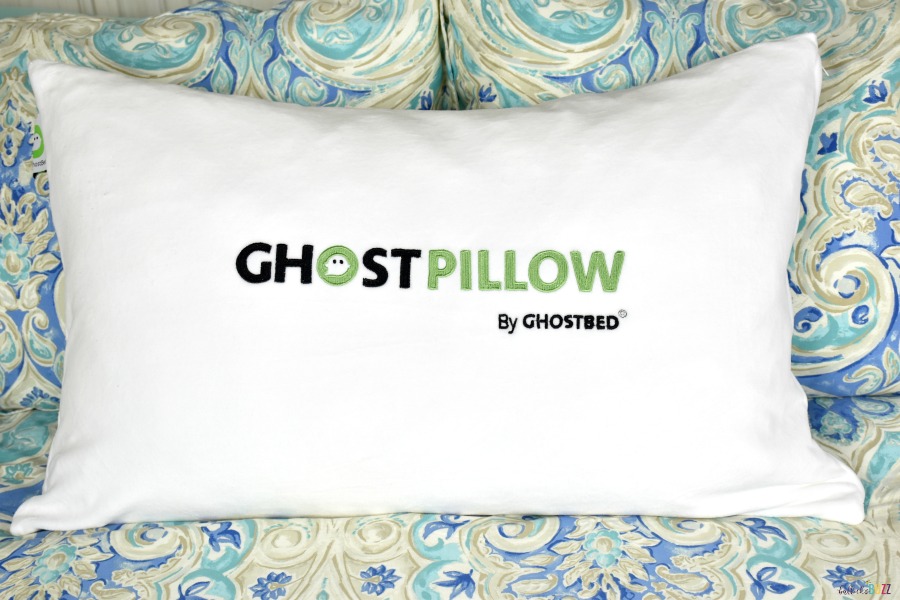 After sleeping on my GhostPillow – Faux Down pillow for over a month now, it still feels as soft and fluffy and supportive as the first night I slept on it. In fact, the huggable, snuggable GhostPillow – Faux Down pillow takes comfort to a whole new level. I can honestly say that it's the best pillow I've slept on in years!
Where Can I Buy a GhostPillow – Faux Down Pillow?
The GhostPillow – Faux Down pillow can be purchased either directly through their website or through Amazon. It 's available in queen/standard size and comes with some pretty amazing offerings including:
a 101-night sleep trial
an industry-leading 5-year warranty,
and free shipping
If you're looking for a comfortable pillow that provides softness and support, retains it's loft, and stays cool all night long, then give GhostPillow – Faux Down pillow a try.