With the busiest travel season right around the corner, many families are getting ready to hit the highway to visit family and friends. Travel during the holidays is rarely easily. There's bad weather, crowded roads, traffic jams, and long lines at the pump. Add squirmy, bored and sometimes irritable children to the equation, and it's tempting to just stay at home! Before you give up on holiday travel with kids, take a look at these five ways to keep kids safe, comfortable and entertained while on the road.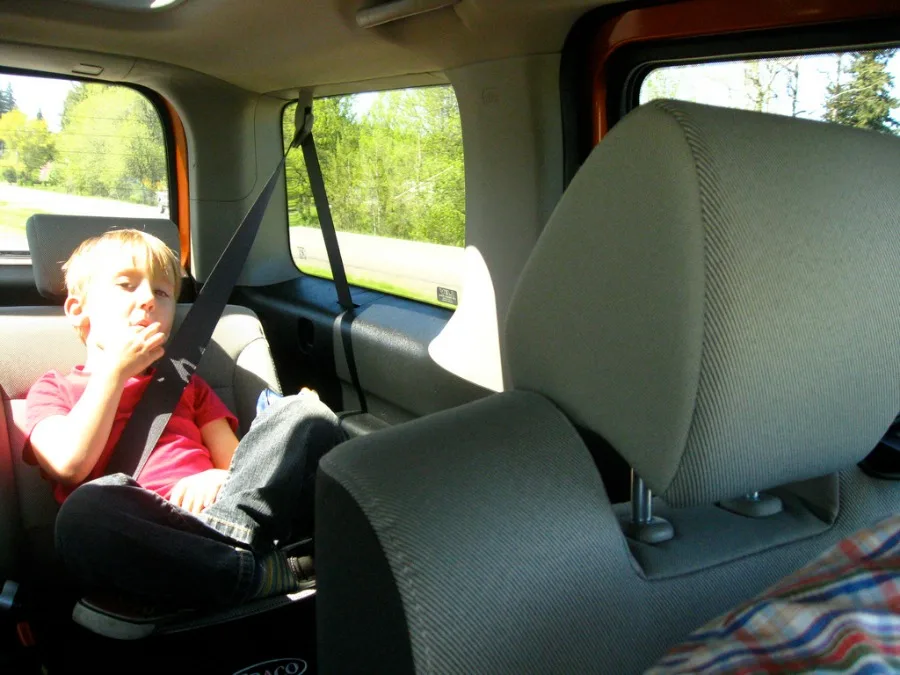 Safety Comes First
Before heading out on your road trip, make sure you do an once-over of your car. Check your fluids, your tires, the hoses and belts, and don't forget your spare. If your car is due, or close to being due, for it's regular maintenance, go ahead and schedule service with a certified mechanic. Taking a few minutes to check all of this can help prevent breakdowns, which can add unneeded stress and extra hours to your trip.
In addition, check the weather forecast a few days before you leave. If bad weather is in the forecast, plan on adding some extra time to your drive so you're not in a rush. Make sure you have your car emergency kit, and that your phone is fully charged.
Plan Ahead
While you can't avoid traffic jams caused by accidents or road work, a little bit of planning ahead can help you avoid the worst parts. Try to time your trip so you are not in big cities during the morning or evening rush hour. Another option to consider is leaving at night. There will be fewer cars on the road, and the kids will most likely sleep for the majority of the drive. Just make sure you are well rested, have someone to take turns driving with, and are comfortable with driving in the dark.
Take Regular Breaks
When embarking on holiday travel with kids, it's inevitable that you are going to have to stop, probably more often than you'd like. Add in extra time in your travel plans to account for this so you're not rushed. Hitting rest stops regularly will not only help prevent accidents from little children having to hold it too long, it will also help break up the monotony and give everyone a chance to stretch their legs.
According to Vicki Lansky, author of Trouble-Free Travel with Children, for every two hours on the road, children need at least 15 to 30 minutes to stretch their legs and run around. Taking these breaks will help prevent your kids from getting stir crazy or going into tantrum mode in the car, and give them a chance to get rid of some of their bottled up energy. Consider bringing along an inflatable beach ball or Frisbee and make it a fun family moment.
Bring Plenty of Snacks and Bottled Water
Be sure to pack plenty of snacks and bottled water. This will not only save you money, but it will help make up for some of that time lost spent making those above mentioned regular breaks.
Bring Along Travel Bags for Entertainment
Make sure you bring along activities to keep the children entertained. Doing so will not only keep the kids occupied and help you keep your sanity, it can also help keep everyone safe. Whining, crying, noisy children can easily distract you while you are driving which in turn puts everyone at risk.
Before you leave, let the children pack their own travel bag of books, small toys, travel games and so on. But you should also bring along a special surprise or two to pull out when they start getting bored. Perhaps something like a toy they haven't seen in awhile or a small gift you bought especially for the trip.
Audiobooks or a portable DVD player also make great travel companions. (And if you're in the market for a new family car, consider choosing a model with family-friendly entertainment options available, like the Chrysler Pacifica's Uconnect Theater. Brown's Chrysler Dodge Jeep Ram Truck Center of Patchogue, NY has several in stock!)
If you have a smartphone or tablet, download a few free apps and let them play. Another fun idea is to consider playing games such as 'I Spy' or Car Tag BINGO. You can also find all sorts of fun family-friendly road trip games activities to do in the car with a quick online search.
Holiday travel with kids can be stressful, but at the same time it is an excellent opportunity to spend valuable time with your little ones. Just take these tips into consideration, and sit back and enjoy the ride!
image via Flickr