With the warmer temperatures of Summer, comes more rain. While driving can be dangerous in any conditions, when the roads become wet with rain, you run the risk of hydroplaning. A car can begin to hydroplane when a sheet of water comes between the car's tire and the pavement. Either because of wear or poor drainage on the road, the tire cannot move the water out of the way fast enough. SInce the rubber doesn't touch the road, the vehicle loses traction and you lose control of steering. It feels similar to sliding on a sheet of ice, and it can be just as dangerous. The following tips can teach you how to avoid hydroplaning.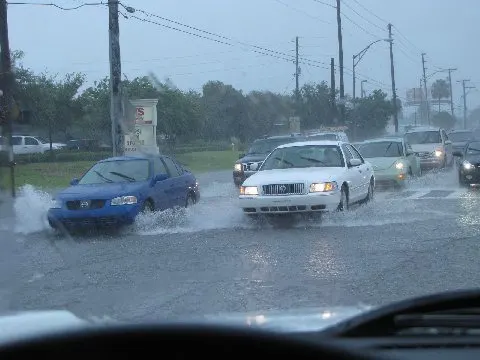 There are many different factors that can affect the speed at which a tire will hydroplane including the water depth, the speed and weight of the vehicle, the width of the tire, the depth of the tread and even the tread patterns. However, all tires will hydroplane with the right combination of speed and water depth.
Surprisingly many people do not know what to do when their car hydroplanes. Below are three important things to remember to do if you begin to hydroplane:
Most importantly, stay calm and not touch the brakes or turn suddenly.

Begin to slow down by lifting your foot slowly off of the accelerator pedal. If you are driving a standard shifting vehicle, push the clutch in and let the car coast until the hydroplaning stops.

If braking is needed, pump the brakes gently, do not slam them on.