A child's relationship with their bedroom is an import part of their youth, and every parent wants their son or daughter to have the best one possible.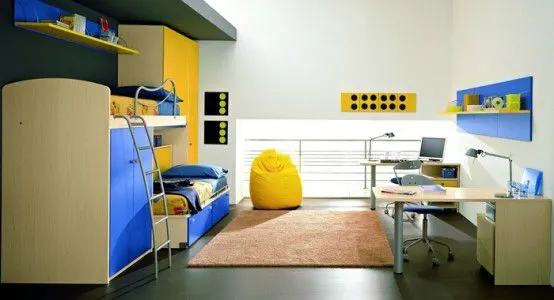 Merging elements of relaxation, play, and learning all in one space can be hard. But it can be achieved with the right plan of action. However, your son's bedroom can be one of the hardest to master. It can be particularly difficult during their elementary school years as they go through so much change.
Here is how you can design the perfect bedroom for your son to grow.
Encourage Study, But Don't Let It Stifle Relaxation
In today's world, computers play a vital part in your son's education. Even at a young age, he will need a computer to complete homework assignments and further develop these vital skills. Giving him space to do this in his room is advised, especially if siblings could become a distraction.
However, you don't want the computer to disrupt his fun activities. If it does, he'll soon start to grow a negative relationship with learning. Opting for a laptop rather than a deskto

Meanwhile, furniture in the room should encourage learning and relaxation. Giant bean bags are a great way to tick both boxes, while also giving the room a cool flavor.
Celebrate His Passions
If you want your son to enjoy a positive relationship with the bedroom, it should reflect his personality. One of the easiest ways to do this is to embrace his favourite hobbies.
Painting the room in the colors of his favorite sports team or favorite superheroes offers a great foundation. You can use duvets and other bedroom accessories to heighten the atmosphere. Creating this vibe will help your son understand that this is a special area just for him.
You can also celebrate his personal achievements by displaying photos on the walls or placing medals around the room. These great memories will provide a great level of comfort and helps to create a happy child.
This is also a great way to upcycle old items that would otherwise be thrown own to create the a personal touch.
Buy A Better Bed
The most important feature in the bedroom is the bed. Some children don't enjoy the best relationship with bedtime. But treating your son to a special design should encourage improvements. Additionally, it can be a great way for you to gain extra floor space.
Buying a bed with wardrobes built-in underneath will kill two birds with one stone. This can be crucial as you look to provide your son with everything he needs while still retaining room to move around.
There are plenty of cool designs on the market, which can allow you to make the bed a focal point of the interior design. It's great for you, and great for your son too. What more could you need?