InstaNatural Lemon and Peppermint Essential Oils
Those of you who read this blog regularly know that I am a big fan of essential oils, and that I am always looking for new uses for those oils. After trying and falling in love with a few skin care products from InstaNatural, I was thrilled to learn that they also make essential oils! So when offered the opportunity to try their Peppermint and Lemon oils, I couldn't wait to see if they were as high quality as the skin care products! And to see how well they worked in my DIY Lemon All Purpose Cleaner and Peppermint Skin Toner recipes!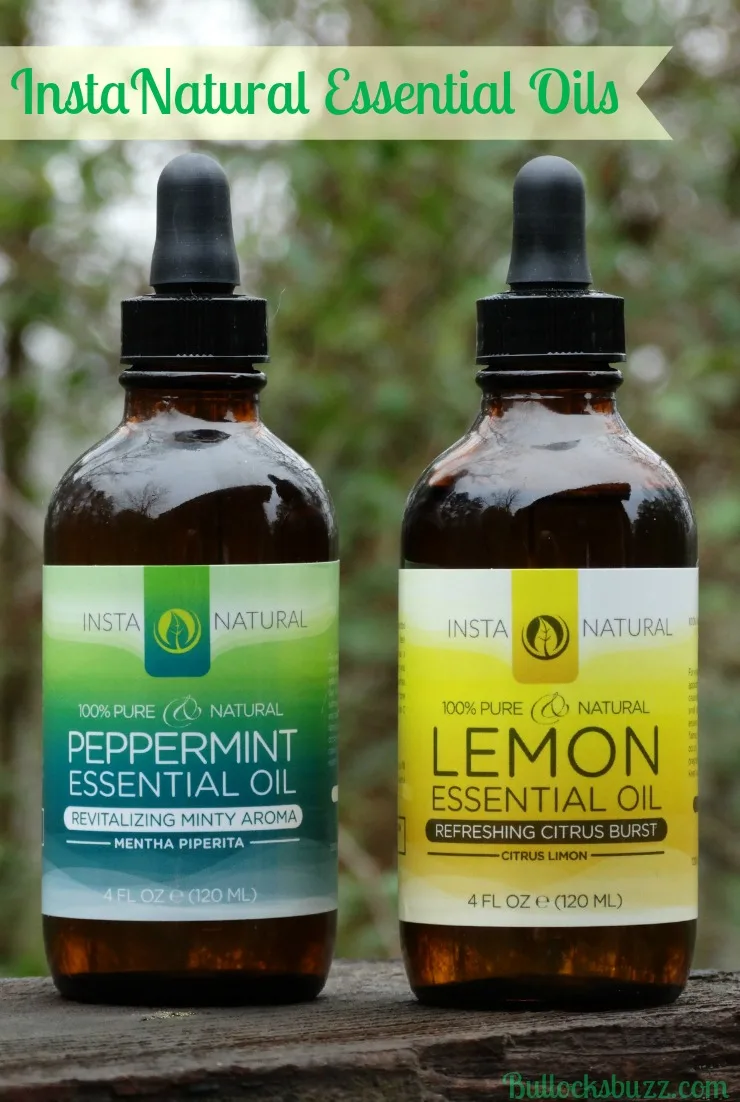 If you've never heard of InstaNatural, they began as a small business based in Florida with a big vision of producing effective, safe, and affordable skin care, body care, and hair care products, as well as supplements; all of which would be made from only the highest quality organic and natural ingredients. Today, they have grown into a leading online and global distributor of more than a dozen nature inspired beauty, health and cosmetics products. Despite this success, their products are still produced right here in the U.S., and packaged in FDA-certified facilities. Most importantly, their products are all made in small batches using premium natural and organic ingredients, and do not contain any harmful alcohols, parabens or sulfates. In addition, they are never tested on animals.
InstaNatural's essential oils are all 100% pure and come with a 100% lifetime satisfaction, money back guarantee. Right now they offer three essential oils: lavender, lemon and peppermint. All three of these make a great starter kit for anyone interested in learning how to use essential oils.
InstaNatural Lemon Essential Oil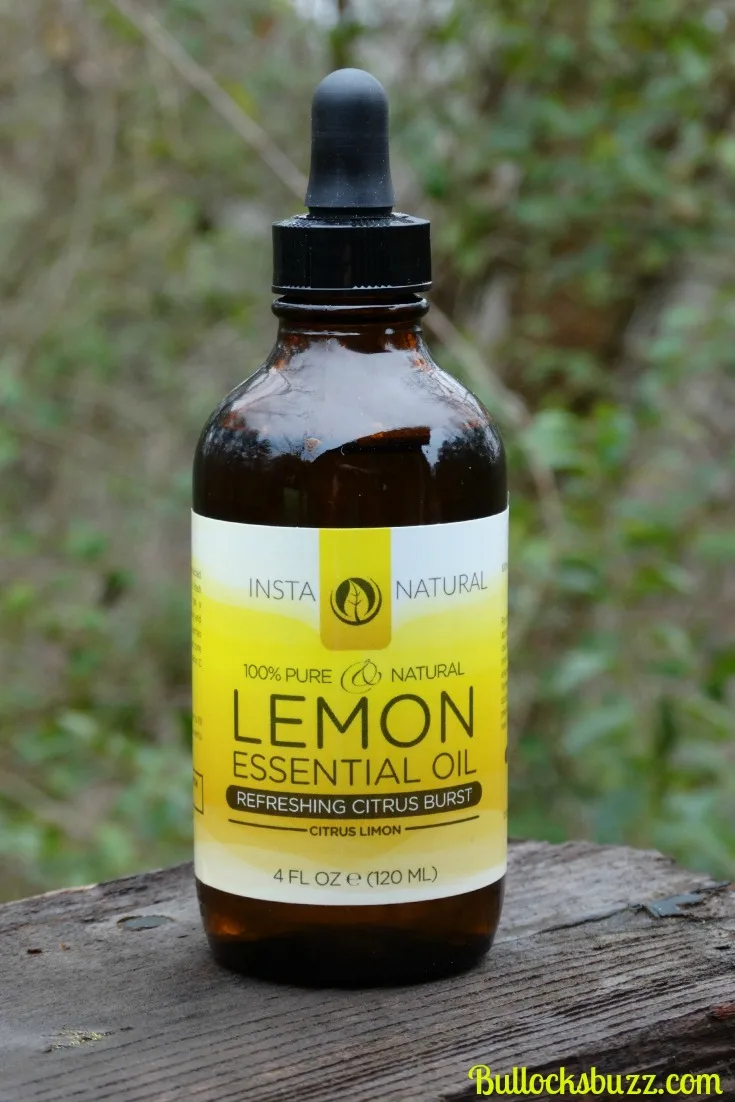 InstaNatural Lemon Essential Oil is 100% pure. This cold-pressed lemon oil is extracted from the rinds of lemons which gives it an incredibly fresh and clean citrus scent. Bottled in dark glass to help protect the integrity of the oil, the lid also has a built-in glass dropper to make measuring the exact amount you need a cinch. Instanatural is anything but greedy when it comes to the amount of oil you get, sending a full 4 ounces for less than $20 – enough oil to last for months!
Lemon essential oil's astringent and purifying properties makes it useful for all sorts of things from cleaning to skin care. You can make all sorts of DIY household cleaners, soaps, skin care products and with a food-grade lemon essential oil you can even use it in cooking. Keep in mind that InstaNatural Lemon Essential Oil is not food-grade so therefore should not be used in preparing food or cooking. Below are several common uses for lemon essential oil, as well as an easy DIY Lemon All Purpose Cleaner recipe.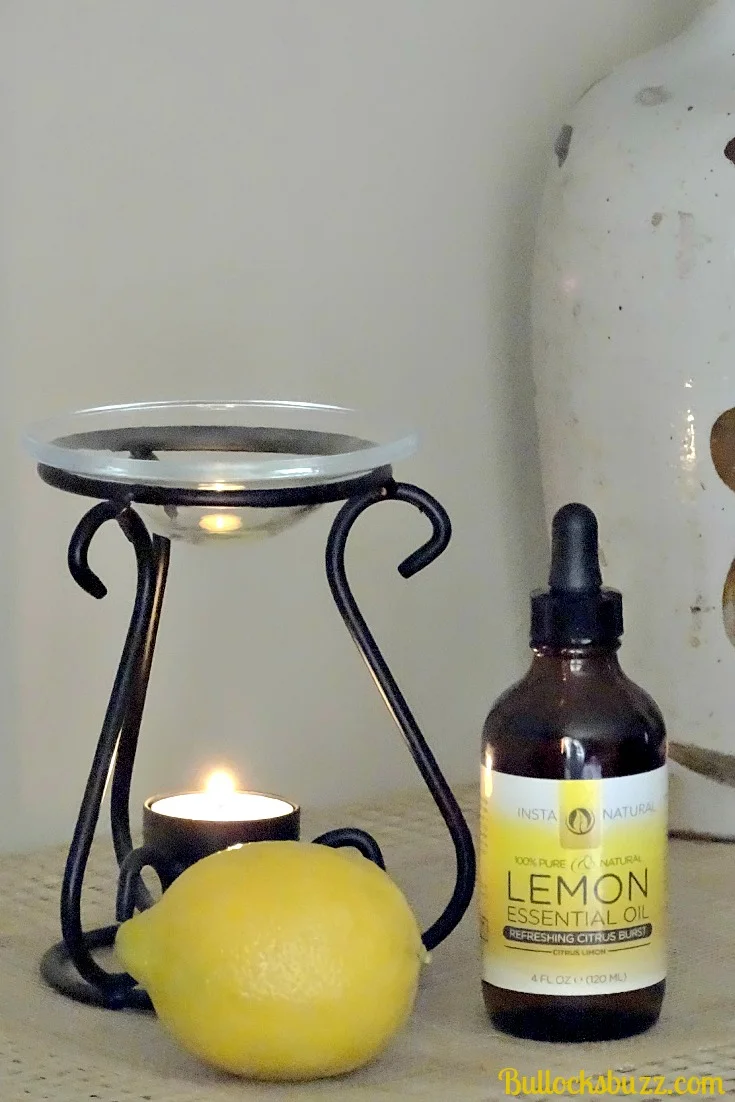 Common Uses for Lemon Essential Oil + An Easy DIY Lemon All Purpose Cleaner Recipe
1. Remove Gunk – get rid of that sticky residue left behind from tape, glue, adhesive, bandages and even gum by adding 1-2 drops of lemon essential oil then rubbing it off with a clean cloth. It also works for grease spots, oil and crayon marks!
2. DIY Facial – mix 2-3 drops of lemon essential oil with 1 tablespoon of baking soda. Add a few drops of water to create a grain paste and gently exfoliate your face for a few minutes. Once finished, rinse well and moisturize.
3. Fruit and Vegetable Wash – add 3-5 drops of lemon essential oil to a sink full of water to remove that waxy residue on fresh fruits and veggies. It also works to sanitize fruit and vegetables.
4. Air Freshener – mix 5-6 drops of lemon oil with about 1-2 cups of filtered water in a spray bottle and shake well. Spray rooms, closets, cabinets, drawers and even mist on furniture cushions to eliminate odors. Or place several drops in a diffuser.
5. Stain Remover – lemon essential oil is a natural stain remover, easily removing stains and grease from fabric.
6. Freshen Laundry – forgot to stick the clothes in the dryer before you went to bed? Get rid of that musty smell by adding a few drops to the detergent container of your washing machine. This also works great to freshen up stinky laundry. Bonus: it works great for brightening laundry too.
DIY Lemon All Purpose Cleaner Recipe
Keep your kitchen and bathroom clean with this DIY Lemon All Purpose Cleaner that cleans, sanitizes and even gets rid of mold and mildew.
Ingredients:
5-6 drops Lemon Essential Oil
1-2 tsp Apple Cider Vinegar
1-2 cups Filtered water
Directions:
Mix 5-6 drops of lemon oil with about 1-2 cups of filtered water in a spray bottle. Add 1-2 tsp of apple cider vinegar and shake well. Spray your DIY Lemon All Purpose Cleaner on surfaces needing cleaning and wipe with soft cloth.
InstaNatural Peppermint Essential Oil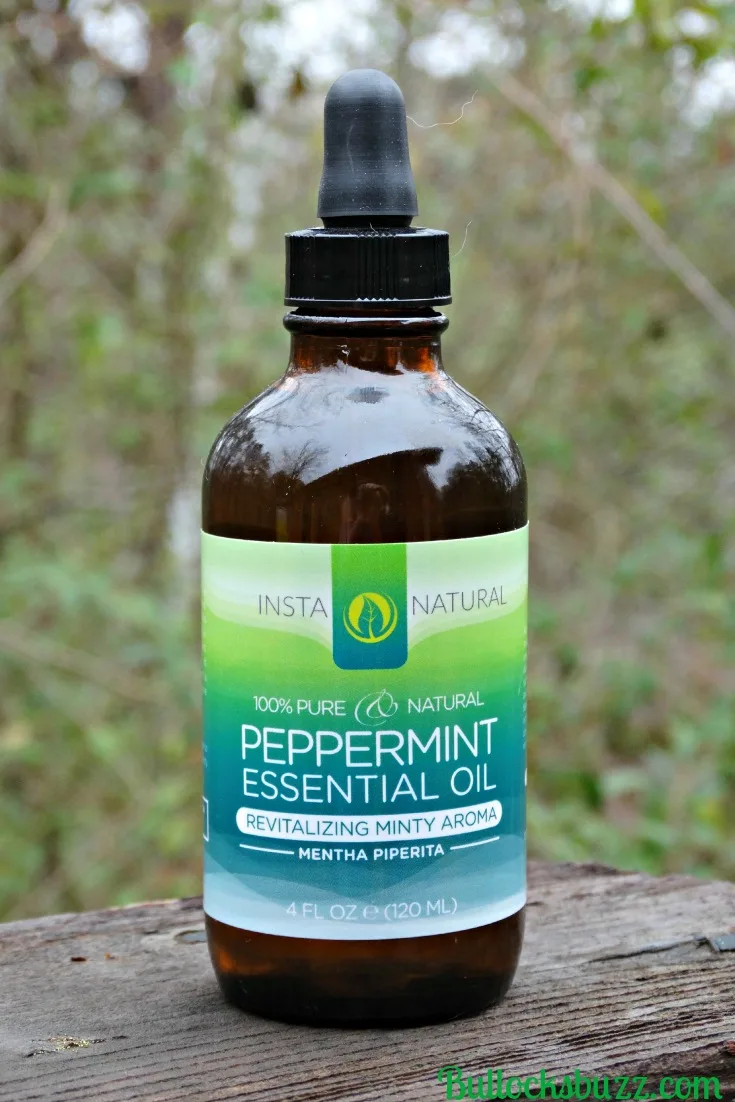 InstaNatural Peppermint Essential Oil is 100% pure. This steam-distilled peppermint oil is extracted from the dried or fresh leaves of the Mentha Piperita herb. It has a wonderfully sharp, menthol scent making it perfect for cleaning, deodorizing and more. Also available in a 4 ounce, dark glass bottle, you have enough oil to last for many months.
With a pleasantly sweet and minty aroma, this multi-purpose oil is ideal for all sorts of uses ranging from aromatherapy to treating an upset stomach. Like the Lemon Oil, this Peppermint essential oil is not food grade, so it should not be used on the preparation or cooking of food. Below are several common uses for peppermint essential oil, as well as an easy DIY Cooling Peppermint Facial Toner recipe.
10 Uses for Peppermint Essential Oil + An Easy Cooling Peppermint Toner Recipe
1.Tame a Toothache. Peppermint oil can act as a concentrated natural pain killer and muscle relaxant, especially with painful gums, teething or recent dental work.
2. Calm an upset tummy – simply adding a drop of peppermint oil to water, or rubbing 1-2 drops behind your ears, or even diffusing it can help to reduce nausea, calm indigestion, and settle an upset stomach. A must-have when traveling or riding those amusement park rides that go around and around in circles.
3. Colds and Congestion – when sinuses are clogged, and the throat is scratchy, diffuse peppermint oil (or apply topically on the chest) for almost immediate relief. Peppermint acts as an expectorant, it may provide relief for colds, cough, sinusitis, asthma, and bronchitis.
4. Reduce Hunger Cravings – the aroma of peppermint oil has the ability to make you feel full. Inhaling peppermint essential oil can stave off the munchies and can help you feel full faster. If you can't have a diffuser with you at dinnertime, try applying a couple drops on your temples or chest, or take a couple of deep sniffs from the bottle.
5. Stress Relief – peppermint is able to provide relief from stress, depression and mental exhaustion due to its refreshing nature. It is also effective against feeling anxious and restless. Try aromatherapy by using a candle lamp diffuser with a few drops of peppermint essential oil.
6. De-Bug Your Home – many household pests such as ants, aphids, beetles, plant lice, mice and cockroaches try to steer clear of peppermint. Just add to water in a spray bottle and spray where you think pests are coming in or hiding.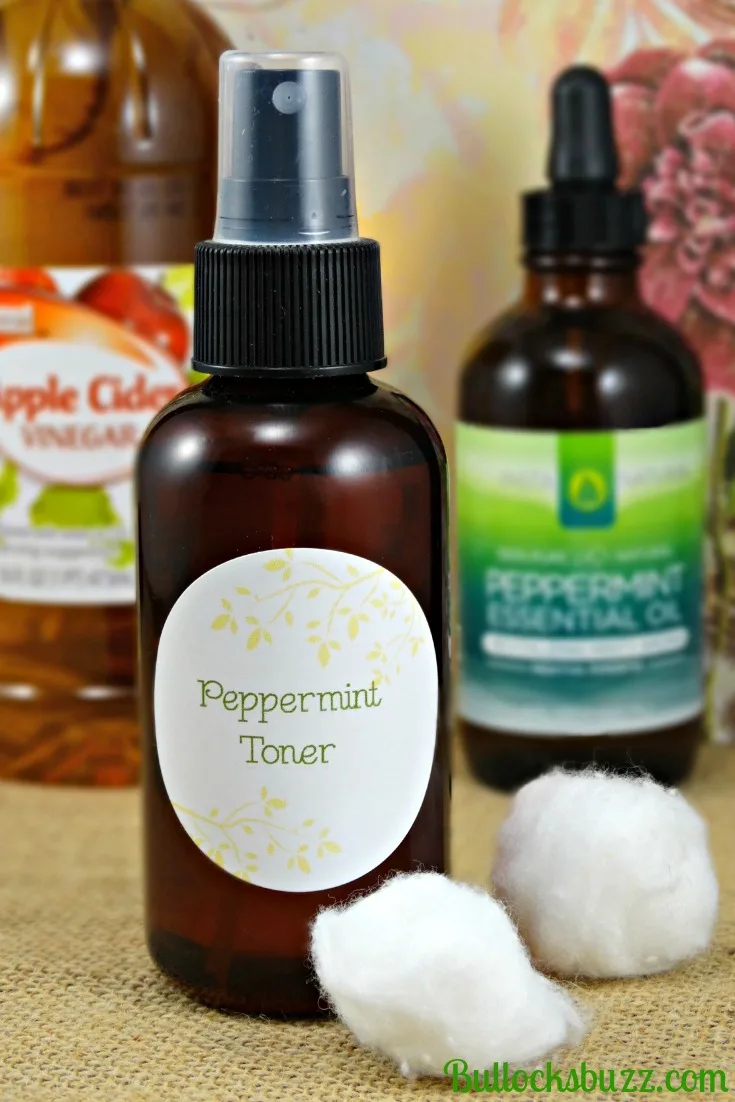 DIY Refreshing Peppermint Toner Recipe
Ingredients
3/4 cup filtered water
1/4 cup apple cider vinegar
20 – 50 drops InstaNatural peppermint essential oil
Directions
Mix all ingredients into a dark colored glass bottle. Moisten a cotton ball and apply to your just-washed face.
Where to Purchase InstaNatural Essential Oils
InstaNatural Essential Oils can be purchased either directly through their website or through Amazon.com. Many of their products can also be found in top spas, salons and aesthetic centers in the US, as well as internationally in UAE, UK and Canada(coming soon).
Connect with InstaNatural: Facebook | Twitter
This is a sponsored post on behalf of BrandBacker and InstaNatural. Although I received product in exchange for my review, all opinions are my own.
What are some of your favorite uses for lemon and/or peppermint essential oil?