Straight from a San Francisco kitchen, created by a husband/wife/friend team, Just Cook makes a variety of mouth-watering spice rubs using only the finest ingredients. I recently received one of their delightful gift boxes which includes all six of their delicious spice rubs, and I'm here to tell you, this is one company that knows how to help you make food taste great! Keep reading to learn more and for your chance to win one of the gift boxes!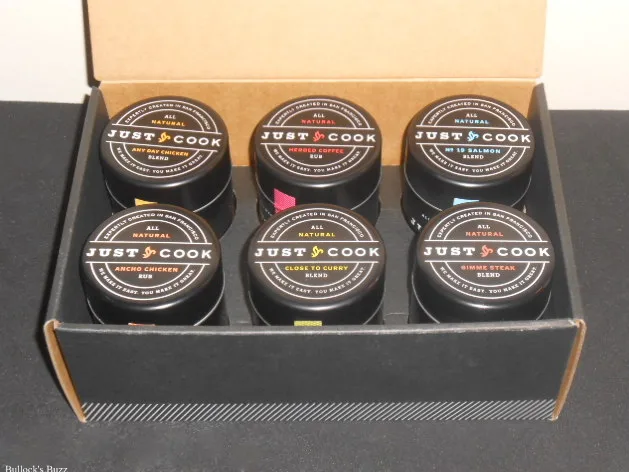 Just Cook makes six different spice rubs that work wonders with all types of meat, seafood, vegetables and more. They come in these unique 3.2 ounce tins that look great on the kitchen counter, and can be used for all sorts of things once empty! Just open the lid, grab a generous pinch or two and sprinkle it on your favorite meat, seafood or vegetable. Then grill, broil, saute or just add a dash or two in place of your usual salt and pepper; with these rubs, you just can't go wrong!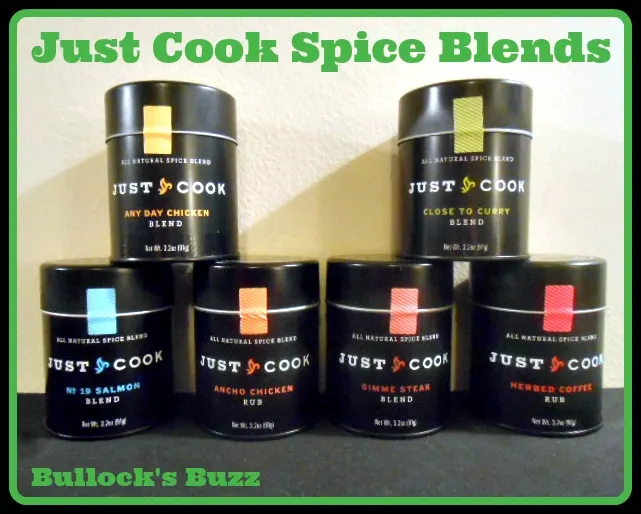 Ancho Chicken Rub
A delectable combination of fragrant orange peel, smoky chipolte, ground ancho chilis and other seasonings combine to create a spicy rub that goes great on chicken, salmon, pork and more.
Gimme Steak Blend
A citrus-y blend of four peppers, cumin, garlic and a surprising hint of licorice that's perfect for sprinkling on your favorite cut of beef. My husband and I seasoned some steaks with this one, grilled them, then added just a dash more once the meat was ready…those were some awesome steaks!
Close to Curry Blend
Fennel, fenugreek, turmeric and coriander boldly combine to create a flavor reminiscent of your favorite Indian food with a taste better than the curry flavor you are used to! Add a dash to lentils, potatoes, chicken, lamb or a veggie stew. We love to add some to our vegetables and even on rice!
No 19 Salmon Blend
Create a cooking masterpiece with this Creole inspired blend of paprika, lemon, bay, coriander, cumin, chipolte, salt, pepper, garlic and turmeric! Perfect for fish, chicken, veggies and more. I even went so far as trying it in place of some other spices in a dish similar to jambalaya…delicious!
Any Day Chicken
Adding this blend of orange and cardamom with accents of sage and lavender turns plain old chicken into a weekday treat! We love using it on chicken and pork. Simply coat the meat, saute until lightly browned, then throw it in the oven to bake. Also great on vegetables!
Herbed Coffee
Yep, you read that correctly! Herbed Coffee! This rub takes the richness of coffee and combines it with oregano, cumin and chipolte, brown sugar, thyme, sage and molasses. Surprisingly, this is our absolute favorite of the six! It works wonders on all types of meat from chicken to fish.
My Verdict
Just Cook takes your ordinary dishes and helps you turn them into something extraordinary! Some of the flavors I was hesitant to try at first, but now I am glad I did! I also love the tins they come in, and 3.2 ounces is plenty! These spice blends are unlike anything you have tried before, and I highly recommend giving them a go! And if you are ever at a loss of what to make, just check out the collection of amazing recipes on the Just Cook site!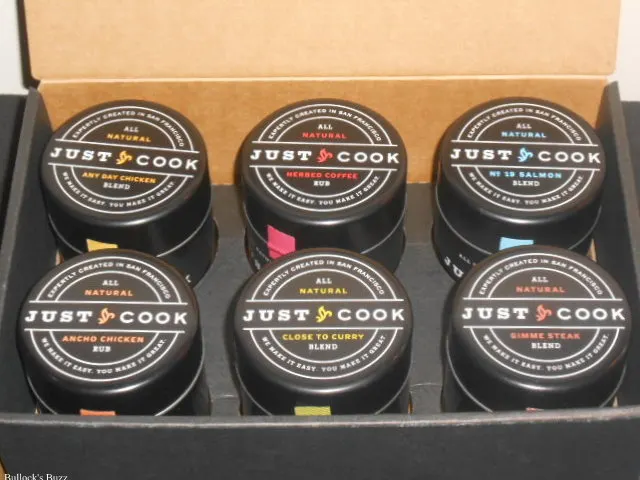 Where to Purchase Just Cook Products
Although their products are available in stores in a couple of states, right now, the easiest way for most of us to get their products will be to order them through the Just Cook website. To see if there is a location near you, use the Just Cook Store Locator (those of you who live in the Bay Area should be able to find a store easily). However, if they are not sold in your state, don't despair! You can easily order them individually or in a gift set directly through the Just Cook website! Hopefully one day soon, their products will readily be available nationwide!