Leafware at Paperless Kitchen

By now I am sure you are familiar with the huge problem facing us concerning plastics and other trash that are not being recycled. Thanks to all of the attention this problem has garnered, millions of people are making a concerted effort to live a more eco-friendly lifestyle: trying to reduce their carbon footprint, buying more products made from sustainable resources, and recycling whenever possible. More manufacturers are beginning to use recycled materials and other materials made from sustainable resources in place of styrofoam, plastics and other non-eco-friendly materials. Making it that much easier to live a more eco-aware lifestyle.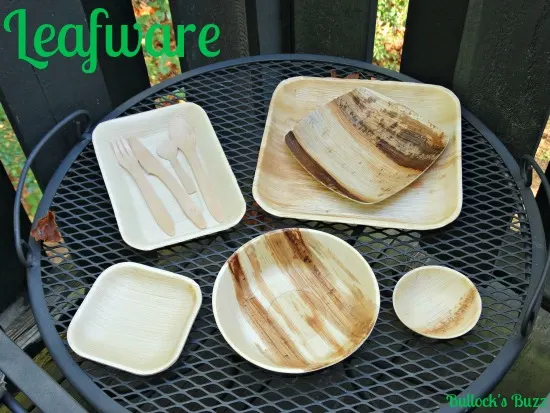 Over the last few years my family has been trying to do just that by reducing our waste, recycling and buying products made from sustainable resources whenever possible. It is a slow process, but one that is definitely worth it! I find some our biggest changes are being made in the kitchen. If you stop for a minute and really think about all of the waste you are creating everyday just from your kitchen alone, you will most likely be shocked. Think about the amount of paper towels and paper napkins you use and throw away, and all of the plastic containers that meet the same fate. Not to mention the chemicals found in all of those cleansers under the sink. The good news is you don't have to give any of that up, just switch to a more eco-friendly form of the same products.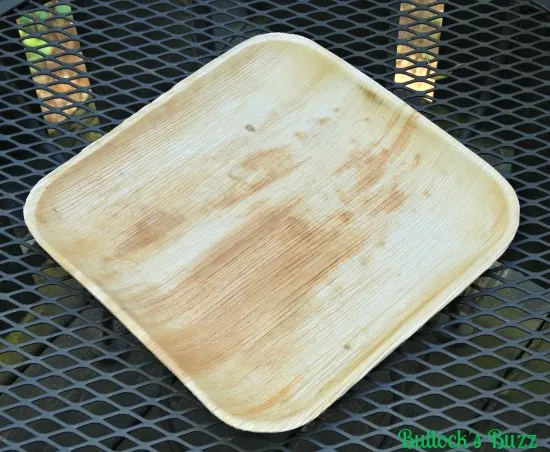 Paperless Kitchen is one place where you can find all of those replacements you need. They carry eco-friendly versions of everything from cleansers to reusable paper towels! I have reviewed many products from there in the past, and have been very pleased with the quality of items they carry. Most recently, with all of the tailgating parties going on, instead of using paper, plastic or styrofoam plates and serveware, I wanted to use something that was still disposable, but was more friendly towards the environment. That's when I learned about Leafware!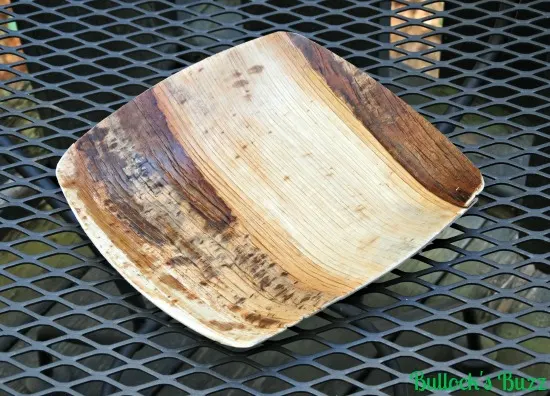 In the past I have used disposable plates and silverware that were made of bamboo, Leafware was a totally new – and pretty cool – concept for me.
"Leafware is a unique innovation in disposable dinnerware – this line of dinner plates, servingware and flatware is 100 percent biodegradable and compostable. The line of green disposables was inspired by the ancient art of transforming leaves into dishes, a tradition that can be traced back thousands of years throughout Asia, makes bamboo disposable dinner and serveware."
All Leafware products begin as the natural leaf litter that falls from palm trees. The leaves are collected, dried, disinfected and handcrafted into serveware. No chemicals or binders are used. The resulting serveware is strong, leak resistant and beautiful. And here is the best part, after using them to serve a meal, you can either compost them in your backyard or drop them off at a composting facility. There they will return to the earth and the cycle of growth will continue!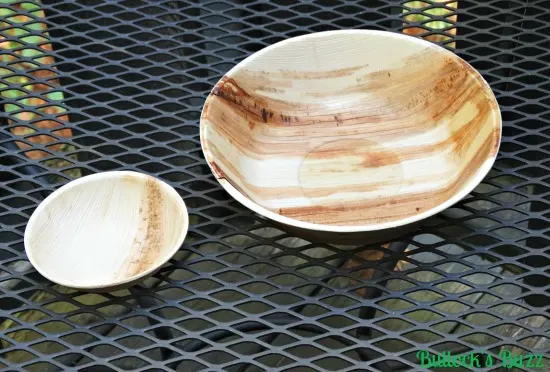 Curious about Leafware? Paperless Kitchen actually offers a Leafware Sample Review Kit that contains pretty much everything you need to see just how well Leafware works. Each kit contains:
– one 10″ dinner plate,
– one 9″ lunch plate,
– one 7″ salad plate
– one 5″ dessert plate,
– one 3.5″ round single bite,
– one 7″ round bowl,
– one 6×9″ tray
– 7″ fork
– 7″ knife
– 7″ spoon
– 4″ tasting spoon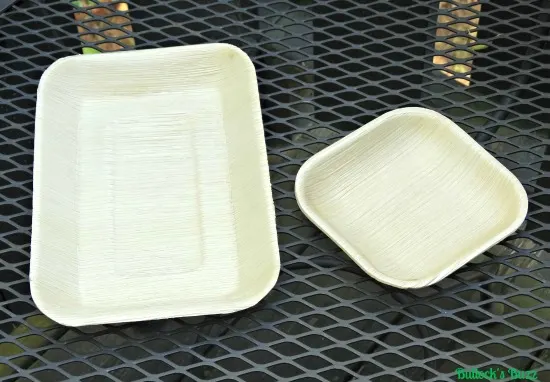 When I first opened the packaging, I was immediately struck with a pleasant woodsy scent. The next thing I noticed was the lovely, pale golden color of the pieces, each one with varying shades of darker grains blended in. This coloring is completely natural, so no harsh chemicals, bleaches or dyes have been used. The texture of each piece is silky smooth, and I was actually surprised with how thick and sturdy each piece is! They can actually hold a fair amount of weight without bending or breaking. As advertised, they are completely leak-proof. I tested the plate with a serving a spaghetti and meat sauce, and at no point did the sauce leak through or weaken the plate. The next day I ate my morning cereal and milk from the bowl, with no weakening or leaking.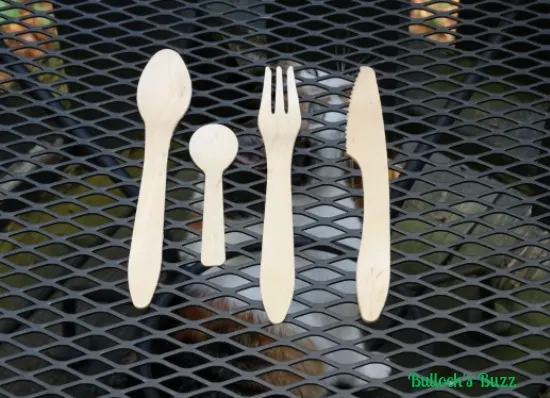 Overall I am very impressed with Leafware. I love the way they look, their durability and the fact that they are eco-friendly. I would definitely recommend them to anyone looking for an alternative to paper and styrofoam serveware, or looking to live a more green lifestyle. Be sure to check out the different sets and individual pieces of Leafware that Paperless Kitchen carries. You can also visit the Leafware website where you will find their entire product line.