This is a Sponsored post written by me on behalf of TruMoo for SocialSpark. All opinions are 100% mine.
Halloween is one of my favorite times of the year! I love going all out with crafts, decorations and recipes! I have also started a tradition of having a Halloween-themed dinner party a few days before Halloween, and this year I have a delicious new addition that I made using TruMoo Orange Scream milk!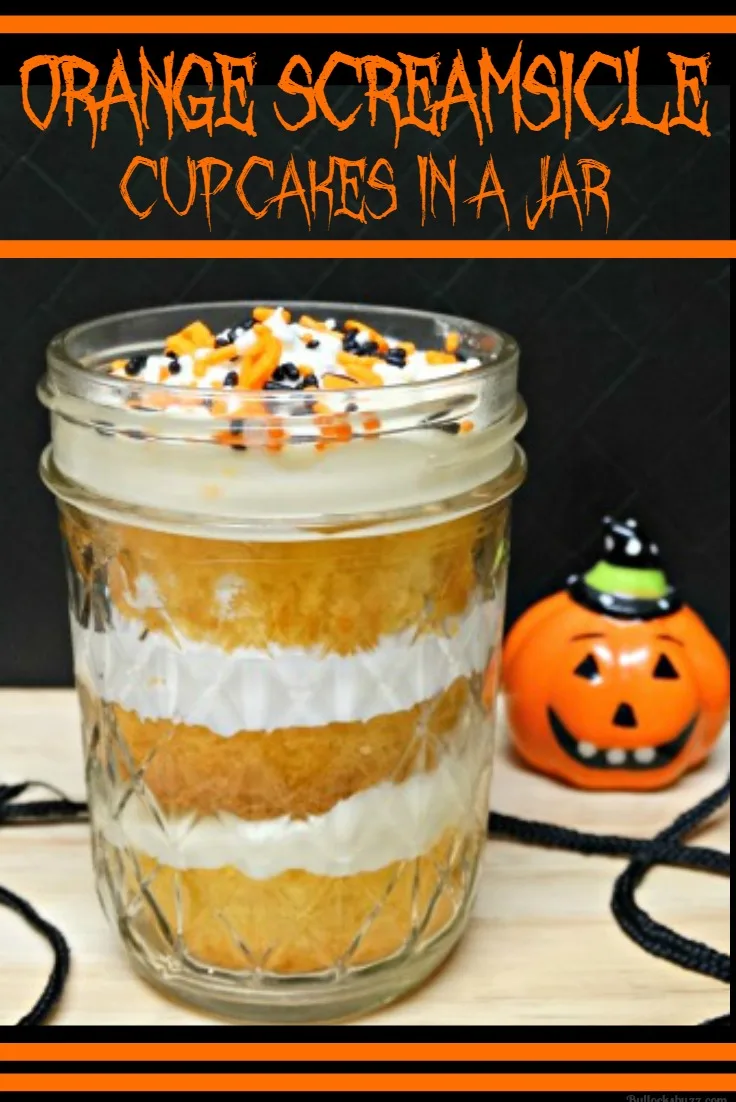 The TruMoo Orange Scream flavored milk is a limited edition product that is only available during the Halloween season. It tastes just like those delicious orange and vanilla creamsicle bars we all loved as kids – remember those?! But that is not the best part! Every glass of TruMoo milk starts with fresh, pure milk from your trusted dairy, and contains 8 essential nutrients. The flavored milks do not contain any high fructose corn syrup or artificial growth hormones, and they are sweetened with just enough sugar. In addition, one 8-ounce serving of TruMoo provides as much calcium as five cups of broccoli and as much potassium as a small banana! So not only does it taste great, but it is good for you too! Serving TruMoo will make you feel truly accomplished that you are able to successfully negotiate between what your kids want and what they need. And if they don't drink it all up before you can get to it, TruMoo Orange Scream can be used to make some frighteningly delicious Halloween recipes, too – just like this one for these Orange Screamsicle Cupcakes in a Jar.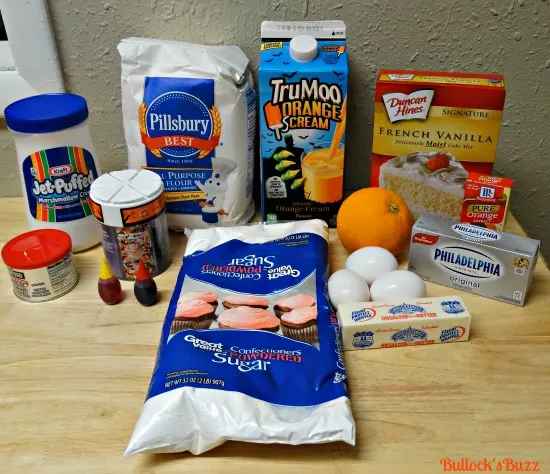 Orange Screamsicle Cupcakes in a Jar
Ingredients
For the Cake:
1 box of vanilla cake mix
Eggs
Oil
TruMoo Orange Scream Flavored Milk
For the Orange Cream Cheese Frosting:
1 stick (1/2 cup) unsalted butter
1 block (8 oz.) cream cheese
1/4 teaspoon salt
4 cups powdered sugar
1/2 teaspoon orange extract
1/2 teaspoon pure vanilla extract
1 orange for 1 teaspoon fresh orange zest, and
1 tablespoon fresh orange juice
Additional Filling:
1 jar (8 oz) Marshmallow Cream
Halloween Sprinkles
Halloween Ribbon (if desired)
Additional Supplies:
Several (8 to 10) 1/2 pint canning jars
2 icing bags or Ziploc bags for piping the icing and marshmallow filling
Instructions
For the Cake:
Follow the instructions on the box, substituting the water for TruMoo Orange Scream Flavored Milk.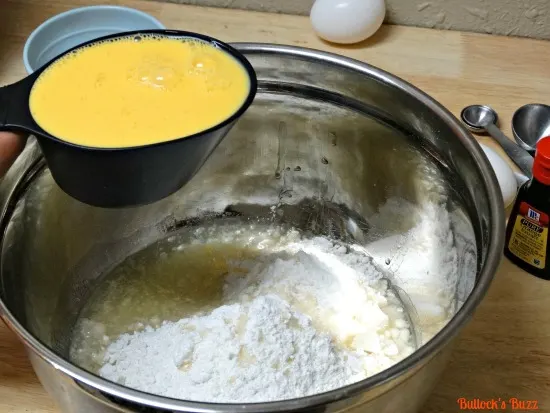 For a touch of extra orange flavor, add 1 teaspoon orange extract and 1 teaspoon fresh orange zest to the batter, and mix well.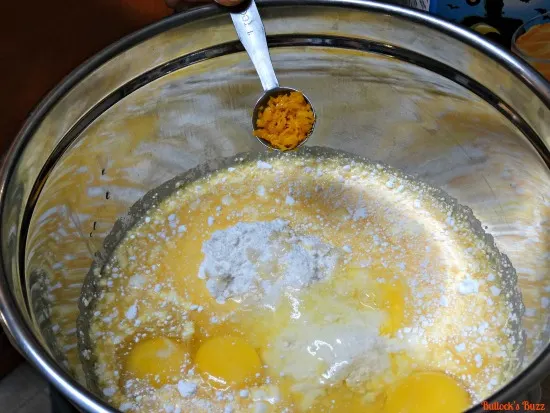 Line a cupcake pan with paper liners, fill each well about 3/4 full with the batter, and bake as directed.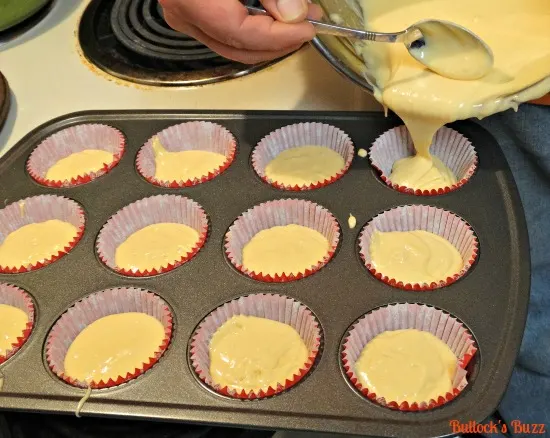 Once baked, remove from oven and place to the side, allowing to cool completely before continuing. I found that 25 minutes was the perfect amount of time!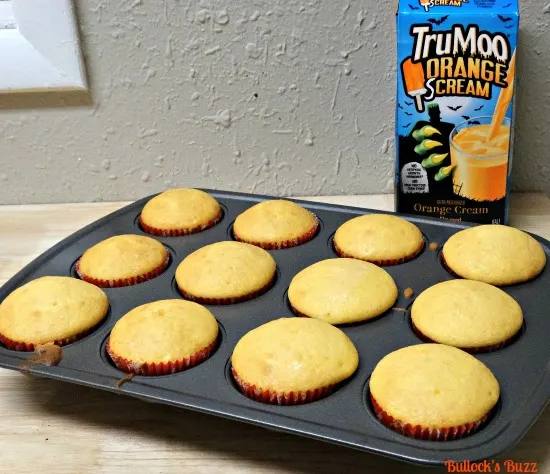 For the Frosting
In a large bowl, add the stick of butter, and begin beating with an electric mixer until smooth.
Once smooth, add the cream cheese and continue beating until smooth.
Next, add the salt, and then the powdered sugar (one cup at a time).
Follow that with the orange and vanilla extracts, the orange zest and the juice (I used the orange from the zesting, and simply hand squeezed 1 tablespoon).
Continue to beat all ingredients for 1-2 additional minutes until fully combined, and nice and fluffy.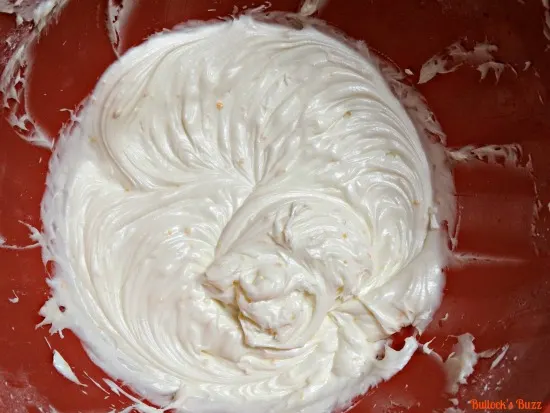 Place the frosting in the refrigerator for about 15 minutes to firm up before piping.
Assembling the Jars
Fill large 2 large piping bags (or large Ziplock bags with a small corner cut off), one with the Orange Cream Cheese Frosting, and one with the Marshmallow Fluff.
Remove the cupcakes from the liners, and cut them in half horizontally.
To begin assembling, place one cupcake half in the bottom of the jar.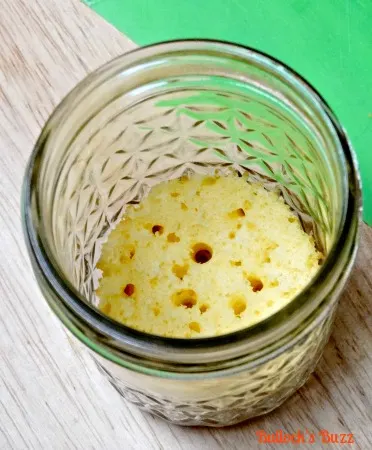 Pipe a layer of the Orange Cream Cheese Frosting on top of the cupcake, about 1/4″ to 1/2″ thick.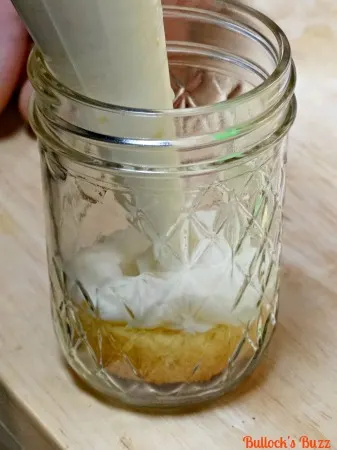 Next, add another cupcake half, then pipe on a layer of Marshmallow Fluff, about 1/4″to 1/2″ thick on top of that.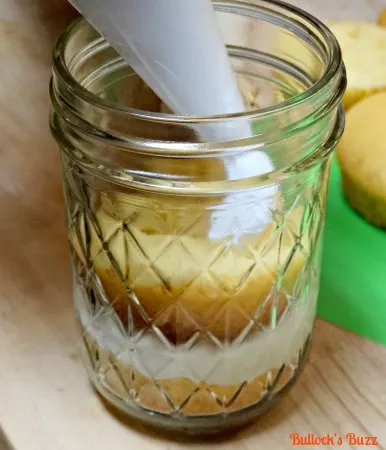 Add one more cupcake half (I used the tops for this last part so I'd have the rounded edge to ice), and top it with a swirl of the Orange Cream Cheese Frosting.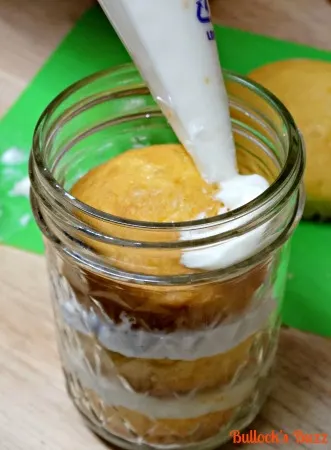 Add your Halloween sprinkles, and you are done!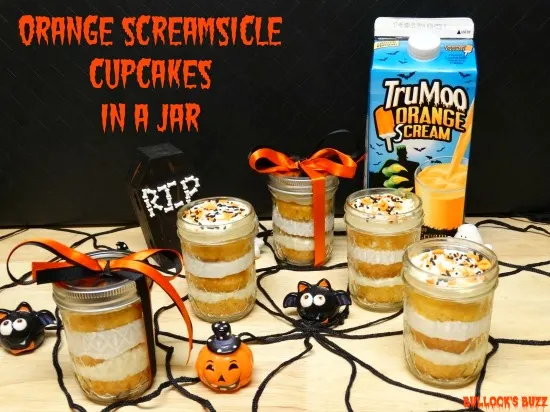 Tips:
If you do not want to serve immediately, place the lids on the jars and refrigerate for up to two days.
Another cute idea, if you decide to give these as treats, is to tie Halloween colored ribbons around the jar and top it off with a pretty bow!
Be sure to visit their website for more delicious TruMoo Halloween recipes, including some truly spooktacular TruMoo Halloween recipes! Also, make sure to like them on Facebook and follow on Instagram. And don't forget, the TruMoo orange Scream is only available for a limited time. You can find it the dairy case at your favorite stores now through the end of October. They also offer other delicious flavors such as Chocolate and Strawberry, and many other seasonal flavors throughout the year – all of which taste great on their own or in your favorite recipes!