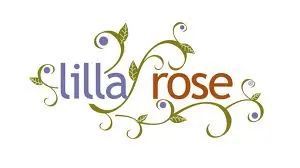 Summertime and long hair just do not mix. Rarely can I stand having my hair on my neck or surrounding my face when it is so hot outside. So I will either throw it back into a Ponytail (it is just long enough!) or pull the sides back into a Half-up which really helps. But I find the typical, plain ponytail holders and barrettes to be dull and boring, so when I was offered the chance to review a piece of hair jewelry from Lilla Rose, I jumped at the chance!
For those of you who are unfamiliar with Lilla Rose, their entire product line is focused around creating unique, beautiful and functional hair jewelry. Yes, hair jewelry. Calling these products by any other name, such as hair clips, is just not fitting for these beautifully-crafted, ornate products!
The Lilla Rose line includes the ever-popular Flexi Hair Clip, as well as Hair Sticks, Orings, Hairbands, Bobby Pins, You-Pins, and now they have expanded to include Badge Holders. Each product is available in a wide variety of colorful designs using beads, crystals, wire and charms to make a simple, yet elegant piece.
The Flexi Clips are available in seven different sizes (click HERE to discover your ideal size) and tons of designs. They are made with a simple, yet effective sliding pin which holds it in place while the "figure-eight" part actually flexes around the hair allowing you to wear it in several different styles including a Ponytail, Tails-Up, Half-up, French Twist and more!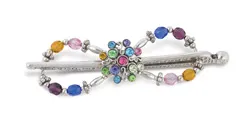 The Hair Sticks are your classic stick with a decorative twist. The ends are adorned with the clearest and most colorful beads and crystals, as well as ornaments made of the shiniest metals.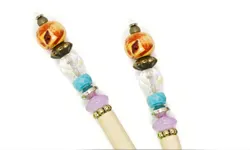 Orings are similar in design to the Flexi Clip. It's like they folded a Flexi Clip in half and added a clasp. Each 'O' is covered with bright and colorful bead work which bends around hair and scarves.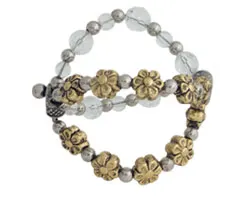 These Bobby Pins are nothing like the plain and boring ones you find at the store. These are made of shiny (not dull) metal and adorned with crystals and ornaments.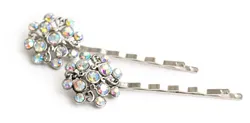 The Hairbands are perfect for day or night and crown your head with sparkling gems and crystals. They are also adjustable to provide comfort and a perfect fit.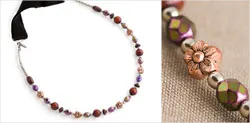 YouPins are exactly what they sound like. U-shaped pins that are perfect for holding your up-do. Each one has a decorative trinket on the tip providing a stylish look.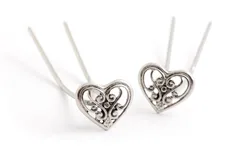 The Flexi Clip I received for review is beautiful! It is beautiful bronze color and features my favorite insect, the dragonfly, as the main ornament right in the apex of the 'figure eight'.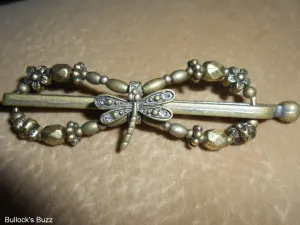 The dragonfly is so detailed I can see the individual segments on its tail, both of its "eyes" and at the tip of each wing are tiny, sparkling stones. The flexible 'figure eight' part of the clip is covered in multiple-shaped and different-sized beads, some of which are abstract shapes, others which are designed as flowers.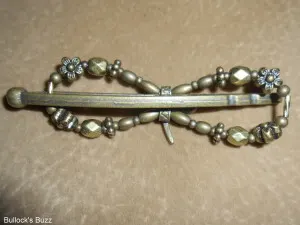 Even the patented sliding pin has intricate detailing from its sides to the little ball on the very tip. The entire clip is incredibly ornate and very well made. It is definitely a beautiful and stylish piece of hair jewelry!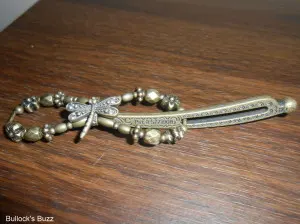 When I first received it I really wasn't sure of how to use it for different hairstyles, but thanks to the included guide, I quickly learned. However, my favorite 'do' remains the half-tail. I love how easy the clip is to use, and it is so comfortable I can hardly tell it is there! There is no pulling and tugging like I used to get when I used ordinary elastic ponytail holders and barrettes. Each time I have worn it out in public, I always get at least two to three compliments, as well as several people wanting to know where I got it! In short, I love it!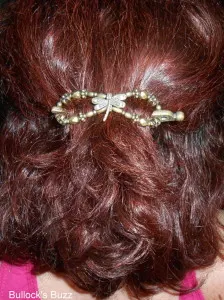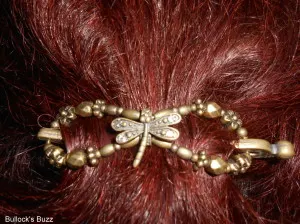 WHERE TO GET LILLA ROSE HAIR JEWELRY
Lilla Rose is sold by independent consultants. You can get your through Kendra, who is my consultant. To order simply visit her site at https://www.lillarose.biz/proverbswife/. There you will find everything you need to know, as well as a great selection of Lilla Rose hair jewelry!
GUESS WHAT!! This FRIDAY (June 21) and SATURDAY (June 22) only, there is a huge Lilla Rose SALE!! Everything is 10% off and any order over $30 gets free shipping! GO NOW so you don't miss your chance to get a great deal on this beautiful hair jewelry!
A GIVEAWAY!
Kendra has generously offered to give one lucky Bullock's Buzz reader a Flexi Hair Clip of their choice with a value up to $15! To enter use the Giveaway Tools form below! This giveaway begins today and will end Friday, June 28th at 3pm CST. It is open to residents of the US and CAN only. The winner must NOT have won another Lilla Rose giveaway in the last year.
GOOD LUCK!