Turn Your Notebook into a Stylish Accessory

Why spend tons of money on designer notebooks that you can only use one time when you can buy Fashionit notebook covers and use them over and over? I received one for review and love how it not only adds a touch of fun and style to a plain, boring notebook, but it is also a great way to keep all of your writing materials together in one easy-to-carry unit.
Fashionit notebook covers are made to easily fit over the cover of your notebook or binder to give it a bright, cheerful and stylish look. They are available for standard spiral notebooks, composition notebooks and 1″ binders, and come in several different styles and patterns. The notebook covers are made from high-quality, washable fabric and include pockets for carrying extra items like pens, highlighters and calculators, making keeping all of your writing materials together a cinch!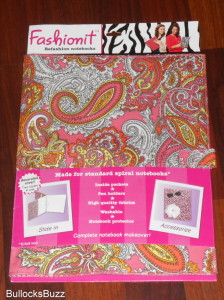 Fashionit notebook covers are available in four different styles, each of which has a fun variety of patterns and colors from which to choose. The first line is the Jungle Obsession whose covers are made of a waterproof, high-definition fabric with a shiny gleam, and features jungle animal patterns such as Zebra, Giraffe and Leopard.
The Simply Soft covers are made from a plush, soft fabric and are available in several different, brightly colored cheetah patterns. The Spark of Fashion covers are available in light purple or silver and are made from a glittery, sparkling fabric. The Double Chick line, the one I choose, are reversible covers available in several patterns including paisley, floral and polka dots.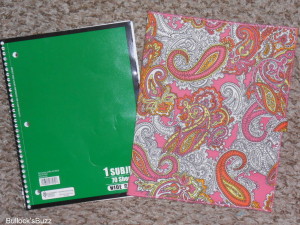 I selected the pretty Paris/ Vintage Dots White Spiral Notebook Cover. It can easily hold a standard-sized notebook (8.5″ x 11″), as well as 3 pens and my smart phone. I put a single subject notebook in, and had plenty of room left over which makes me think a mulit-subject notebook would fit perfectly!
It was very quick and simple to put on. I just flipped the notebook backwards, slid the covers into the slots on the Fashionit cover, then flipped it back around and that was it.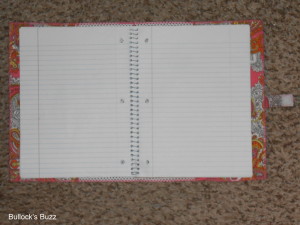 I now had a bright, cheerful and fun notebook cover in which to keep my blogging notes! The cover fits securely around the notebook, and it uses a velcro-type latch to keep the notebook securely closed when not in use.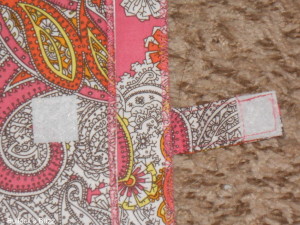 On the inside of the back cover are three loops of fabric perfect for holding pens, pencils or markers. There is another pocket on the inside of the front cover that has a Velcro-type closure, and is deep enough to hold a smart phone, calculator or other similar-sized item securely.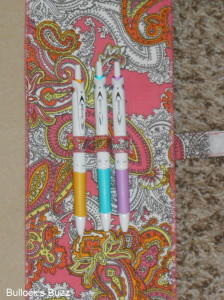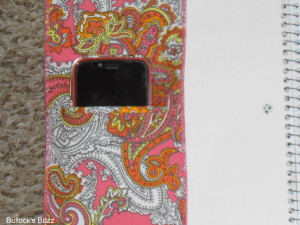 The cover is very well made from 100% cotton with tight stitching and no loose threads. The material can be washed to keep it clean, and it can also be embroidered for a more personalized look. I really like that it is reversible so when I want a different look rather than the pink paisley I just turn it inside out and I have a completely different-looking polka-dotted cover!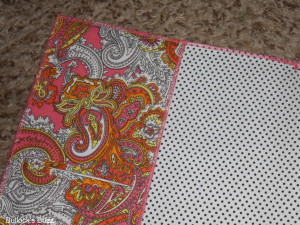 Fashionit believes in giving back. With any purchase of Fashionit products, a donation is made to SOS Children's Villages. This organization helps children in need all around the world by providing orphans with a loving home and guidance, providing counseling, education centers, and medical facilities to those who live in less fortunate regions and so much more. Learn more about SOS Children's Villages by visiting their website at https://www/sos-usa.org/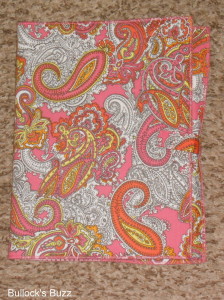 Whether for school, journaling, fun or work, Fashionit notebook covers are perfect for girls of all ages who want a designer-type notebook cover without spending a lot of money. And for an extra touch of style, Fashionit also offers several accessories like bows and flowers that you can easily attach to your cover!
Right now, Fashionit covers and accessories can be purchased directly through the Fashionit website under the BUY NOW tab. Hopefully, they will soon be available at retailers across the country.