2014 Holiday Gift Guide
One of my favorite parts of the holiday season is the decorating. I love to find all sorts of beautiful and unique decorations for both the tree and our home, and every year I try to add at least one item to our growing collection.
This year, I discovered the most amazing online shop that had exactly what I was looking for, LunaBazaar.com!
Luna Bazaar carries a unique, globally inspired collection of beautiful accessories for the home, garden, entertaining and events. If you ever wondered where to find those beautiful decorations for weddings and parties like you see on television and in magazines, Luna Bazaar is the place to look!
From paper lanterns to parasols, colored bottles to candle holders, they have exactly what you need to turn your celebration from plain to extraordinary! And if you love Bohemian, Vintage or colorful, inspired decor, then be sure to check out the decorative accents as well!
They have the most gorgeous pillows, candle holders, tapestries and more! Just think of all of the Unique Christmas Gifts you will be able to find!

Something else that Luna Bazaar carries – especially during this time of the year – is an amazing collection of the most unique and pretty ornaments and holiday decor! They have all sorts of Christmas Ornaments from vintage-style indent ornaments to hobnail glass ornaments to recycled paper ornaments!
While looking through the collection, my eye was instantly caught by the most beautiful Egyptian Handblown Glass Ornaments I have ever seen! Since I am Jewish and my husband is Christian, we celebrate both Hanukkah and Christmas.
So, every year our compromise is to decorate our tree in blue and silver and white ornaments, and this Lapis Blue Egyptian Hand-Blown Glass Ornaments – Layla (Born At Night) was the perfect find!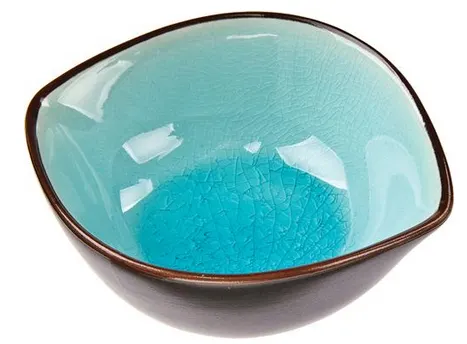 In addition to the ornament, I also found these perfect little Turquoise Blue Oval Ceramic Sauce Dishes that will look great both on my dinner table and to use as props in my photography! You could also use them to hold trinkets on your dresser! The best part? Just like all of Luna Bazaar's items, the price! Only $3.25 a bowl!
Whether decorating for the holidays, searching for that perfect gift, planning a wedding or other celebration, or looking for unique decor for your home, Luna Bazaar has everything you need to decorate and celebrate!