I have always hard time both getting to sleep and staying asleep, and one thing that has always helped is reading. Since I have a love of reading anyway, rarely does a night go by where I am not up turning pages until the wee hours of the morning. Of course I cannot read in the dark, so while reading helps me fall asleep, the light keeps my husband awake. I've tried several different lights, but couldn't ever seem to find a book light that worked well. Either the light wasn't bright enough or it drained the batteries too quickly or the clamp would pop right off the book! All of that changed once I received a Mighty Bright book light for review!
Mighty Bright provides LED lights for everyday (and night) life with lights for everything from desk lamps to key chain lights. I was sent a Mighty Bright XtraFlex2 LED Book Light which was the perfect solution to my late night reading.
The XtraFlex2 LED Book Light is quite the versatile little light with a clip on base and a flexible neck you twist and bend until you get the perfect amount of illumination right where you need it. You can choose the amount of light you need by using one or both of the energy-efficient LED bulbs, each of which have a life expectancy of 100,000 hours. With an optical grade lens to help spread the light evenly, this book light provides a bright white light that is perfect for reading late at night. It runs on 3 AAA batteries, and even has an AC jack for when the batteries run low. However, the AC adapter is not included. The light measures around 12.5″ long, 1.5″ high and 1.75″ wide, and it weighs a light 2.3 ounces.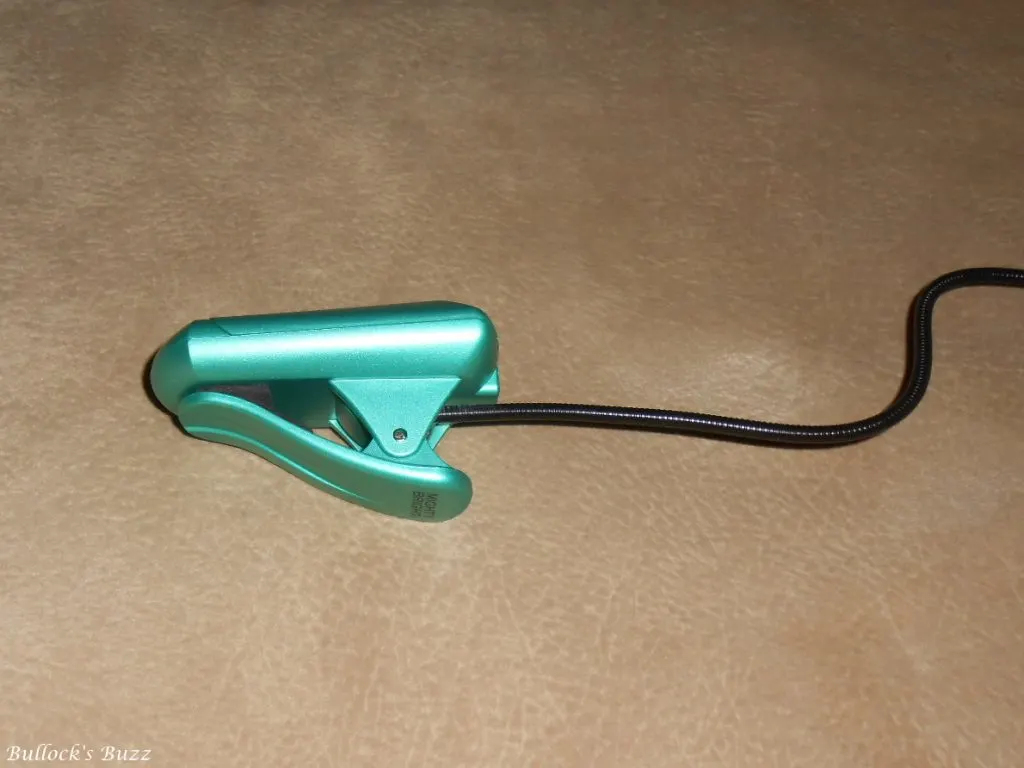 I have had several other clip-on reading lights before this one, and with all of them one thing or another would eventually go wrong. So when I first received the Mighty Bright XtraFlex2, there were a few things I was curious to find out: would the neck eventually loosen up from all the twisting and bending and no longer stay in place? How long would it last before the batteries drained? How secure would the clamp be? Would it put out enough light to where it would not harm my eyes? I quickly found out!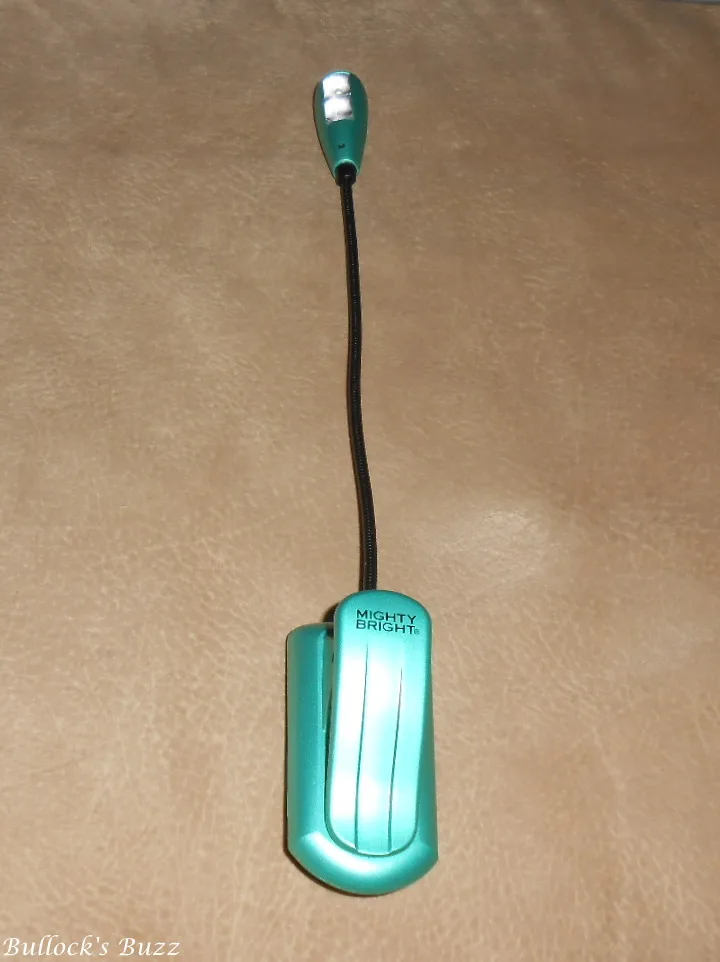 First of all I was simply amazed by the amount of light this tiny lamp put out! It is much brighter than any other book light I have used, and is even brighter than the lamp on my nightstand! Better yet, since the neck twists and bends in any direction, I can aim the light directly at the pages of the book, and no longer have to worry about light disturbing my husband's sleep. Have you even used a book light that has a long, bendable neck and every time you turn a page the weight of the light on top of the neck makes it bend in all different directions? This does not happen with the XtraFlex2, it stays in the exact position I place it!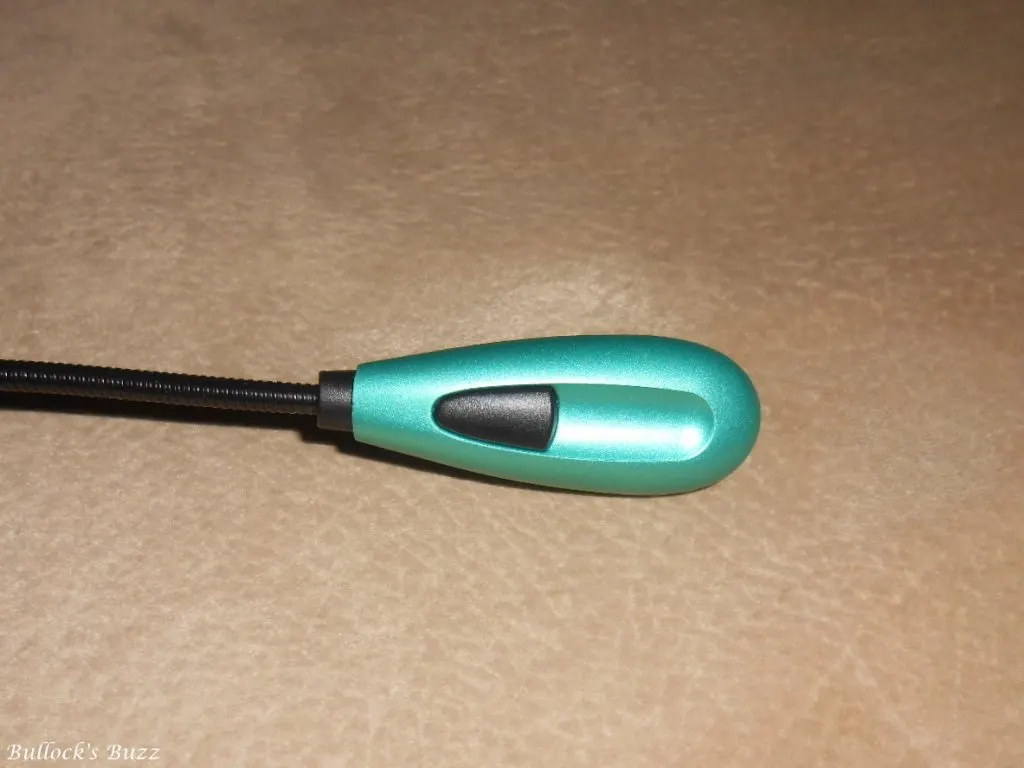 I also like how secure the clamp is – I don't have to keep adjusting it from it sliding off to one side or another, it stays exactly where I put it and doesn't damage the book in any way. It is also capable of opening extra wide so I can clamp it to the headboard or anywhere else I may need some light.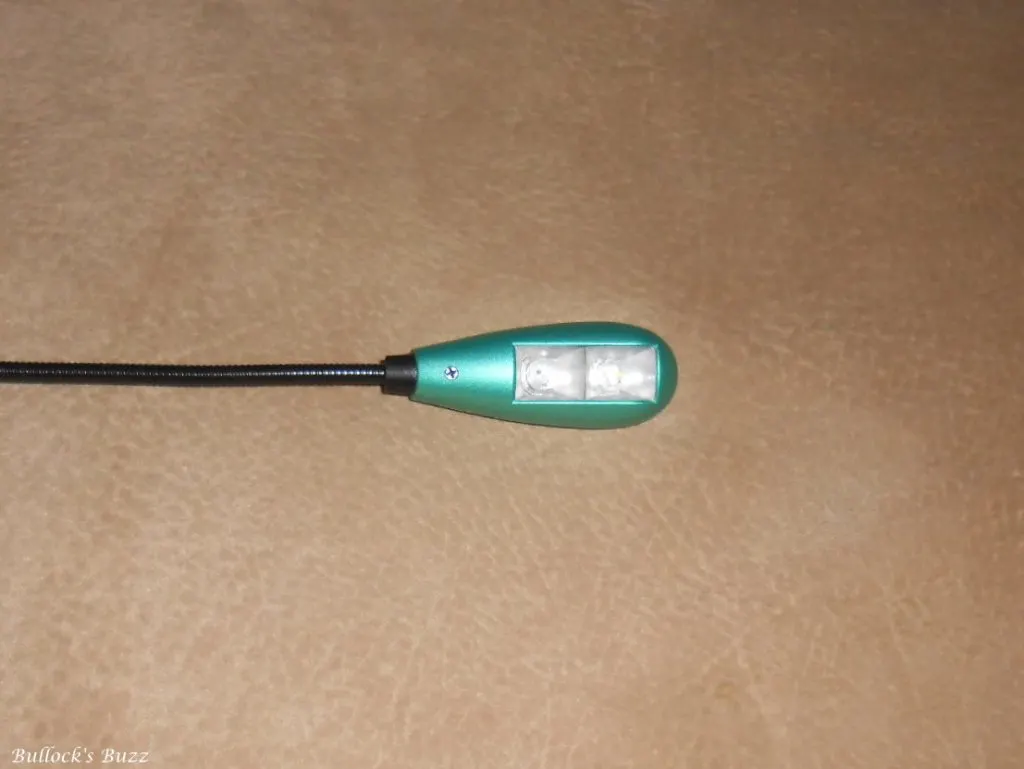 The three AAA batteries that came with the XtraFlex2 lasted close to four weeks, with an average reading time of one to one and a half hours almost every night. I just replaced them about three days ago. According to the site, the expected battery life is 28 hours which is pretty good for such a bright LED book light. I love that you have the option to use an AC adapter as well.
Not only is this the perfect light for reading, but it's small size also makes it ideal for traveling. I can also use it for extra light when we grill at night, or if the power goes out. There has also been several times where I have clipped it to my computer to use to illuminate the keyboard at night. It really is a versatile and powerful little light!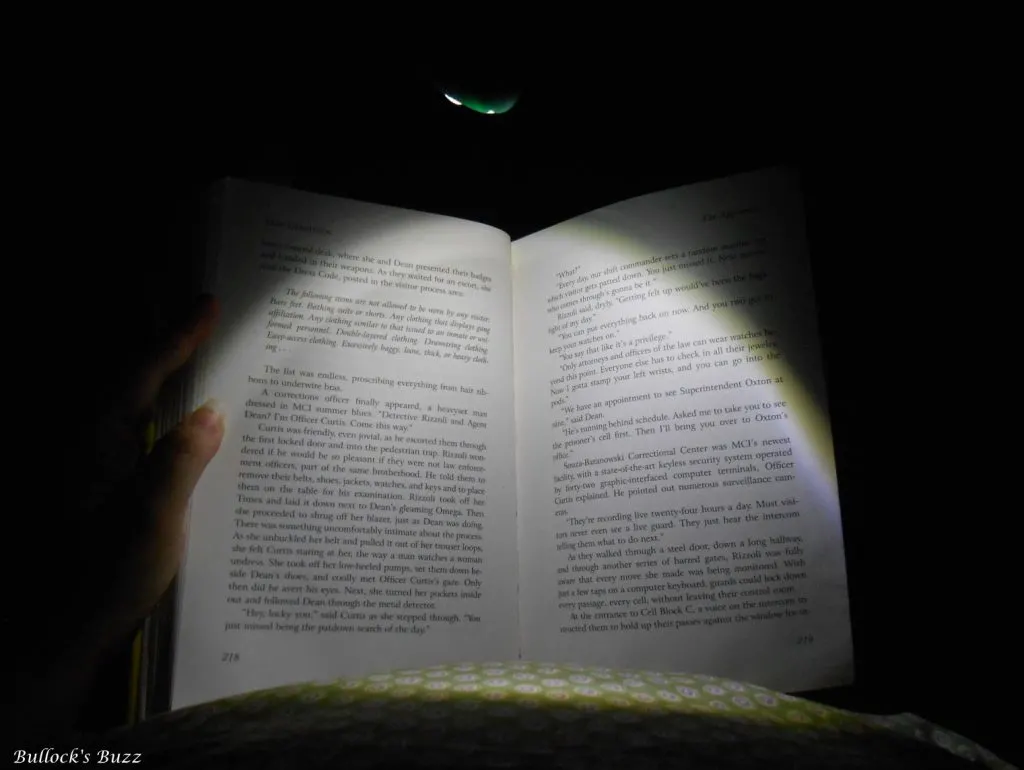 Get your own Mighty Bright XtraFlex2 by ordering directly off the website. It is available in several colors including purple, grey, green and more. Optional accessories including a free-standing cradle base and an AC Adapter. And while you are there, be sure to check out Mighty Bright's huge selection of lamps, you are sure to find a light for every need! Connect with Mighty Bright on Facebook and Twitter for the latest products, deals, promotions and more!
Thanks to Mighty Bright, both my husband and I sleep better at night!
Do you read until late at night?