Are you looking for a fun-filled way for the kids to ring in the new year? If so, check out this New Year's Eve scavenger hunt idea with a free printable for you to download and print! Whether you're at a party or welcoming the new year at home, your kids will have loads of fun searching for the items on this New Year's Eve Scavenger Hunt printable.
Regardless of whether you're hosting a New Year's Eve party or attending one, you're going to need to have something to keep the kids happy. After all, sparklers, New Year's Eve treats, fireworks and videos only last so long.
This New Year's Eve Scavenger Hunt for kids is the perfect solution. It's lots of fun and will keep the kids entertained and busy while they search for things on the list.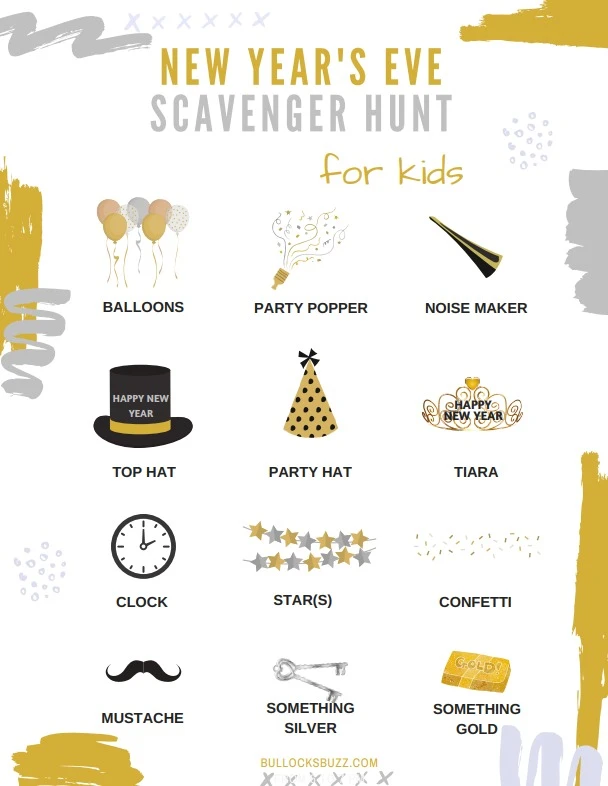 Download the free printable Neighborhood Scavenger Hunt! For personal use only.
Best of all, this New Year's Eve activity for kids requires very little prep. Just print out the free printable, grab a pencil or crayon, and you're ready to go.
Your kids will have a blast trying to spot these 12 celebration-themed items at home, at a friend's, or even on television! It's a great way to keep the kids entertained while the adults have some fun of their own.
Scavenger Hunt Tips
For even more fun, here are a few tips along with a couple of our favorite items we take with us:
having the printable list on a sturdy 9 x 12″ Clipboard makes it easy to hold and check things off as you find them!
for outdoor scavenger hunts, a pair of kid-size binoculars is a must! They give the kids a wider range of places to look
How to Have a New Year's Eve Scavenger Hunt
Once you've printed the scavenger hunt, and have everything ready to go, gather the kids together, and give them both a time limit and an area limit.
Hand them the New Year's Eve Scavenger Hunt (you can download it by clicking on either image in this post), a crayon, marker, or pencil, and send them on their way.
If you have little ones, have them put an X on the items as they find them. If you have older kids, make it a bit more challenging by giving them a digital camera and having them take pictures of the items as they are found. Later on they could even put the pictures together into a cute New Year's Eve video using a movie editing app!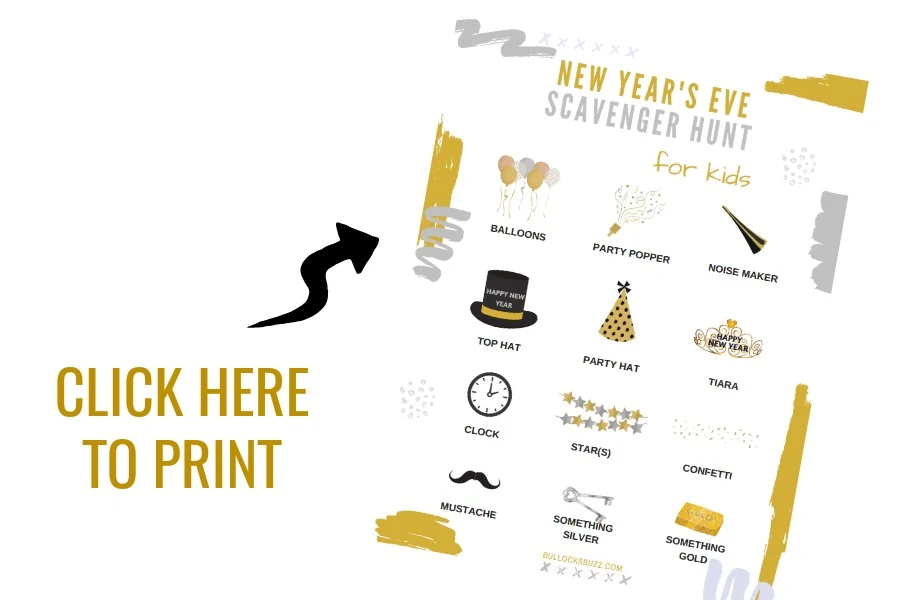 This New Year's Eve Scavenger Hunt can be played at home, at a friend's home, or even at the mall or a big box store. All you need is a printer and a little creativity. Enjoy!
Happy New Year to you and yours!