This Christmas Lights Scavenger Hunt is a fun way to enjoy the Christmas lights with your family. Just print it out and take it with you to see how many items you can find!
Next to Christmas baking and Christmas crafts, Christmas lights and decorations are one of my favorite things about the holidays. And one of my favorite traditions is driving around together, sipping hot cocoa, eating Christmas cookies, and looking at neighborhood Christmas lights and decorations.
Growing up Jewish, Christmas Eve was pretty much just like any other night. But that didn't stop my dad from driving us around to look at all the pretty Christmas lights and decorations. It was a tradition I loved and cherished, and one that I now do with my own family.
It's such a blast to see just how creative people can be with light placement and all of the different themes people choose to decorate their homes.
This year I am making this tradition even more fun with this free printable Christmas Lights scavenger hunt!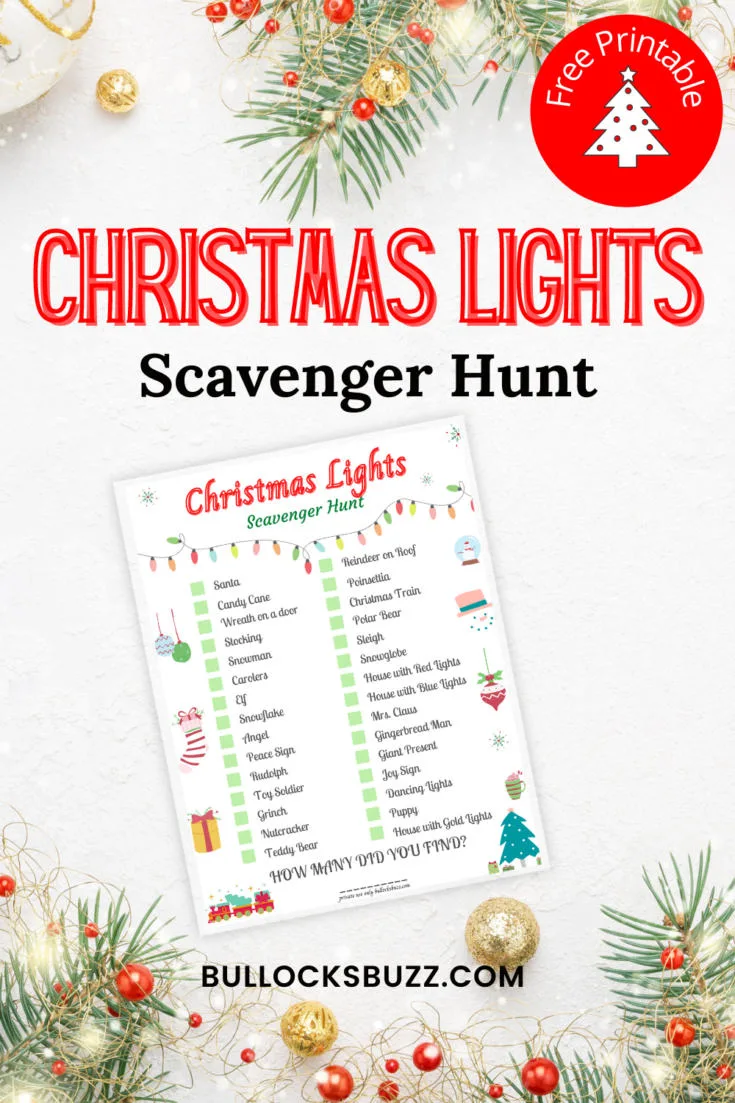 HOW TO HAVE A CHRISTMAS LIGHTS SCAVENGER HUNT
This Christmas Lights Scavenger Hunt is such a fun Christmas family activity that's sure to be a hit! It can be as simple or as elaborate as you want and it's FREE to do!
Simply download and print your scavenger hunt. Then take it with you as you walk or drive from house to house and search for the different items in the Christmas lights and decorations scavenger hunt.
You can print as many copies as you need, and you'll be ready to go!
Be sure to check off each box as you find things like a Reindeer on a Roof, Santa's sleigh, a Merry Christmas sign, and red lights.
If driving, you could also dress up in your Christmas PJs and grab a cup of homemade hot chocolate to take along. Then head out to the car with your printables, turn on some holiday tunes, and see how many items you can find.
There are actually several different ways that you can use this Christmas lights scavenger hunt printable. You could…
work together as a team to find all of the items on the list.
have a little competitive fun (either individually or in small teams) and see who can find the most items. Each item found can only be checked off by the first one who calls it. The others will have to keep looking.
play with multiple families and see who finds the items first. Be sure to take photos of at least one team member in front of each item.
if you live in an area that has lots of different lights close by, bundle up and go for a Christmas stroll instead of driving.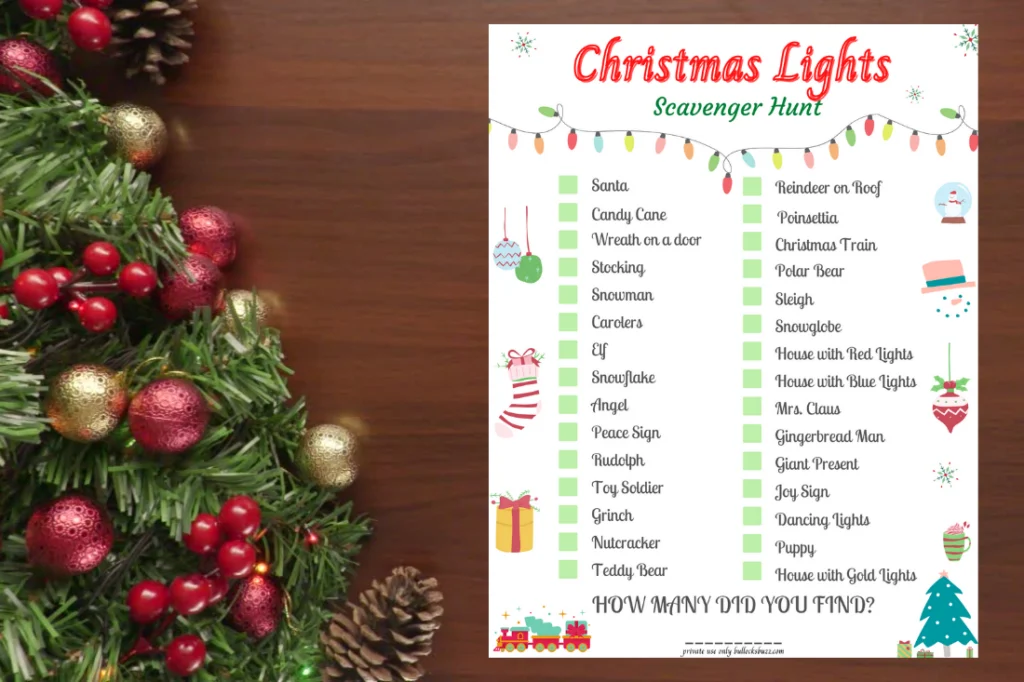 MORE CHRISTMAS LIGHTS SCAVENGER HUNT IDEAS AND TIPS
Here's some more Christmas Light Scavenger Hunt ideas and tips to make this festive family Christmas tradition even more fun.
PREPARE YOUR SUPPLIES
One of the best things about this Christmas Lights Scavenger Hunt is that you don't need many supplies. Just download and print the Christmas light scavenger hunt printable and grab some pens or pencils.
I do recommend getting a clipboard for each person that will have a printed page. It makes it much easier to check things off on the list and keep up with the pencil or pen.
You can usually get an affordable pack of clipboards on Amazon or at your local dollar store.
KEEP AN EYE ON THE WEATHER
Be sure to keep an eye on the weather so you're prepared.
If you're going to be outside walking the neighborhood, check the temp and make sure everyone dresses accordingly.
The good thing about this scavenger hunt is that if it is too cold or wet, you can always hop in the car and drive it! If it's going to be super cold, bring some cozy blankets along to snuggle in!
BRING HOT CHOCOLATE AND CHRISTMAS COOKIES
This is totally optional but HIGHLY recommended! You can even make your own hot chocolate or homemade eggnog, or bake your own yummy Christmas cookies, like these Christmas Kitchen Sink Cookies, to bring with you on your Christmas lights scavenger hunt.
HAVE PRIZES READY
What's a fun family activity without a little competition?! Up the ante and offer a prize for the person or team that either finishes first or that finds the most items on the list.
Prizes could include:
iTunes gift card
coffee gift card
cash
getting to open the first present on Christmas Day
a week off of chores
deciding on the Christmas movie that the family will watch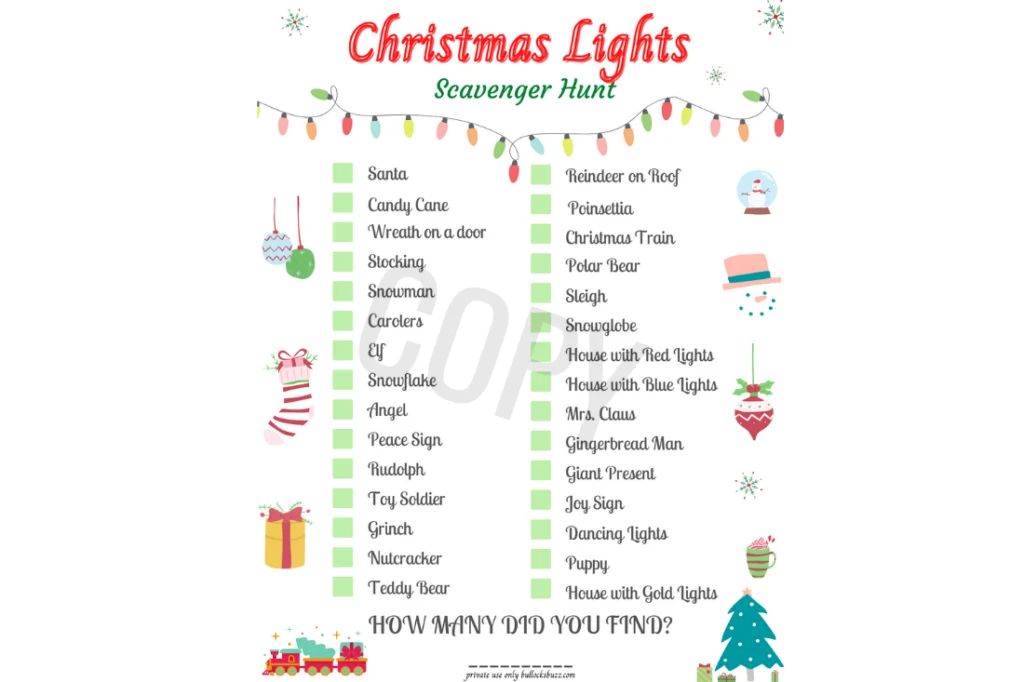 PRINTABLE CHRISTMAS LIGHTS SCAVENGER HUNT GAME PDF INSTRUCTIONS
To get started, download the PDF printable from the link below.
Next, find the file on your computer; it's most often in your downloads folder.
Insert paper into your printer, click to open the file, and select the print option.
Select the number of copies you want to print.
Double-check that you are printing in color before you begin printing the pages!
Once the free printable Christmas Lights Scavenger Hunt game has printed, you're good to go!
CHRISTMAS LIGHTS SCAVENGER HUNT FREE CHRISTMAS PRINTABLE
If you'd like to download your own Christmas lights scavenger hunt to play with your family, just click on the link below and print it out on your computer.
This Scavenger Hunt is a fun and FREE holiday activity that the entire family will enjoy!
If you don't currently have a Christmas tradition with your family, you should SERIOUSLY consider this one. It is SO much fun!
Click to download the FREE Printable Christmas Light Scavenger Hunt PDF!
MORE FUN CHRISTMAS ACTIVITIES FOR FAMILIES
If you're looking for more fun activities to do with your family this Christmas season, check out these ideas…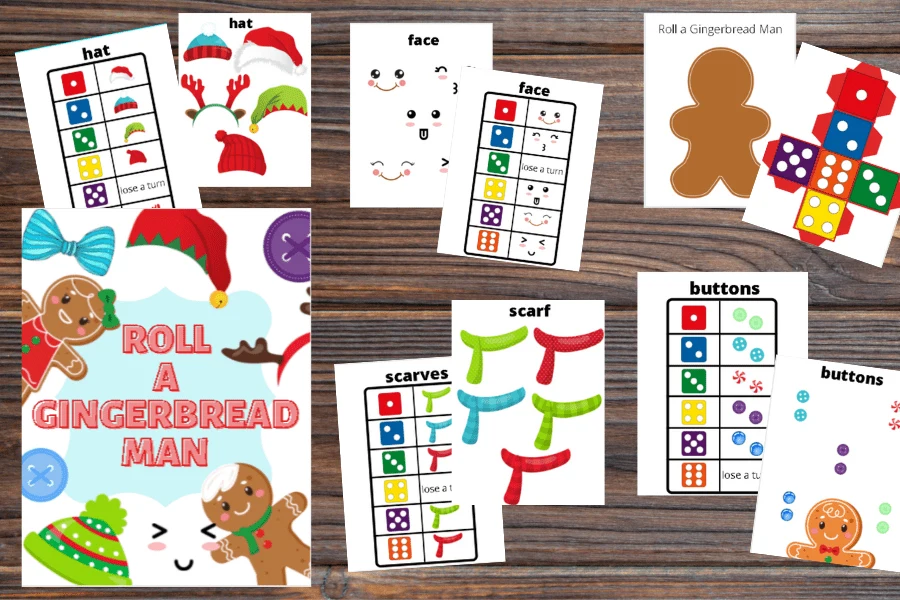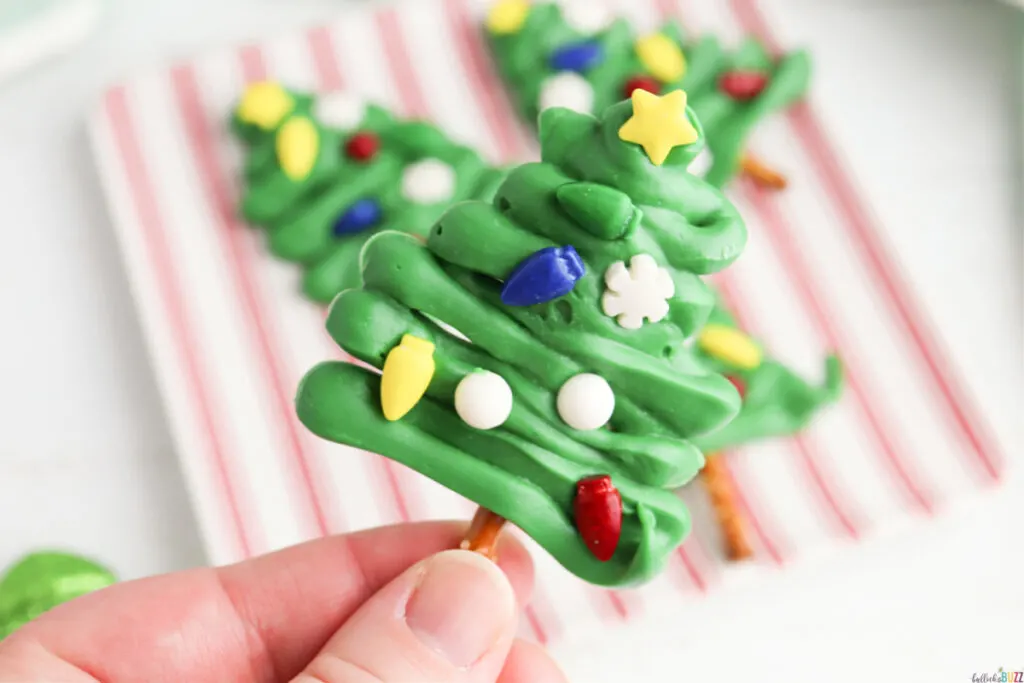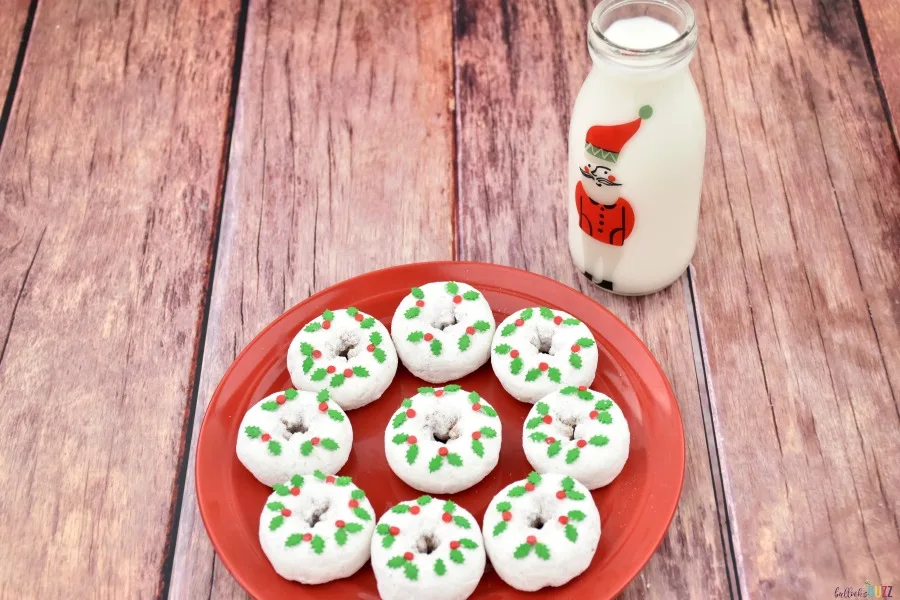 MORE CHRISTMAS PRINTABLES
TRIED IT? LOVED IT? SHARE IT!
Be sure to let me know if you like this Christmas Lights Scavenger Hunt printable! And if you take a picture of your hunt, let me know! I'd love to see it!
Let me know on Pinterest or Instagram and tag me with #BullocksBuzz on your Instagram photo! Or leave a comment below. Merry Christmas!