This is a sponsored post on behalf of AdvertiseWithBloggers.com and ParentsWare. Regardless, all opinions are my own.
OurPact – Managing Your Child's Screen Time
Thanks to advances in technology there is a world of learning right at our children's fingertips. While this can be a wonderful thing, it can also be frustrating – especially to parents who are wanting their children to benefit from all technology offers, yet at the same time learn to balance the amount of time they spend using that technology. The OurPact app can help you when it comes to managing your child's screen time.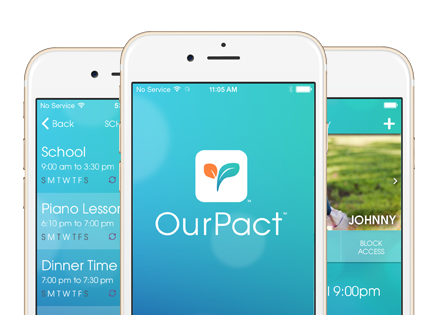 What is OurPact
OurPact is a newly developed iOS app designed to help parents teach their children responsibility through technology. The app enables parents to easily block their children's access to internet and apps, and to schedule use according to their child's daily routine. All of this is controlled right from the parent's device.
With OurPact, you can manage your entire family's device usage under one simple platform. All you have to do is set up an individual profile for each of your children. In addition, if your child has multiple devices such as an iPhone and iPad, you can manage each one as long as you set up each device up under a different name.
Getting Started
Getting started with OurPact is a cinch. Since OurPact is a free app, you just download it on your device from the iTunes store then set up your profile. Once your name and password is set, the app will ask you to visit pair.ourpact.com in Safari from the iOS device you want to control in order to pair the devices.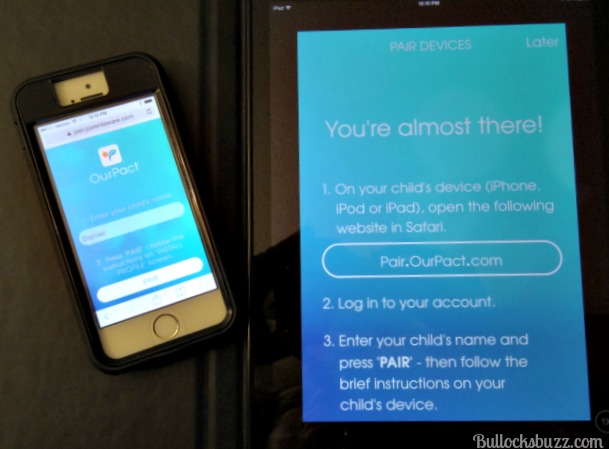 From there all it takes is the simple push of a button to sync your device with your child's. Once they are paired you can go in and begin creating schedules and blocks.
Using OurPact
OurPact provides two types of blocks: manual and scheduled. With a scheduled block, you can create a schedule to restrict app and internet usage on your child's device during any given time frame. You have the ability to name the schedule, set both the start and end times, and select the days of the week (and/or weekend) you want the block enforced. You can also set up as many schedules as you like. For example, we have one set up for baseball practice, one for homework time, another for family time, and yet another at bedtime.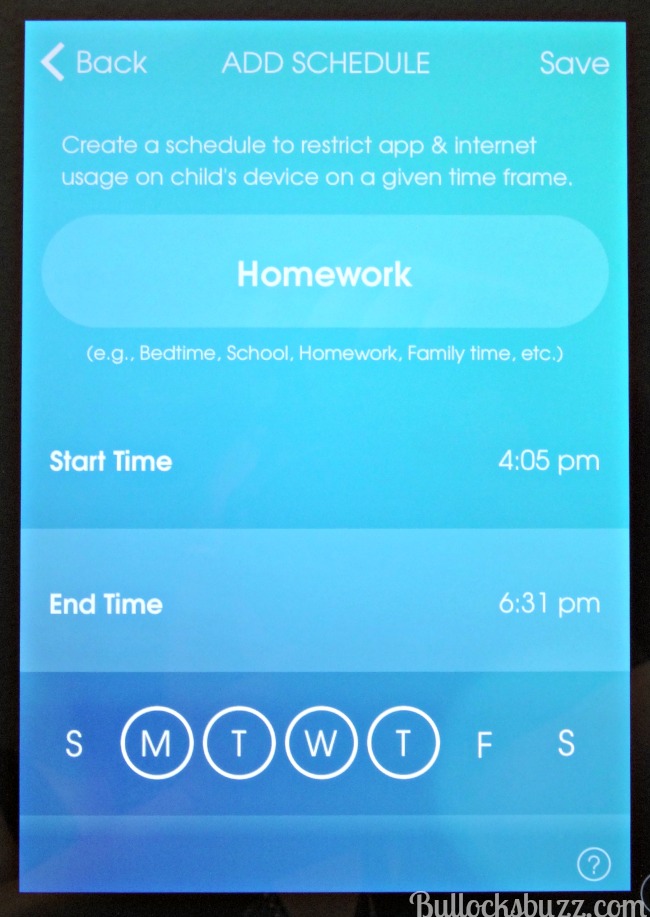 When you enable a block, OurPact blocks all third-party apps and most native apps. This means that apps such as Facebook, Instagram and SnapChat will be blocked, as well as Safari and any apps your child has downloaded from the App Store or iTunes. As you can see in the picture below, all apps are accessible during the times your child is allowed to use them.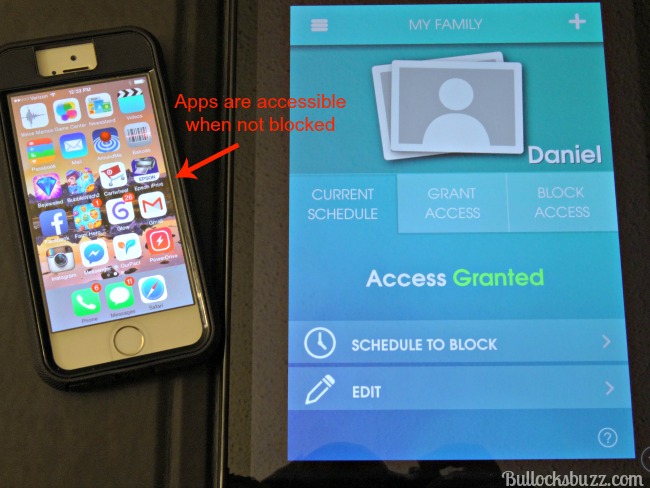 However, when a block is in effect, the apps will no longer show up on your child's device's screen, therefore effectively blocking them from using those apps until the scheduled block ends.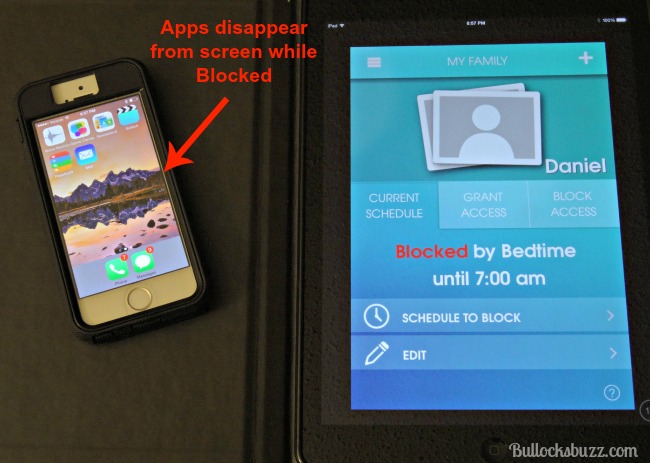 The second type of block OurPact allows you to use is a manual block. With manual you can block or unblock at a touch of a button instead of having to alter the entire schedule. For example, if your child's usage is scheduled to be blocked during school hours, but it's a school holiday, just tap the "Grant Access" tab on the Family screen and the block is removed for however long you prefer.
Likewise, if during a scheduled unblocked time you want to block access, simply tap the "Block Access" tab from the Family screen and set the amount of time you prefer. In both cases, once that time is over, the app will automatically revert back to the original schedule.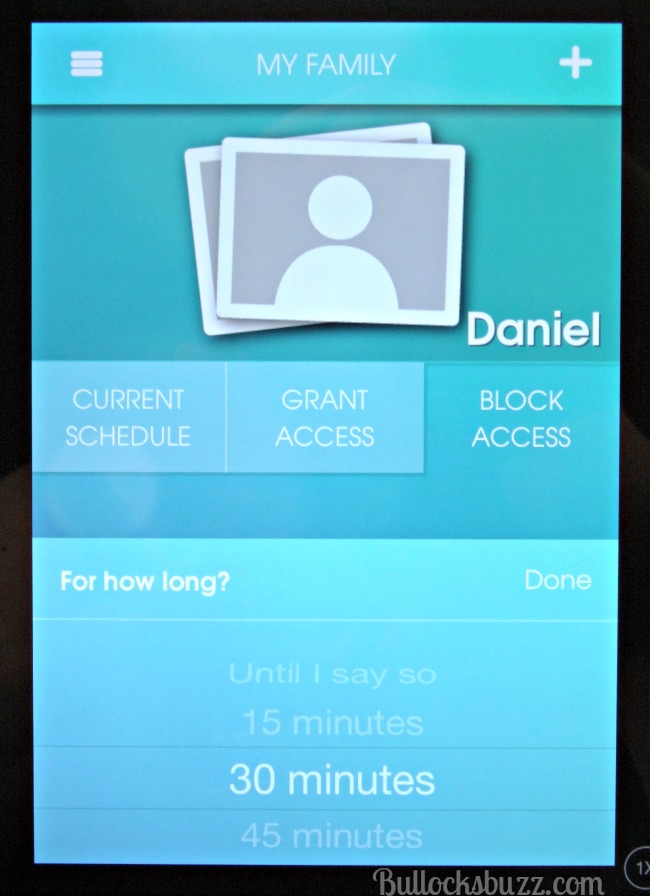 One of my favorite features – next to the ability to schedule, of course – is the fact that I can see at all times if my child's device is managed and working properly. If for some reason it is not, I will immediately get a warning message in the app letting me know to reconnect my child's devices.
My Verdict
OurPact is easy to set and easy to use. You can just set up your preferred schedules, and then let it do its thing. While I don't want to deny my child any opportunity to learn, nor do I want him to spend all of his time with his face buried in his device.
OurPact is an effective way to limit the amount of time he spends on his device, while also helping him learn to moderate his own habits.
Just like everything else, technology needs to be used in moderation, and OurPact is a tool that parents can use to teach their children that.
The OurPact app requires iOS 7.0 or later, and is compatible with iPhone, iPad, and iPod touch. Although it is not currently available for Android, the developers are working on an Android version. Download the app for free. It's all about managing your child's screen time.
How much screen time do you allow your children each day?