This post was brought to you by AdvertiseWithBloggers.com and Pinch Me Dough.
Unfortunately I am one of those people who stress out easily. It's hard for me not to worry when things happen, although I know that stressing and worrying won't help. With stress being the number one proxy killer, it is not a healthy way to live. So over the years I have made a point of finding things that will help me deal with the stress in a healthy, non-prescription way. Activities such as deep breathing, yoga, going on a walk, talking it out – they all help, but sometimes I am not where I can easily do this. Then I learned about Pinch Me.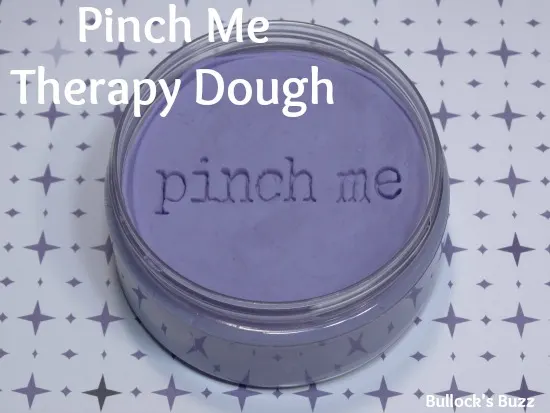 Having seen first-hand the toll that stress and tension takes on the body and mind, clinical hypnotherapist Nancy Rothner set out to find a holistic, non-prescription, drug free stress relief supplement that could be used in a pinch. As a specialist in stress reduction she took what she had learned about the proven scientific methodology of color and scent as they relate to relaxation and created Pinch Me Therapy Dough – a pliable, soothingly colored scented dough that one can knead, smash and squeeze as a way to help reduce the amount of stress they are feeling.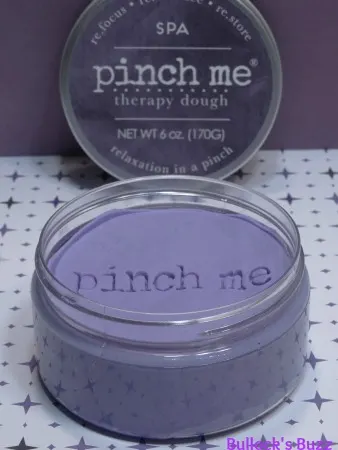 Scent – science has shown that our minds recall scents and that those scents evoke emotions. When a pleasant scent is recognized positive feelings are triggered, your heart rate slows, blood pressure drops and your body begins to relax. Pinch Me Therapy Dough is infused with high-quality, scented oils that are known for their soothing, calming qualities.
Color – how color relates to the body and mind has also been studied extensively. Different colors have been shown to evoke different moods and feelings. Pinch Me Therapy Dough's color palette was professionally designed to calm and soothe with each soft and subtle hue.
Texture – gently kneading the soft-feeling putty provides a release for tense muscles, while the steady applied pressure on the hands relaxes you as well. This subtle yet clever technique draws you away from feeling stress and prompts your mind to focus on relaxation instead.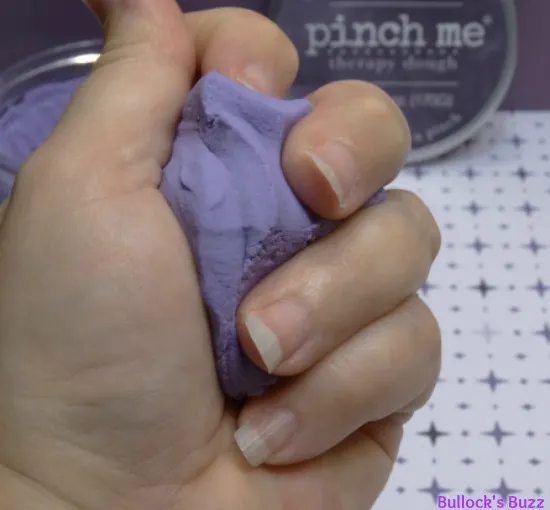 Pinch Me is available in several colors and scents, the putty comes in a small , portable tin so anytime you begin feeling stressed out your putty is right there with you. Simply pull it out of the tin and begin kneading it in your hand. The soft, pliable texture, gentle color and soothing scent all work together to relax you and bring you back to center. When you are finished, just drop it back in the container, twist the lid on securely and put it away until the next time.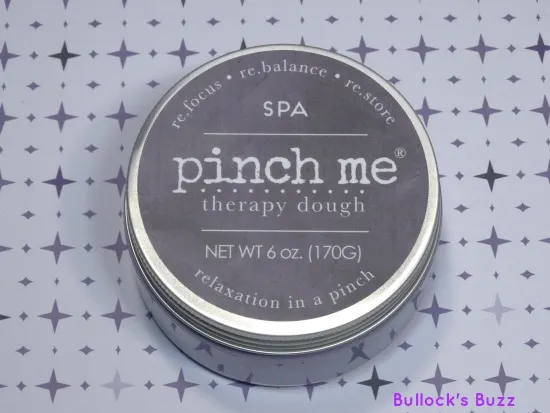 With six amazing formulas to choose from, you're sure to find one that's just perfect for you. My personal favorite is Spa – a soft, feminine scent with just a hint of relaxing lavender. With its soft consistency, the perfect amount of pliability and the soothing, non-overpowering scent it emits when kneading, I can literally feel the stress melt away. Once done, the scent lingers to continue to help me relax. Other scents include Tropics, Ocean, Beach, Earth and For Men. I cannot wait to try them all!
Each container of Pinch Me is designed to last for hundred of uses. Over time the color may begin to fade, and once the consistency begins to harden, you will know that it is time for a replacement. At less than $20 for a drug-free, holistic way to reduce stress, I'd say it is well worth it! Pinch Me can be ordered directly from the website at https://pinchmedough.com/. Your purchase will not only benefit you, because every container purchased will pay for a soldier's half day stress management training with BootStrapUSA.com! So why not give Pinch Me a try? To order and learn more visit the Pinch Me website, and you can also connect with them on Facebook and Twitter.