First off, I want to thank Planet Random Designs for the products I received to facilitate this review. Have you ever heard of Billy the Artist (BTA)? If not, I am willing to bet you have seen his work for brands such as Swatch, Sony, Microsoft, Smart Car, Gibson Guitar and Hyundai, and clients such as the Rock and Roll Hall of Fame Museum, MTV, race car driver Danica Patrick, Woodstock 99 and even the Broadway, National and London productions of RENT.
A New York based pop artist, he is well-known for his large-scale designs which feature artwork with a funky graffiti-like style. Since 2012, Billy the Artist's bright, vibrantly colored, eclectic artwork has been gaining popularity daily. I had the wonderful opportunity to see why when I received some products from his new product line sent by Planet Random Designs.
Planet Random Designs, a division of Enesco, creates unique and stylish, design-based merchandise for everyday use. In addition to Billy the Artist, they also carry products featuring trendy brands such as KimmiDoll and Ninja Warriors. Their products can be found at many retailers across the nation.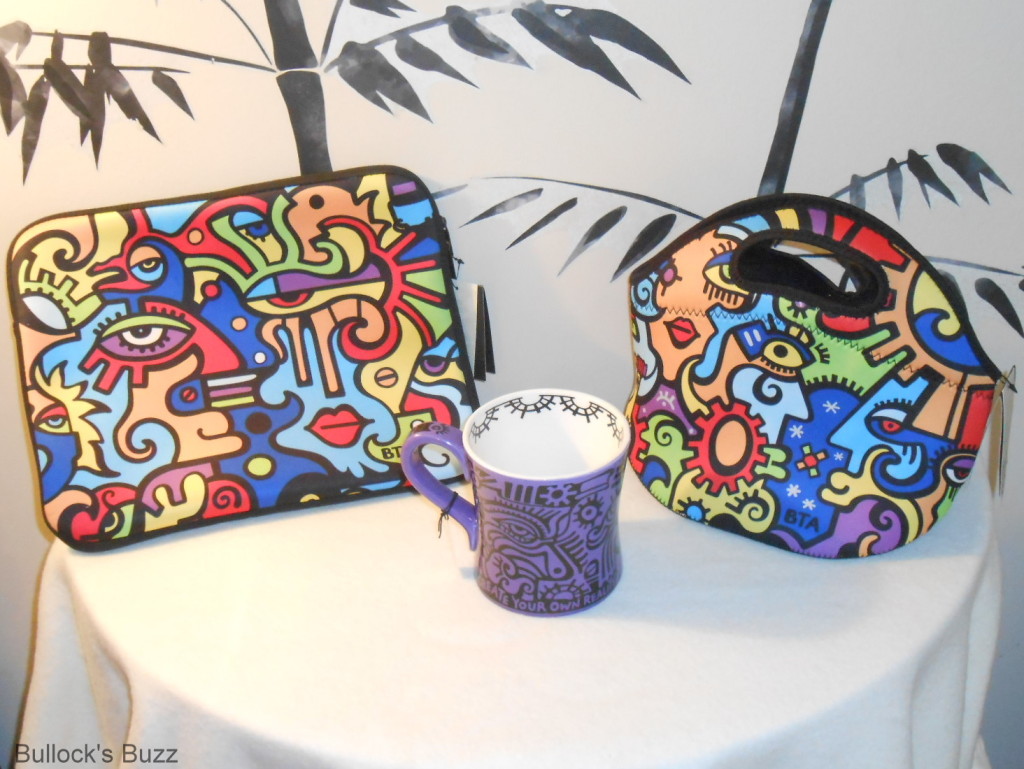 Billy the Artist Product Line
The Billy the Artist product line is a collection of everyday, lifestyle products that offers something for everyone including knitwear, jewelry, mugs, wine bottle covers, iPad covers, t-shirts, wall art and more. I was sent three awesome products from the line, and each one is so neat I would be hard-pressed to pick my favorite!
The three items I choose all feature the same piece of artwork, entitled "Create Your Own Reality". I found this to be the perfect title for a design that is a menagerie of bold lines and vibrant colors, different shapes and abstract parts, including random eyes, noses and lips, all thrown together to encourage you to imagine exactly what you are seeing. Face? Animals? People? You decide.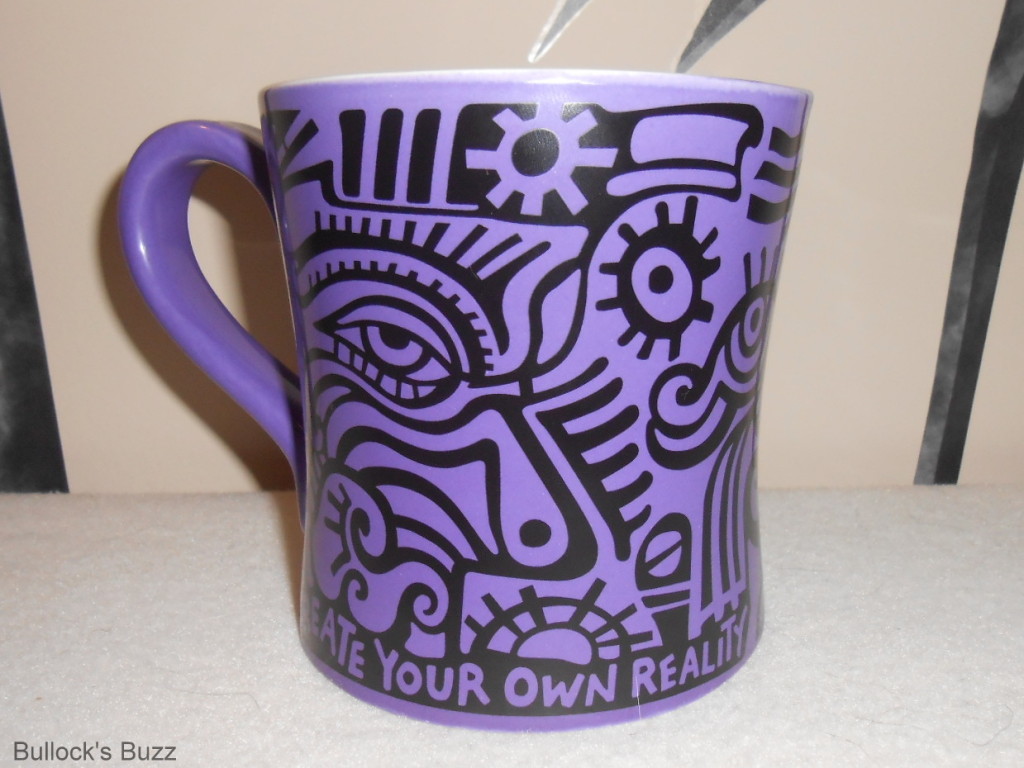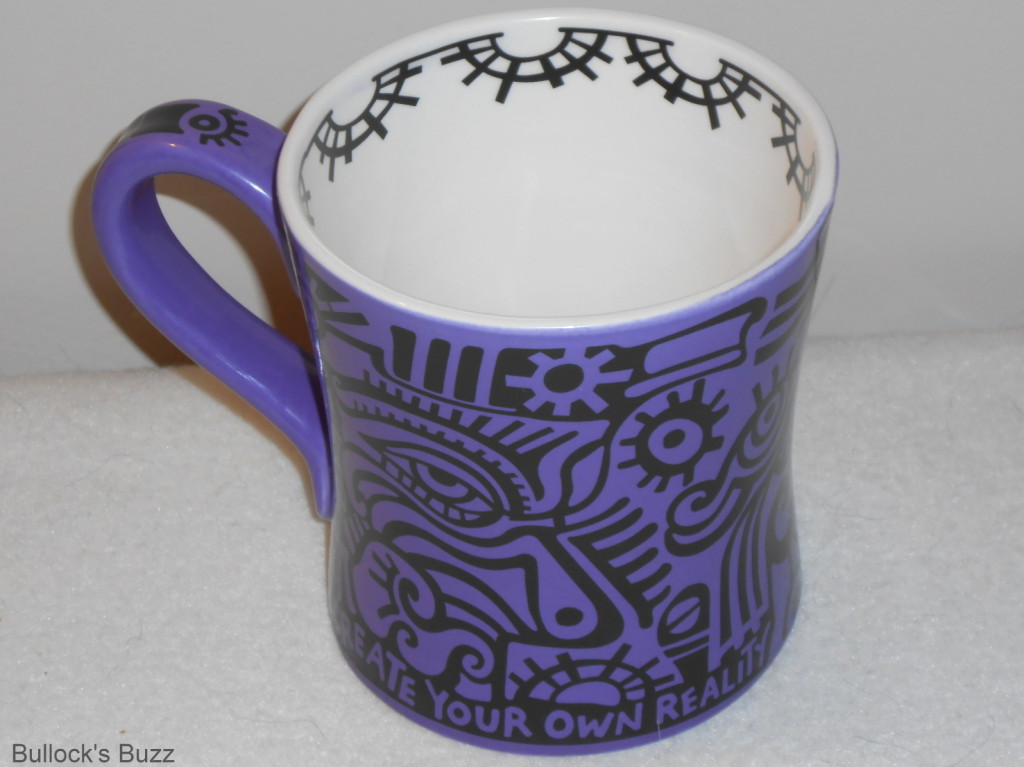 Billy the Artist Ceramic Mug
One thing I love is a nice big mug that will work perfectly for coffee, cocoa or even soup, and this one fits the bill! It measures around 4 3/4″ tall and about 4 1/4″ in diameter at the widest spot, and has a nice weight to it that lets you know it is well made. It has a slight hour-glass shape and a big, sturdy handle with which to hold it. These mugs are available in an assortment of colors and artwork designs, and being a lover of the color purple, I opted for the"Create Your Own Reality" mug. The background is a pretty, deep lavender color with the design drawn in bold, black lines. There is also a simple, yet fun pattern around the inside rim. Both the title of the artwork and Billy the Artist's initials (BTA) are written along the bottom edge of the mug. It is microwave and dishwasher safe. Already, it is my absolute favorite mug!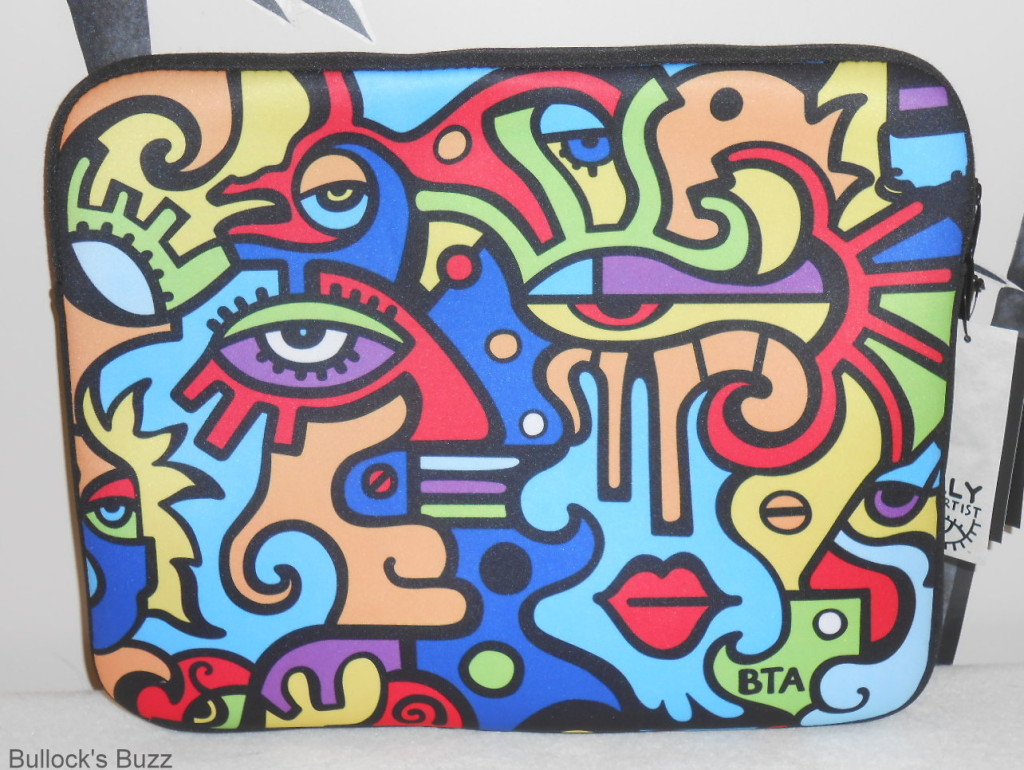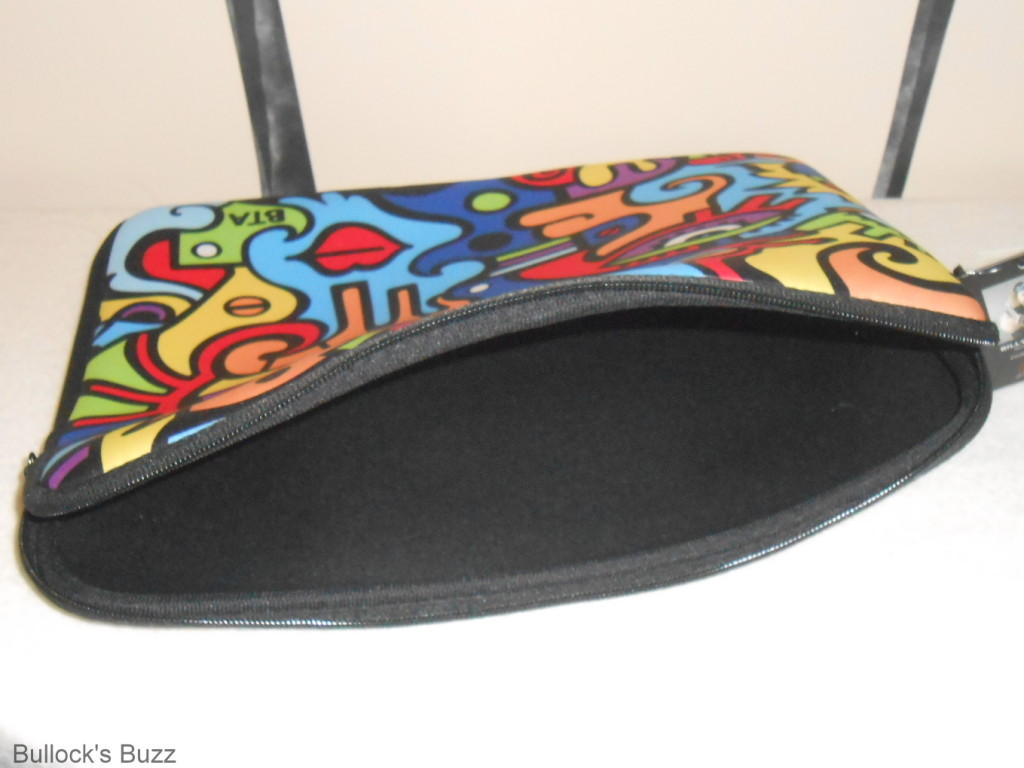 Billy the Artist Neoprene Laptop Sleeve
This neoprene sleeve is incredibly bright and stylish and also features the "Create Your Own Reality" design in a rainbow of primary colors. It is made to fit a 15″ laptop, and has a smooth texture both inside and out. Since it is neoprene, it does stretch a bit, and provides some protection against water. It also has a small amount of padding, giving a bit of protection to the computer inside. There is a zipper closure, and the entire sleeve is very well made. You will definitely have the most stylish laptop sleeve with this case! I love it not only because of the design, but because I can slide my laptop into the sleeve and then into any bag without having to worry about it getting scratched up.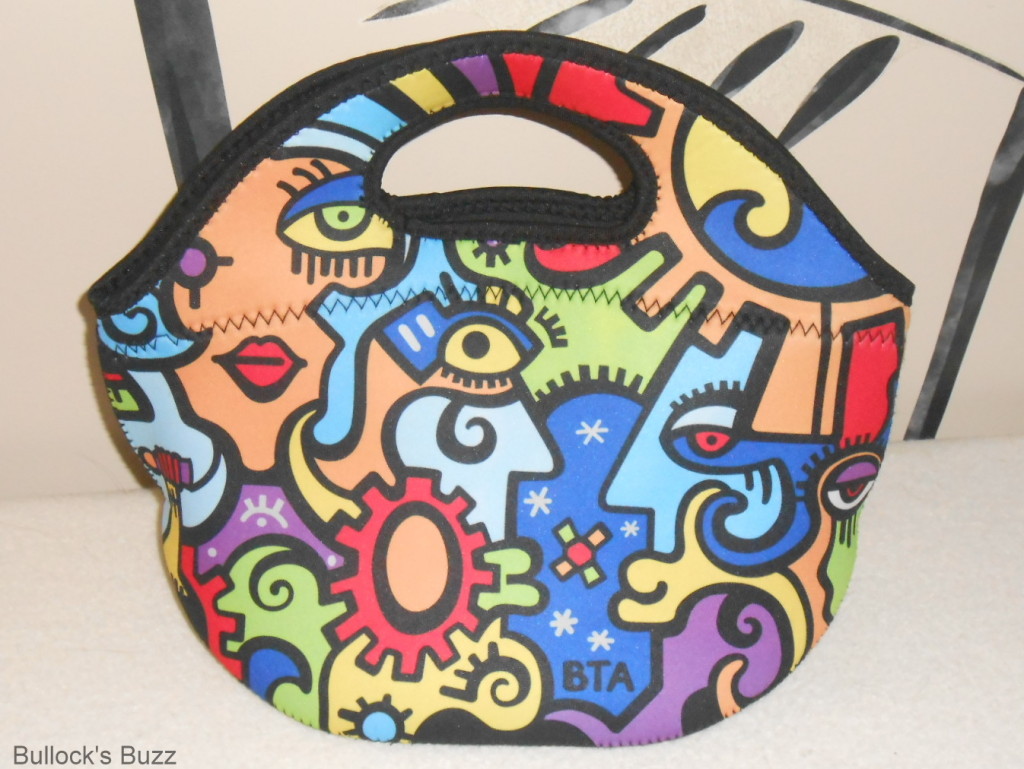 Billy the Artist Neoprene Insulated Lunch Bag
Also made of neoprene, this insulated lunch bag is ideal for carrying both food and drinks, hot or cold. We have used it several times to carry extra water and drinks when we go out and if you add an ice pack, it works well to keep the drinks cool. Being neoprene, it is pretty much waterproof so if the bottles or ice pack sweats, the moisture stays inside the bag, and you can easily wipes it out later and let the bag air dry. It does have a zipper closure, and has handles for easy carrying. It measures about 12″ high and 1″ wide, plenty big enough for a complete lunch, or several drinks and an ice pack.
My Verdict of the Billy the Artist Product Line
Each of these products are extremely well made and durable. I love their unique, bright and stylish designs, and would definitely recommend them to anyone looking for funky and fun everyday products!
Where Can I Find Billy the Artist Products?
Billy the Artist products can be found both online and off. Some of the items can be bought directly through the Planet Random Design website, where you can also find a list of retailers by state and many other incredible items! The products are all reasonably priced, and would make a great gift for yourself or others!
Be sure to check out Billy the Artist's website and follow him on both Facebook and Twitter.