Make the giving of gift cards a little more personal, and a little less boring with these free printable Hanukkah gift card holders.
Okay y'all, it's time for a moment of truth. Raise your hand if you're a holiday-gift-shopping procrastinator. Slowly raising your hand… Am I right?! Well, don't feel bad. You are not alone. And really, it's not even your fault!
With all of the cleaning, decorating, cooking, baking, party planning, holiday card sending, party attending and more, the holidays are jam packed with what feels like an endless to-do list. And then, at the last minute, you realize you still have to shop for gifts!
Well, this year there's no need to stress! Whether you are a procrastinator or not, I've got a super cute and super EASY gift for you: Hanukah gift card holders (and for those who celebrate Christmas, I've got you covered, too, with these adorable Christmas gift card holders).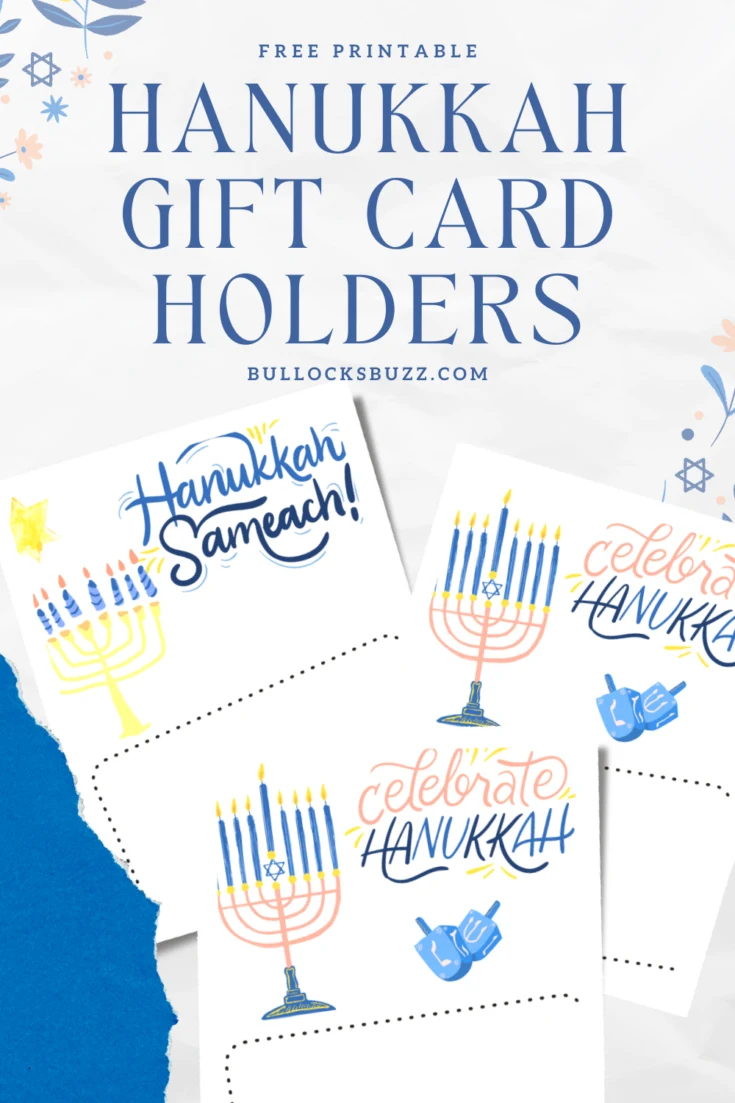 FREE PRINTABLE HANUKKAH GIFT CARD HOLDERS
Now I know what you are thinking: "gift cards? How boring and impersonal!" Not so. Seriously, gift cards are an awesome gift idea. The recipient is sure to get exactly what they want and love, and it makes your holiday shopping – and wrapping – WAY easier! It's a win-win situation.
But I also get how it can feel like you haven't put enough thought and effort into a gift card. These are people you love! You want to put some thought into their presents. So, I've come up with 2 amazing free, printable gift card holders so that your gift is adorably unforgettable!
These super cute Hanukkah Gift Card Holders are available in two fun designs. Simply use double-sided tape or removable glue to attach the gift card and your Hanukkah present is ready to be gifted!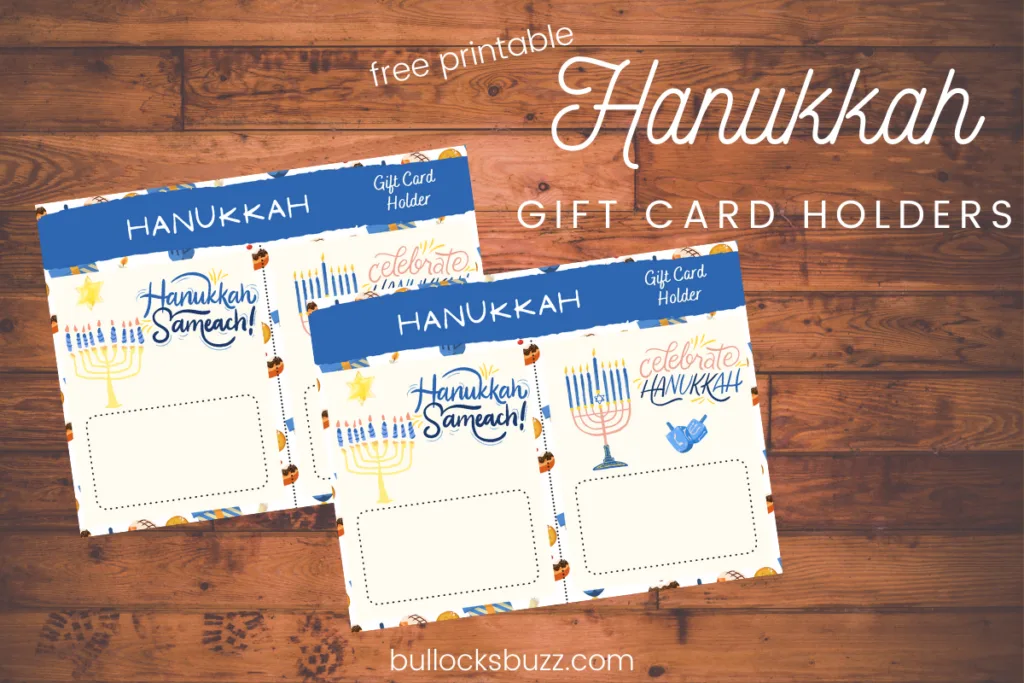 HOW TO USE THESE PRINTABLE HANUKKAH GIFT CARD HOLDERS
These printable Hanukkah gift card holders are super easy to use. Just download, print, cut the two holders apart, and then attach your gift card using double sided tape or removable glue.
I do recommend using cardstock rather than regular printer paper to give your card a sturdier foundation to support the gift card itself.
Please remember that the printables at bullocksdbuzz.com are for personal use only, you may not sell, share, or link directly to these files.
TOOLS YOU WILL NEED
Disclosure: This blog post contains affiliate links for products or services I think you'll like. This means if you make a purchase from one of these links, Bullock's Buzz may make a small commission at no additional cost to you. As always, I only recommend items I use and love.
These printable Hanukkah Gift Card Holders are for personal use only.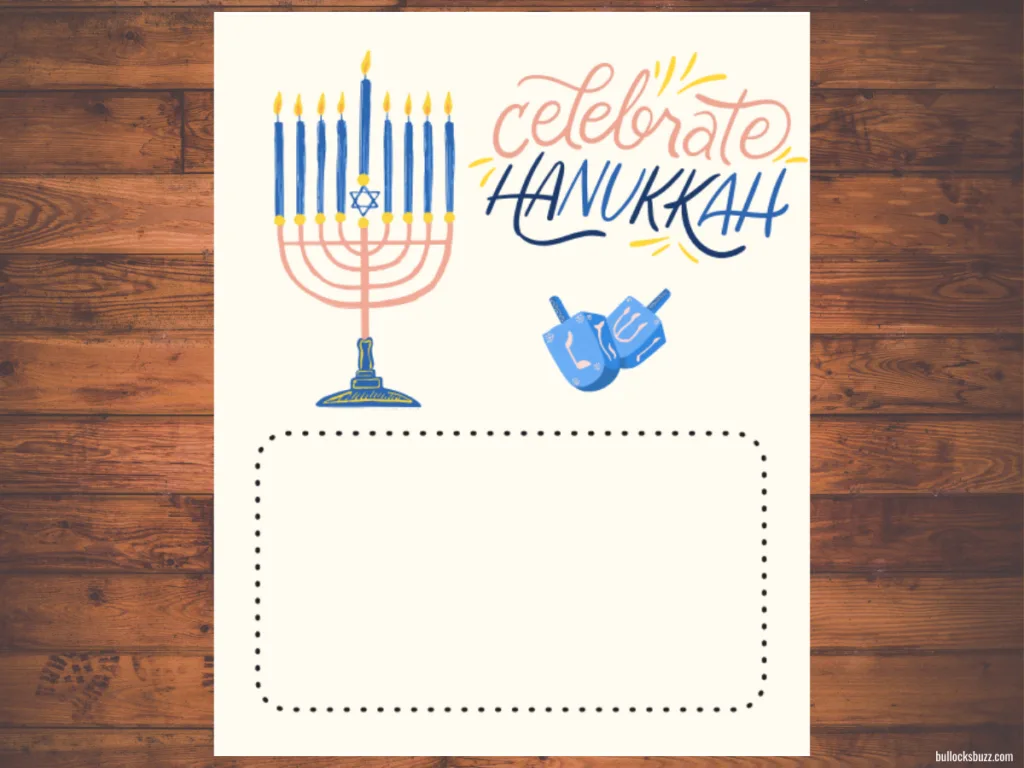 PRINTABLE HANUKKAH GIFT CARD HOLDERS PDF INSTRUCTIONS
To get started, download the PDF printable Hanukkah gift card holders from the link.
Next, locate the file on your computer, it should be in the download file.
Now insert the cardstock into your printer, click to open the file, and select the print option.
Be sure to double-check that you are printing in color before you begin printing the page!
Once the card holders have printed, use scissors to cut on the trim lines.
Lastly, attach your gift card to the holder using double-sided tape or removable glue dots.
And that's it. Your DIY Hanukkah gift card holders are ready to be used! It really doesn't get much easier than that! 🙂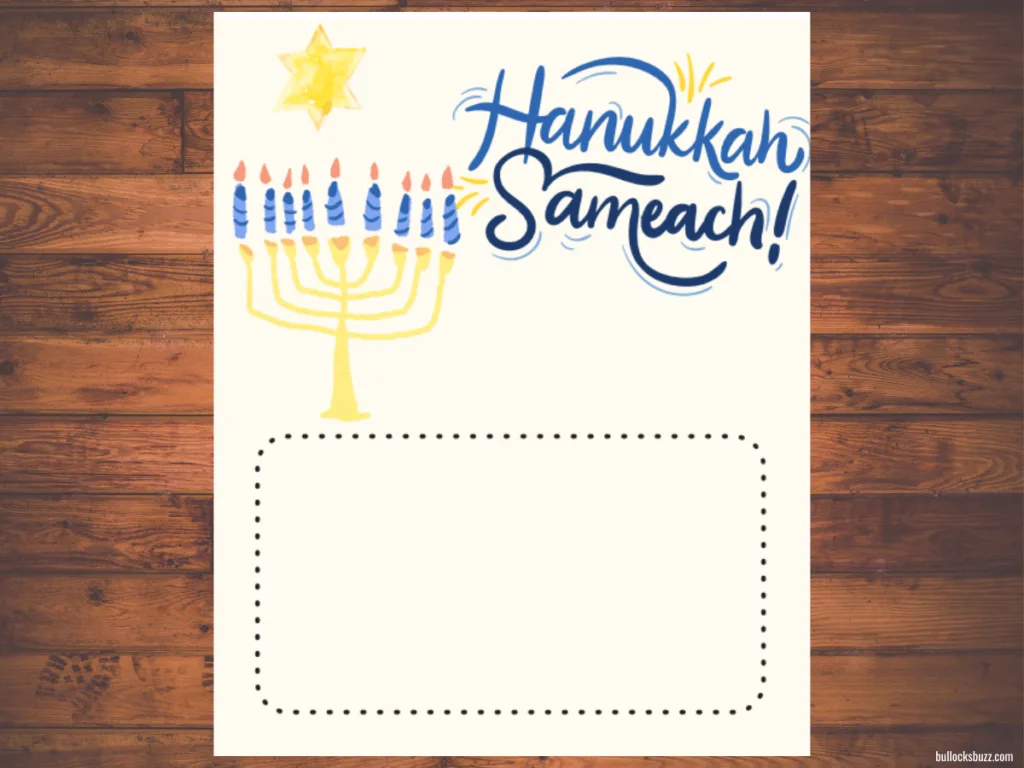 PRINTABLE GIFT CARD HOLDERS PRINTING TIPS
Here are a few printing tips to ensure these cards come out perfectly.
Once you download the PDF, be sure to print "Actual Size" at the best print quality possible. That will ensure you get the highest quality print out.
If you don't have a color printer, or you want super nice results, you can always email the file to your local copy shop for the best copy!
Let the ink dry completely before touching the card holders.
MORE FREE HANUKKAH PRINTABLES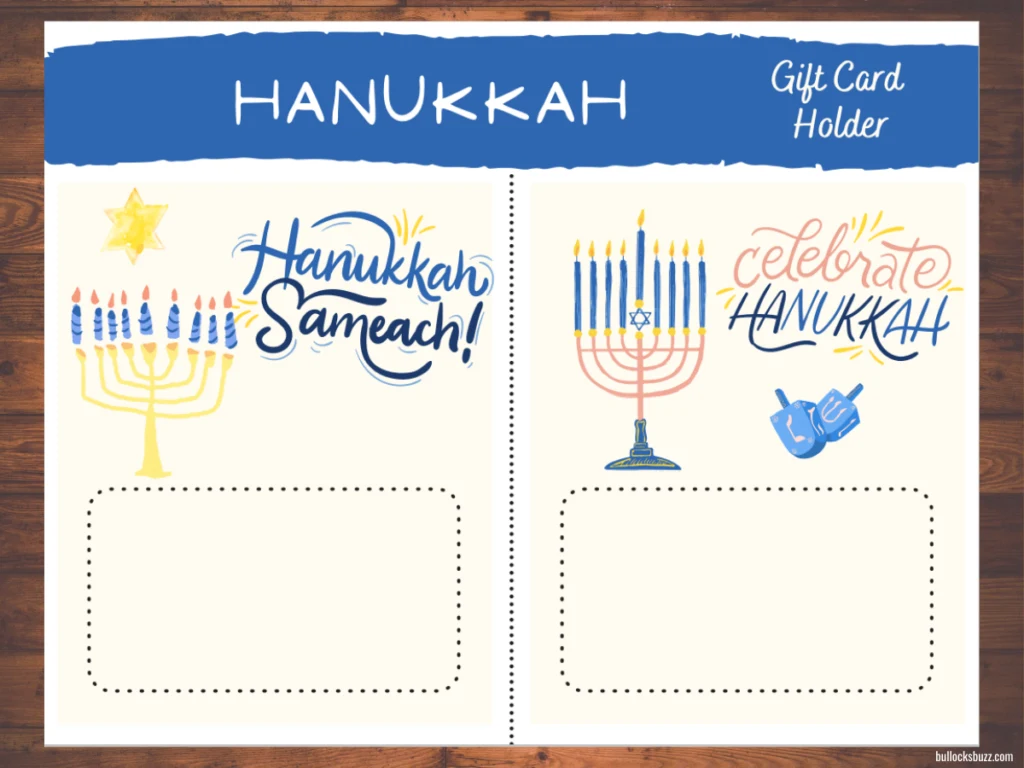 TRIED IT? LOVED IT? SHARE IT!
Be sure to let me know if you like this Hanukkah gift card holders printable! And if you take a picture, let me know! I'd love to see it!
Let me know on Pinterest or Instagram and tag me with #BullocksBuzz on your Instagram photo! Or leave a comment below.