If you're looking for ways to live an eco-friendlier life, then getting rid of one-use disposable plastic bags is a great place to start. There are lots of eco-friendly reusable bags on the market today. You can find bags for groceries, for lunch, and even individual snack and sandwich bags. And ChicoBags has quickly become one of my favorite places to find reusable bags.
WHO IS CHICOBAGS?
ChicoBags which is a company that makes eco-friendly, re-usable bags as an alternative to those plastic bags that you use once then throw away!
Each bag is BPA, phthalate, PVC and lead-free, and is machine washable and extremely durable.
The fabric is ChicoBag's own exclusive rePETe material (a sustainable material made from 100% post-consumer recycled plastic bottles) and each bag contains 78% recycled content.
The bags are also adjustable so they can be used either as a sandwich or a snack.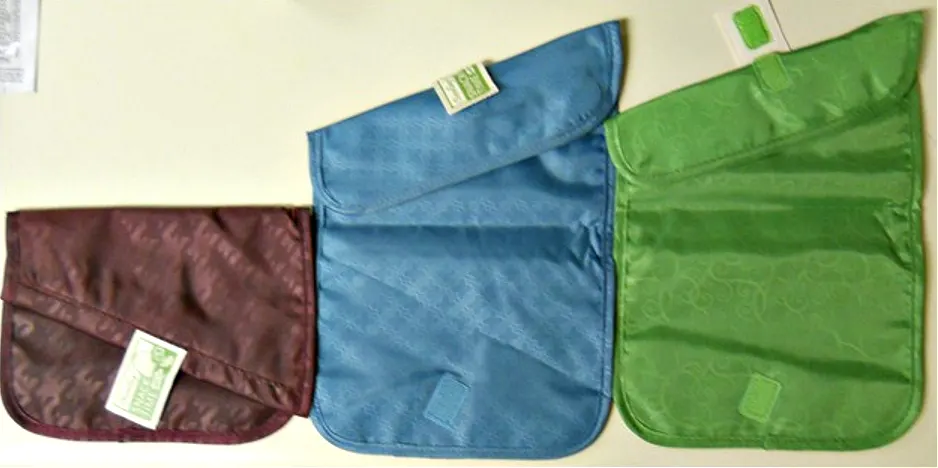 ChicoBag's rePETe Adjustable Sandwich and Snack Bags (Set of 3)
ChicoBag's rePETe Reusable Sandwich and Snack Bags comes with three individual bags including one maroon-colored bag, one leaf-green, and one baby-blue. All three bags also have individual faint patterns on them.
As I mentioned above, these unique little bags are designed to be adjustable.
When folded into 'snack bag' size they measure around 6.5″ W x 5.5″ H. When fully open they measure around 6.5″wide by 9.5″ high, making them perfect for anything from snacks to sandwiches.
You can easily adjust the size by using the simple hook and loop fastener system attached to the bags.
The bags close at the top by the same loop and hook system as well.
Since one bag can be used either as a sandwich bag or a snack bag, that saves you a lot of money. It also can make a big impact on the amount of plastic thrown away into landfills each day.
My Thoughts on Chico Bags
I sent these in my husband's lunch last week as my test-run since school has not yet started, and he really liked them! They were in his cooler next to bottled waters, sodas and icepacks which would 'sweat' during the day, but the water and stain-proof liners kept his food from getting wet.
The ChicoBags sandwich/snack bags are large enough to hold the "man-sized" sandwiches I made him, as well as large-sized portions of chips, peanuts and other snacks, with plenty of extra room.
Since he works in construction (you know he loved pulling these pretty bags out in front of his co-workers!), each bag got a little bit dirty. No problem! I just threw them in the wash on cold, let them drip-dry, and they were as good as new! You can also use a damp cloth to remove smaller stains to keep from having to wash the bag too often.
If you are looking for a way to help cut down on the $85 a year each family spends on disposable plastic bags (according to the Sierra Club), which in turn wind up in landfills, then you should definitely consider getting some of ChicoBags' handy reusable bags.
I think I am going to have to get some more so I have enough for my husband's lunch, my son's and mine too!
Where Can I Buy ChicoBags?
ChicoBags can be purchased directly through their website, as well as on Amazon and in many stores that carry eco-friendly products.
I received these products for free as part of a product review. I was not compensated in any way, nor am I under contract with any company. All opinions are my own, and I do this strictly for fun.