2014 Holiday Gift Guide
Start a New Holiday Tradition with the Roaming Reindeer Christmas Activity Kit

Traditions are such a wonderful and special part of the holidays. For me, our family tradition was the hanging of the Hanukkah decorations. Every year we would plan a special night where my father, sister and I would gather together in the den, light a fire in the fireplace, and hang the Hanukkah decorations.
My sister and I would take turns removing a decoration from the box, and then telling our father where to hang it. Afterwards, we would turn out all the lights, plug-in the colored lights, and sit down together in front of the crackling fire and roast marshmallows while enjoying the wonderland our den had become.
Start a New Holiday Tradition with Roaming Reindeer
This year start a brand new family holiday tradition with the adorable book and plush animal Christmas activity kit known as Roaming Reindeer!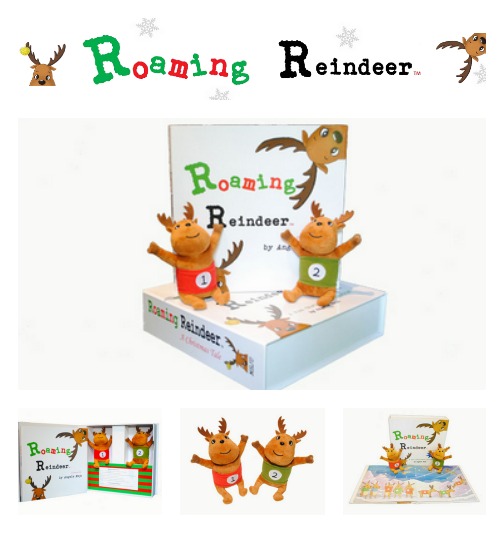 Roaming Reindeer is a fun, new Christmas Activity kit featuring a hardcover storybook and two plush reindeer straight from the North Pole whose job it is to let Santa know who in the family has been naughty, and who has been nice! It's a fun and unique way to remind your children to always be on their best behavior or else Santa may find out!
How Does Roaming Reindeer Work?
Each Roaming Reindeer kit comes with a beautifully illustrated storybook, two soft and cuddly plush reindeer called Reindeer One and Reindeer Two, and a storage box to keep them safe after the holiday's are over. Each reindeer measures around 6″, and is the perfect size for keeping an eye on the kids in whatever room they may be! The storybook is written by Angela Meju, and uses colorful illustrations and fun rhyming words to tell your kids the story of how the Roaming Reindeer came to be.
"Gus and Sam are two of Santa's reindeer. They decide to visit girls and boys to help Santa see who's being naughty or nice. Sam gets sad whenever he sees a child who is naughty and ends up telling Santa. Gus sticks around to keep watch. When the two realize that there isn't enough time to visit all of the children before Christmas, they call on their friends for help. They send their friends off in pairs of two, and assign each pair to a home. Reindeer 1 will disappear to tell Santa any time someone has been naughty. Reindeer 2 will always stick around to keep watch. On Christmas Eve, the reindeer disappear to help Santa deliver the gifts. They will return again next year during the Christmas season!"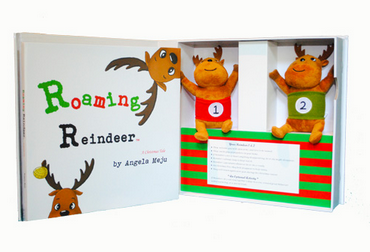 It's up to your family to come up with names for your reindeer, then to sit down together and enjoy the story of how Santa's reindeer, Gus and Sam, found a unique way to help Santa create and keep up with the list of who's naughty and nice! After reading the story, explain to your children that the family's new reindeer are there to keep an eye on things for Santa Claus up until Christmas. If Reindeer One sees or hears anything disappointing, he or she gets very sad and may disappear to go tell Santa that someone has not been very nice. Meanwhile Reindeer Two will stick around to keep an eye on things until Reindeer One returns. It's a new and fun way to remind your children to be on their best behavior because Santa always finds out who's been naughty and nice!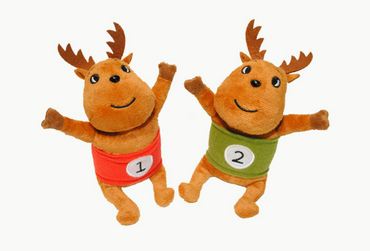 Tips from Roaming Reindeer
Reindeer One and Two always welcome you with open arms, and they love to be named. Decide as a family what their new names will be! They can be placed anywhere in your home so they can keep an eye on things, and let Santa know who has been naughty and who has been nice. If Reindeer One hears or sees someone being naughty, and "disappears" to go tell Santa, Reindeer Two will remain behind to keep watch. It's up to you as parents to decide when Reindeer One 'returns' from the North Pole to once again keep an eye out. On Christmas Eve, let the kids know that the reindeer have returned to help Santa deliver the presents, and they will return again next year.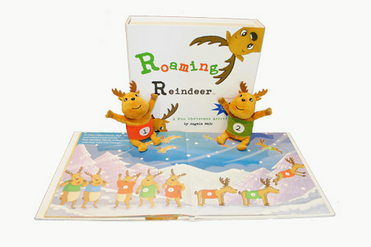 Remember that the reindeer can go anywhere the family goes, making it easy to remind your children to be on their best behavior no matter where they are. You can find more tips and activity ideas on the Roaming Reindeer website.
Connect with Roaming Reindeer: Shop
GIVEAWAY HAS ENDED
Disclaimer: This product was received from the Company for review purposes only. All thoughts and words in this post are my own and I was not paid to endorse it. I am only voicing my opinion about this product.